9 Best PDF Editors in 2022 – Free and Paid Services

In these modern days that we are in right now, we are slowly weaning from the old habits that we have including our ways of working. We are slowly turning digital and making every second of our time count.
Pdf files are everywhere especially in our workplace or within our business. It is important to catch up on how to make your lives easy when converting, editing, and managing your pdf files.
Know the different features you can use and explore other opportunities when it comes to editing your pdf files. Know the basic and learn more on how today's technology lighten up the curve in editing pdf files.
Dealing with pdf files can really be difficult at times, it limits our ability to do more when converting a pdf file to another format. In this article let us show you the top 9 best pdf editor options online.
Best Free PDF Editor in 2022
9 Best Free PDF Editor
#1. Top Consumer's Choice: PDFelement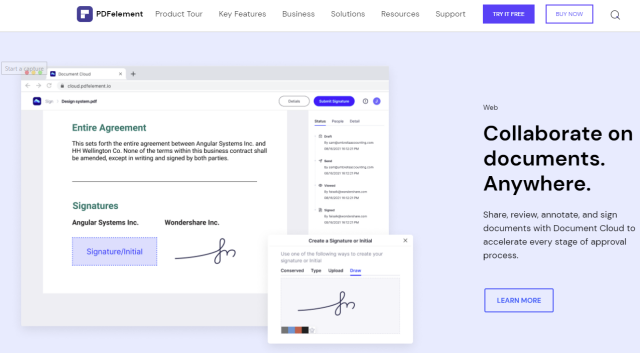 PDFelement is an all-in-one solution for your every pdf needs. This software is designed to serve productively on your pdf works for you and your business. It boasts of having all the right tools in one desktop application.
It lets you work on editing pdf and pdf forms. Creation and annotation of pdf as well as converting pdf. This software will lessen your time in editing and formatting your pdf. It will let you customize font and graphics to any existing pdf document you have.
Convert your scanned paper works to a pdf file and let you edit it in a breeze that will definitely save your time. Accomplish and fill out the form easily without having to spend so much time trying to edit and accomplish it.
How does it work?
PDFelement offers a free download for the free version and the premium packages for individuals, teams, education, and bundles. Enjoy their premium access with their premium features using Windows or IOS.
Easily edit your pdf files using this platform, it allows you to do more in pdf editing such as extracting images, fill out the form fields, and edit existing text. It also supports link inclusion that other pdf editors do not.
It also has a password protection option and a shareable privacy limit so you can control which files you can share and collaborate with your team. Every data is screened from a multi-layer of protection to every uploaded file.
Pros
It can edit the text directly and lets you add images, watermarks, and links.
PDFelements can let you edit the page background easily without having to deal with highly complicated steps.
It allows users to merge multiple documents at the same time.
Add your customized headers and footers to your existing pdf file.
Cons
The free version has a watermark of PDFelement in every edited pdf.
You always have to log in to save your documents.
Price
Basic Price: Annual fee of $79.99 for windows and $99.99 for Windows and IOS
Advanced Price: Team package starts at $109 for one user. It is best to request for quote for more details.
#2. Fastest PDF Converter: PDF Expert

Expert Pdf makes it simple and fast editing pdfs to convert, create and customize your pdf documents. You can easily modify and edit pdfs and convert pdfs two more than 200 different files format like excel PowerPoint or word document.
Expert pdf also allows you to sign all your documents such as important business transaction documents like contracts and invoices are you need to affix your signature. Secure these business-related documents or your uploaded files online as they have security passwords to protect your confidential documents and access to your account.
Annotate and fill out forms easily. You can also edit and insert images as well as ability to create a new pdf document file. Its newest features include the OCR conversion where you can turn your scanned images or documents into an editable pdf with this IRIS OCR technology. It automatically recognizes the existing text and images in the pdf files document.
How does it work?
Aside from the basic features where you can convert pdf to an editable document or to any other file format you can also fix your signature on all your legal online documents. Have an electronic signature to sign all your business documents in the contract to optimize productivity within your business online. You can track or manage the signature and the documents from the interface that they use for security purposes.
All your sensitive and confidential files it's protected online. With this software, you can set a password and the permission level to prevent unauthorized access from outsiders to be able to view your documents. Their system automatically filters sensitive malicious data coming in and out from your pdf files to make sure the information and the confidentiality of each documents being sent out and received are secured.
With the new OCR feature, you can easily turn your document into editable pdf forms. Scan any paper document, invoices, and paper contracts then easily turn them into a pdf file where you and your client can edit from the pc. The software automatically recognizes the content of your document.
Pros
This software has an immediate download feature where you can immediately work on the conversion, editing, merging, or splitting process of your document.
Using this software gives you a hundred percent secure access to all your documents insensitive pdf files to upload in the system.
They have dedicated customer service always available for assistance in case you encounter difficulties in using their software.
They boast of being the most powerful pdf software that is available in the market today the gold standard in pdf software.
Cons
It could be more appealing if the software has an easier document searching system.
The software is easier to use using desktop or laptop needs upgrade when you use it using your mobile phone.
Price
Basic Price: Home Expert Pdf is $39.00 a year
Advanced Price: Professional Expert Pdf is $79.00
Premium Price: Ultimate Expert Pdf is $89.99
#3. Best Free PDF Editor: PDF Extra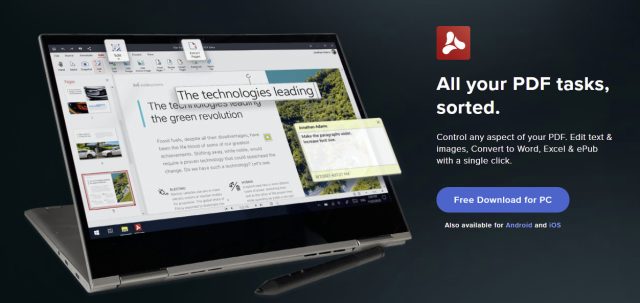 Get all of your pdf work sorted out with this easy-to-use online pdf editor. Pdf editing has never been this easy, work more but work easily with pdf extra. Easily control your pdf by changing your pdf pages without too much frustration here where you can easily add, reorder, extract and reorder your pdf pages.
This software lets you edit, convert, fill out, sign, protect and annotate your pdf documents. It will also help you organize and convert pdf files in bulk which is appropriate for business use.
Their free pdf editor tools download version comes with reading and annotation of your pdf files. The free version also comes with fill-out and signability and it has a 5 GB "Mobidrive" storage. The extra personal package has the following features:
Edit pages, text & images
Fill & Sign with Digital Signature
Convert to Word, Excel & ePub
Protect & Encrypt PDFs
50 GB MobiDrive storage
How does it work?
Pdf Extra is compatible with both desktop for Windows and Mac and is also available for Android and IOS. The free software download is available given their free version features.
Pdf Extra has a shareable feature you can work with as a team. It will let you share and work on the collaboration by the shared access. The shared access lets you and your teamwork on with the files even while they're offline.
You can also manage an organization of the files to keep them safe and secure from any potential risk. You can simply store and sync all of your pdf files to have access wherever you go whatever device you use.
This software makes sure you get access to your files with ease by having the language locally converted to the 15 major languages from around the world. It makes users more comfortable with this pdf editing software.
Pros
Pdf Extra gives seamless editing pdf files experience for you or your team for collaboration.
It has stringent protection features to maintain security with all your files only
You can take advantage of their one-time payment package that gives ultimate value for money.
The Pdf Extra software has an intuitive interface for ease of access.
Cons
Requires the paid package for a more complex task to be done.
It is reported that this software is not compatible to be used with a stylus pen.
Price
Basic Price: They have a free version of this free pdf editor software.
Advanced Price: Pdf Extra Personal Package is for $49.99 each year.
Premium Price: Pdf Extra 2021 has a one-time purchase plan of $99.99
#4. Top Comprehensive PDF Editor: UniDoc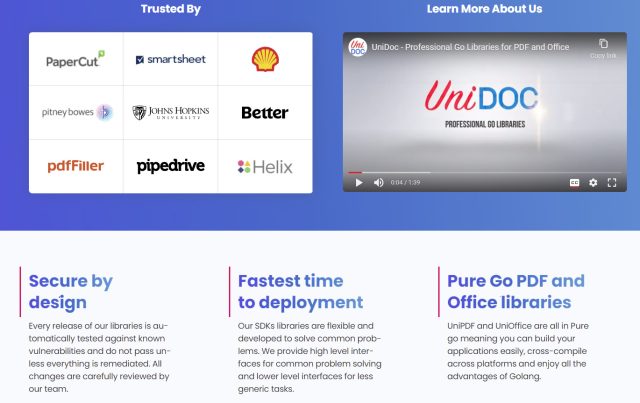 Unidoc is a comprehensive pdf editing software with an office library in it. Golang libraries are fast and reliable pdf storage/libraries for office work. This will let you create applications easily with cross-platform capability.
This software is recommended for business use as the program efficiency is part of their system's goal. Their editing features have an amazing speed combined with the feature of the library makes it very suitable for business.
They provide professionally organized pdf reports with outstanding speed, it will let you generate reports in no time. It can even generate complex reporting within a snap. Pdf documents can be converted to other file formats without any complications.
Bothe the pdf editing features and the libraries are set up with utmost security to prevent the risk of malware and viruses that could potentially harm your documents. Every change and update are carefully screened by the team of experts safeguarding the software.
How does it work?
Unidoc gives you way more than online pdf editors, it has a library of pdf that lets you store more and be organized without having to pay extra. It has key features that other pdf editing apps don't have.
It has an invoice creation feature that lets you create professionally made invoices faster. Other complex reporting can also be created using this app and can even let you generate reports within seconds. You can also create tables and table reporting using this app.
Features include digital signing, form creation, invoice creation, merging of pdf pages, table pdf reports, e-signature, and many more. Supported with libraries you can count on with your protected documents.
Pros
It comes with a library that lets you store documents safely.
The speed outwins every cool feature that it has. You can access, download and upload your document in a flash.
Let you create professionally made reports and tabulation with just a click.
Can generate complex reporting in an instant.
Cons
Quite pricey for its feature.
They do not have the best tech tutorials for newbies.
Price
Price will basically depend on what package you will choose, it would be better to get a quote directly from their website to have reliable information.
#5. Top Software Solution for Mac and IOS Users: SetApp

Setapp is a producer of Mac apps and software. You can find all apps and software that you need here for your Mac device including a pdf editing tools. It has 3 different pdf apps which are Pdf Search, Pdf Squeezer, and Pdf Pen.
Pdf Search is available on both Mac and IOS. This app is an AI-powered "text-searching" engine within the pdf documents. You can search for specific data that the web browser may not have. It does not only search for a certain text context but also brings out other relevant results for you.
Pdf Squeezer reduces the size of your pdf files to an ideal one. All you need to do is simply drag and drop the intended file to use and the size reduction will begin smoothly. I can compress multiple files simultaneously.
Pdf Pen has an OCR ability that lets you do more with your pdf files. Here you'll get the full features of a great pdf editor, it will let you fill out forms, sign them, edit and convert. Add watermarks, add a footnote, and many more features.
How does it work?
We all know that owning a Mac and IOS phone is an investment and we always want to make sure we have installed nothing that can harm the system. Setapp has all the reliable apps for your pdf needs. It actually offers 3 different apps for pdf editing.
Pdf Pen is the main apps for editing pdfs. It has image editing tools, editing text, convert pdf, OCR technology that lets your scanned pdf be editable text. You can also affix your signature here and merge pages of your pdfs. It has a very secure password-protected access to keep your confidential document safe at all times.
Pdf Search is a powerful tool that will help you find pdf files depending on your text search and gives you relevant results with the help of advanced sophisticated technology. You can find results in just a few seconds with artificial intelligence recognition technology.
Pdf Squeeze can reduce big files to an ideal size in a snap. All you need to do is drop and drag the files, even multiple files at once. It works for sending large files with limited connectivity or limited content space.
Pros
Setapp is a safe and reliable app source for Mac and IOS systems with a portable version.
A single subscription for a huge collection of useful apps you can get from them.
It gives you 3 different pdf apps that let you do way more than any single subscription app there is.
Their system is backed up by an artificial technology that makes the usage streamlined with nothing but convenience and ease of use.
Cons
It is only available for only Mac and IOS users not available for Windows or Android.
Space-consuming installing 3 different apps with pdf-related capacity.
Price
Basic Price: Mac package for only $9.99 every month for 1 Mac user (use of every application they have not just the pdf apps).
Advanced Price: Mac + Ios package is for $12.49 every month for 1 Mac user and IOS user (use of every application they have not just the pdf apps).
Premium Price: The power User Package is for $14.99 every month for 4 Mac users and IOS users (use of every application they have not just the pdf apps).
#6. Top User-friendly PDF Editor: Smallpdf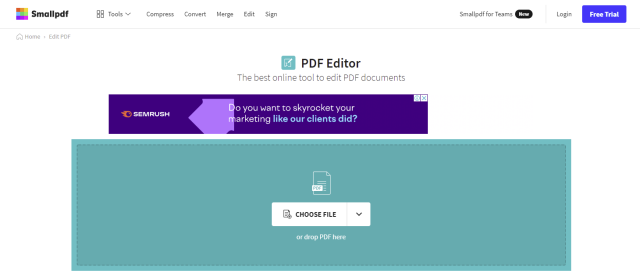 Small pdf has the best online tools for editing pdfs. It has a simplified context that is easy to comprehend and a simple interface that anybody can use. This software can be used on whatever device you are using, it will work in Mac, Linux, and Windows. There is no registration or even installation needed to use this simple pdf editor.
This simplified free pdf file editor will let you add or remove and even fill out forms from your scanned images. It also has the e-signature feature, split and merging of the pdf, pdf conversion to numbers of different formats, and many more.
This tool secures you and your document is protected by its multi-layer of security from the website and the transfer location in the cloud or elsewhere. It has advanced SSL encryption so your protection is guaranteed.
How does it work?
For the free version, all you need to do is to visit their website and edit your pdf documents there. There is no installation required but registration may be recommended for you to be able to set up a password to protect your uploads.
You can do all the editing at their website, you simply need to import your pdf file and work with their very easy-to-use tools to edit pdf files. They have the paid version the provides limitless access and team packages for up to 50 users.
Your pdf editing transactions are safe and secure even with their free features. Although their free version offers basic features, their security across all type of users have the same level of protection which gives peace of mind for users.
Pros
Easy to use on desktop and even while you're using your mobile devices.
It gives you feature like e-signing and other complex pdf and text editing tasks. Their text tool is pretty easy to understand and navigate.
It helps manage and merge or compress the document and convert it to different kinds of format
High level of security to keep your document confidential and free from any potential risk online because it is password protect by their system.
Cons
Limited font availability on the trial version.
Needs interface upgrade to improve weak points in their service.
Price
Basic Price: They have a free version that has basic limited features. Can process only two documents in a day.
Advanced Price: Pro package for only $9 a month that has basic and plus features.
Premium Price: Team package that can be used by 50 users for only $7 a month that has both basic and plus features.
#7. Top Free Online PDF Editing Tool: PDF BOB
Pdf Bob is a free online pdf editor is an online website that lets you edit and manage your pdf files. This is a free website that can do as much as that the paid versions can. It can help you annotate your pdf files easily with its text tool, sticky note feature, highlight tools, shape tools, and pencil tools.
Their editing features can also do more. It can have you add any images, rearrange your pdf pages, merge your pdf files and store and share files for collaboration. Easily transfer files to any of the cloud storage services you use.
How does it work?
There is no charge to use this pdf editing site. Just visit their official website and start editing from there. You will land on their editing platform and see all the useful tools that they have.
Convert pdf to Microsoft word in just one click. Highlight and underline text for easy referencing. You can also add or delete pages and rearrange them easily with complicated measures. Its feature is a full pack given that it is free for use to everyone.
Pros
Very easy to use, editing can be done fast without any technological hiccups.
It is absolutely free to use their pdf editing tools
Full features of editing, annotating, and managing the pages.
Can be used anywhere just have to visit the website to use the service.
Cons
Needs an interface upgrade to improve the service features even more.
Needs password protection for security purposes.
Price
This free pdf editing site is absolutely free to use this website by anyone.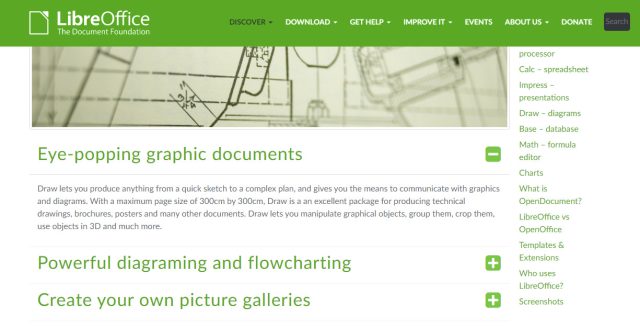 LibreOffice Draw is software that allows you to do more quickly in terms of creating graphic content and diagrams. It involves technical drawing for posters, brochures, and other visual-related documents. This software will let you work on a graphical object in 3D formats, group images, and edit and crop them.
You can create an impactful flowchart using their smart connectors network diagrams and more. Here you do not need to be a pro to produce a professionally made graphic image. It will help you with its precise positioning and accurate glue points that can enhance your image creation.
How does it work?
This tool is mainly used to create graphic images and flowcharts using their advanced interface that helps you maximize your creativity. It has extensive diagramming tools to let you create one-of-a-kind materials.
This tool will allow you to maintain your own photo portfolio and allow photo conversion with it. It has an outline feature that helps you to organize the text component within the diagram.
Pros
It has a feature that allows users to edit and create different slides easily.
The normal feature is a great platform to edit the flowcharts and do some major changes with it.
Font work too gives you the ability to work with 3D images and scenes by adding different components and objects within the diagram.
Create professional output with your graphic image, flowchart, and diagram needs.
Cons
Some of the function in the paid version is not supported.
Tech tutorials are complex to comprehend by a not-so-techie kind of people.
Price
It is free to use all the apps on the Libreoffice site including the LibreOffice Draw.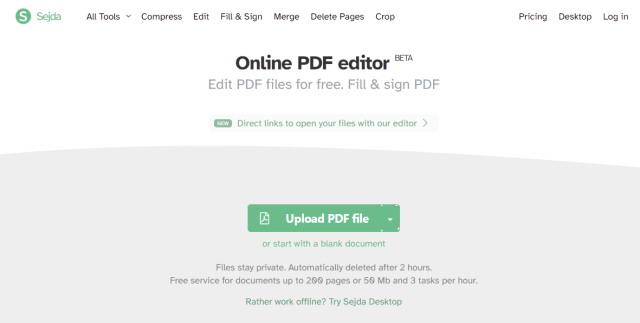 The main reason why this is the top consumers choice is that it's easy to use and it's free. You can edit and put signatures on your files online all for free. And also use this to fill up pdf format online forms. Change your pdf to text and have text added to your pdf files.
The key feature of this is the ability to add images to your pdf. All you need to do is select a new image and then select an image from your laptop and have it added to your pdf page. Even edit the size of the photo by dragging the corners using your mouse to resize the image.
This software also allows you to sign pdf using your online signature. All you need to do is to select or click sign and you'll have the option to your signature or to create a newly made signature. Creating an e signature is pretty basic in this software all you need to do is that your name and it will you suggestions of some of the pre-made signatures with your name you can simply draw your signature using your mouse on the screen.
How does it work?
This software is more than just a pdf editor. For a free pdf editor, it contains a lot of tools that will help you easily convert, edit, fill and sign, merge or compress files. These tools will help you make your life easier comes to dealing with pdf files.
Convert from ef too many other formats. this software allows you to convert from pdf to excel, jpg, PowerPoint, text, and word. The newest feature that it has is the ability to convert pdf two a PowerPoint presentation.
Here are some of the new features of this software. it lets you create forms, edit metadata, extract images and rename pdf files. These new features allow you to even work more from your pdf files. Aside from just converting from pdf to another format this software can convert from another format to pdf. It can convert HTML to pdf, jpg to pdf, word to pdf.
Pros
Sejda lets you do more with your pdf file using the desktop are using a browser.
Has complete tools that let you edit and do more terms of filling out forms, signature on it, add text, add images, convert too many other different formats let you do more in compressing or splitting the file.
They have a password security system and protection feature that assures you your security to every pdf documents that you date online.
They have a beta version that includes many different features absolutely for free.
Cons
The online version has limited kinds of fonts that you can use in your document.
Downloading a bulk number of files is not very practical you're using the free version.
Price
Basic Price: $5 for seven days without access to the desktop version with a basic editing feature.
Advanced Price: $7.50 for a month of access without the desktop version.
Premium Price: $5.25 per month or $63 annual payment with access to the desktop version.
How We Rank the Best PDF File Editor?
We tabulate the ranking by testing each and every pdf editing software we listed above. We carefully rank the features and compare them with what others have and what others do not. Also, compiling online reviews and performing a separate data collection from there and combine the first-hand experience to the review collection online to determine the best pdf editors.
What to Look for in Choosing the Best PDF Files Editor ?
Choosing the best free editor does not always have to be costly. You always have to carefully study the features that they have and how they can be beneficial for you.
Conclusion: Best PDF Editor
The top choice for a pdf editor is PDF Element. It's very easy to use and very user-friendly without having to risk my file's security and protection against any harmful element online.
I love its key features when it comes to using it for the business as it can let you do more without needing to be in your office. Add or edit images on it and even accomplish forms directly from the pdf files.
It has all the editing tools you may need, such as adding shape, highlighting, annotating, adding links, adding customized headers and footnotes, and many more. It will definitely help you with your editing in a flash.
The price is affordable at most $100 for a year of subscription which only makes it $8 a month with premium features in it. Have the value for money you deserve.
Best PDF Editor FAQs
What is a PDF Editor?
PDFs are photographic images of a document that cannot be edited the same way you edit a word or other office document. Pdf editors are software that contains a platform with tools that allows you to edit these images from pdf. Pdf can be edited using this software.
How do you determine the best free Pdf Editor?
The best free pdf editor can be determined by the end-user on whichever works great for them. Generally, the best free pdf editor should contain all the beneficial features that can let you do more on editing your pdf files.
Like this Article? Subscribe to Our Feed!
Vanessa is a mom of 3 lovely children and a software geek. Outside of her career as a health and wellness instructor. She enjoys writing and researching on topics such as finance, software, health and culinary.