10 Best Marketing Analytics Tools in 2023

Marketers rely heavily on data, and without it, their efforts are severely hampered. With that, a marketing analytics tool and marketing analytics platforms might come in handy.
Using marketing analytics software includes a wide range of tools that are utilized by sales professionals, advertisers, and marketers. Through email management, social media management, and marketing automation, these technologies help businesses simplify operations.
Digital marketers need a method to monitor and manage the outcomes of their marketing channels and campaigns. This is exactly what marketing analytics software and marketing analytics tools enable them to do.
In today's setting, if you want to be a great marketer, you must have simple access to analytics and marketing data that offer comprehensive information about your client base. This will make your marketing efforts become easier. That is why we have written this article for you to select among the best ones in the online world that you can benefit from for yourself and your company.
Best Marketing Analytics Tools in 2021
10 Best Marketing Analytics Tools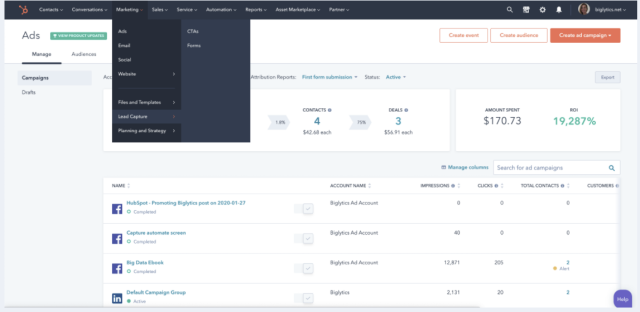 HubSpot Marketing is a sophisticated all-in-one marketing analytics software that integrates all of your marketing activities to assist your team in increasing traffic and conversions.
It has a drag-and-drop capability that allows you to create interesting websites with dynamic pages that look great on any device. HubSpot Marketing allows you to create and optimize appealing content, as well as deliver it to the appropriate people.
It also includes contact forms and A/B testing to help you create effective lead generation methods, as well as a ready-to-use marketing funnel, scheduling, a contact database, mobile marketing, and much more.
Overall, HubSpot is an excellent option for companies whose marketing teams wish to consolidate all campaign operations.
How does it work?
It can create highly customized landing sites for your campaigns, send both static and dynamic HTML messages, prepare and format material for publication, and incorporate data from other systems. All of this is possible without any coding knowledge.
It includes SEO and social media recommendations to increase traffic, as well as capabilities to customize messaging for particular visitors thus you can monitor the success of your social media strategy across all channels. You may also gauge the success of your campaign by comparing the performance of other social networks.
With built-in analytics, reports, and dashboards, it allows you to monitor your whole marketing funnel from acquisition to closure, allowing you to make better, data-driven marketing choices.
It also has a HubSpot analytics tool that enables you to connect social media success to company and revenue development.
Pros
Analytics are integrated into everything you do from the start.
Break down any report in your database or CRM by contact or company-level attributes.
Analyze the performance of your website using important website metrics.
Gain visibility into your whole funnel to determine which marketing materials are most effective and to demonstrate how marketing affects the bottom line.
Cons
Contracts upon subscription are not flexible
Templates are somewhat difficult to modify
Price
Starter Plan Price: $45/month
Professional Plan Price: $800/month
Enterprise Plan Price: $3,200/month
#2. Best Lead Management Software: Semrush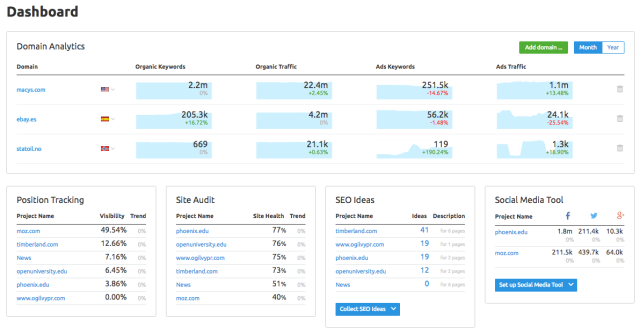 SEMrush is the key to help you outrank your competitors in search results by tracking their brands, social media accounts, and other online activity.
Semrush, in a nutshell, is one of the most used marketing analytics tools that assists you in optimizing your website for search engines.
It was founded in 2008 by Oleg Shchegolev and Dmitry Melnikov and now has a huge user base — over 7 million users, according to the business — and is one of the most popular SEO tools accessible today.
SEMrush is a marketing analytics application that may assist you in determining what your rivals are up to. It may help you outrank your rivals in search results and provides its customers with an easy method to monitor their competitors' social media profiles, brands, and so on.
It is a useful tool for marketers who want to improve their search engine traffic and keep track of what their rivals are up to.
How does it work?
SEMrush is the key to help you outrank your competitors in search results by tracking their brands, social media accounts, and other online activity.
Allows you to investigate potential keywords and discover whether other marketers are bidding on them, as well as the degree of competition.
It also offers an analytics reporting tool that displays data on the terms your rivals use in their AdWords ads, allowing you to get a better knowledge of their search engine traffic.
And enables you to conduct an SEO audit on your website to see if there are any technical changes you can make to enhance your search results.
Pros
Domain analytics and a comprehensive keyword research tool.
Provides Backlink analysis.
Keyword Position tracking is great for SEO
Keyword ideas and proactive SEO advice
Cons
Does not have a keyword list management
Semrush subscriptions only provide one user account, and purchasing extra seats is costly.
Price
Pro Price: $119.95/month
Guru Price: $229.95/month
Business Price: $449.95/month
#3. Fast Link Marketing Channels Modifier: Adverity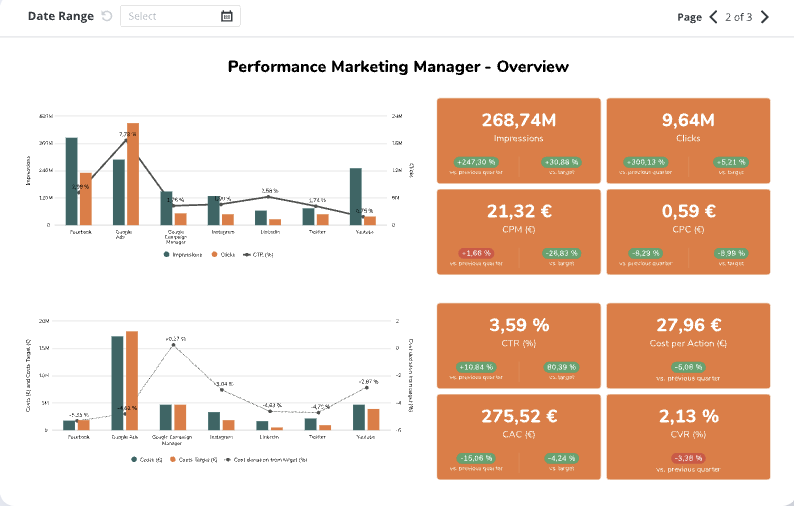 Adverity is a platform for automated data integration and visualization designed for data-driven decision-makers.
It was created for marketers and agencies to connect and collaborate with their media, e-commerce, and marketing platforms without having to log in to each individual account.
It is among the marketing analytics tools that have a versatile digital marketing method that has an end-to-end marketing analytics platform that helps data-driven marketing teams make better choices quicker and enhance performance across all campaigns and channels.
It is made up of three components: Adverity Datatap, Adverity Insights, and Adverity PreSense. Standardized database and spreadsheet integration, a data quality monitoring system, and a transformation and computation engine are among the key characteristics of these and these may be hosted in the cloud or installed on-premises
How does it work?
Adverity makes it simple to discover possibilities to earn more income and show marketing ROI by combining siloed data and providing actionable insights.
Additionally, Adverity's Data Tap solution enables customers to significantly improve their reporting and analytics productivity.
Adverity allows marketers to monitor marketing success in a single perspective and easily discover new insights in real-time thanks to automatic data integration from over 600 sources, sophisticated data visualizations, and AI-powered predictive analytics.
This leads to data-driven business choices, increased growth, and quantifiable ROI.
Pros
Offers one of the largest linkage libraries and 500+ data sources
The collection tool uses the maximum potential of each single API
The whole tool works without coding and manual data input
Provides a powerful intelligent marketing solution that keeps your data
Cons
Must have knowledge about data analytics
Management of UI dashboard seems hard at first
Price
To know the price information of the Adverity's digital marketing tool, you should contact their website to get a quote and arrange a demonstration.
#4. Expert Data Analyst: Looker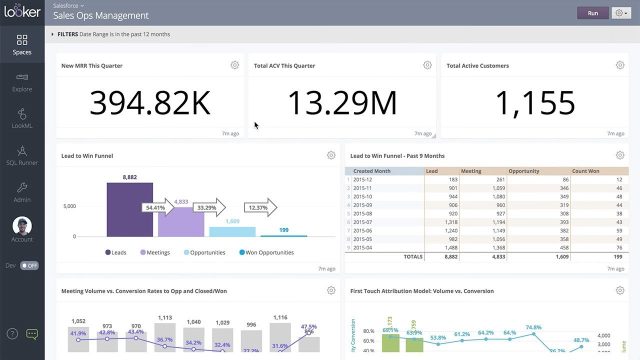 Looker is reimagining business intelligence for the contemporary organization. Looker operates in the same manner as the web does: it is browser-based, and its proprietary modeling language allows any user to utilize the expertise of your finest data analysts.
A data discovery platform that assists businesses in making better business choices by providing real-time access to data. It has the capabilities that make data searching simpler.
This platform is known worldwide because of its 100% in-database and browser-based platform. Looker allows users in businesses to analyze data of various sizes.
It can also connect with any SQL database or data warehouse via an easy approach to data discovery.
How does it work?
Its program allows users to generate and distribute marketing data and reports on the go, allowing other functional groups to benefit from the questions they are asking and the information they have created.
It drills into marketing data across dynamic and accurate charts and tables that are simple and do not need complex code thus making your marketing efforts seamless
Also, it has self-service capabilities like filtering, pivoting, and the development of visualizations, and dashboards are also available on the platform.
And by integrating various data sets, cross-channel consumer behavior, and attribute-based customer segmentation, users can get a better understanding of your customers and their whole journey.
Pros
Analyze ROI and get a better understanding of the expenditure and income produced by each campaign and media.
Create and distribute customized dashboards after defining their metrics.
Conversion rates should be monitored and optimized based on channel, content, and audience.
Data may be quickly segmented and analyzed to see how various portions behave over time.
Cons
Can be very glitchy and gets a lot of bugs
Consumes a lot of time to fix whenever it needs fixing
Price
Price range from $3,000 to $5,000 monthly for 10 users
Additional users cost $50 per month
#5. Real Marketing Data Analyst: Google Analytics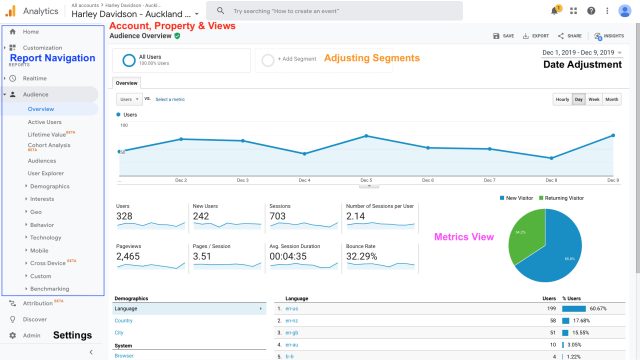 Google Analytics is the most well-known self-service business intelligence (BI) tool on the market. It's completely free to use and very popular among businesses who want to utilize both BI and data visualization capabilities.
Google Analytics provides businesses with detailed information on their websites, audiences, and digital marketing. It provides a feature-rich collection of tools such as google data studio for tracking website performance while remaining structured and simple to use.
It has analytics, which is powerful, adaptable, and simple to use, assists smart marketers in identifying the messages and marketing channels that provide the greatest results for your marketing efforts.
Modern conversion attribution and testing tools assist businesses of all sizes in creating better user experiences and maximizing their digital strategy.
How does it work?
Google Analytics allows users to access insights that only Google can provide. It improves the performance of your content, products, and more. No matter the size of your company, Google can help you see what works and improve what doesn't.
It offers essential data about on-site visits, interactions, and visitor behavior in a user-friendly platform that interacts with virtually every platform available.
Overall, it's a better ROI measuring tool for identifying who your audience is for a website or mobile app, what route they took to get to your website, their behavior while on your website or using your app, and whether they purchased anything or abandoned the shopping cart.
This is very valuable information for both e-commerce and content marketers, as it helps fine-tune and improve efforts to increase online traffic and revenue.
Pros
It is a power that is known to be at best analytics
Has lots of functionality that can monitor growth, clicks, and more
It can add many properties under a single account for a user
The data shown are very accurate
Cons
It is not easy to use and beginners will find it hard at first
Data can sometimes be messy
Price
Freemium Version: FREE
Premium Version: $150,000 yearly
Check out Google Analytics here.
#6. All-in-one Marketing Analytics Software: Mixpanel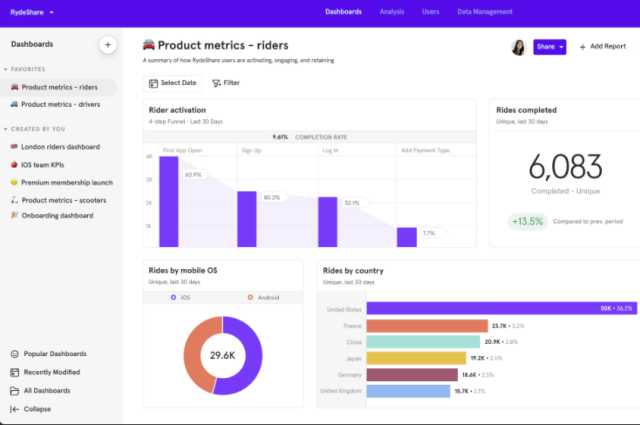 Mixpanel uses data to help businesses evaluate what counts, make quick choices, and create better products. Teams can quickly evaluate how and why customers interact, convert, and retain—in real-time, across devices—with our sophisticated, self-service product analytics solution.
Mixpanel supports over 26,000 businesses from various sectors worldwide, including Expedia, Uber, Ancestry, DocuSign, and Lemonade.
Mixpanel is a sophisticated analytics tool that can be used on both mobile and online platforms. Unlike other analytics systems, Mixpanel measures and analyzes the activities or steps performed by users who access your system or application.
An action in Mixpanel may be anything. It may be as simple as someone uploading a picture, streaming a video, or publishing a post.
How does it work?
It keeps track of both events and profiles and collects a broad range of characteristics, some of which are collected automatically. It has a lot of documentation, including some unusual use cases.
Mixpanel also supports mobile, online, and server-side analytic events, and provides a variety of implementations for various languages and platforms, such as JS, Ruby, Python, and PHP.
This program allows you to get data straight from SQL for the charts and has the ability to compute metric ratios that contribute to the dashboard's usefulness. Aside from that, the user interface is very simple to use, and the data is loaded in real-time.
The data shown on the screen is extremely simple to see and interpret. It also has a fantastic range of filters and choices for displaying and configuring your own insights and reports.
Pros
Conveniently finds account and user-profiles
Can pull data such as error messages and app crashes
Effortless event and funnel segmentation analysis with lots of capabilities.
Has a dark-mode feature
Cons
Sometimes take a lot of time to transmit data.
No-autosave features in its dashboard
Price
Starter Price: FREE
Growth Price: 24$ monthly
Enterprise Price: Must contact the website sales to get information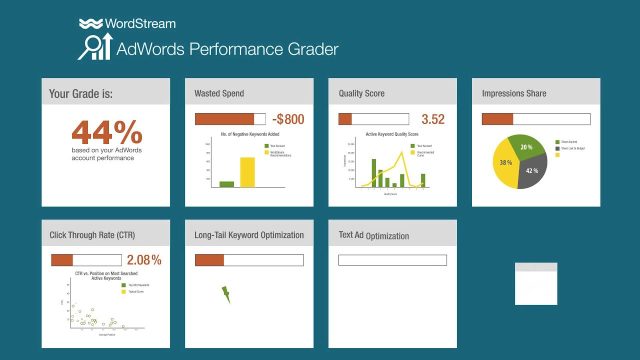 Over $5.5 billion in paid search ad expenditure from over 70,000 AdWords accounts has been evaluated by the AdWords Performance Grader. It is a quick, safe, and free method for marketers of all sectors and levels of expertise to learn what works – and what doesn't – in their sponsored search operations.
Their Google Adwords PPC Grader tool works by evaluating your AdWords account and rating it against averages and best practices gleaned from studying hundreds of other AdWords accounts.
Its metrics reports, particularly "competitive benchmarks," not only identify your present performance but also compare your PPC efforts with comparable marketers in your sector.
Overall, it provides you with a high-level overview of your performance.
How does it work?
The Adwords Performance Grader allows you to easily and securely assess the quality of your Google Ads account. After the program has audited your account, it will provide you with a comprehensive report outlining your account's strengths and shortcomings.
Its Impression Share time View sections allow you to check whether your budgets are where they should be and if your ad rankings are in the correct locations. This may assist with a very frequent discussion between paid marketers and advertisers about money.
Every 30 days, you'll get a report on your account's performance, giving you a new perspective on the effectiveness of your marketing activities.
It offers a comparison to your peers. When asked, you may provide your industry to make your AdWords Grader report even more effective by comparing your account's key performance indicators against rivals with comparable ad budgets.
Pros
Has a depth and breadth data summary
Integrates an impression share view
Offer comparisons to your peers and rivals
Allows quality assessment of your Google Ads account
Cons
The interface can be a bit hard to understand
Recommendations do little to help you all throughout
Price
FREE
Check out Adwords Performance Grader here.
#8. Popular Business Intelligence Platform: Heap Analytics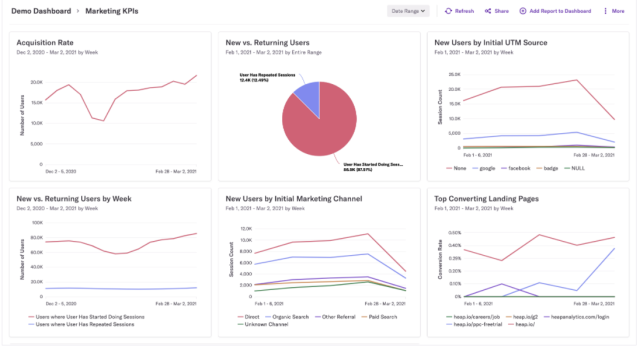 Heap Analytics is a platform that offers digital experiences to users who are struggling in various kinds of digital journeys so that their products and marketing teams are aware of the most influential and impactful changes in their digital platforms.
It assists those prior to digital experience in quickly identifying blind spots on which users struggle. This is in order for the marketing teams to know where and when to make improvements to their product or website.
It is one of the most used tools for monitoring user interactions. This platform enables you to do detailed metrics monitoring and data analysis on how visitors interact with your website and its different components.
This is a fantastic analytics tool to utilize if you want to get to the bottom of what makes people engage with your website and give you traffic on a regular basis.
How does it work?
Heap Analytics can determine where customers are having difficulty and make immediate changes to the customer experience, providing an intuitive, pleasant user experience.
It uses digital interaction data to test ideas and answer issues as they occur and bring new products and experiences to marketing agencies and other marketing platforms with confidence with data-driven insights.
In addition, it utilizes data to get agreement on engineering investments that can be clearly linked to business results.
Heap is more suited for situations that need quick analysis of consumer behavior and interests, such as web-based events and projects that demand a strong data collecting system and information processing of mutual interest between customers.
Pros
Improve customer experience
Optimizes impact of product and campaign performance
Has valuable features and experience
Perform competitive analysis
Cons
It requires a lot of practice to get hang of all the features
Dashboard feature is limited
Price
Free Version: FREE
Growth: Free Trial
Pro: Free Trial
Premier: Contact the official website for a quote
Check out Heap Analytics here.
#9. Most Refined Marketing Analytics Software: Hotjar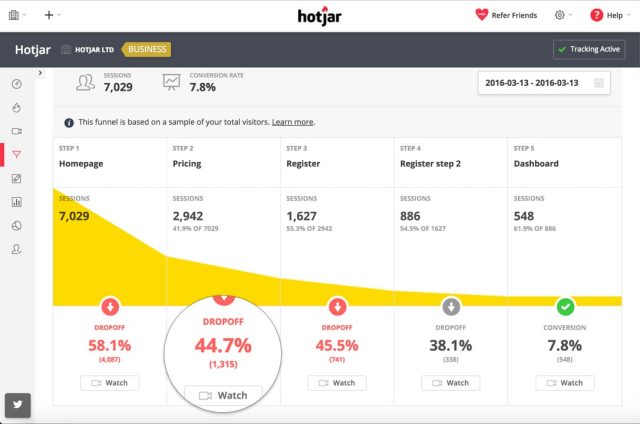 Hotjar offers Product Experience Insights, which reveal how customers act and what they care deeply about, so that product teams can give genuine value to them.
Aside from that, Hotjar is one of the most refined and dependable solutions for product analytics and enhancing the UX of your product via additional user data.
Moreover, it is the quickest and most visible method to understand your consumers since it provides your team with everything they need to receive immediate visual feedback, observe how people are really using your site, and discover insights to make the necessary adjustments.
Lastly, Hotjar's subscription options are all excellent and overall it is an excellent tool for software developers, ad agencies, e-commerce websites, and blogs.
How does it work?
Hotjar is a cutting-edge marketing analytics platform that is an excellent tool for improving your SEO rankings. It allows you to monitor your website's client travels.
Hotjar's data may be utilized to enhance your customers' onsite experiences and engagement on your website thus increasing your campaign performance. It further presents data analysis in the form of heatmaps, which are visual representations of the data.
These heatmaps illustrate how your consumers interacted with your website by clicking, moving, and scrolling. Hotjar features an easy-to-use user interface.
Visitor recordings are another unique Hotjar feature. This system monitors visitors' clicks, scrolling, and mouse movements in order to detect usability problems.
Pros
Convenient, simple, and lightweight to use to provide key insights
Simple to install in platforms like WordPress and Wix
Has Heatmaps that provides insights to see where people click often
The interface is simple and intuitive
Cons
Has no options to create customer profiles
No predictive analysis of customer behavior
Price
Personal Basic Price: FREE
Personal Plus Price: $29/month
Business Price: Starts at $89/month
Agency: Custom Quote
#10. Most Comprehensive Tool: BuzzSumo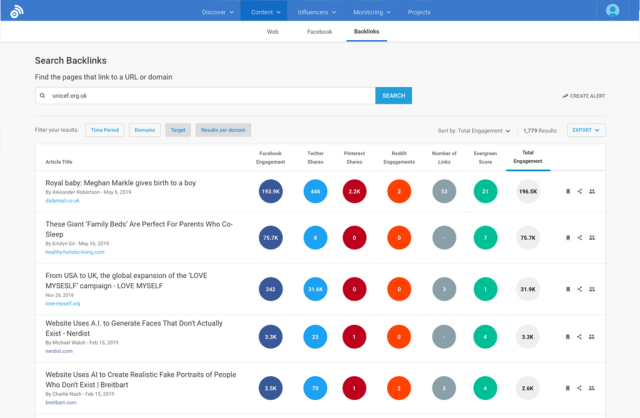 BuzzSumo is a powerful content analysis tool that informs customers about what's trending on social media. It allows you to examine data from various time periods, such as the last 12 hours or several months.
BuzzSumo, founded in 2013 and adored by marketers globally ever since, is an all-in-one content marketing platform that provides you with the content research and performance data you need, quickly.
It has a versatile content and social media analytics dashboard that provides users with information about topics that are trending on major social media platforms. It enables you to analyze data from a variety of time periods, such as the previous 12 hours or many months.
Another wonderful benefit of BuzzSumo is that you may download all of the appealing material you discover on the site, which is a lot. You can also share content in an infinite number of ways, which allows you to identify current trends in all types of news.
How does it work?
Trends may also be sorted by geography, so if your clients come from all over the globe, you'll know what's popular in their region.
This way, you'll be able to see which subjects in your sector are gaining the greatest social traction. It also includes sophisticated keyword search operators, backlink data, content type filters, and influencer marketing tools. You may then export the data into another format and further examine it.
The program provides many advantages for optimizing the performance of our web pages. It aids in obtaining rival backlink sources and more. It's a good place to look for blogs and articles. This application also allows for social media administration and analysis of each campaign's post-performance.
It has a search filter and favorites that make it simpler to browse the site since they provide me with a trend view based on my daily preferences.
Pros
Excellent tool for social networking sites in sharing contents
The tool is intuitive and can be easily adjusted to suit the needs
It has the capabilities to assess the social impact of any published media
Can identify the most efficient publication times for any media
Cons
High cost for start-up and small companies
Lacks good data for some domains
Price
Free Plan Price: FREE
Pro Plan Price: $99/ month
Plus Plan Price: $179/ month
Large Plan Price: $299/ month
How We Rank the Best Marketing Analytics Tools?
In order to identify the best among the best marketing analytics tools out there, we need to consider these different factors:
Integration
To maximize the effectiveness of its marketing activities, a company must monitor, analyze, and manage data. This necessitates the employment of a variety of applications thus you need to check how it integrates with other tools before joining up. You should choose the most convenient one that enables you to gather, correlate, and analyze all of your data in one place.
Advantages
Your objective is to improve marketing campaigns and increase ROI. As a consequence, you must maximize the platform's advantages, including automation of business operations, data collecting, data filtering and extraction, insights, analytics, reporting, segmentation, visualization, forecasting, and so on.
Pricing
Most marketing analytics solutions are subscription-based or paid depending on the size of the company. If you have a larger staff, consider if a plan based on the number of users or a set monthly fee is a better choice. However, your long-term objectives should include the provision of add-ons and upgrades for little or no additional expense.
Customer Service
Things may go wrong for no apparent reason at any moment in the realm of digital marketing. And you need assistance soon away so that the company is not harmed. Look for systems that provide live chat customer assistance 24 hours a day, seven days a week.
Proven and Tested
Before investing in a marketing analytics solution, research the platform and consider the advantages it may provide to your company. Consider purchasing an easy-to-use solution that will help workers perform better across various channels, including as social media, email marketing, blogs, newsletters, SEO, and so on.
Benchmarking
Check with businesses who are presently utilizing the marketing analytics solution you are interested in. Inquire how long they have been in the business and how long they have utilized the program. Furthermore, the platform should run smoothly at all times. Inquire about any problems with installation, maintenance, downtime, security, updates, and so forth.
How to Choose the Best Marketing Analytics Tools for your business?
Running a company requires much preparation and forethought. Marketing analytics solutions may help you learn everything about your customers, from where they are and how they buy to their preferences.
More significantly, in order to be competitive and profitable, you must also evaluate and assess your marketing tactics. Understanding what works and what doesn't may help your company become more efficient.
And, since operating a company necessitates reacting to customers in real-time, you'll be in a better position to make wiser choices faster. You will also be able to evaluate your competitors' tactics.
Furthermore, there are many free marketing analytics tools available to help you evaluate your marketing data.
Conclusion: Best Marketing Analytics Tool
You learned why marketing analytics tools are necessary for this review. You've also seen the finest marketing analytics tools on the market.
This time you can choose your favorite today and when you combine data collection from your various sources, your analysis findings increase. Thus it will improve the performance of your company.
If you're searching for an all-in-one solution or the best marketing analytics software that can not only let you transmit data but also convert it into an analysis-ready format, HubSpot Marketing Hub is the way to go!
Marketing Analytics Tools FAQs
What is a Marketing Analytics Tool?
Marketing analytics tools, such as customer data, user behavior, and website analytics, help digital marketers stay organized and effective in their marketing activities. It involves marketing automation for digital marketing purposes.
They may also do data collection from any channel they utilize, such as search engines, social media, email marketing, and many more, with the assistance of analytics software.
How can a Marketing Analytics Software help businesses?
Most marketing analytics tools contextualize data, enabling digital marketers to identify patterns and indications that may be utilized to enhance company performance and marketing strategies.
Such insights may assist account managers through their marketing automation platform in acquiring new clients, reallocating money to the most efficient marketing channels, and anticipating new possibilities.
Like this Article? Subscribe to Our Feed!
Vanessa is a mom of 3 lovely children and a software geek. Outside of her career as a health and wellness instructor. She enjoys writing and researching on topics such as finance, software, health and culinary.