13 BEST Forex Signals Providers for 2023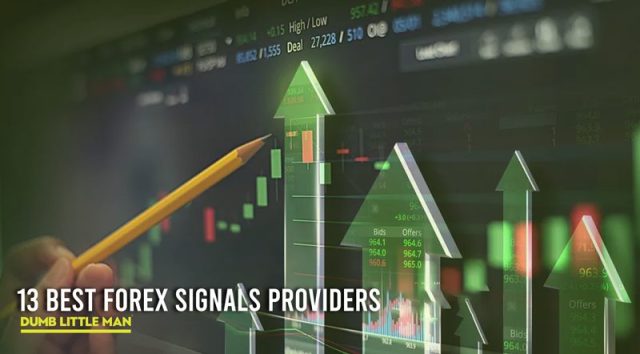 The Forex market has been expanding rapidly over the last few years. As per ForexIRS, the number of forex traders rose from 9.6 million in 2020 to about 14.5 million in 2022. The daily trading activity has also increased, averaging about $7.5 trillion ; to put it in perspective, the overall world daily GDP is roughly $250 billion, about 30 times lower than the forex total.
Although the forex market has attracted diverse users, it doesn't mean that new entrants have enjoyed massive profitability. Over 66.7% of traders, i.e., two-thirds, make a net loss at the end of their first year of forex trading. The forex market combines institutional investors, public investors, and governments. Although governments don't intervene in the forex market explicitly, they may use trade barriers and fixed rates to impact the exchange rates significantly.
New traders often use signal providers in fluctuating markets to assess market movements and generate positive returns. Are you a new forex trader looking for a signal provider? Well, it's your lucky day. In the following sections of our blog, we will discuss the 13 best forex signal providers and how you can select the best of them.
What are Forex Signals Providers?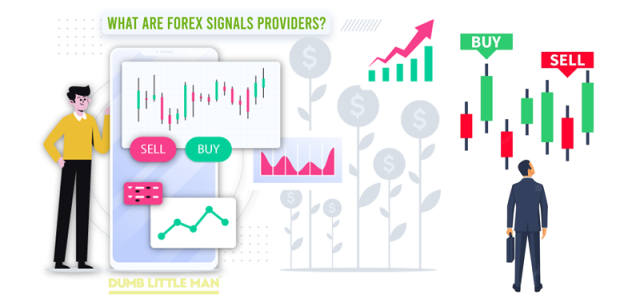 Every investor enters the market hoping to cash profits; however, making profits with a volatile investment is challenging, and there is a fair chance your decisions will go wrong. New traders are often naïve to the trading environment and are nervous about their trades.
Hence, they look for different sources which can provide credible data about possible movements in the currency values. These suggestions can help them make better decisions and back their strategies on solid evidence.
Forex signal providers are the solution for new and experienced traders; they study the market in detail and evaluate different currency pairs to guide investors about profitable opportunities. Forex signal providers usually categorize their signals in four heads.
The first evaluation is based on trends; the signal providers analyze the candlestick pattern for different currency pairs and evaluate its patterns. Currency pairs, like stocks, follow cyclical patterns in the long run, and currency movements can give tangible results.
The second evaluation is based on MACD, Bollinger bands, RSI, and other indicators. Every indicator is based on an underlying assumption or value that helps assess the currency's movements. The indicators are usually used together to get a comprehensive view that is supported by most tools.
Another vital criterion is market sentiment; the forex market has higher volatility than the stock market, and market emotions play an essential role in defining a currency's value.
If the average investor thinks the EURO will rise, the EUR will undoubtedly increase, and vice versa. Similarly, a government's policies and restrictions can also decide the fate of a currency, and signal providers can use them to evaluate possible changes in value.
Lastly, signal providers also consider how institutional investors are moving their income. As per an estimate, 94.5% of the trading volume in forex comes from institutional wealth, and a few firms have significant control over the market. Hence, forex traders need to comply with the market movements of smart investors to avoid falling into a pit.
After evaluating the analysis criteria, some readers may think that investing in a signal provider isn't worth it; they may believe that once they know how a signal is created, they can simply carry the step themselves and avoid the cost. However, a forex signal provider can't be replaced merely by fulfilling the steps. The Forex market has over 50 currency pairs, and when you add crosses and exotics to it, the number can increase to well over 100.
It isn't humanly possible for a single forex trader to keep an eye on all the security information and analyze them to determine their movements. Even if some traders try limiting the pool, forex signal providers still have an edge due to their quality experience and connections with institutional investors.
If you're starting as a new trader, opting for a forex signal service may be more feasible. However, the selection is challenging; once you type the keyword in Google, it yields hundreds of possible options, and deciding any of them is impossible.
Fortunately, you don't have to waste any more time in your research, as we have the 13 best forex signal providers in the next section. We have also explained why each trading signals provider is different and ranked at its position.
13 Best Forex Signals Providers of 2023
13 Best Forex Signals Providers of 2023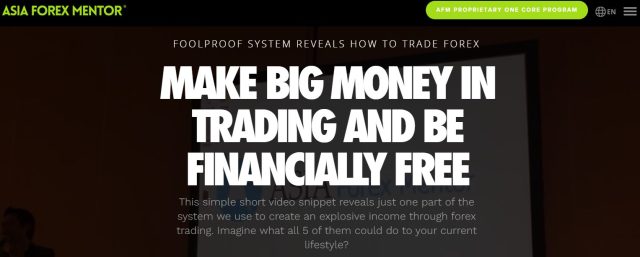 Once you think of the best forex signals provider, you imagine someone with a positive reputation, consistent results, detailed guidelines, and tangible evidence. The same criteria make Asia Forex Mentor an automatic pick on our list.
Ezekiel Chew- the founder of AFM- has been regarded as the #1 Forex mentor in Asia. The title is well deserved, as he started from a small room in 2008, and since then, he has only moved upwards.
His small room of students has turned into over 100,000+ learners spread over different parts of the world. Mr. Chew is no longer a teacher for forex traders; instead, his skills have bought him gigs to train financial institutions and banks trying to succeed in the online world.
Ezekiel Chew launched the golden eye group for forex traders struggling to generate profits. The Golden eye group is a fantastic opportunity for traders to follow his trade setups and analysis to profit in the market. The group works on the mantra of 'making big and losing small.' Mr. Chew and his team analyze the forex market in depth using their strategies.
Each week, Ezekiel identifies the pairs and vehicles to trade. The entry and exit points are shared in the Golden eye group. Unlike other signal providers, Mr. Chew shares his insights about market movements and how traders should react if the market takes an unexpected turn. Contingency planning helps traders in minimizing losses and make wins even if the trades go wrong.
However, an unexpected result for Mr. Chew's signal is a rare outcome, and often, his decisions yield profitable results for their members. At the week's end, the signal performance is shared in the group, and the win rate is always positive but more importantly, the risk to reward ratio for the trades are good. Following the mantra of 'Win Big and Lose Small.'
The results from his signals have helped traders earn their dream incomes; his website shows testimony for clients with a growth rate of over 950%. His signals have yielded as high as 15x results. Although these results are atypical, they show the effect of his teachings and tactics in shaping your trading journey.
The best thing about Asia Forex Mentor is the development of a self-reliant atmosphere; they teach you the mantra to identify the most profitable security before anyone else and make good profits.
Apart from the Golden Eye Group, members learn their trading from his comprehensive One Core Program that entails the complete trading system that Ezekiel uses. The program can help you take the next step towards mastering not just forex but trading of all vehicles including stocks, crypto and commodities.
Pros
Positive reputation with incredible results
Taught by Asia's #1 Forex mentor
Includes the mechanism of making successful deals
Affordable price and trustable suggestions
A free course is also available to gain insights on how Ezekiel teach and trades
Cons
Signal frequency may vary depending on market conditions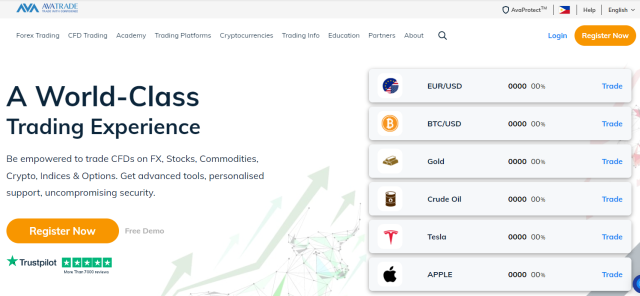 When it comes to good brokerage services, AvaTrade's name ranks the highest. The broker has crafted diverse offerings to suit the trading needs of different trading styles; they have excellent platforms and remarkable customer service.
However, we are more concerned with their signal accuracy. Avatrade generates signals through AI trading bots trained to find a security's entry and exit points. The AI trading bots can process innumerable securities simultaneously and provide credible results for traders' possible moves.
Similarly, AvaTrade also offers human-generated forex trading signals. AvaTrade SA has signed a contract with multiple third parties to provide forex signals to its users. The third-party signals have proved helpful for traders, and it assists them in making good deals. The signals also come with an explanation of the call that helps traders learn about the changing markets.
However, third-party signals are usually distributed to a larger audience, making them less profitable. Once an opportunity is discovered, most forex traders jump onto it, and the market correction occurs, leaving fewer profits for the slow movers.
The AI expert advisor signals are comparatively better, but Avatrade doesn't give traders explicit directions. Instead, they must sign up for a copy trading feature with an AI bot. Traders can select any trading strategy and allow it to be implemented into their portfolio.
Pros
A reputable name in the forex trading industry
Both AI and Human-generated signals
Includes trading signals for stocks as well
Fundamental analysis is also integrated into the signals
Cons
AI signals must be automated, leading to a higher risk
Third-party signals are less trustable

Learn2trade is one of the most popular trading signals providers in the European region; they have over 40,000 traders connected to their program and have been in the business for several years.
Unlike our prior options, Learn2trade is a modern signal provider that utilizes human intellect and experience to drive actionable instructions for their traders. The signal broker is connected with multiple forex traders who have been trading in the forex markets for several years. The experts evaluate securities based on fundamental and technical indicators and provide actionable directions.
Learn2trade has also expanded its portfolio to include a copy trading feature for its traders. Now, traders can delegate a Learn2trade expert to make trades on their behalf; it not only saves traders' time but also reduces the risks attached to the investment.
Learn2trade boasts a 79% success rate, meaning around every 8 of 10 investors have benefitted after signing up with them. A subscription with Learn2trade provides up to 40 different trades every month for a subscription of about $60. Traders can also utilize 24/7 crypto signals to diversify their portfolios and maximize their investments.
Pros
Over 79% success rate
Experienced traders act as advisors
10- minutes to sign up with them
Crypto signals are also available
Cons
A $60 subscription may be expensive for some traders
Traders have shared mixed reviews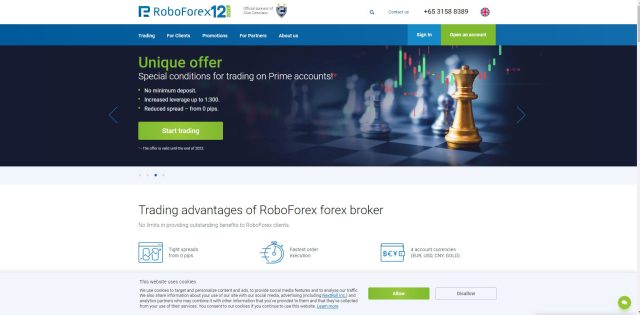 Roboforex has always been the market leader in innovation and financial flexibility. Their role in evolving the forex markets have been significant, and they have eased trading for full-time professionals.
CopyFX has gained rapid popularity since 2020 and has attracted a massive audience. It isn't a conventional signals provider that shares market insights with traders, but it ultimately helps you avoid wasting time on the market and delegate the responsibilities to an EA.
CopyFX has a list of over 100 expert participants; traders can choose any participants and attach their investments to them. Thus, whenever the EA moves, the trader's portfolio automatically changes.
The best copyFX participants have generated massive profits over the last few years, and the results have been improving rapidly. Roboforex provides an easy sign-up procedure, and traders can deposit the amount using 20 different methods.
However, traders should be cautious of selecting the right CopyFX expert, as a wrong selection can be detrimental to your investment. An EA controls your investment; a wrong decision can create unwanted losses.
Pros
Complete automated trading experience
Excellent past results for top experts
Trusted name with an FSC Belize license
Negative Balance protection is also available
Cons
Unwary investors are vulnerable to losses
No strict checks for CopyFX participants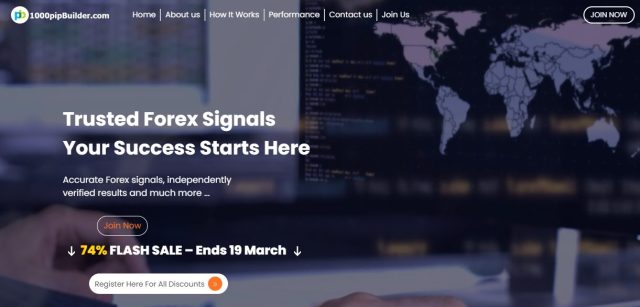 With over 4 million users, 1000 pip builder is easily one of the most popular forex signal provider across multiple continents; they have marketed their services to a broader audience and have engaged numerous traders through remarkable service.
1000pip builder started with Bob James, who worked in a leading financial institution in London; however, he achieved satisfaction by helping new traders find footing in the trading markets.
The company analyzes 15 currency pairs across different perspectives; they consider the changing market conditions, patterns, trends, and external indications for a currency. The signals provider provides up to 7 signals daily; the specific goal for every forex trader is 350 pips. Existing customers have shared positive reviews about the signal provider and regarded their calls as reliable, efficient, and worthwhile.
A primary reason for high customer trust in 1000pip builder is their transparency in keeping customers updated with their latest procedures. The website describes its offerings and contains detailed guidelines for the process.
Once you sign up with them, the signal provider sends a detailed email illustrating what different signals mean and how they are driven. Next, you'll receive daily emails, SMS, or telegram messages regarding profitable opportunities and how you should make your next move.
Pros
Over 4.4-star rating at Trustpilot
Reputable history of over 10 years
7 Trades every weekday
Good customer support and transparency
Cons
Multiple counterfeits make it challenging to find the real
Some trades are resent to complete the count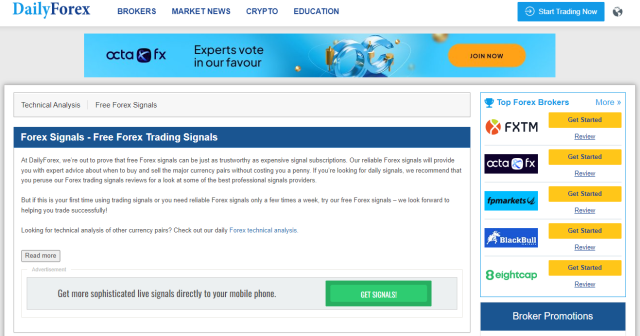 Dailyforex.com has changed the market dynamics of forex signals; they have gone from signaling trade positions to offering descriptive details describing how and why some securities will move. The website is an excellent hub for traders to find information about the forex market and other securities.
Even if you aren't looking for forex signals, you can log on to the website and find many helpful news articles to analyze how the forex market is changing and how to profit from it.
The best thing about Dailyforex is its free forex signals; most forex signal services are paid, and new traders must relinquish their limited investment to get market information.
However, Dailyforex has provided traders a leeway by providing detailed articles about forex pairs and their possible movements. The website uploads over 10 articles every week and some news updates are also featured on the home page.
However, the problem with Dailyforex is the lack of focus; a trader has to scroll through multiple articles to find practical information, and if a trader isn't familiar with market terminologies, comprehending the report can be a difficult job. Another problem with free forex signals is their evaluation criteria; as most free trading signals providers usually upload public information, there isn't any tangible parameter for analyzing the average profit ratios of their traders.
Pros
Free to use
Detailed articles on multiple topics
Broadens a trader's market understanding
Keep traders updated with market conditions
Cons
Lack of trade-driven insights
Efficiency can't be tracked

Forex signal factories are another common choice amongst traders; the signal service provider has been operating for over a decade, and they have helped 45000 traders in finding the right deals.
Forex signal factory is a hub of expert forex traders who share their market understanding and enable traders to benefit from their knowledge. Forex signal factories have diversified their services; the first part consists of free information for traders.
Traders are asked to sign up for a telegram group, where expert advisors share their insights daily. The website claims the signal accuracy ratio is as high as 85%. Traders can also connect with the EA through Telegram and seek help with their trading journey.
The second section is oriented towards generating revenue; it involves creating personalized trading signals for clients to suit their trading strategy. Clients are charged for the support, and the services are offered through the Signal Factory website.
Traders can connect with the Signal factory throughout the week and enhance their understanding of the market. However, many reviews about Forex signal factories suggest the high success ratio is a myth.
Users report that they have suffered significantly as the trade signals went wrong, and they were told to avoid using automated tools, such as stop loss. It led them to go deep in losses; most were left with nothing. Forex signal factory's Telegram is also used to sell other forex-related products to the user and may not be as valuable as presented.
Pros
Free to use signals through Telegram
Connect with an Expert Advisor for personalized signals
Enhance your market understanding with industry experts
High popularity on social media channels
Cons
Telegram groups may have promotional messages
The trading signals can cause severe losses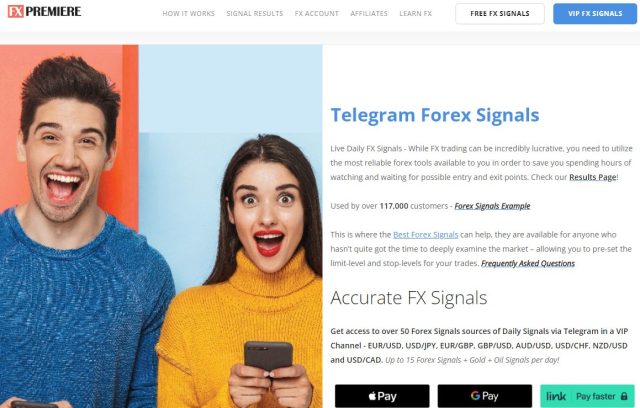 FX premieres have been famous for forex signals over the last decade; they were founded in 2010 with 4 founding members and have expanded to an audience of over 117000. The company has over 50 aggregated contributors who are well-versed in trading forex and have dedicated their time to finding the best trades for new traders. FX premiere has a free FX signals tab; the website connects you to a telegram group with multiple forex experts.
The forex experts share their insights about the market and suggest which securities to buy, sell or hold. However, the problem with the free group is the lack of control. As traders aren't paying a fee, they can't hold experts accountable if the decisions go wrong. Similarly, if experts avoid sharing signals for some days, the traders have no option but to wait. These problems can be overcome by signing up for a paid membership with FX Premiere.
They have three packages based on 1, 4, and 12 months. Every package has its perks, and the 12-month package stands out from the rest. It has a limited audience of 3500 members connected through a telegram group.
Each member has access to signals from 50 different sources that enhance the chances of boosting profitability by confirming the right trades. The premium members also get access to the MT4 trading platform and indicators that improve their trading experience. FX premiere also provides them with risk management strategies to ensure that foreign exchange trading is profitable.
Although FX premiere has a good reputation on the internet, users have accused them of using malicious techniques to maintain it. Traders report that they are given a free 5-day entry into the VIP group by posting a 5-star review at Trustpilot. However, if someone posts a negative review, they are removed from the group.
Pros
Both free and paid versions are available
high customer positive rating and history
Risk management advice is also offered
Over 80% success ratio of trading signals
Cons
Free telegram group isn't reliable for traders
Customers are punished for posting negative reviews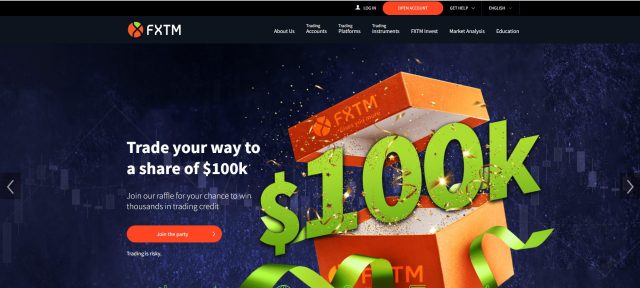 FXTM is a popular European broker, and they have expanded into their portfolio by offering forex signals. The forex broker has recognized the need of their traders and has introduced a separate trading signals service to benefit them. FXTM uses a three-step strategy to devise signals; the first part consists of evaluating price patterns and cycles of the security and predicting its movement.
Secondly, they use three popular indicators to understand the dynamic pattern of security and evaluate where it's headed. Finally, they also guide investors about implementing automated tools, such as Stop loss, to minimize risks.
FXTM has been a leader in offering innovative platforms for market analysis, and their signals have also gained attention from forex traders. Unlike other providers, FXTM has created the trading signals tab inside its central platform. Traders can simply head to the relevant section to view them.
Once they have identified the signal, traders can implement the forex signals immediately from the same application. FXTM signals are a good guide for your forex trades and can assist you in elevating your trading account. However, FXTM offers a limited variety of trading signals; the signals are updated twice daily at the application, and traders need to implement them quickly to enjoy a better profit.
Pros
Free signals can be accessed through a demo account
FXTM is a popular name in the industry
The trade ideas are backed by solid research
Multiple tools to evaluate your profits
Cons
Trade signals are only provided twice a day
Lack of historical data to make any valid success estimate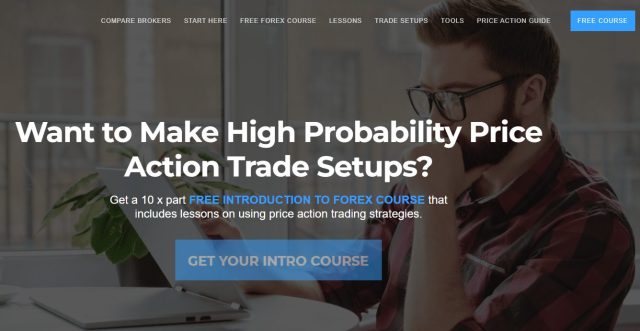 As the name suggests, Forex school online isn't simply a forex signal service; they are a complete hub to master forex trading and understand the financial markets. The platform is designed specifically for new entrants, who can opt into the course to be successful trader. The course is designed in multiple stages and can be accessed free of charge by signing up.
Forex school online's trading signal has been popular amongst new traders, primarily due to its easy language. Although the signals are posted as blogs on the website, the content is complemented with graphics and illustrations that help traders understand the market dynamics. The graphs can help traders evaluate the cyclical patterns in a currency pair and analyze when is the right time to buy.
The website contains a complete series of different lectures and blogs detailing other concepts of financial markets and implying their understanding of real-world cases. It helps traders develop a keen sense of the market and tune their trading style toward profitability. The website also contains information about Meta traders and how traders can use it to its full potential.
Overall, Forex school online is an excellent tool for getting started in the forex space; however, as a signal provider, they aren't the best option. As signals are shared as blogs, they are given at an irregular frequency, and traders can't rely on the signals to complement their trading journey. Other forex signal providers offer more frequent and insightful forex signals that help traders trade regularly and make a profit.
Pros
A complete course for Forex markets
Detailed analysis of securities and their probable movements
Money management and MT4 guides are available
Free resources are also available
Cons
Lack of focus on signal supply
Irregular signal upload pattern- unreliable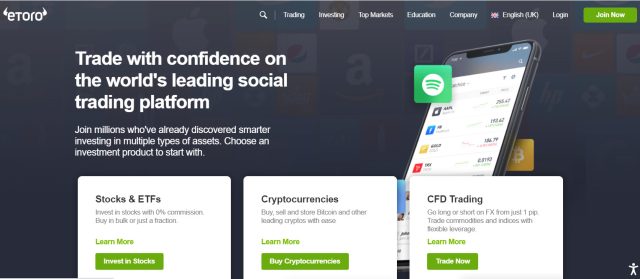 Etoro is a popular broker in the US and UK; they have established a positive reputation in the trading community due to their reliable service and impressive offerings. eToro has recently ventured into social trading, which makes it easier for investors to invest in the trading market. Social trading satisfies the goals of trading signals precisely; it lets you take time off your trading charts while someone else researches the industry for you.
Etoro's social trading applies to every trading account with eToro, making it viable for any existing investor to get on board. The company has a vast pool of trading strategies for traders to select; an EA backs each trading strategy, and the dashboard provides information about their historical performance, ratings, total profits, and future movements.
It helps traders select the best trading strategy for their portfolio and let the EA do the rest. Usually, the strategy has an input for AI bots and professional traders who help minimize risks without compromising on profitable opportunities. The trading signals and movements are backed by technical securities analysis, making them reliable forex traders. Etoro also offers advanced charts and tools for independent research by the trader.
Although eToro has sufficient tools to trade forex, its signals aren't as good as the market leaders. The broker has to focus on different offerings; hence, their market signals haven't excelled at the same rate as other competitors. Similarly, there have been mishaps with customers while dealing with the social trading features that make their services less trustable.
Pros
A reputable broker with the necessary licensing
Easy sign-up for social trading services
Market analysis and research articles are available
Social trading has multiple options
Cons
Traders must have an account with eToro for social trading
The platform is prone to 'technical issues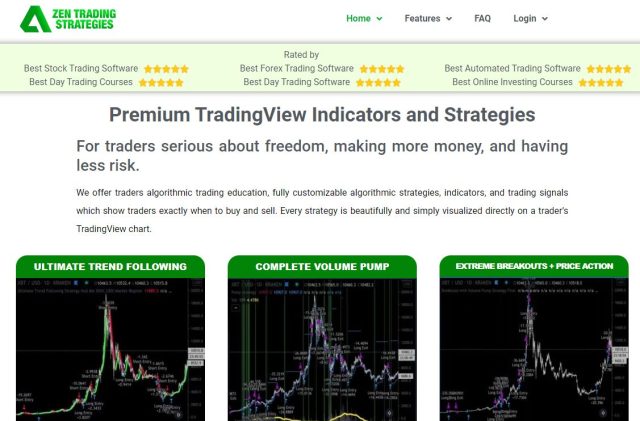 Zen trading strategies were one of the forerunners of forex trading signals a few years ago; although their popularity has declined since 2020, the company is innovating rapidly to keep up with the market requirements. Zen trading strategies focus on the all-around trading experience for traders; they not only provide signals to attain your short-term goals, but they also have a comprehensive course to assist you in the long run.
Zen's most notable feature is its trading view; the company launched an innovative application that allows traders to test their insights on a security based on its historical data. A trader can take a trading position, and tradingview will compute whether it would drive a profit or loss based on past performance.
Traders can leverage tradingview by using an automated indicator. You can select an indicator, and it will monitor the charts and price patterns on the security. Tradingview will provide trading signals based on the market analysis by the indicator, and traders can enjoy a fully automated experience.
Zen trading strategies also had a trading signals section on their website, where traders could view the highest potential securities and how to benefit from them. It included information about stocks, crypto, and forex.
However, the page was last updated in 2021, and zen trading doesn't plan to update it soon. A possible reason may be the inefficiency of free signals in protecting the market gap. We'll talk more about it in a while.
Pros
A reputable name in the trading industry
Free signals available for stocks, crypto, and forex
Includes a detailed course about online trading
Innovative method for automated signals
Cons
Free trading signals were last updated several years ago
Spam emails from sources disturb traders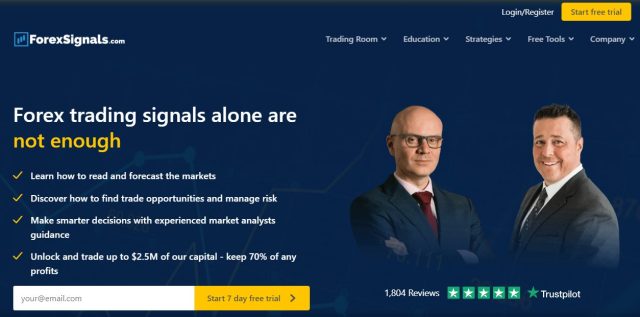 Forexsignals.com is one of the top search results when searching for forex signals. Although the name suggests they are signal providers, the assumption isn't correct. Forex Signals have published their offerings with a tagline of 'teaching you Forex.' The company doesn't focus on providing you with goal-oriented signals; instead, it enables traders to analyze the markets and generate signals independently.
The reviews about Forexsignals.com have been impressive; they have an over 4.6-star rating at TrustPilot, and most of their users have commended their courses. The lectures are drafted by forex teachers, who have learned extensive details about different indicators and how to make the most of them.
The course also highlights different price cycles for currency pairs and how to analyze and trade during each of them. Forexsignals.com also offers a trading portal for their clients.
The trading portal gives premium access to the latest indicators and tools, where traders can implement their strategies and evaluate their results. The trading room also gives traders access to a trading community where expert traders share their insights about future market movements and how traders can benefit from them.
As the community is open to all members, multiple signals can come from different sources. Although the multiplicity may be helpful in some instances, it can confuse traders regarding which signal to follow.
Also, as each member can voice their opinion, Forexsignal doesn't have a parameter to differentiate between skilled and inexperienced members, which may cause losses for the followers. Forexsignals.com isn't a signals provider, but it can help you learn about the market.
Pros
A detailed course about Forex trading
Easy access to expert and knowledgeable tutors
The trading room lets you access advanced indicators
The community enables you to interact with experts
Cons
Not a trading signal provider
The course has unnecessary details for passive traders
How to Choose the Best Forex Signals Providers?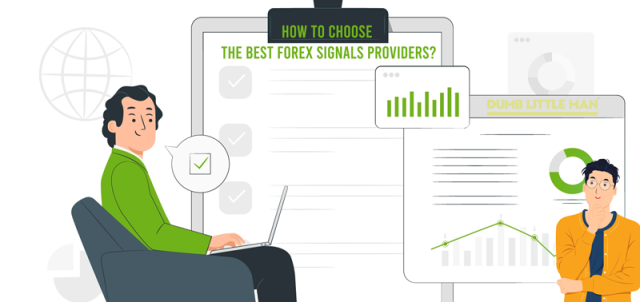 Our list contains the 13 best forex signal providers, and if they weren't enough, there are countless other options on the internet. It gets confusing for traders to decide which forex signal service to opt for. If you need clarification, our 4-way criteria can help you out.
Founders: the internet is full of forex signal providers who scam their members by copying signals from other legitimate providers. You must ensure your signal service has a forex expert as a leader. They will usually have a comprehensive approach toward signal insights and will be prompt at answering your queries.
Market ratings: trading signal providers can quickly be evaluated by the opinions of their existing customers. If a signal provider has less than a 3.5-star rating at a reputable platform, it suggests a negative word of mouth, and you shouldn't opt for them.
Long-run viability: forex trading is a tricky business, and if you let trading signals control your portfolio, you'll end up making a lot less than you could have. You should opt for a signals provider that shares detailed insights behind the signals and teaches you the way toward self-reliance.
Demo testing: forex has a fair share of braggers, and they may go ahead with blatant lying about their signal efficiency. Hence, the best way is to test the signals on a demo account before putting your funds at stake. You should use the trading signals for about 1 week at a demo account and analyze the results.
Forex signals can be a game-changer for your portfolio; however, things can go wrong quickly if you make the wrong selection. Our 4-way criteria ensure you check all boxes before signing up with a provider.
Once you sign up with signals service, you may come across some experts offering the service for free. Free forex signals are mostly a red flag; they are either poor quality or are driven to drive an unnecessary purchase.
Also, you can't hold a signal provider accountable for their deficiencies without paying them. Hence, you should invest some amount in accessing quality content that aligns with your goals.
Conclusion: Best Forex Signals Providers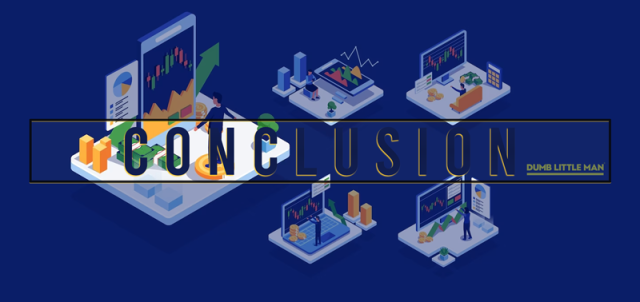 'Are forex signals legit?'- the question has been asked for ages, and there has yet to be a definitive answer. However, we can explain the answer by analyzing the demand and supply mechanisms. Every time a profitable opportunity arises, the intrinsic (simply stated, the real) value of security rises, and investors rush to get the security while the price is still low.
The surge in demand creates a price increase, and soon, the price matches the intrinsic value. A similar process works while shorting a currency pair. Signal providers primarily look for profitable opportunities and update their members about them. If the traders make a move at the earliest, they may get their hands on some profit; otherwise, they may suffer due to the market overreaction effect.
Hence, signal service is helpful if your provider is proficient in finding the best opportunities before they arise, so the members can move at the perfect time. On the contrary, if they follow market movements, there is a rare chance of tangible profits. The trading service providers shared above have operated in the industry for several years.
They have created a name for their services and are trusted by thousands of users worldwide. You should use our 4-way strategy to get the best forex signal provider and enjoy a successful trading journey.
Best Forex Signals Providers FAQs
Should I pay for Forex Signals?
Free forex signals have been the talk of the town, but they aren't famous for good reasons. Many users have reported free signals as poor quality, where they are copied from some credible broker and tweaked slightly to be forwarded to a newer audience. Free signals aren't generally reliable and are usually used to bring traders towards other paid services.
Hence, paid forex signals are a better deal if you opt for the best forex signal provider. Our article discussed 13 excellent signal providers; each has been popular in the trading community due to their reliable services and consistent results. Some have achieved as high as a 1250% return in as little as 1 month.
Initially, it's better to sign up with a forex signals provider to analyze the fundamentals behind market signals. Once you have substantial information, you can stop paying for the service and rely on your understanding of the market.
How much do Forex signals cost?
Different signal providers charge different prices; usually, the most popular ones charge between $50 to $100 every month. However, some signal providers may charge a higher fee if they provide additional services alongside forex signals.
For instance, some service providers offer their members a trading room and platform access; hence, they may charge an additional price for the added perk. Nonetheless, you can find some good free forex signals if you have limited capital. You must analyze the calls based on market dynamics and whether they suit your trading objectives.
Are Forex signals worth it?
Forex signals are based on market insights. They highlight any profitable opportunity that can help you make an income. However, trading signals are only beneficial if available at the earliest and few traders know about them.
If the signal is common market sentiment, the overall profitability of the decision reduces as most traders have already seized the opportunity. Forex signals provide a short-term fix to help traders get used to the trading world. Once you're familiar with the market dynamics, it is better to use your understanding to trace profitable opportunities.