Best Buy Credit Card (Pros and Cons)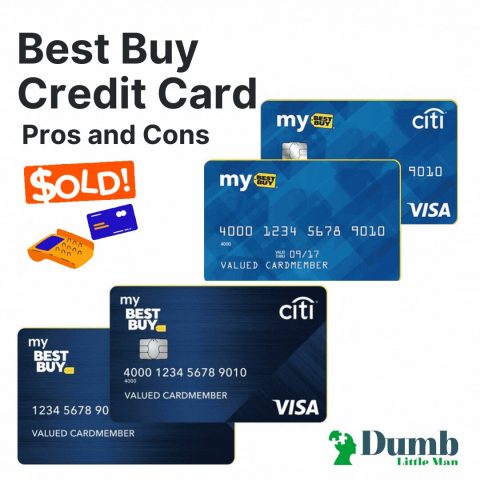 Best buy credit card is a credit card issued for Best Buy customers. Best Buy is an American global consumer electronics retailer situated in Richfield, Minnesota. Initially established by Richard M. Schulze and James Wheeler in 1996 as an audio specialty store called Sound Music. It was rebranded under its present name specializing in consumer electronics in 1983.
The card is issued by Citibank and it is beneficial to customers such that they can use the card only at best buy stores and its website. The card is not general and cannot be used on other shops or platforms like Amazon or Walmart.
The Credit card is for individuals who love shopping at Best Buy. Rewards earned for using the card are only redeemable at best buy. More points are earned on purchases made at best buy stores provided that you incur a significant amount of purchases over a year. In addition, the card offers exceptional financing when you make purchases worth $199 and more.
Types of Best Buy Credit Cards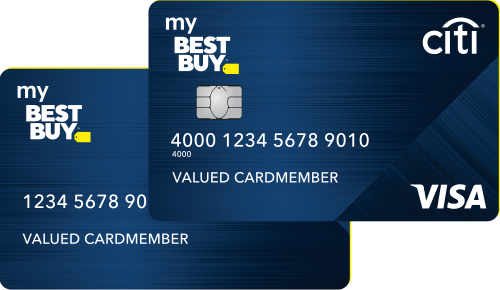 Photo: bestbuy.com
There are two types of credit cards issued by best buy which are:
Best Buy Credit Cards
This credit card is quite restricted as it is more of a store card and it is only acceptable at best buy and bestbuy.com. There is no annual fee charged for using this particular store card.
My Best Buy Visa
My best buy visa card is more widely acceptable anywhere at places that take Visa. There are two versions of the best buy visa card which are; Gold and Platinum.
Gold: Annual fee of $59 included
Platinum: No annual fee included
The only distinguishing factor between the two cards is the annual fee involved.
While filing your application for best buy store cards, best buy will disclose to you which of the cards you have been endorsed for. Upon applying for a card, according to their policy, you would be first considered for My Best Buy Visa Platinum. In preferential order, if you do not meet requirements for Visa Platinum, you would then be considered for My Best Buy Credit Card, lastly the My Best Buy Visa Gold.
This implies that you do not have control over which type of credit card you would be getting.
Benefit and Features
On every purchase made by cardholders, points are accumulated which can be redeemed into reward certificates. These reward certificates can be used to purchase goods from Best Buy.
Best Buy Elite plus cardholders are awarded 5% back in rewards and 6% back in rewards respectively. Gas purchases attract 3% back in rewards and 2% back in rewards on grocery purchases. For everyday purchases, 1% back in rewards is applicable.
As an Elite plus member which means you spend $3500 or more per year at Best Buy, you are entitled to 0.5 bonus points for purchases made from the store.
Each point procured through the Best Buy Credit Card is valued at $0.02 in exchange for a reward certificate. Best Buy posits that 1,250 points translate to $25 ( $25/1,250 = $0.02). If points are converted into reward certificates, you can expressly state that the card's reward rate has dropped somewhere in the range of 1% and 5% or 6% in the case of Elite plus members.
Financing Options
Similarly as with most retailer-issued credit cards, having a Best Buy credit card permits you to make certain purchases with 0% APR over a timeframe. There are various financing periods with respective purchase amounts. Hence, you are qualified for various financing periods depending on the purchase amount.
Below are details of financing periods and their respective purchase amount:
6 months = $199
12 months = $399
18 months = $599
24 months = $799
If at the end of the financing period you have failed to pay your balance off, you would be on the Snare to pay exorbitant interests for the sum you owe. The interests will be charged retroactively, tracing it back to the time of your purchase. This implies you will be hit with a bill higher than usual.
How to get the most of Best Buy Credit Cards
Utilize the credit card and use it to make purchases whenever you are at Best Buy and pay your balance each month or risk losing out on the benefits of your rewards. In the case of other everyday purchasing, consider pairing with a general cash-back rewards card which may offer more worthwhile rewards and would provide you more redemption flexibility.
Also, with another card, you might even have the choice to purchase Best Buy gift cards with your rewards.
Another approach of utilizing the credit card is to exploit its unique financing promotion that normally runs from 6 to 36 months with a subsidized interest rate as low as 0%. Although, you should be cautious with these offers.
Best Buy charges "deferred interest", which implies, if you fail to pay off your purchases before the end of the promo period, depending on the purchase type and amount, you would have to pay interest covering all the entire purchase incurred from the date of purchase, not exactly what is left of your balance.
In case you need an extended time to take care of a major electronic buy, you are likely in an ideal situation getting a general rewards card with a basic 0% APR. Provided that you end up requiring more time to pay off, you will only need to pay interest on the remaining balance rather than the original amount.
Best Buy Credit Card Acceptability
The card can only be used solely at Best Buy stores and its official website. It is a kind of in-store credit that restricts its useability to the store only. It is not acceptable outside of Best Buy as it is not linked to any of the major financial card networks like Visa, Mastercard, or American Express.
How Does the Best Buy Credit Card Compare to Others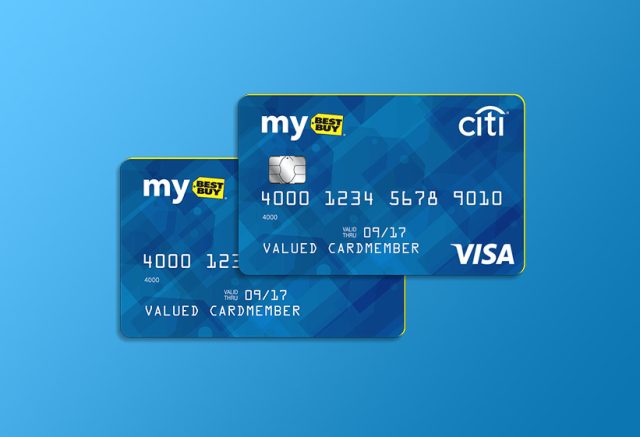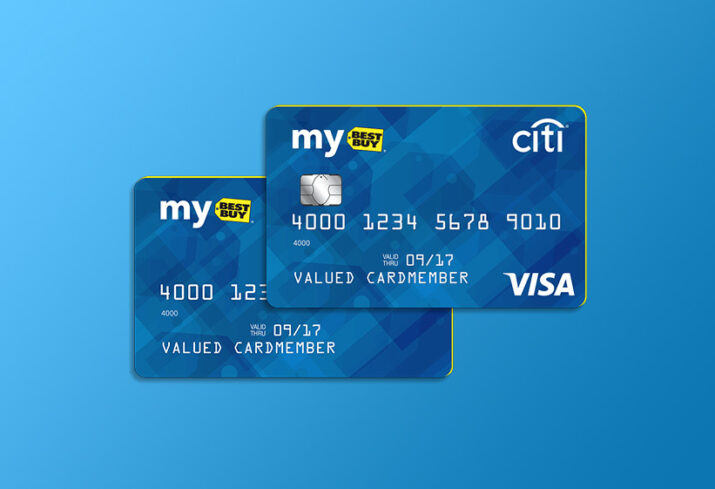 Photo: mybanktracker.com
Retailer credit cards, in general, tend to be inferior to credit cards offered by banks. In that capacity, My Best Buy credit card does not perform much. Its interests are inflated, low credit limits, and the rewards you procure from it are just useful for additional purchases from Best Buy. We compared how these cards perform against other options beneath and the catch is that you would require more credit scores to be eligible for better credit card offers.
My Best Buy Credit Card Vs Citi Double Cash Card_ 18 month BT Offer
The Citi double cash card is considered one of the best fixed-rate cash back credit cards. The card allows its clients to earn 2% on each purchase with limitless 1% cashback when you purchase, in addition to an extra 1% as you pay for those purchases. In comparison, it matches or beats all of the rewards on the My Best Buy credit card except for shopping from Best Buy stores.
The Citi double cash card rewards cardholders with statement credit, which is flexible than the rewards certificate earned with My best buy credit card. The statement credit can be used to offset desired expenses on your credit card bill.
The Citi double cash card is relatively more flexible and adaptable compared to the Best Buy credit card.
Best Buy Credit Card Vs Best Buy Store Cards
Both types of cards can be used to buy products from the Best Buy store and pay off later depending on your payment type and financing options. The two cards allow cardholders to choose the 5% option of special financing. For instance, for purchases in a total of $199+ equates to a 6-months timeframe to offset your balance with zero interest. For $399+ worth of purchases from the store, equates to a 12-month timeframe to offset the balance with zero interest. Purchases totalling +599+ and $799 you get 18-months and 24-months to pay off the balance respectively.
Best Buy Credit Card Promotions and Sign-Up Offers
Upon your first buy within the first 14 days of approval, you are entitled to a bonus of 5% on the reward certificate. That is an aggregate of 10% compensation for your first best buy purchase. The worth of this sign-up bonus depends on the cost of the product purchased.
For instance, if you buy a home theatre from Best Buy valued at $1,500 you would earn 7,500 points which are equivalent to a $150 reward certificate. This can be used on your next buy from the store.
Although, credit cards usually offer sign-up rewards to attract new clients. It very well might be worth more to you especially if you do not intend to make a huge buy immediately.
Security Features
Best Buy Credit Cards are accompanied by standard security features including zero liability, fraud identification, and early warning notifications.
Pros and Cons
Pros
Lucrative rewards
If you tend to update your gadgets and devices to their latest version from time to time, which means you would constantly be making purchases from the Best Buy store. This means that you would be getting 5% back (in points) on your purchase which is added up and can be used to incur more gadgets from the store.
Rewards on Other Purchases
Other card stores provide limited buying options and bonuses. However, Best Buy Visa Card makes it possible to buy and earn rewards on gas (3% back), groceries, dining and takeout (2% back), and all other purchases (1% back).
Cons
Restricted Reward Usability
Rewards are earned on all purchases made and can be used to make further purchases from the store at any time. Unfortunately, purchases can only be made with the rewards only on Best Buy and the reward redemption is usually not straightforward. Also, points earned must be redeemed in increments of $5 for reward certificates.
Potential for Annual fee
If you are not qualified for a Platinum card which is usually due to faulty credit history, a Gold version of the card would be offered which attracts an annual fee of $59 to get and use one. Retail cards do not usually charge an annual fee, so we would consider this a deal-breaker. You are better off if you are offered a store-only card with an annual fee exemption. This means you would not be able to use it outside of the store, but you are still eligible for your 5% back in points reward certificate on all store purchases.
High APR
APR is at the top end for a store card and well over the normal APR for a general cash back credit card.
Short Reward Expiration Timeframe
Reward certificates lapse in 60 days. However er, the deadline could be longer or shorter sometimes. Therefore, it is expected that rewards are utilized before expiration and if not used before it expires, it would be forfeited.
Conclusion
My Best Buy Credit Card is solely for individuals who like to shop at best buy and do so consistently. It offers some gainful rewards for purchases made from the store but restricted redemption options make it less significant compared to more flexible cash back credit cards. Its zero-interest policy on large expenses is eye-catching but there are also plenty of 0% interest cards that do not risk deferred interest charges. In addition, you may only qualify for the 5% annual fee version or Best Buy store card.
Based on your spending targets, a general cash back credit card or card with 0% introductory APR on purchases will bring you more significant worth than a card that is limited to a store or brand.
FAQS
Q1. What is the annual fee on My Best Buy Visa Credit Card?
A. The annual fee applicable in the best buy Visa card ranges between $0-$59 depending on creditworthiness.
Q2. Is the My Best Buy Visa Credit Card good?
A. The Best Buy Visa Credit Card would be a strong addition to your wallet if you offset your bills monthly and consistently shop at Best Buy
Q3. Where can I use my Best Buy Visa Credit Card?
A. Your Best Buy Visa Card can be used only at Best Buy stores and online through its official website.
Q4. What credit score do you need for a Best Buy Credit Card?
A. A total of 640+ credit score is needed to be qualified for a Best Buy Credit Card.