ActivTrades Review 2023 with Rankings By Dumb Little Man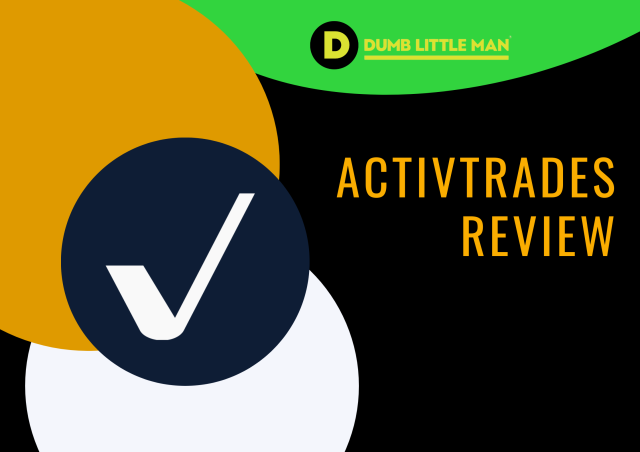 Evaluation Criteria
Choosing the right forex broker plays a vital role in your success as a trader, and that's why our team at dumb little man monitors and assesses each broker with rigorous criteria. We analyze the performance of brokers with different lenses to prevent traders from getting cheated.
When evaluating brokers and their services, we consider a variety of performance metrics. These may include the trading platforms used, customer service quality, research materials provided, financial assets on offer, pricing models in place, and other significant factors.
After that, we compile our findings and rate brokers accordingly. Our standard set of criteria to evaluate any broker includes the following:
Convenience
Profitability
Reliability
Broker's Competency
Affordability
Our in-depth evaluation concluded that ActivTrades is a reliable broker with three licenses from top-tier regulators, offering multiple trading platforms with extensive financial instruments and low fees. With a spread of 0.5 pips and leverage up to 1:500, the broker is known to be quite profitable. Moreover, ActivTrades has some of the most responsive customer service and reliable educational resources.
Ready to learn more? Let's dive deeper into this ActivTrades review of 2023!
ActivTrades Review
Finding a reputable and reliable broker to handle forex and CFD trading is no easy feat, and choosing the right broker can make or break your trading journey. We're here to help and have put ActivTrades under the microscope to give you an honest review of what this broker offers.
ActivTrades, the UK-based online broker that prides itself on its commitment to offering tailored solutions to an international client base, is a great choice for traders of any level. With state-of-the-art technology, excellent customer service via multiple channels, and a wide variety of trading opportunities, it's no wonder ActivTrades is gaining popularity amongst traders.
In this review for 2023, we will look at all the features that make ActivTrades stand out from other brokers, including their trading platform options, customer service support, account types available, and more. By the end of this review, you should have a good idea of whether or not ActivTrades is right for you. Let's dive in!
What is ActivTrades?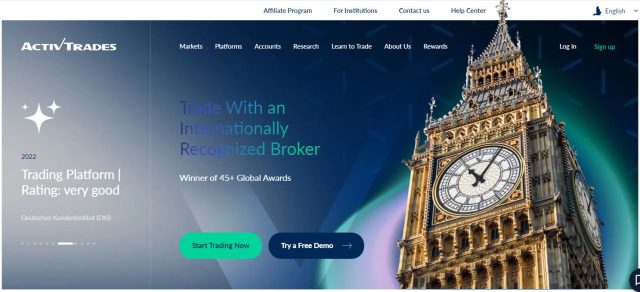 ActivTrades, a Swiss-founded brokerage house established in 2001, has two decades of experience in the fintech industry. The broker began as a small organization, but due to its ever-growing appeal and success, it is now known across Europe as a corporate and retail broker. In 2005 ActivTrades moved its headquarters to London, which saw even more accelerated growth everywhere around Europe. Moreover, it has additional offices in Nassau, Milan, and Sofia.
With almost 1000 trading instruments, ActivTrades provides access to Forex, Indices, Commodities, CFDs on stocks, ETFs, and Currency pairs. Operating with licenses from U.K.'s FCA and Bahamas' SCB as well as CSSF (Luxembourg) and CONSOB (Italy), it is no surprise this broker has been recognized for its excellence with 26 awards in total.
ActivTrades offers several trading platforms, including ActivTrader, MetaTrader 4, and MetaTrader 5. In addition, traders can enjoy various educational tools and rewards programs that make it a worthwhile broker. Moreover, it has everything a trader needs, with several exclusive ads-on like Smart Calculator, Smart Template, Pivot Points Indicator, SmartLines, and SmartForecast.
Safety and Security of ActivTrades

ActivTrades is a reliable broker since it's regulated by three of the most reputable financial authorities. The British regulatory authority, FCA, granted permission to the company to provide brokerage services across the UK and European Union with an FCA number 434413. Moreover, by leveraging the license of the Bahamas' regulator (SCB #199667), this broker offers services to people in multiple jurisdictions.
With ActivTrades Corp, traders' funds are safe and secure with up to $1 million in insurance. In addition, this trading platform protects your assets through advanced measures such as encryption protocols, negative balance protection, segregated banking accounts, and comprehensive fund security. Traders have to provide complete financial information to open an account with this broker. Moreover, traders need to verify their accounts with the required documents to deposit or withdraw funds.
Sign Up Bonus of ActivTrades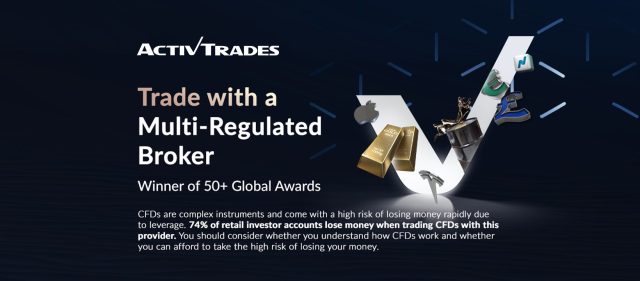 ActivTrades does not offer any sign-up bonus. New Traders do not get any sign-up or deposit bonus for registering with this platform. However, ActivTrades provides a loyalty program where loyal clients can refer a friend and earn up to $5,500 per referred client. Furthermore, ActivTrades also provides a cashback program where you must request to join the cashback program to win cash on every trade you make.
Minimum Deposit of ActivTrades
The minimum deposit of ActivTrades is $0. However, you need to provide your financial information to open an account with this broker. Moreover, you need to deposit the money in the account to start trading. You can fund your account using a bank transfer or several e-wallet solutions such as Neteller, Skrill, and PayPal.
Account Types

ActivTrades has two different account types, and you can choose one according to your trading skill and budget. The two account types are:
Individual Account
This account type is best for private traders looking to trade on the financial market. The minimum deposit for this account type is $0. In addition, this company offers floating spreads starting from just 0.5 pips. For CFD trading on shares, a fixed fee is imposed for each transaction. Moreover, the leverage for an individual account is 1:30.
Professional Account
This account type suits trader who want to trade with higher leverage and lower spreads. The minimum deposit to open a professional account with ActivTrades is $0. In addition, it offers leverage of up to 1:500 and tight spreads. Trading CFDs on stocks is easier on a pro account with 0 fees. Plus, you can select a leverage of 1:1, making it even more beneficial. An experienced account manager can also provide professional trading advice to improve things.
Demo Account
ActivTrades offers a free demo account where beginner traders can test their trading strategies and build their trading knowledge without risking real money. The demo account is offered with all the cutting-edge and exclusive tools. Moreover, traders can use the different indicators to test strategies on the demo account. In addition, a demo account can be used if the trader wants to stay in the learning phase. This is an excellent way to practice trading before investing real money.
Islamic Account
ActivTrades also provides an Islamic trading account that is 100% compatible with the Sharia law. This account type does not contain hidden fees; traders can access the same features and tools as a standard account. Moreover, this company follows all the Islamic regulations, such as no overnight swaps or rollovers.
ActivTrades Customer Reviews
Our review team at Dumb Little Man digs deep on the internet to find out what ActivTrades' customers have to say about this broker. Our experts found mostly positive comments from their clients that praised the leverage and spread provided by ActivTrades. Additionally, most traders praised the customer service of this broker and its extra features such as Smart Template, Pivot Points Indicator, and Autochartist.
However, a few of the traders have needed help with this broker when it comes to market orders. Furthermore, some traders also complained about slow response times from the support team of ActivTrades. Moreover, traders also complained about the lack of crypto trading options.
ActivTrades Spreads, Fees, and Commissions

Below are the details about spreads, fees, and commissions:
ActivTrades Spreads
Depending on the asset you are trading, ActivTrades utilizes two kinds of fees. First, spreads apply to all instruments but CFDs on shares. And since spreads are variable, EUR/USD's minimum spread is 0.5 pips.
ActivTrades Trading Fees
When trading CFDs on shares, the fixed fee per trade is determined by which market you work in. For European exchanges, it's 0.05% of a deal (with a minimum payment of 1 EURO), and for NYSE (USA), it's 0.02 USD per lot with a minimum payment of 1 USD). This applies only to traders who have opened an Individual accounts.
Moreover, the broker doesn't charge any fee on credit cards and Neteller. However, traders who want to withdraw funds directly in their bank account may face an interbank fee of $12.
ActivTrades Non-trading Fee
The broker charges a non-activity fee of $10 if there has been no trading activity on your account for over a year. Such a fee will be automatically deducted from the balance of a trader's account.
ActivTrades has a currency conversion fee of just 0.3%, which is applied to any closed profit or loss from an instrument with a different quote than the account's base currency. This means you will never be charged more for converting between currencies, regardless of where you are trading.
ActivTrades Commissions
ActivTrades offer a flat fee commission on stock CFD trading of $2 for each trade. This is one of the industry's lowest commissions, making this broker ideal for traders who need to execute a high volume of trades.
Deposit and Withdrawal
ActivTrades has a range of payment options, both international and domestic. It's easy to deposit or withdraw money from your account in minutes with just one click. After signing into your account, you can deposit or withdraw funds using various payment options, including bank transfer, credit/debit card, Neteller, Skrill, and Sofort.
All withdrawal requests are completed by 12:30 pm London time; if requested later, they will be addressed the next business day. Submissions must occur through one's personal account to facilitate processing.
The deposit fee depends on your payment methods and country. For Credit/Debit cards UK & EEA and non-EEA, a 1.5% fee is charged. However, there is no fee on bank transfers, Neteller, Skrill, and AstroPay.
To withdraw funds, a fee of 9£ is charged for bank transfers. However, other payment methods like debit/credit card, Neteller, Skrill, and Astropay are completely free. Moreover, all payments are processed on the same working day. Moreover, complete account verification is crucial in order to withdraw funds.
How To Open an ActivTrades Account – Step-by-Step Guide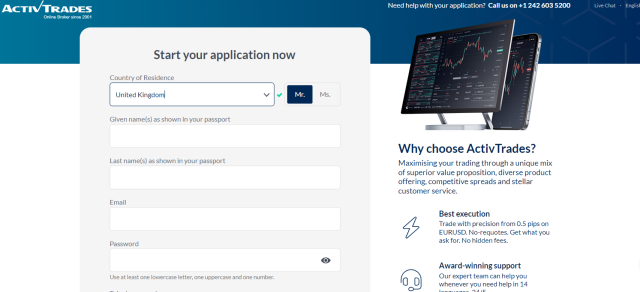 Here is a step-by-step guide to opening your account with ActivTrades:
Step 1: Go to the official website and click 'Start trading now.'
Step 2: In the new window, you will see the application to open and activate your account.
Step 3: Fill in the necessary details, such as name, email address, full address, and telephone number, and click 'Accept & Continue.'
Step 4: Now add the account holders information such as DOB, tax info, and resident country, and click on 'Next Step'
Step 5: ActivTrades asks you to add your trading experience to ensure you are ready to start trading. Fill in the detail, and click on 'Next Step.'
Step 6: Now add your financial and account information, such as employment details, Income, Savings, initial deposit, trading preference, trading instrument, and position size, and click on 'Next Step.'
Step 7: To set up your account on ActivTrades, choose between MT4, MT5, or ActivTrader, and currency. Moreover, read the declarations, accept the agreement, and click 'Next.'
Step 8: Next, upload your documents, such as your ID card, passport, or driver's license, for verification. Moreover, you need to provide proof of address and one selfie and click on 'Submit Documents.'
Step 9: Now, you will receive a confirmation email from ActivTrades. Once you have verified your account, you are good to go.
ActivTrades Affiliate Program

ActivTrades broker boasts distinct programs that cater to their diverse clients. So whether you're a retail trader, a financial company, or someone in between — they have an affiliate program tailored just for you.
Take a look below at the outstanding offerings from one of the top brokers:
CPA Program
This program is for affiliates who receive commissions based on every qualified client.
To be deemed a qualified client, an individual trader must make an initial deposit of $100 and generate at least $40 in spreads revenue for ActivTrades within 180 days after the deposit is made. With this program, affiliate marketers can earn up to $1,350. Additionally, CPA commissions are determined by the nation of residence and the initial investment made by a trader.
Refer a Friend Program
This program best suits traders with an existing network looking to refer others to ActivTrades. With the Refer a Friend Program, traders can earn up to $5500 for every successful referral. Moreover, you can get the added bonus of $500 for each referred friend.
Institutional Grade Investment Solutions
ActivTrades offers partnership opportunities for any institution, large or small. With various options available such as white label partner, account manager, and liquidity provider, there is sure to be an avenue that fits your business perfectly to join the ever-growing ActivTrades family.
White Label ActivTrades
White Label ActivTrades is an amazing affiliate program created to help companies grow their clients' funds. With this provider, you can open partner accounts on MetaTrader 4 and 5 platforms and access outstanding technical support services. Moreover, partners receive dedicated front-ends for financial market data analysis and Risk Management Tools from ActivTrades, two tools essential for success in the industry.
Gray Label ActivTrades
For institutional investors and hedge funds, Gray Label ActivTrades provides an all-inclusive package of services with full access to the state-of-the-art ActivTrades software. Companies that use this program benefit from a powerful trading terminal, analytics, plus priority customer service. Moreover, Gray Label assumes front-ends for its clients and risk management tools provided directly by ActivTrades.
ActivTrades Customer Support

ActivTrades offers its clients 24/5 customer support via live chat, email, and telephone. In addition, our team of experts at the broker is always available to answer your queries and provide support. You can also find a lot of helpful information on the official website, such as educational webinars, seminars, and manuals.
Traders can contact live chat support to get assistance with account registration, deposits and withdrawals, trading platform issues, and more. The broker also has a dedicated customer service team on social media platforms like Messenger, Telegram, and WhatsApp. Moreover, the customers can use a call-back feature to get their queries answered, and support is available in 13 languages like English, Español, Malay, Arabic, and more.
Contact Info
Advantages and Disadvantages of ActivTrades Customer Support
Advantages
Disadvantages

Quick response time
Dedicated customer service team on social media platforms
Call back feature for faster support
Multilingual support

No technical support on weekends
ActivTrades Vs. Other Brokers
Below is the in-depth comparison of ActivTrades with other well-reputed brokers: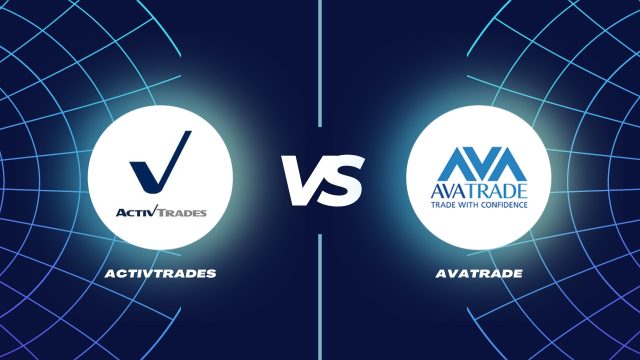 AvaTrade offers the greatest array of assets and analysis tools that enable automated trading, with the added benefit of meager commissions, low spreads, and lightning-fast order executions – as evidenced by over a hundred delighted customers. With ActivTrades, traders can access a wide range of trading platforms and services from the same broker.
Traders can experience effortless trading with the AvaTrade platform, offering many payment options, world-class customer service, and cutting-edge tools to help them make informed decisions. In addition, with automated systems in place for maximum freedom and flexibility, you can take control of your trade opportunities without being restricted.
On the other hand, ActivTrades offers a wide array of trading solutions, from MetaTrader 4 and 5 to copy trading services. Traders also benefit from 24/5 support, low commissions and spreads, and dedicated front-ends for market data analysis.
When it comes to which broker is better, both AvaTrade and ActivTrades have their own set of advantages. However, AvaTrade excels in providing automated trading solutions and a comprehensive array of trading tools backed by world-class customer service. Therefore, it has a slight edge over ActivTrades for traders looking for an all-in-one broker solution.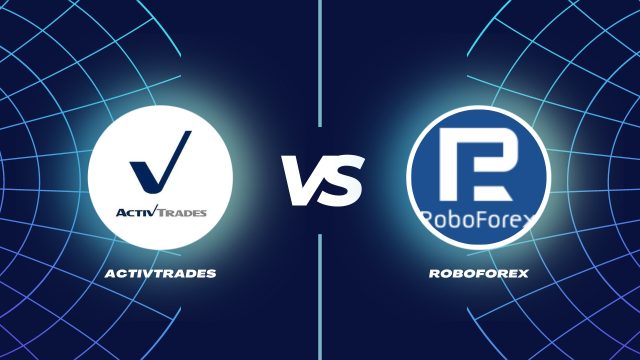 RoboForex offers traders a wide range of advantages, including low spreads and commissions, fast order executions, and reliable customer service. The broker's trading platform is easy to use and offers a variety of trading tools. The broker also provides copy trading services and automated trading solutions, which can help traders gain an edge in the markets.
Distinguished by a vast selection of awards and accolades, RoboForex is a dependable partner for those in the financial market. With licenses from FSC Belize and EU-based CySEC (license No. 191/13 Robomarkets Ltd), they are an international leader in providing top-notch services around the globe.
ActivTrades is a reliable broker offering low spreads, fast order executions, and 24/5 customer support. In addition, the broker provides various trading tools such as MetaTrader 4 and 5, copy trading services, and dedicated front-ends for market data analysis. However, RoboForex is more reputable and better regulated than ActivTrades.
RoboForex is the most popular brokerage company due to its reliable customer service and comprehensive range of trading solutions. Therefore, we recommend RoboForex over ActivTrades as the go-to broker for an all-in-one solution.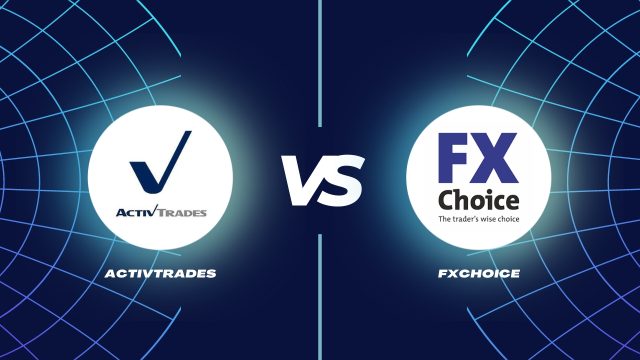 FXChoice is a highly sought-after broker by Western traders due to its steadfast commitment to business integrity and customer satisfaction. It is licensed under the International Financial Services Commission of Belize (FSC). Besides, this premium brokerage service offers active and passive Forex trading.
FXChoice also provides traders with the MetaTrader 4 and 5 platforms, allowing manual and automated trading. This broker also offers a wide range of trading tools and services, such as copy trading, educational materials, and low spreads. However, this broker is more suitable for experienced traders.
On the other hand, ActivTrades is an award-winning broker offering a wide range of trading solutions, such as MetaTrader 4 and 5 and ActivTrades platforms. The broker also offers copy trading services and 24/5 support. It suits novice and professional traders, offering low spreads and commissions.
When it comes to choosing a broker, FXChoice and ActivTrades both have their own set of advantages. However, for traders looking for a broker with a wide range of trading services and automated trading opportunities, FXChoice is an ideal choice.
At the same time, ActivTrades is better suited for those who need a broker with a more user-friendly interface and customer service. Ultimately, the choice between these two brokers depends on the trader's individual trading needs.
Choose Asia Forex Mentor for Your Forex Trading Success
If you have a keen interest in establishing a successful career in forex trading and aspire to achieve substantial financial gains, Asia Forex Mentor stands as the optimal choice for the best forex, stock, and crypto trading course. Ezekiel Chew, renowned as the visionary behind trading institutions and banks, is the driving force behind Asia Forex Mentor. On a personal note, Ezekiel consistently achieves seven-figure trades, a distinction that truly sets him apart from other educators in the field. Here are the compelling reasons that underpin our recommendation:

Comprehensive Curriculum: Asia Forex Mentor offers an all-encompassing educational program that covers stock, crypto, and forex trading. This well-structured curriculum equips aspiring traders with the knowledge and skills necessary to excel in these diverse markets.

Proven Track Record: The credibility of Asia Forex Mentor is firmly established through its impressive track record of producing consistently profitable traders across various market sectors. This achievement serves as a testament to the effectiveness of their training methodologies and mentorship.

Expert Mentors: At Asia Forex Mentor, students benefit from the guidance and insights of experienced mentors who have demonstrated remarkable success in stock, crypto, and forex trading. These mentors provide personalized support, enabling students to navigate the intricacies of each market with confidence.

Supportive Community: Joining Asia Forex Mentor brings access to a supportive community of like-minded traders pursuing success in the stock, crypto, and forex markets. This community fosters collaboration, idea-sharing, and peer learning, enhancing the overall learning experience.

Emphasis on Discipline and Psychology: Success in trading necessitates a strong mindset and disciplined approach. Asia Forex Mentor provides crucial psychological training to help traders manage emotions, handle stress, and make rational decisions during trading.

Constant Updates and Resources: The financial markets are dynamic, and Asia Forex Mentor ensures that students remain up-to-date with the latest trends, strategies, and market insights. Continuous access to valuable resources keeps traders ahead of the curve.

Success Stories: Asia Forex Mentor takes pride in a multitude of success stories where students have transformed their trading careers and achieved financial independence through their comprehensive forex, stock, and crypto trading education.

In summary, Asia Forex Mentor emerges as the premier choice for those seeking the best forex, stock, and crypto trading course to carve a rewarding career and achieve financial prosperity. Through its comprehensive curriculum, experienced mentors, practical approach, and supportive community, Asia Forex Mentor provides the necessary tools and guidance to mold aspiring traders into accomplished professionals across diverse financial markets.
Conclusion: ActivTrades Review
ActivTrades is dedicated to providing its customers with an extensive selection of products and superior execution. In addition, their excellent customer service, reliable technical infrastructure, and robust security systems ensure that each user has a safe and trustworthy experience when using their services.
Be assured of transparency with no hidden fees when you choose this broker; all charges are detailed and explained. ActivTrades also provides everything needed for successful trades, from live charts to one-click trading, technical indicators, and access to financial news.
This broker offers a range of investment opportunities to professional, institutional, and retail traders worldwide, aiding them in attaining both short-term and long-term success. Moreover, there are bonuses and cashback opportunities to take advantage of, and the affiliate program is a great way to earn money by referring clients.
ActivTrades has proven itself as an industry leader, providing its customers with a reliable and secure trading experience. With the customer service team available 24/5 and the high-tech software platform, this broker is the ideal choice for those entering the world of financial trading.
ActivTrades Review FAQs
Is ActivTrades a regulated broker?
ActivTrades is authorized and regulated by the three primary financial authorities – the FCA, Financial Conduct Authority, SCB (Securities Commission of the Bahamas), and CSSF Commission de Surveillance du Secteurs Financier.
Is ActivTrades safe?
Yes, ActivTrades is a safe broker that has been providing its services for over 20 years and is regulated by top-tier regulations. The broker also forces its clients to the highest security measures, including data encryption, two-factor authentication, and segregated accounts. Moreover, it provides negative balance protection, making it a safe platform for traders.
What is the minimum deposit for ActivTrades?
The minimum deposit for ActivTrades is $0, meaning traders can deposit as little as they like to start trading. After completing your registration, just enter the payment details to make a deposit, and you are ready to start trading.