10 First Date Tips for the Modern Gentleman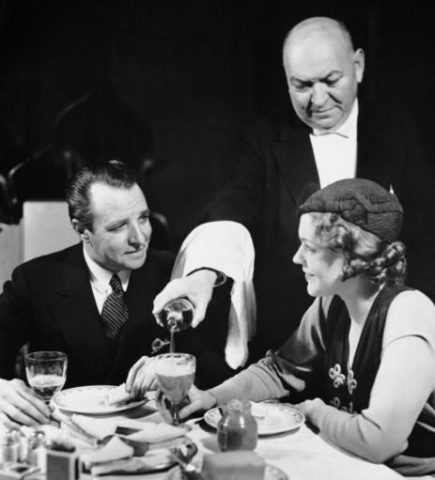 Courting a lady isn't as straight forward as it used to be. Back in the day, dating etiquette was well-established and everybody played by the same rules. Men would open doors for women, help them with their coats, and have them home by nine. Couples would go to the soda shop for the first date, to the drive in for the second, up to "old make out point" for the third, and would most likely be getting married on the fourth.
The rules of the road have changed. Somewhere between
Say Anything
, and MTV's
Next
bus, we throw out the rulebook completely and just started winging it. Our individual quests for love and sex have become as varied and strange as life itself. This was a good and necessary change, but it has made dating… well, terrifying. Without any concrete guidelines, how is the novice romantic supposed to navigate those first few dates?
It's not so hard, really. As far as dating goes, the one thing that hasn't changed over the years is the simple fact that guys should be gentlemen. What follows are some suggested guidelines to help you be a true gentleman despite the weird modern reality in which we find ourselves.
Don't take her out to dinner on the first date
These days, the most popular first date is the weeknight 'getting-a-couple-drinks' date. And, for good reason. It's non-committal, relatively brief by necessity, and the drinks help to calm everybody's nerves. So, don't try to impress with a 4-star restaurant when you barely know the person. This way, you'll keep your wallet intact and she won't feel beholden. Plus, if the sparks don't fly, it's easy to retire the evening early.
Hug her at the beginning of the date
Breaking down the physical barrier at the beginning of the date makes the rest of the date so much easier. At the beginning of the date, give her a hug, and tell her how delightful she looks. Also, by showing your attraction to her early on, you free her to reciprocate gestures of attraction throughout the date, making it easier for you to judge how well the date is going.

 
Look your best
Well, duh. But, a lot of the times when guys try to dress up for a date, they end up wearing something they aren't truly comfortable in. You should dress up a little, sure, but, try to wear something that makes you

feel

like a million bucks. If you don't have any clothes that make you feel like George Clooney in Ocean's 11, go out and find some.

 
Be a class act
Chivalry may be dead, but she'll like you more if you try to revive it just a little. Open the door for her, pull out her chair, support her on icy sidewalks, etc… Despite the obvious self sufficiency of the modern woman, courtesy is still courtesy. A dash of chivalry shows your attraction and ability to protect and nurture. But, it's important not to take this too far. You don't want to seem old fashion, or as though you're trying real hard to impress. Just be be a good, considerate guy who knows the pleasure of treating a lady as such.

 
Compliment her and others
When you're on a date it's good to toss out a few genuine compliments. But, unless you're Dennis Leary, you probably already knew that… So, let me say that it's a good idea, not only to compliment your date, but to also talk nicely about people that you both know, or people that you've met throughout the night. By projecting kindness towards people that aren't around, you'll show that you tend to see the positive side of things, which is a very attractive characteristic.

 
Embrace your inner weird
A lot of people tend to go all glossy on dates. Sort of like a job interview, you really just want to seem appealing. This is a mistake. First, you actually become less attractive by paving over what sets you apart… But, more importantly, if you highlight your idiosyncrasies, you've got a better shot of finding a girl that compliments you, and tolerates your obsession with minimalist free jazz .

 
Clean up
Be prepared… The Boy Scouts know what they're talking about. When you go out on a date with someone, there is always the possibility that you'll end up back at your place. So, change the sheets, and get rid of any debris that is usually strewn about. If, in the end, the date was totally awkward, at least you've got a clean place to come home to.

 
Pay for the date
That's right… Beyond it being a kind gesture, offering to pay is a good way to get information on how the date is going. When the check comes, beware if she really does seem to want to pay her share. If she wants to pay, it's because she really doesn't want to feel obligated to you in any way shape or form. But, the single fake-wallet-grab is a good sign. Don't worry, she's gonna let you pay this time… She knows you're going to be eating all the ice cream out of her fridge in about two weeks 🙂

 
Kiss Her
If the first date has gone reasonably well, go for the kiss at some point towards the end. A so-so date that ends with a great kiss can = an awesome date. Sometimes you just gotta get the kiss out of the way before you can really feel comfortable with someone. So, man up and kiss her. Just do it. She'll be glad you did. Hopefully.

 
Don't try to sleep with her
Despite the advice from 20 seconds ago (you should still tidy up your place, it's starting to smell a little), having sex on a first date is not a good idea if you think you might want a relationship with the person. Studies have shown that people who have sex on a first date have a lot more trouble developing a good date into a relationship than those who are content delaying gratification. So, even if the date is going really, really well, don't push for the sleep over. After all, it's always nice to have something to look forward to, and, when all is said and done, she'll fancy you a gentleman.
Like this Article? Subscribe to Our Feed!