Ways That Will Make You Love Your White Tee Even More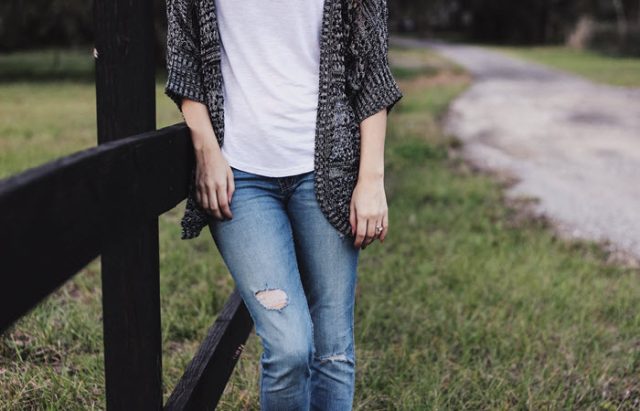 A white T-shirt is a necessity in every woman's closet. A single white t-shirt could already create a gazillion ideas for you.
If you are still not convinced, here are 12 ways you can slay with white shirt fashion.
Work-wear over nice tailored suit
Your V-neck white t-shirt can be work-appropriate when partnered with a nice tailored suit, a good pair of jeans, and loafers. I'm sure your boss would complement your smart and stylish casual look.
The eccentric chic
With a pair of neon-colored stilettos, a straight cut mom jeans, and a combat jacket accessorized with a statement necklace, you can easily create the eccentric-chic look. You can take it out for coffee or a few cocktail drinks.
Denim over denim
Throw on your distressed classic pair of skinny denim jeans, your favorite denim jacket, and hi-cut red Converse to add some colors and retro vibe to your white tee. Go classic and take the risk. Who says denim can't go with denim?
Simple but classy
This style is for when you are in a hurry but still want to look chic. Wear your white tee underneath a bright patterned blazer, with a pair of shorts and beige-colored flat shoes and your friends won't think you've overly prepared for your coffee date.
It's simple- without downgrading your class.
Weekend getaway
Too tired to dress up for a weekend getaway? Then, maybe your leopard printed scarf can help you with your problem.
Liven up your white t-shirt with some leopard scarf on your neck, a pair of booties and some accessories.
Color up
To add some fun and spice to your outfit of the day, grab the brightest colored pants or shorts you have and then put on your white tee.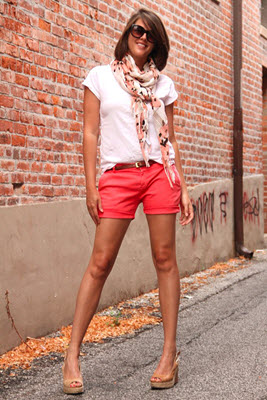 You can choose to dress down or dress up on this one with a pair of neutral-colored heels or classic white shoes. A statement bracelet or necklace can also bring some spice.
No such thing as too much white
This combination is a classic. White tees over white pants and a white pair of flats and black blazer thrown over your shoulder can bring out your inner CEO vibes.
It is an outfit perfect for business meetings and lunch dates. There is no such thing as too much white in fashion.
Date Night
If you don't want your date to look away from you while you guys are having a romantic dinner, try wearing a black high waisted slitted skirt. Match it with your black stiletto, white tee and red clutch and you'll have your date's eyes glued on you the whole night.
Casual grungy college vibe
For a casual and grungy look, your flannel shirt will come in handy. Grab that flannel shirt and wear it unbuttoned over your white t-shirt and navy colored beanie. To complete this outfit, rock that laced up combat boots and you're ready to dance up your day.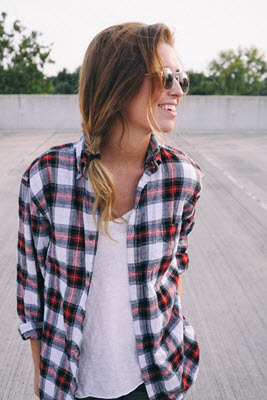 Sugar is sweet
To unleash the girly side within you, a little help from your light-colored cardigan would be helpful. Layer your white t-shirt with a light colored cardigan and match that with a pair of cute bow flat shoes. Lastly, to add a girly vibe, put on some pearl earrings.
Rockstar is your middle name
Match your white t-shirt and jeans with a black leather bomber jacket. Then, complete the look with some peep-toe black heels. Wear that hair up and put on some eyeliner to achieve this rockstar look. It's perfect for both work and night out.
The basics
This one is the absolute favorite in this list. Your classic white tee and a good pair of jeans are a perfect combination. Like peanut butter and jelly, these two clothing pieces work well with each other.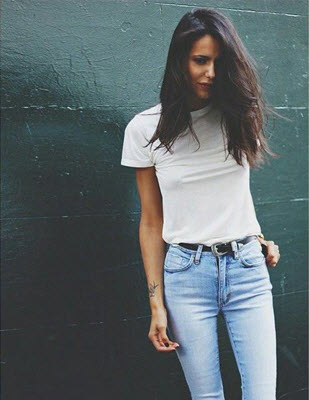 Any shoes paired with this outfit will change the overall look. A pair of sneakers will unleash the sporty side in you. Flat shoes will keep everything clean and simple while some stylish stilettos can make you look edgy.
Takeaway
White tees can match everything and anything found in a woman's wardrobe. You can dress up or down with it. Just don't be afraid to mix and match to show your style.
Like this Article? Subscribe to Our Feed!
Michigan-based entrepreneur, Cari Samalik loves to share her ideas about branding. As CEO and Co-Founder of Livnfresh, she is fond of creating and designing for her t-shirt brand. Even if Cari's busy, she never fails to read her daughter Anne her bedtime stories.