7 Podcasts that You Need in Your Life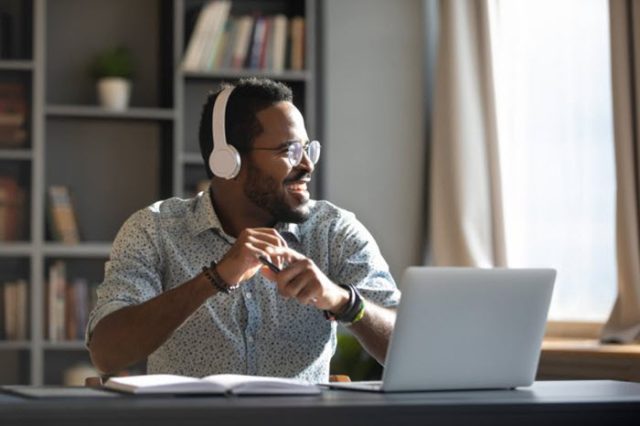 Whether we are traveling back from the office, cleaning our house, or standing in a queue, time stands still, and boredom is at peak. However, we can make the most of this time by gaining knowledge. Gone are the days when we were bound to sit on a desk for learning. Today, technology has gifted us so many options for learning and entertainment on the go, and podcasts are one of them.
Podcasts are digital audio files that come in various topics and can be downloaded from the internet. If you are an Apple user, you will find the podcast app pre-downloaded. However, Android users have to download it from Spotify or Google Podcasts.
Last year, Serial got me hooked on podcasts, and now I always have one or two podcasts on my phone as I commute to work, get my chores done, or when I am waiting for the falafel guy to make my order.
With podcasts, you can learn a ton of new things and keep yourself entertained while getting tedious stuff done. Let me share some podcasts with you, which I think can change your life.
Here goes:
A Slob Comes Clean
If you are a slob and cleaning is a challenge, then this podcast is perfect for you. In this Podcast, Dana K. White, a cleaning expert, shares some exceptional cleaning, organizing, and decluttering tips to keep the home in a tip-top condition. She says that doorbells should not be the only motivation for us to clean. Cleaning schedules are mandatory for every house, irrespective of guests and parties.
With the belief that cleaning should be for the residents of the house, she motivates everyone to maintain a clean house 24/7. She encourages people to clean without getting scared of the required efforts. For this, she suggests various strategies that make cleaning a piece of cake. Cleaning itself is not a big deal; it is the cluttered room that makes cleaning look like a mess, she says. Loved by many homeowners and students, the podcast has bought a significant change in several homes.
In her podcast, White gives tips for:
Developing a cleaning schedule
Tips and tricks to make cleaning easy
Easy deep cleaning hacks such as for carpet cleaning
Homemade cleaning solutions, and more
How to Be A Better Person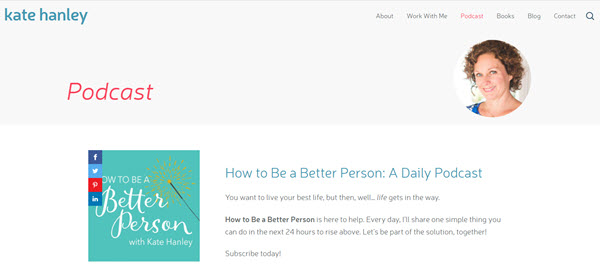 If you are feeling demotivated, sad, guilty, or depressed, give this podcast a try. Kate Hanley, the author, shares exceptional tips to bring a positive change in life. The small doses of guidance are ideal in improving relationships, helping others, and relaxing.
By spending just five minutes a day, you can easily learn the tactics and embrace positivity. Try listening to the episode "Forgive Your Mistakes" in your first attempt. Within a few seconds, Hanley will make you realize that mistakes are common in everyone's life. The episode is great to forget your former mistakes and focus on the future.
Hidden Brain
If you love to learn science-based facts, give Hidden Brain a try. Shankar Vedantam, the host of the podcast, gets inside the unconscious ways that affect our minds. He gives scientific reasoning on the way our minds think. The podcast is ideal for people suffering from mental health issues, such as OCD.
The podcast is a life-changing tool for families that have someone with OCD as it helps them understand the issue and makes them better equipped to help that family member. Additionally, leaders and managerial level employees should also give it a try. Knowing the science behind how a human thinks helps in dealing effectively with the team and getting desired outcomes.
Sleep with Me
Are depression, anxiety, and stress becoming a hurdle in your sleep? Productivity becomes a big question when we do not get at least 8 hours of sleep a day. Do not worry, try this podcast by Drew Ackerman to get your sleep on.
The author tells boring bedtime stories that fight against your thoughts and put you to sleep. This podcast is a hit with hundreds of people as it has bought an excellent change in their sleeping schedules. Whether you are a teenager or an adult, these stories will put you right to sleep within minutes.
TED Talks Health
As the name suggests, the podcast focuses on health issues. From routine health problems to maintaining perfect health, the podcast provides insights into every issue. Though there are many health podcasts available, to overly focus on a single topic makes it boring.
TED Talks helps you in selecting your health issues and even selecting the medical experts that suits you. For instance, Mariano Sigman, a neuroscientist, has discussed the role of words in describing our mental health. The podcast is also helpful for health experts who have just started their careers and are in their training phase.
10% Happier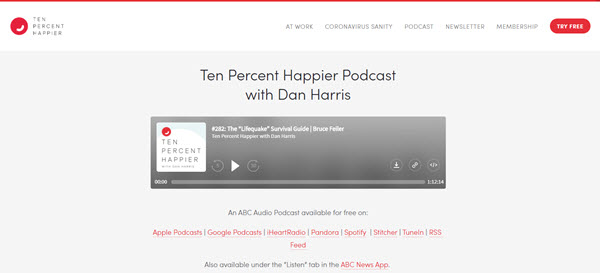 Dan Harris, a news anchor at ABC, started this podcast after the success of his book of the same name. The incident of having a panic attack and its impact on his life led him to work on this topic. The podcast sheds light on dealing with stress and using mediation techniques to resolve mental issues.
He has tried a couple of mediation tactics and now wants others to try them as well. If you are depressed and stress is becoming a hindrance in your routine activities, give it a try to bring a good change in your life.
Secrets of Productive People
This podcast by Fast Company is ideal for those struggling with productivity. Kate Davis, the author, declares that people get scared about the quality when huge quantity is required, and thus productivity becomes impossible. She highlights how top-notch entrepreneurs are managing both quality and quantity and what are the tactics behind it.
Besides, the podcast also covers some issues related to career growth, including getting a handsome salary in your first job, standing out from the mob of employees, and so on. So, if you have just started your career and want to give your best shot, get some expert advice from this podcast.
Wrapping It Up
Podcasts are making a big contribution to changing lives. Whether you are dealing with a mental health issue or struggling with your career, facing relationship problems, or tired of managing daily chores, podcasts can be a life-saving option. When you get expert guidance, tips, and strategies to cope up with the struggles and hardships of life, positive change becomes inevitable.
Try using the above podcasts and experience a noticeable change in your life. If you are already using some podcasts and finding them useful, do not forget to share it with us.
Like this Article? Subscribe to Our Feed!
Nouman provides ghostwriting and copywriting services. His educational background in the technical field and business studies helps him in tackling topics ranging from career and business productivity to web development and digital marketing. He occasionally writes articles for carpet cleaning.