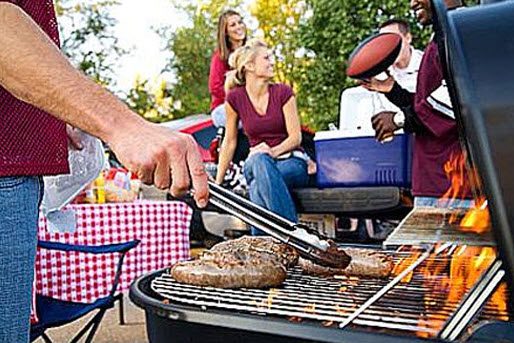 Fall is almost here, and for millions of us, that means football season. While some fans prefer to watch their favorite team from the comfort of their own living rooms or a neighborhood sports bar, the more adventurous among us enjoy gathering in the parking lot outside the stadium with kindred souls for that rite known as tailgating.
You can't pull into the parking lot of any major athletic event or concert without seeing folks "tailgating," that is, holding a party around the tailgate of a pickup truck. Most tailgate parties involve cooking on a small grill or barbecue and imbibing large numbers of cold alcoholic drinks. If this sounds like your idea of fun, here are a few tips on having your own tailgate bash.

The tickets
It may seem kind of obvious but it needs to be mentioned first.  If you're going to be partying in the parking lot before a big game or show, make sure everyone in your gang gets tickets ahead of time. You may not be allowed into the stadium lot without tickets and some events are sold out months ahead of time, so make sure this is taken care of.
The vehicle
You can't have a tailgate party without a tailgate, so someone in your posse needs to have a pickup truck, preferably one big enough to hold all the guests along with the BBQ grill, folding tables and chairs, pop-up canopy, keg, coolers and all the other stuff you'll need for quality partying. If your posse won't fit in one truck, more may be necessary!
The ambiance
Bring along a few items to get into the spirit of the occasion. Why not decorate your party site with banners for your favorite team? Hats, T-shirts, jackets—go all out! Going to a Jimmy Buffett concert? Dress up and decorate in "Parrot Head" style." Folding chairs with built-in cup holders that are emblazoned with your team's colors and logo are a fine investment!
The list
This is a group effort, so everyone should be ready to be responsible for something. Put the most organized member of your gang in charge of making sure there are no duplications and everyone is doing their part. Make a list of everything you'll need for this party and keep in contact to be sure that all your bases are covered.
The rules
Find out what is and is not permitted at the venue of your choice. Some stadiums have bans on glass, kegs or alcohol not purchased on the premises. Check the online site of the venue to familiarize yourself with the rules of the house so you don't run afoul of them when you arrive. Being stopped at the gate and told to dump your beer does not make for a fun afternoon.
The utensils
You're going to need plastic cups, plates and forks plus napkins and trash bags. Bring the implements you need for grilling, like forks and tongs. Be prepared to clean up after yourselves and haul out everything you brought in. Don't forget bottle and can openers, ice, bottled water, sunscreen and ziplock baggies for leftovers. Unless you use self-lighting charcoal, bring the propellant for lighting. And don't forget the matches.
The coolers
You'll need separate coolers for hot and cold items, plus you'll have to separate meats and other perishable items from drinks. Raw meat must be kept cold and should not be allowed to come in contact with other items. Have one clean cooler for bags of ice. However many coolers it takes, take 'em.
The lights
Nobody likes wandering around in the dark, especially after a few beers, so be sure to bring nightlights if you'll be partying after sundown.
Now that we've covered the basics that you will need to get to the event and start setting up you need to keep reading to make sure you have all of the essentials to feed your buddies.