5 Smart Topics for Small Talk Conversation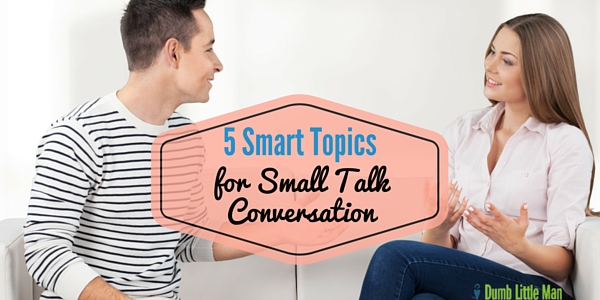 Ever been in dire need of topics for small talk conversation?
You come across someone you know but aren't interested enough to engage in any serious conversation right now. You might not be in the mood, or you may not rate the person that high to waste calories on.
The circumstances are such that you can't escape gracefully. Just the next 5-10-20 mins is all you care about at this point. Once you're past this heat, you plan to "keep on rockin' in the free world".
Small talk is a welcome diversion here, a magic potion of sorts. It can save you from losing an acquaintance — a contact in social networks who may come handy in some unforeseen situation later.
To avoid such a crisis, I've compiled a few that top the chart of topics to easily engulf these minutes in distress. These 'fillers' are time-tested subjects and can be recommended to any amateur.
Remember, a rule of thumb in choosing a filler is qualities that include non-competitiveness, non-egoism, non-violence and non-jealousy. The following are the best topics for small talk conversation.
1. Weather
It surely works if you're of different geography (hemispheres differ or at least one is closer to some tropic). Put your weather report on display and politely ask for his/her.
In case you're too closely located, you can still make it work. Start with cursing the current weather and then move on to long term climatic trends, warming etc. Weather discussions are always fair, amicable and superficial.
2. Inflation
Prices are on the rise almost everywhere. Inflation and the pinch on the pocket, or anything around economy, in general, is a good time-killer. It hurts none of the parties involved in a short chitchat over it. Keep fiddling around and you score easily.
See Also: How to Keep a Conversation Going
3. Hobbies
Hobbies are meant for pastime occupations and not for any monetary rewards. Don't go haphazard with all your hobbies. Show up the catalogue brazenly and wait for his/her pick(s). Start the conversation once you strike the right chord and enjoy the ride.
4. Kids
Subject to applicability, anything about children is an immensely popular filler. Be it their future, education, health, psychology – anything would do. Invest a minute or so and find out what works under the present circumstances. Jump!
See Also: 5 Types of Bad Conversationalists and How to Avoid Being One
5. Diseases
It's a sad one, but can do wonders. Any recent illness of you or your near ones, doctors, medicines, tests, therapy – it's a subject of universal appeal to any mortal. Make a straight face and go for it.
We hope you picked up some useful ideas from our list of topics for small talk conversation.
Like this Article? Subscribe to Our Feed!
The commentator, as I started calling myself a few years back, is an amateur in vague blogging.