Top Home Improvement Design Ideas To Amp Up Your Porch This Fall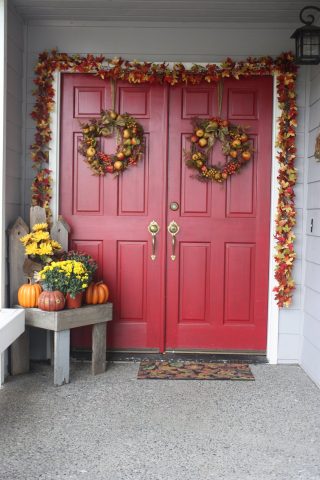 Fall may be my favorite season, with nature providing a beautiful backdrop as I decorate my home's outdoor spaces!
As summer ends and the nights get chilly, your outdoor sitting area may need warming up to match the coming season.
Get your porch ready for fall with these top design ideas for outdoor sitting areas.
Here are some easy ways to give your porch a bit of color this fall.
Warm up your porch with paint
Paint can turn a dreary porch or patio into a welcoming outdoor sitting area in an instant. A little bit of color makes your porch or patio stand out from the rest of the neighborhood and gives you a pretty area where you can relax and entertain guests. Paint the porch walls and railing, or the front door to add a bit of color to your outdoor sitting area. Warm hues such as brown, red, or orange are perfect for autumn and create a cozy atmosphere for your home.
Add a touch of cornucopia
A bountiful harvest is a sure sign of autumn, so include in your outdoor sitting area a cornucopia of gourds and acorns. This timeless design idea exudes a rustic, classic look that complements the season and also gives your outdoor area a lovely decorative accent.
Line up wooden decorative gourds on your front steps for a pretty country setting. You can also hollow out real pumpkins, place candles inside, then display them as a group in one corner of your sitting area or line them up along your rails for a cozy ambiance.
Perk up the place with flowers
You can never go wrong with flowers! They are among the most inexpensive ways to instantly freshen up a space. Get a vase and fill it with in-season blooms such as aster, perennial sunflower, and the brightly colored sedum. Place your vase of flowers on your porch table or along your porch rails for a homey look. You can also place an assortment of blooms inside a small urn or basket for something that's more bounteous.
Hang a wreath
Fall wreaths bring a fresh look to any space, so it's no wonder that they are often the first fall update. Hang a wreath of autumn leaves or blades of wheat on your front door to welcome family and visitors. You can also use other popular items that remind you of the season, like burlap and twigs. For an effective design scheme, match the color of your wreath with your other accessories.
Change out or add porch accessories
To round up your outdoor sitting area, change out your regular accessories. Replacing your old throw pillow covers with new ones provides an instant autumnal touch to your porch or patio. This design idea can also update your outdoor décor without much effort.
Match your pillow covers with the season's colors to pull together all your fall motif. To make the area more welcoming, place a throw blanket on your porch chair to be used when the nights bring a chill to the air. You can also add a rug to further warm up your outdoor sitting area.
Revamp your outdoor space and get the most out of your porch or patio with these quick and easy design ideas.
| | | | | | | | | | | |
| --- | --- | --- | --- | --- | --- | --- | --- | --- | --- | --- |
| | | | | Written on 10/19/2013 by Jennifer Lutz. Jennifer Lutz blogs about Home Décor and related subjects for www.christmastreemarket.com. Her article about Spring Ready Porch Plans can be found here. | | | | | | |
Like this Article? Subscribe to Our Feed!