Terms of Service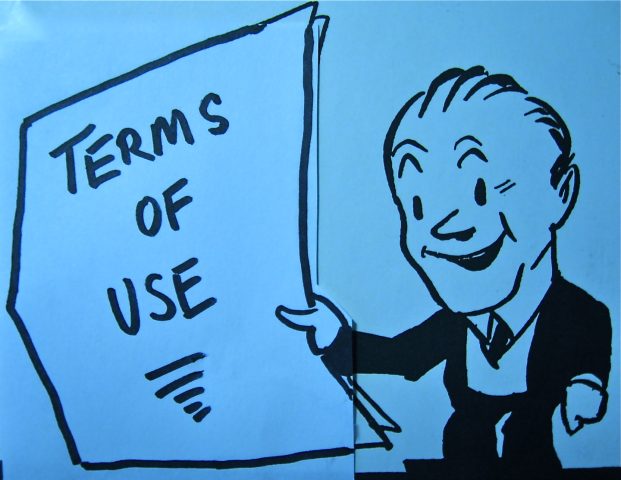 Welcome to DumbLittleMan on-line services (the "Service") provided to you by DumbLittleMan.com. Your use of this Service is subject to these Terms and Conditions of Service (the "TOS"). Dumb Little Man (known hereafter as "DLM") may change these TOS from time to time without notice. Use of the Service after a change subjects you to the new terms of these TOS.
DO NOT USE THE SERVICE IF YOU DO NOT AGREE TO THESE TOS. VIOLATION OF THESE TOS CAN LEAD TO LEGAL LIABILITY.
User ID and Password. Some parts of the Service may be User ID and password controlled. If you are required to access an area of the Service with your User ID and password, you agree that you will not allow any other person or entity to use your User ID and password to gain access to that part of the Service. You further agree to notify DLM if you become aware of any unauthorized use of your User ID and password. If you register and obtain a User ID and password, you represent that you are of legal age to form a binding contract and are not a person barred from receiving services under the laws of the United States or any other applicable jurisdiction. You must provide complete and accurate information about yourself when prompted by the Service's registration form, and you must maintain and promptly update your registration data to keep it complete and accurate. DLM may suspend or terminate your account and refuse you any current or future use of the Service (a) if you provide any information that is not complete and accurate, or (b) if DLM has reasonable grounds to suspect that any information you provide is not complete and accurate.
License. Subject to your compliance with these TOS, DLM grants you a terminable at will, non-exclusive license to use and display the Service and to download materials available through the Service, solely for personal, non-commercial purposes. You may not transfer, assign, sub-license, lend or re-sell the rights granted under this license. You may not frame the Service, link to the Service or link directly to content included within the Service.
Prohibited Actions. You may participate in any submission functionality, forums or messaging threads offered through the Service. Forums and messaging are intended only for the personal use of subscribers, and may not be used for commercial purposes or for organized political activity. You may not take any of the following actions via the Service:
1. post or submit any material that is defamatory, libelous, obscene, indecent, abusive, threatening to others, or in violation of any law;
2. post or submit any material that infringes the copyright, trademark or other intellectual property right, right of publicity or right to privacy of any third party;
3. harm minors in any way;
4. forge headers or otherwise manipulate identifiers to disguise the origin of any materials transmitted through the Service;
5. upload, post, email, transmit or otherwise make available any materials that you do not have a right to make available under any law or under contractual or fiduciary relationships (such as insider information, proprietary and confidential information learned or disclosed as part of an employment relationship or under any nondisclosure agreement);
6. upload, post, email, transmit or otherwise make available any unsolicited or unauthorized advertising, promotional materials, junk mail, spam, chain letters, pyramid schemes or any other form of solicitation;
7. upload, post, email, transmit or otherwise make available any material that contains software viruses or any other computer code, files or programs designed to interrupt, destroy or limit the functionality of any computer software or hardware or telecommunications equipment;
8. interfere with or disrupt the Service or servers or networks connected to the Service, or disobey any requirements, procedures, policies or regulations of networks connected to the Service;
9. intentionally or unintentionally violate any applicable local, state, national or international law, including, but not limited to, any regulations having the force of law;
10. "stalk" or otherwise harass another person or entity or do anything else DLM determines from time to time (with or without prior notice) to be prohibited; or
11. upload, post, email, transmit or otherwise make available any material that is unlawful, harmful, threatening, abusive, harassing, defamatory, vulgar, obscene, libelous, invasive of another's privacy, hateful or racially, ethnically or otherwise objectionable.
DLM may, in its sole discretion, restrict or block the access of any subscriber or user of the Service. DLM may bar any individual or entity from the Service. Accessing the Service after you have been barred from the Service is an act of trespass.
User Provided Content, License. You are solely responsible for all content or materials that you post, submit to, or transmit through the Service. By submitting materials or content to DLM, you grant DLM a license to copy, use, display and create derivative works of the material or content submitted for any purpose, including, without limitation, the promotion and marketing of the Service and the operation of the DLM system. By submitting materials or content, you automatically agree (or, to the extent you do not own all rights to such materials or content, you represent and warrant that the owner of the content or materials has expressly agreed) that without any particular time limit, and without the payment of any fees, DLM and anyone it permits may reproduce, display, distribute and create new works of authorship based on and including the content or materials. You may not submit content or materials trademarked or copyrighted by anyone other than yourself.
Indemnity Regarding User Provided Content. You will indemnify, defend and hold harmless DLM and its officers and employees from and against all liabilities, judgments, damages, and costs (including attorney's fees) incurred by any of them that arise out of or are related to either (a) the content or materials that you post or (b) your breach of these TOS.
Monitoring of User Provided Content. DLM may monitor content or materials posted on the Service. DLM may modify or remove any messages or postings that it deems, in its sole discretion, to be abusive, defamatory, in violation of the copyright, trademark right or other intellectual property right of any third party, or otherwise inappropriate for the Service. DLM may also edit or modify any submissions in response to requests for feedback, letters to the editor, or other commentary. Notwithstanding the foregoing, DLM is not obligated to take any action, and is not responsible or liable for content or materials posted by any subscriber in any forum, message board or other area within the Service.
Ownership, Reservation of Rights. The Service and all content and materials found within the Service, including but not limited to articles, graphical images, interactive applications, software, audio clips, and video clips, are protected by copyright and are owned by DLM or its licensors. You may not modify these materials or re-publish, re-transmit or otherwise distribute directly or via links any of these materials to any third person except for your personal, non-commercial use, as permitted under the license granted to you by DLM in these TOS. Some of the content appearing in the Service is news and as such, releases are not obtained from individuals or entities for the use of their names, likenesses or trademarks. It is your sole obligation to (a) determine if your use requires a release or permission, and (b) obtain the necessary release or permission, as appropriate. DLM and their respective logos are trademarks of DLM. All other trademarks on the Service are the property of their respective holders. DLM is not responsible for the accuracy of any content or materials found within the Service.
Permissions. All requests for licensing, reprints, linking and other usage of content or material incorporated within the Service must be addressed using our CONTACT US form. DLM will review any such request without obligation to respond to, or grant, the request.
Intellectual Property Infringement Claims. It is DLM's policy to respond expeditiously to claims of intellectual property infringement. DLM will promptly process and investigate notices of alleged infringement and will take appropriate actions under the Digital Millennium Copyright Act and other applicable intellectual property laws, up to and including blocking or removing the offending content. DLM will terminate access for subscribers and account holders who are repeat infringers.
Notices of Infringement. Please direct any notices of infringement of intellectual property rights to our CONTACT US form.
Exclusions of Warranty. THE SERVICE AND ANY EXECUTABLE PROGRAMS AND OTHER MATERIALS PROVIDED THROUGH THE SERVICE ARE PROVIDED "AS IS" AND WITHOUT WARRANTY OF ANY KIND, AND ALL EXPRESS OR IMPLIED WARRANTIES ARE EXCLUDED AND DISCLAIMED, INCLUDING, WITHOUT LIMITATION, THE WARRANTIES OF MERCHANTABILITY AND FITNESS FOR A PARTICULAR PURPOSE. DLM DOES NOT WARRANT THAT THE SERVICE OR ANY MATERIALS OBTAINED THROUGH THE SERVICE ARE VIRUS-FREE. IF YOU DOWNLOAD EXECUTABLE PROGRAMS FROM THE SERVICE, YOU ASSUME THE ENTIRE RISK AS TO THE RESULTS AND PERFORMANCE OF THE PROGRAMS. DLM IS NOT RESPONSIBLE FOR THE ACCURACY OF OR ERRORS OR OMISSIONS IN ANY PROGRAMS. DLM DOES NOT WARRANT THAT THE OPERATION OF ANY PROGRAMS WILL BE UNINTERRUPTED OR ERROR-FREE, OR THAT ANY DEFECTS IN ANY PROGRAMS WILL BE CORRECTED. DLM DOES NOT WARRANT THAT MATERIALS OR CONTENT FOUND WITHIN THE SERVICE WILL BE ERROR FREE.
Limitation of Liability. DLM IS NOT LIABLE FOR ANY DIRECT, INDIRECT, SPECIAL, INCIDENTAL OR CONSEQUENTIAL DAMAGES (INCLUDING, WITHOUT LIMITATION, DAMAGES RESULTING FROM LOST PROFITS OR REVENUE; LOSS OF USE OF OR RELIANCE ON THE SERVICE, INFORMATION PROVIDED OR OF ANY EXECUTABLE PROGRAMS; LOSS OF USE OF DATA OR EQUIPMENT; OR OTHER SIMILAR DAMAGES) ARISING OUT OF THE USE OR INABILITY TO USE THE SERVICE OR ANY EXECUTABLE PROGRAM OBTAINED THROUGH THE SERVICE, EVEN IF DLM HAS BEEN ADVISED OF THE LIKELIHOOD OF THE DAMAGES. DLM'S TOTAL LIABILITY TO YOU FOR ALL DAMAGES, LOSSES AND CAUSES OF ACTION (WHETHER IN CONTRACT, TORT, OR OTHERWISE) RELATING TO THE SERVICE WILL NOT EXCEED 0.
SOME STATES DO NOT ALLOW EXCLUSION OR LIMITATION OF IMPLIED WARRANTIES OR LIMITATION OF LIABILITY FOR INCIDENTAL OR CONSEQUENTIAL DAMAGES, SO THE ABOVE LIMITATIONS MAY NOT APPLY TO YOU.
Notices. DLM may give notice to you through general posting on the Service, through postal notification, or through e-mail notification, in its sole discretion. You may give notice to DLM via our CONTACT US form.
Indemnity for Breach/Causation of Claims. If you breach the terms of these TOS or in any way cause any claims to made against DLM, its employees, officers or directors resulting from your actions, you will be liable to DLM for all damages, costs, judgments, expenses (including reasonable attorney's fees) that DLM incurs.
Miscellaneous. No delay in exercising, no course of dealing with respect to, or no partial exercise of any right or remedy under this TOS constitutes a waiver of any other right or remedy, or future exercise thereof. If a court of competent jurisdiction finds any provision of these TOS to be invalid, the provision will be deemed to be omitted, and the balance of these TOS will remain enforceable. These TOS are governed in all respects by the laws of the State of Florida without regard to its conflict of laws rules, and the parties agree to submit to the jurisdiction of the federal and state courts in Broward County, Florida. These TOS, as DLM modifies them from time to time, constitute the complete and exclusive statement of all mutual understandings between the parties with respect to the subject matter, superseding all prior or contemporaneous proposals, communications and understandings, oral or written.
©2014 Dumb Little Man. All rights reserved.
Like this Article? Subscribe to Our Feed!