The Smarter way to Donate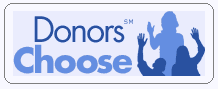 Great timing at Cool Tools. My wife and I were just talking about increasing our holiday donations and while we'd prefer to do things in person with the charity, Cool Tools mentions a great alternative.
The site is named DonorsChoose and the first thing I have to mention is that we are only talking about $10 so read on, this is not going to break the bank.
How it works is simple, public school teachers post about special projects they would like to have their students partake in. The write the plan and submit it to DonorsChoice. Givers (you and me)choose which project we want to fund. You can choose based on city, % low income, etc.
I am going to share a sample project here.
I'm a third grade teacher at Clara Barton Elementary School in Chicago. Most our students (91%)are from low-income homes. Many of our young learners rely on our school to broaden their worldview, so they can see further than the neighborhood they live in. In my class of thirty only a handful have been to downtown Chicago, even though it's a few miles away! If you ask them what country they live in, many will say, "Chicago!"

I have felt compelled this year to show them they don't have to belong in one area, that the world is theirs to discover. I want them to have the knowledge of what's out there, so they have the power to rise above the circumstances they are in. As I started teaching them about the continents and different countries, I found myself frustrated because we have a VERY OUTDATED world map and no other resources to truly inspire them to know about the world.

We are in need of a world map, a map of the United States, and literature about different countries. Thank you for being willing to make an impact on the lives of young ones you don't have the privilege of meeting. Their lives will be touched by it and hopefully they will see that it's a small world after all!

The cost of large world and US maps plus National Geographic Traveler books about various countries is $1,957, including shipping and fulfillment.
Now, this is just one story and I chose Chicago because I live there. But come one, how is the woman going to teach without a map? I am not wealthy but I did have $50 that I could donate, so I did.
There are dozens more just like this. So first, if you want to help out this teacher from Chicago, here is a link and you can toss in $10 directly. If you want to look for something in your own neighborhood, you can start from scratch.
Come on, we're talking about sacrificing 2 vanilla lattes. Do what's right. Visit DonorsChoose.
Again, thanks to Cool Tools for the intro.