Search People On Tinder: Guide and Tips For you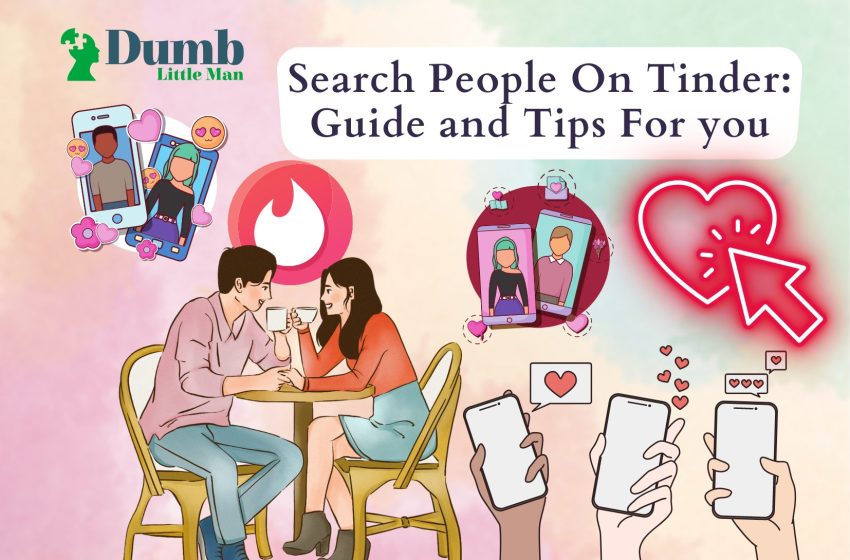 It's no wonder that in an age where practically everything is done online, individuals seldom meet face to face these days.
People are much less likely to connect on a date outside and more likely to connect on a night at their place while cuddled up on the sofa, trash TV blaring in the background, swiping left and right on Tinder.
The game of dating has evolved. It may also be tiring. Thanks to the dating apps like tinder, people can meet their potential match by going through their tinder profile photos and connecting via other third-party sites or apps.
Tinder is a dating app that lets you quickly swipe through other users' photos and then choose whether or not you wish to chat with them based on whom you like or dislike looking at their Tinder profile. It has been increasingly popular as a dating app, and this trend is projected to continue. Its purpose is to build relationships with people in your near neighborhood and see if you have any common interests or connections.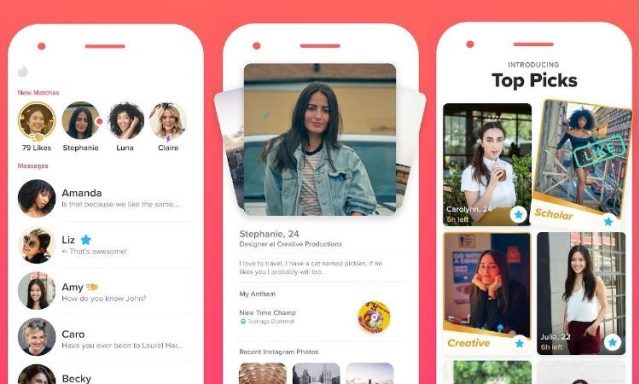 There are many other ways to find someone on Tinder, including browsing for their name, which some users don't know.
Here are some tips for finding someone who meets your requirements and an in-depth look at whether you can look for individuals on Tinder!
Can you Search for People on Tinder?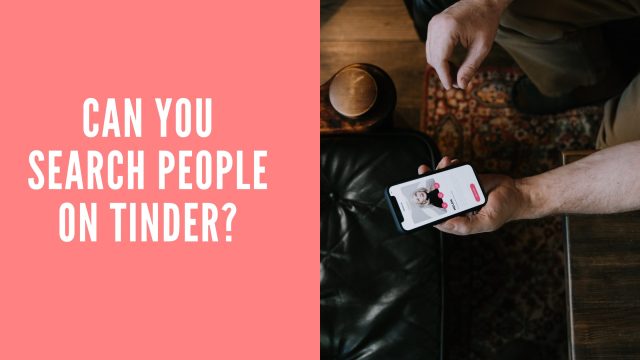 Whether you like someone but aren't sure how to contact them, you could wonder if they have a tinder account. Do they use Tinder? How often do they use Bumble? Do they find internet dating appealing? Knowing the answers to these questions will help you decide how to approach them.
You could also question if your current or former spouse uses any dating apps or the numerous alternatives to Tinder. If your spouse has been acting suspiciously recently or micro-cheating, you may want to investigate the situation and see if they are on dating sites.
Yes, you can search tinder's profiles easily. Because Tinder doesn't have a search box that allows you to discover someone's Tinder profile directly, there are six little-known ways to do it.
All of these techniques continue as long as the person's profile is not hidden from public view.
If your tinder profile has been hidden, it cannot be found in the app, and you can only exchange SMS with individuals you've met before.
1. Tinder help connects nearby people through its location-based algorithm
You may link your Tinder account to your Facebook account, so Tinder can access your Facebook settings, but this is completely optional.
You can test an app using just your phone number and email address without revealing too much confidential info about yourself. Don't worry nobody will be able to access your Facebook account until they locate an appropriate match for you. Till then only you can see that. You'll be prompted to start swiping before you even open the app.
Swipe left (or up) if you don't like what you see and right (or down). If anyone else likes your Tinder profile, you'll be matched and able to communicate with each other.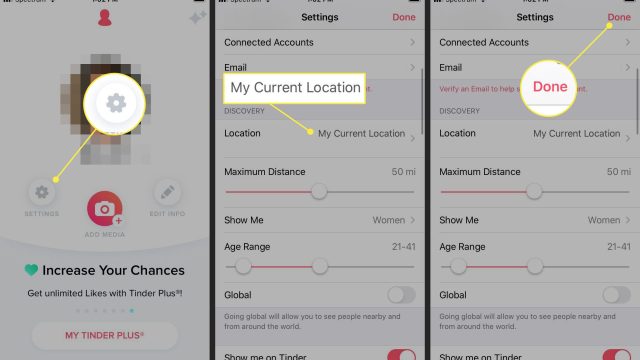 Tinder is one of the most popular dating applications globally, with millions of users. You may utilize Tinder's filters to further limit your possible matches.
For example, if you choose gender, you will have three options: male, female, or other. You can also select from a variety of age groups and geographical places.
2. Search people you like on tinder through third-party apps
Tinder users may speak with one another and view images of possible matches. For many people, this is their sole way of communicating with possible partners. Unfortunately, users cannot search for individuals on Tinder by name or location.
To locate someone they like, users must navigate through all potential matches. If you don't know the person's name or live far away, this might be time-consuming and annoying.
There have been instances where people met on Tinder after already being matched by mutual friends. They can start conversing if both people are interested in each other.
If you're not sure if someone uses Tinder, TopRomp leverages the Facebook Social Graph capability to look up their Tinder profile use. These apps provide a free people search service and help you lookup for people available on Tinder.
Because TopRomp isn't linked to Tinder and doesn't hijack your Facebook account, it pledges not to publish to Facebook. It may, however, search Facebook settings using the Tinder app ID.
Other dating apps may be more suited for your requirements if you're seeking someone special. Tinder, on the other hand, is a wonderful choice if you just want to meet new people.
Tinder allows you to look for individuals using two methods: by name and by location. If you know the person's name, you may use the search field to discover if they've downloaded the app.
You may also look for folks depending on where they live. This is helpful if you're looking for someone who lives nearby.
Tinder is among the most widely used dating applications, with millions of users worldwide. While the program allows users to search for specific persons, its primary objective is to help people find each other.
Finally, you might enlist the support of common friends or do reconnaissance outside of Tinder by monitoring them on social media and browsing their images.
Unfortunately, individuals frequently tag others in photographs without realizing it.
3. Sync your social media profiles
You might have to play a game of Sherlock and get a bit snoopy yourself. It's time to get your hands dirty and search for a person's Tinder account on your own.
Even though you're not interested in dating, you will need to join Tinder if you want to be successful. If they have an account, there's a strong possibility you'll run into them if everything goes according to plan.
You may log in using Facebook or your phone number after downloading the app on your mobile device. If you want to make this a complete alias, you may create a fake Facebook account and link it to your tinder profile.
You may now swipe to hide your profile as of 2021. So all you wind up doing is swiping through everyone on Tinder in the hopes of finding the person you're searching for.
So, if you're looking for a means to determine whether someone is on Tinder without engaging in any of the app's dating hijinks, you can always conceal your profile and get back to work.
Of course, this means locating this one individual on Tinder. Prepare yourself: your sports car-owning lover might be just a swipe away.
People see how you look at first glance and let's face it, most people aren't interested in reading a bio, so your photographs must be excellent. According to a poll of 1000 Tinder users, the image is the most crucial component of a person's profile for 33% of men.
Both men and women said that seeing a group of individuals in an image with no clear indication of who the profile owner was was the biggest turn-off.
Keep it real, change it up: While the candid image may seem to be a thing of the past on social media, they're those ones that work best on Tinder.
Users dislike photographs that are overly contrived or appear unnatural, so Tomlin suggests shooting a mix of photos that show off both your casual and dressier styles.
4. Narrow age range to find better matches
When your profile is complete, be sure to specify the ideal preferences so that they appear in your Tinder prospects. Filtering individuals based on criteria is a true blessing. You may tailor your possibilities by changing things like age, gender, and distance. You'll be OK if you tailor those characteristics to the individual you're looking for. This makes it easier to find someone on tinder.
If you want to see if someone is on Tinder, swipe left until you discover the person you're looking for. Swipe right only when absolutely necessary, as this will just slow down your search. Now is not the time to experiment with dating app ice breakers. Concentrate, and you'll locate him or her shortly.
Narrow down the age range by following the below-mentioned steps:
After selecting your profile symbol, go to Settings.
Slide the left button to the desired age on the age slider underneath the distance slider.
To match the first slider, move the right one. If you're not sure how old someone is, adjust the sliders to be as narrow as possible.
To save your selections, select Done in the top right corner.
You may now search for persons who are the same age as the person you want. They won't appear if they've already swiped to the left.
5. Search by passions or interests
You may filter users by their hobbies or interests on the Explore tab.
People who enjoy outdoor activities such as camping and rock climbing, for example, might be found by searching "thrill-seekers."
Make sure to include your passions in your profile so that people can find you more quickly. Tinder doesn't have a search bar where you can look for a specific person. All you can do is write an astonishing bio that people with similar interests can see and connect with you.
While there is no foolproof technique for writing the ideal bio, the essential thing is that it accurately reflects you. Keep it fun and avoid generic, clichéd statements.
And, to be clear, not having a bio is never a smart idea. Try to add as much information about your personality on your bio rather than adding personal information. An empty bio screams catfish, and no one wants to be associated with that.
A "short, snappy, and hilarious" profile will leave consumers with a profound impact. But don't give too much away. Short and snappy is usually preferable because you want to offer someone the opportunity to communicate with you. Avoid giving too much information on your bio like contact details. Because adding a phone number to a tinder account can be dangerous.
If your bio gives away too much, there isn't much to talk about. Setting search preferences will help you provide accurate results even when you are at a new location.
6. Narrow down the search radius
You may also add photographs and create a brief bio, which is important because it's the first thing people see when they visit your Tinder profile.
Swipe Surge is also available, which for a brief time puts more people in your area into Tinder mode so you can interact with more people. If you're seeking love or just want to meet more people, Tinder is a great app to use.
You may look for people depending on their age, gender, and location, and you can narrow down your results by distance.
You may utilize a variety of Tinder features and strategies to find out who is nearby and available for a date, not to mention the app itself.
Follow the following steps to narrow down the search location radius for a better tinder search.
Open Tinder and Select Settings from your profile page.
You may modify a variety of search parameters, including age range, distance, gender, and more.
Set Tinder to look for you based on your current location.
To save your selections, select Done in the top right corner.
You may now begin scrolling through dozens of other people to discover someone you like.
FAQ
Does it cost money to use Tinder?
Tinder is free to use and download with its basic version, but if would like to up your dating game, purchasing Tinder Plus might help. Yes, there is a paid version available too but that too comes without a search bar. If you wish to do a tinder profile search, you need other apps like Catfish tinder lookup.
What is a Super like, and how does it work?
Super likes are a technique of expressing your interest in someone. When you Super like anyone, they will receive an email, and a blue star will appear next to their name on your profile. They can then choose whether or not to return the favor.
Regular likers can get two to 3 times as many matches as super likers. For a limited time, Tinder Boost, which briefly places your profile at the top among the most popular profiles in your region, is also accessible.
How do I use Tinder?
If you have just joined tinder and made a new account, it seems difficult at first to get likes and the right swaps. It has seen rookies sometimes accidentally swiped left on someone on tinder whom they find attractive too.
To use Tinder, you must first install the software and register. You must then provide your personal information worth mentioning, including name, age, gender, and location.
You'll next be prompted to upload an image of yourself. After you've completed your profile, you can begin viewing other profiles in your region. If you like what you see, swipe right; if you don't, swipe left.
Two persons that swipe right on each other are paired and can begin conversing.
Takeaway
You may be wondering if you can look for individuals on Tinder now that you understand how the program works. Keep in mind that if you simply apply these criteria, your results will be limited.
It's advisable to utilize the Tinder radius tool if you want to view all of the prospective matches in your region. This will enable you to locate folks within a specific radius of your location.
Keep in mind when you search for someone on Tinder that not everyone decides to make their profile information public. Furthermore, some users want to hide their profiles from search results. These tips will help you find tinder profiles of your similar interests, age group, and nearby locations. Take advantage of them to find someone on tinder like-minded. Happy swiping!
Like this Article? Subscribe to Our Feed!
Ruth is a life coach who specialises in finance, relationships and career development. Outside work, she loves writing novels and guides for personal development.