Protect Your Home with Today's Top Home Security Apps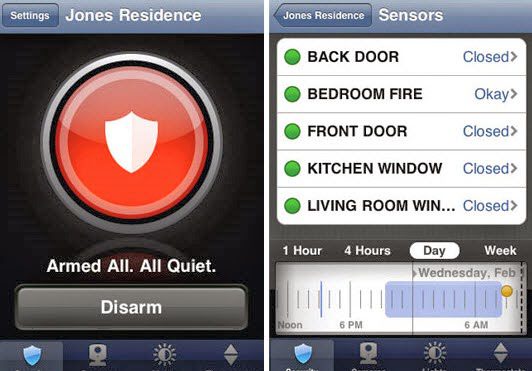 It's only natural to be concerned about the safety of your home, as it seems like every newscast we watch tells of another robbery or other such crime. Most of us don't want to turn our homes into armed bunkers surrounded by barbed wire and guard dogs, but we do want our families and property to be safe.
Would you like to make your home more secure without paying hundreds of bucks for a security system? Want to see what's happening in your crib when you're out of town? Wonder what your nanny, kids or pets are doing when you're not around to keep an eye on them? With a little ingenuity, and a smartphone app or two, you can keep tabs on your space 24/7, no matter where you are.
These days, you don't have to be James Bond to spy on your home, neighbors, pets and family. If you have a smartphone and a laptop with built-in cameras, there are apps that can help you keep an eye on your home from wherever you are. Some require extra equipment, like video cameras, some work with existing security systems, while others make use of the devices you already have.

If you're willing to spend a few bucks on home security, you can go with a service like ADT or Guardian that will monitor your place for a fee every month. Or for a one-time outlay, you can purchase Wi-Fi vidcams and position them around your home. One popular choice is the Dropcam, which offers easy setup and cloud recording starting at $149.
All of these can be monitored via apps for your smartphone or tablet. For the cheapest home surveillance, your can even use your computer or an old mobile device as a camera. Here are some of today's top apps for home security.
SecureHome
This app can alert you to intruders in your home by sending an email to your smartphone when the built-in microphone of your computer detects unusual noises. The app also sets off an alarm to scare away intruders. SecureHome can be remotely armed or disarmed by your phone if you forget to set it before leaving. $4.99, iPhone only.
Presence
Have an old iPhone 3GS that nobody wants to buy? Put that puppy to work with your new phone by using it as a camera for the Presence app. This free app for iPhone lets you use various Apple devices like iPad, iPhone and iPod Touch as home security cameras, provided they have working cameras, reliable Wi-Fi and access to power. You just download the app onto both devices, making one a camera and one a monitor. Once the camera is set up in a spot you'd like to watch, you can monitor the feed in real time with two-way audio and video. Plus, a motion detector alerts you to movement in front of the camera and sends you a short video clip by email.
iCam
If you want to be able to see everything that goes on in your home while you're away, this app lets you monitor multiple video cameras at once from your smartphone or tablet. When the motion sensor is triggered, you get an instant notification than shows you exactly what's happening. iCam is credited with capturing at least one robbery in progress. $4.99 for iPhone or Android.
Security Camera
If you suspect someone is using your computer without your permission, this app will shoot a photo every time something wakes it up and send the pics to your Dropbox account. Not only can you catch unwanted users in the act, you'll have photos of the perp if your computer gets stolen. $4.99 for Mac computers.
HomeWatch
This is another app for the Mac that snaps a photo whenever motion is detected. This one also can be set to take a picture at chosen intervals, like every hour. The photos can be stored on the computer or uploaded to a cloud service where you can access them from another device, like your phone. This is a good app for finding out what the kids or pets are doing when you're not around. $2.99 for Mac.
With the holiday season gearing up its a good idea to make sure your home is protected.  Keep reading for some more great apps that can give you some peace of mind.
Alarm.com
If you already have a home security system like ADT, this free app lets you connect it to your smartphone. Alarm.com lets you monitor and control your home security by getting real-time warnings of a security breach or movements inside the home. You can also use your smartphone to watch streaming video from your installed vidcams and interact with your security system. If you're already paying for a system, this app is a must, and it's available for iPhone, iPad, Windows Android or BlackBerry.
iSentry
Another free iPhone app that makes use of the devices your already have, iSentry uses the built-in web camera on your computer as a video surveillance system. When motion is detected, the camera will record a photo or video. This one is simple to set up and doesn't require buying any extra equipment.
AtHome
This easy-to-use free app turns your home computer into a surveillance camera. Just download the AtHome Camera Free and AtHome Video Streamer to your computer. When any motion is detected, a 30-second video is recorded and relayed to your phone. Users may also access their computer's camera at any time.
iSmartAlarm
This one isn't cheap, but it's packed with features for those who want the best in surveillance. After purchasing the Wi-Fi camera for $79, download the free app for iPhone or iPad and get alerts with photos by text, email or phone. You have the option of ignoring the alert or notifying the police, and can control multiple cameras from your iPhone.
Canary
Another pricey security solution, this one lets you get a complete system in one small device. After you purchase the Canary device for $149, download the free app and take advantage of one of the most innovative systems on the market. The device is equipped with an HD camera that includes night vision, motion sensors, climate sensors and microphone. That means that with Canary, you can use your smartphone to track your home's motion, sound, activity and air temperature. If you spend a lot of time away from home, this could be a good choice.
iWatchU
If you want to monitor several rooms in your home at once, this is the app for you, because it supports unlimited USB or Firewire cameras at the same time. Stream live action video at any time and every event is recorded as images or video. iWatchU uses advanced motion detector algorithms to capture video of just about anything that moves in front of the camera. This is one of the few security apps that can control the ambient light sensor of your computer for optimal results. $7.99 for Mac and iPhone.
What kind of home security you want, and how much you're willing to pay for it, is up to you. Today you have many choices at any price range.
| | | | | | | | | | | |
| --- | --- | --- | --- | --- | --- | --- | --- | --- | --- | --- |
| | | | | Written on 11/5/2013 by Linda Cauthen. | | | | | | |