Prosper Personal Loans Reviews 2023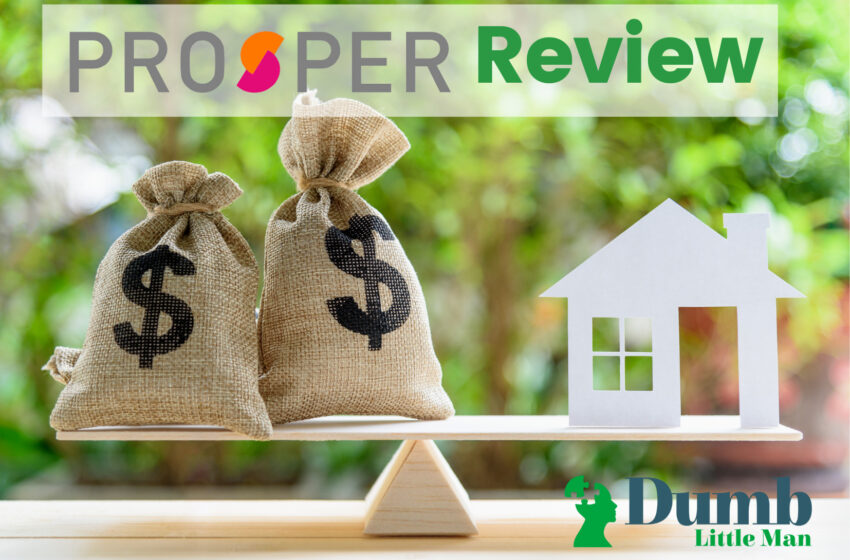 Prosper is a peer-to-peer loans platform that lets the borrowers to personal loans that are between 2,000 to 40,000 dollars. Qualification of borrowers is accessible than most other online lenders. Though the rates may reach about 36 percent and origination charges paid by borrowers may reach from 2.41 percent to 5 percent.
When you look for money for helping you bridge a fund gap it can be for large or emergency purchases, debt consolidation. A personal loan from Prosper can help you as long as you carefully use the money with full responsibility as well as understand every term.
This personal loan offers all the borrowers next-day funds in a certain situation, provided that the borrower has a credit rating, and provides all important documentation needed to vouch for their ability to return the loan.
The online lender may be appropriate for a co-borrower when an applicant is not able to qualify to fund on their own. But for every prosper loan you have to pay an origination charge, In addition, interest rates on prosper loans may be a bit higher than that of competitors.
Prosper is also a very useful option for home improvement, debt consolidation loans, dental expenses, lump-sum needs, and medical costs.
Prosper Reviews: Topic Overview
As a peer lending platform that gives personal loans to borrowers with good or fair credit.
For qualifying applicants, the proprietary rating system is used by the company which considers points such as the history of data as well as debt-to-income ratio. Then the borrowers are assigned a prosper score that the investors commit funds for deciding that the loan is funded.
The application can get expire if the loan is not more than 70 percent and funded in 14 days. Although, according to the company many loans get funded in 3 days.
What is Prosper?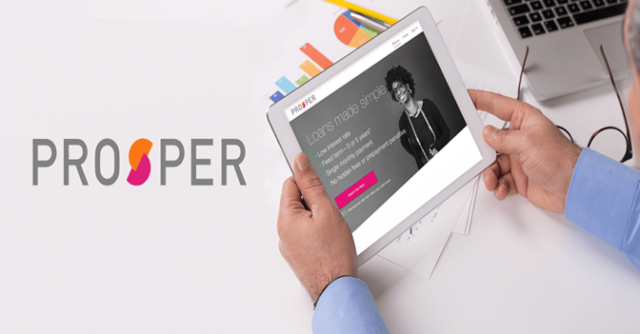 As a peer-to-peer lending platform, you can use Prosper to take out a personal loan that's funded by investors. You need a good credit score to qualify, but you don't need a long credit history. This is helpful for borrowers who are new to credit and don't have much to their name.
The ability to change your due date to a day that works best for your budget is also helpful to ensure that you never miss a payment.
How does Prosper work?
Prosper offers unsecured personal loans from WebBank as a member of FDIC. You don't need to put up collateral like a car or house for getting an unsecured personal loan. This personal loan offer variety of purposes to the borrower.
A person can apply for prosperous personal loans on its website is www.prosper.com.
The application process asks the following
Reason to borrow
Loan amount
monthly housing payment
verifiable income
Personal information
Employment status
You should not worry about applying. With many applications for a personal loan, it can not be simpler or quicker. The most initial questions you will be asked are; address, name, date of birth, employment status, income, and monthly housing cost. Then, without affecting your score will run a "soft" credit investigation.
Application process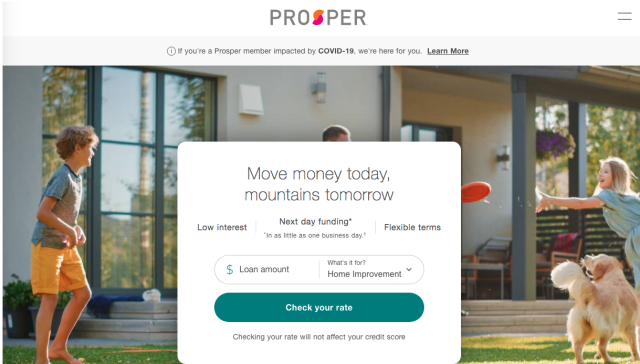 In this prosper personal loan review we are giving you a full guide for the loan application process.
See rates you will qualify for
Like every other successful lender, the prospective borrowers of Prosper can check which personal loan rates they have qualified, based upon a soft credit check. For checking the rate you have to enter the desired loan amount on the personal loans homepage the next step is to click "Check Your Rate". Now you will follow the prompt where you have to enter the required personal information.
Choose loan terms and submit documentation
Prosper provides a list of loan offers available according to the information given between prequalification. You can choose one of the prosper loan offers that meet your needs. Now submit you can submit the documentation required for verification of your identity. By visiting your prosper account online, you are able to check the statuses of the uploaded documents.
Await approval
After applying for the prosper loan you should receive a loan approval response in 2-3 days. You should receive a response as approval very soon by ensuring that the application is right and the required documentation is submitted. That's for loan purposes and the minimum income requirement.
Receive funds
It mostly takes around 3 days for you to receive funds after when you are approved for Prosper personal loans. Loan proceeds may be received the next business day after when your loan is approved.
Make payments
You can make your monthly payment online, through your phone, personal check, or via autopay, cashier's check, or money order. Once payment is made, prosper will report to 3 main credit bureaus that are Experian, TransUnion, and Equifax.
What are the Features of Prosper?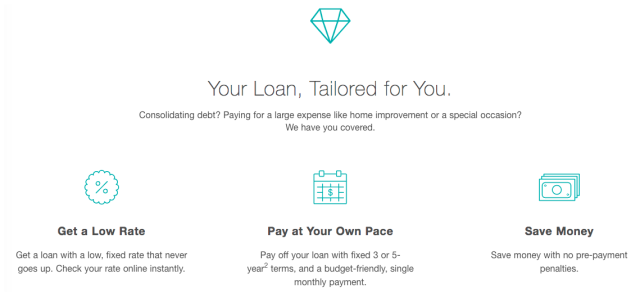 It offers personal loans and various loan funds, explained by five credit bureau inquiries. This is a guide to all the features.
Loan Amounts and Terms
All the prosper personal loans accessible are between 2,000 to 40,000 dollars. The loan amount on average is at a low end, still, at 13,500 dollars, in accordance with the data given by Prosper through May 2021 for January.
Borrowers from Prosper are allowed to choose loan terms from 3-5 years, making the repayment period accessible from Prosper are less flexible than the competitors.
Hardship program
As the pandemic COVID-19 had a great impact on borrowers so prosper offers them hardship assistance. By contracting a dedicated helpline, the borrowers are able to apply for relief. It is reported that 99.9 percent of relief requests are deemed eligible for hardship benefits.
Keep in mind that many online reports review efforts that are unsatisfactory by Prosper for assisting borrowers who struggle because of a pandemic.
Flexible payment date
Borrowers are allowed to change the date of their personal loan payments after a year. If they contact client support via phone. In a few cases, it is possible that the borrowers can change the date of their monthly payment if they have any due past monthly payments.
Kind of Loans Does Prosper Offer
While making up your mind for putting prosper on the shortlist, you need the following facts
Loan amounts are between 2,000 to 40,000 dollars.
Minimum personal loan APRs are 6.95 percent while the maximum is 35.99 percent.
Choose how long you are going to spread the monthly payment amount whether thirty-six months or sixty months.
640 as minimum credit score, even though many clients of Prosper have higher ones.
Maximum DTI* is 50 percent.
You can pay a loan early without any penalty
You are allowed for making joint applications with a co-signer.
Make an application without any effect on your excellent credit score. This is a type of prequalification.
All monthly payments will stay the same, doesn't matter what can happen to the other loan interest rates.
How much does Prosper Cost?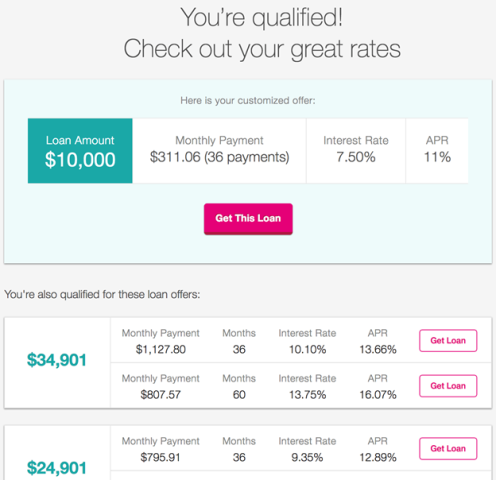 The rates of APR are 7.95% to 35.99%, this depends on the creditworthiness of the applicant. Borrowers do not get a discount to sign up for autopay on the lending platform.
Prosper's origination fees vary between 2.41-5 percent of the loan amount; this depends upon loan term as well as creditworthiness. Generally, a personal loan origination fee covers the cost of application processing, sometimes marketing and administrative activities.
In case of late payment that is over 15 days after the due date; the borrower will be charged a late fee. If the state law dictates or the late fee loan costs are equal to 5 percent of monthly payment of the amount of loan or 15 percent. But Prosper reports that half of the current client percentage was charged late fees from January and May 2021.
Borrowers of Prosper are also charged fees for insufficient funds of 15 percent or an Email payment of 5 percent. There is no prepayment penalty charge on the borrowers to pay off loans before the ending of the loan term. You can access loan payoff from the online account dashboard of Prosper. The bank account includes exclusive features.
Click Here to Know More About Prosper.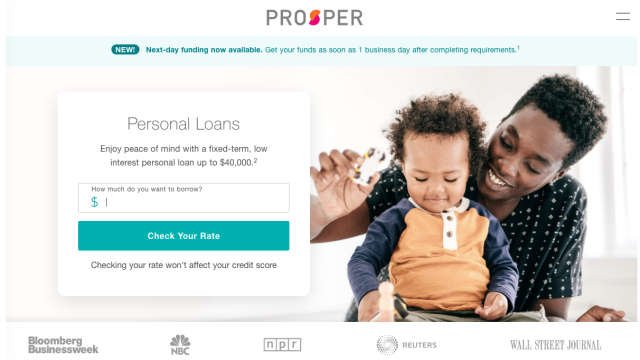 Who is Prosper Best For?
Here are the details of whom it is best for!
Borrowers having fair credit scores
Prosper is a good option for borrowers who have fair credit scores and want to borrow less amount of money. However, the loan starts from $2000 and borrowers just need a credit score of a minimum of 600. In addition to this, the company's max APR is almost as high as 36% and the average from January to May 2021 was 16.37%.
The APRs start from 7.95% and the loans are repayable from three to five years so the qualified borrowers can get more flexible terms and competitive rates elsewhere. Prosper does not have personal loans available in West Virginia, Iowa, and U.S Territories.
People interested in home equity financing
People who have an interest in home equity financing must have a good or fair credit that is from 630 to 719 FICO and credit history of two years. They can add a co-borrower to their application which is a much reliable option.
Prosper Pros and Cons
Let's consider the pros and cons!
✅ PROS
▶ Joint Applications
If you are not able to qualify for a Prosper loan then you can ask for help from a trustworthy relative or friend to co-sign the loan so you both can apply as a joint applicant. This could make a difference for you in between getting denied or approved.

▶ Minimal Credit History 
With a sparse credit history, you can easily get a proper personal loan. You need to have no bankruptcy within the last 12 months, and less than 50% debt-to-income ratio, and credit inquiries less than five in the last 6 months. You will have to verify that you have at least got some money with you.

▶ Fast Turnaround 
With a soft inquiry on your credit you can see in just minutes that whether you qualify or not and that won't even affect your credit score, this is known as the prequalification process. If you are qualified then you can finish the application soon after. You can receive funds in just three days.
🚫 CONS
✖ Many Fees 
The origination fee is between 2.41% to 5%. There is also a late fee of 5% and an insufficient fee of $15. This could add up in the interest if you don't make payments or don't have a sufficient amount of money in your account to repay your loans.

✖ Limited Repayment Terms 
There are only two terms available to choose from that is three years and five years. You may need extra time in contrast to what is offered.
Prosper Compare to other Loan Company
| Loan Company | Annual Percentage Rate | Credit Score | Minimum Loan Amount | Maximum Loan Amount |
| --- | --- | --- | --- | --- |
| Prosper | 6.95% - 35.99% | 640 or Higher | $2,000 | $40,000 |
| Upstart | 7.68% - 35.99% | 580 or Higher | $1,000 | $50,000 |
| SoFi | 2.99% to 10.66% | 680 or Higher | $5,000 | $100,000 |
Click Here to Know More About Prosper.
Prosper vs. Upstart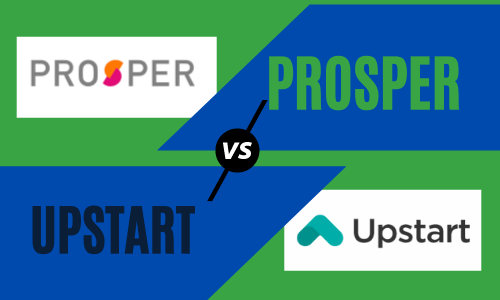 Let's compare Prosper to Upstart! Prosper is ideal for borrowers who want to be preapproved without influencing their credit. However, Upstart is for people searching for competitive rates and a fast yet accessible turnaround.
Prosper is ideal for home improvement with effective APRs on the overall creditworthiness. On the contrary, Upstart looks above the credit score to provide a competitive-rate loan.
Prosper offers a loan amount of $2000 to 40,000 whereas Upstart offers $1000 to $50,000 for better effectiveness. Prosper includes an origination fee of 2.4% to 5% whereas Upstart includes a fee of 0 to 8%.
Prosper vs. Sofi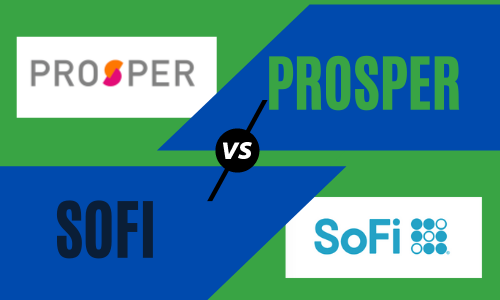 Prosper offers loan amounts of $2000 to 40,000 whereas SoFi includes $5,000 to $100,000 making it a good option for multiple borrowers needing money than others. Prosper includes effective APRs whereas SoFi includes 6% autopay with an increased 20% option.
People with good credit scores might choose SoFi but Prosper has an excellent origination fee option and student loans. Prosper is a P2P lender making it better than SoFi with an institutional approach.
Conclusion
Prosper offers borrowers an advantage of next-day funding in some situations. It is given that the borrowers should at least have a good credit rating and smoothly offers all the required documentation to confirm their power to repay a loan.
Prosper provides loans for a variety of purposes and the amount is up to $40,000 that can easily be accessed by people who have fair credit. Moreover for borrowers who are looking for rapid cash are able to get funding as soon the next business day arrives. Paying an origination is significant and the interest rates are also high as compared to other lenders.
Prosper's lending platform permits two borrowers to apply as joint applicants together. While the first borrower needs to meet the credit criteria of prosper the second borrower can qualify with a 600 score at FICO with at least an open account on the credit report with no bankruptcy filing within 12 months.
Prosper is a BBB-certified company with an A+ rating in trustworthiness by the Better Business Bureau. The trustworthiness is evaluated by measuring the business replies to complaints that consumers make, the clarity about the business practices, and the honesty in advertising.
Frequently Asked Questions
How reliable is Prosper?
Prosper is a leading peer-to-peer platform that offers personal loans to individuals with good or fair credit range. The company uses an exclusive rating system for the qualification of applicants and takes data points such as debt-to-income ratio and credit history.
You have an average credit score or want to apply for a joint loan then prosper is what you are looking for. But due to the long list of fees and stringent requirements you may look elsewhere for a better deal.
What credit score do you need for Prosper?
People who want to borrow a personal loan via prosper must keep a credit of 640 or higher in their account to qualify for a loan. You can apply for a co-applicant if prosper does not qualify for your loan. This can increase your chances of getting offers. In addition to this, it may lower your rates.
Is Prosper a real bank?
Prosper is not a credit union or a bank. It is a leading peer-to-peer platform that permits individuals and institutions to earn interest by the investment they do in loans. Using the exclusive rating system, prosper provides each potential loan with a letter grade that helps people to choose whether to invest in it or not.
Integrated with Better Business Bureau prosper has an A+ rating and is BBB certified. The company has an outstanding rating on Trustpilot which is based upon 6900 reviews and has a 4.6-star rating out of 5. In 2020 there were 31 personal loan complaints received about prosper in the Consumer Financial Protection Bureau.
Can you make money off Prosper?
Prosper.com informs its users of the average return for their notes. As an addition, Prosper.com takes a small amount of around 3% of the interest that is earned on each loan and that's the reason how they make the money. Therefore if you paid interest on a note of $1.00 then Prosper will keep $0.3 and $0.97 will be left with you.
Prosper has two basic revenue sources that are servicing fees and transaction fees. The transaction fees are charged due to facilitating the loan's organization by WebBank. The amount of transaction fees is from 1-5% on every loan.
Click Here to Know More About Prosper.
Like this Article? Subscribe to Our Feed!
John is an avid researcher and is deeply passionate about health and finance. When he's not working, he writes research and review articles by doing a thorough analysis on the products based on personal experience, user reviews and feedbacks from forums, quora, reddit, trustpilot amongst others.