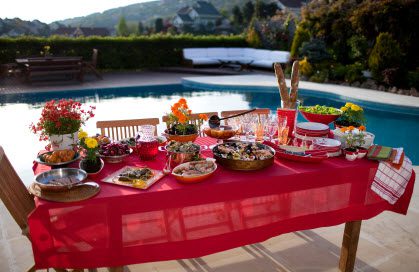 Where did the summer go?
It seems like just yesterday that we were celebrating Memorial Day, but now Labor Day is right around the corner.
That means you still have time to throw a big end-of-summer bash, so why not go all out?
With a little preparation, you can toss a party that your friends will remember all winter long!
In order to make your end of Summer party a success there are some things you will need to keep in mind.
The setting
The very best place to have a summer party is around a pool, so if you have one, you're all set to party in style. However, if you've been neglecting the pool so that it looks more like the Black Lagoon, it's time to clean up your act and get that pool in shape for guests. Make sure the pool looks its clearest and most inviting for your summer's end event.
Get your pool area in more of a party mood by adding a few accessories. If you don't already have outdoor speakers, pick up a couple (or more) and place them around the pool area for cool sound. Check out the ones that look like rocks or planters, so they blend in with the outdoor ambiance. Why not put together some of your favorite summer tunes for a rocking party mix?
How does your lawn furniture look? If the answer is "pretty crappy" or "What lawn furniture?" then it's time to check your local Home Depot or discount chain, where you're sure to find some spiffy outdoor sets marked down to clearance prices. If you're not crazy about your outdoor grill, or the old one has died, now's a great time to pick up a new one on sale.
The guests
Now that you've set the stage for your end-of-summer bash, it's time to make a guest list. Invite friends, invite neighbors, invite family—anybody who knows how to have a good time, and can be counted on to bring either food or booze. Preferably, both.
Send out the invites a week ahead of time and keep in touch to be sure who's bringing what. Hopefully, you'll have some pals with culinary talents who will bring things like mixed green salads, fancy dips and decadent desserts.
The menu
After you've got the grill all cleaned up and ready to go, it's time to plan the food. Since the kitchen is just a few steps away, you can go all out and cook the good stuff, like steaks, chicken, seafood, kabobs, grilled vegies and ribs. Of course, there will be the usual burgers and hot dogs, but why not make this a more upscale bash with really great food?
All this will require a major trip to the store, maybe more than one store for the best food and the best deals. Be sure you have BBQ sauce, marinades, steak sauce, hot sauce and all the seasonings you'll need to grill.
The drinks
For a long party that starts in the afternoon and carries on into the evening, you'll need plenty of drinks, both alcoholic and not. You'll want cans of beer and soda, as well as bottles of liquor and mixers. A pitcher of ice tea or lemonade is a nice touch for a warm day. Be sure to have lots of bottled water, too.
So now you've completed all of your planning and prep work and are ready to get the show on the road.  As they say 'A little planning goes a long way.'  Keep reading as the countdown is on until party day.