5 Places in New Zealand for a Thrilling Casino Trip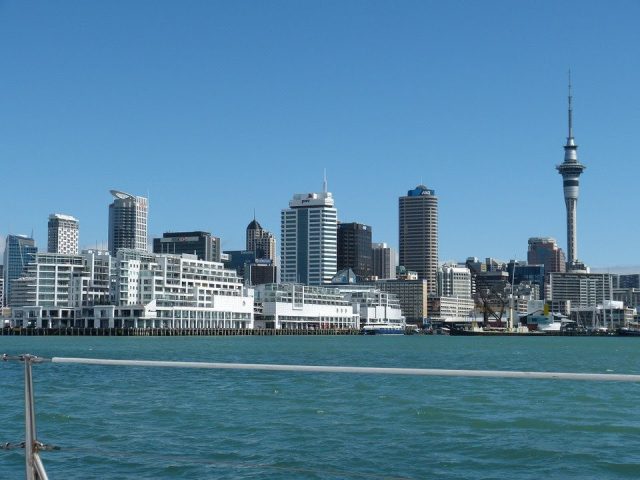 Even though it may be one of the more remote countries in the world, New Zealand is also one of the most highly visited. In fact, tourism is its biggest industry by a considerable margin, bringing in a total revenue of over $40 billion a year and employing over 14% of the population. Every year around 4 million people visit – that's quite an achievement in a country whose population is only 4.8 million.
There are many aspects that bring the visitors flocking to New Zealand, from the stunning scenery to the cosmopolitan cities. The two islands also have so much to explore that tourists tend to travel around visiting many different places on the trip – a sensible idea given that so many have traveled so far to visit.
A considerable number of these travelers also want to include a visit to a casino or two during their stay and they're in luck here as well. Ever since the Gambling Act of 2003, casinos have been permitted, provided that they are authorized by the government.
This means that you'll find them in or near all of the major population centres as you travel around, and they are just as popular and welcoming when it comes to catering for New Zealanders who want to visit.
The online casinos option is also available
There's more good news for visitors who would prefer to play from the comfort of their holiday accommodation – there's also a wide choice of online casinos to choose from. In the recent years there have a plethora of them, so it can be helpful to visit a site lik www.online-casinos.com/nz/ where you'll be able to find the best online casinos making the most generous offers for new players. The site also includes plenty of other useful information for New Zealand players.
But, for those who can't resist the allure of the "bricks and mortar" experience, there are some great options available in New Zealand too.
SkyCity Auckland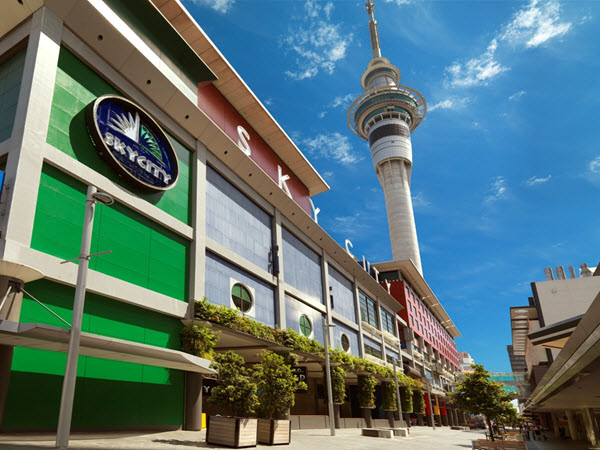 As the country's largest and most diverse city, Auckland is somewhere most visitors want to spend a lot of time. With places to visit like the National Maritime Museum and the Auckland Art Gallery Toi o Tāmaki, which holds the country's most extensive collection of national and international art, it offers plenty for culture vultures. Thrill-seekers are also catered for with bungee-jumping from the landmark Sky Tower which is also part of the complex housing the Sky City Auckland Casino. Opened in 1996, this is a very popular venue offering a full range of games and superb hospitality.
Christchurch Casino
The biggest city on the South Island has earned itself the nickname "The Garden City", thanks to the many parks and wide-open spaces to explore and welcomes many tourists. These include Hagley Park and the Christchurch Botanic Gardens which are especially spectacular in the Spring. Christchurch has also always been a base for Antarctic explorations, and you'll find many artefacts from these at the International Antarctic Centre. The city's casino is a huge 44,000 sq. ft. gaming space with over 500 slots to play and 34 gaming tables. It's also gained quite a reputation as a leading poker venue hosting regular, weekly tournaments.
Dunedin Casino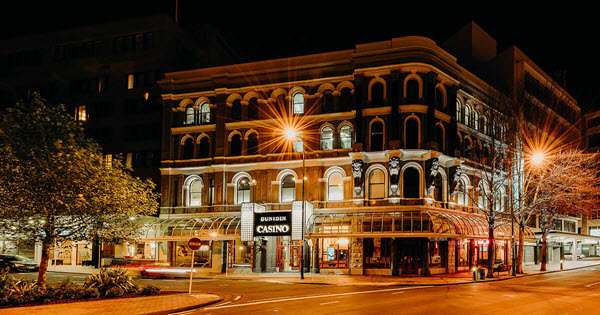 As you might expect from a university city, Dunedin is lively, creative and more than a little quirky. For example, walk around and you can't help but be amazed at the amount of street art. There's also a very lively food scene and, for nature lovers, a visit to the nearby Otago Peninsular is a must. The Dunedin Casino may not be the biggest in the country, but it's certainly one of the friendliest and most welcoming. It opened in 1999 and today, also offers a great rewards programme for all players with discounts on food and drink and the chance to collect points that you can convert into casino chips.
SkyCity Hamilton
Situated in the heart of the North Island, Hamilton is New Zealand's biggest inland city and is famous for a thriving cultural scene, as well as its stunning outdoor spaces. A big favourite amongst all visitors is taking a river trip along the Waikato. The Hobbiton Movie Set is also nearby so you can even take an evening dinner tour. The casino is large, employing over 350 staff and is part of an even bigger leisure centre with a 10 pin bowling and a golf simulator.
SkyCity Queenstown
Right in the heart of Lord of the Rings country, the scenery around Queenstown is just as amazing as you might imagine. It also means that it's a real honeypot destination for lovers of the big outdoors, whether that means mountain biking, hiking or looking for the rich local wildlife. Queenstown casino is another in the Sky City family and, with just 12 gaming tables and 150 slots, it's also the most intimate, but none the worse for that.
So there you have them, 5 great casinos, and many more tourist experiences in "the Land of the Long White Cloud" – plus all you need to know if you want to enjoy a first rate online casino experience as well.
Like this Article? Subscribe to Our Feed!
Life tips and life hacks for happiness and prosperity.