LingQ Review: Look What We Got [2023]!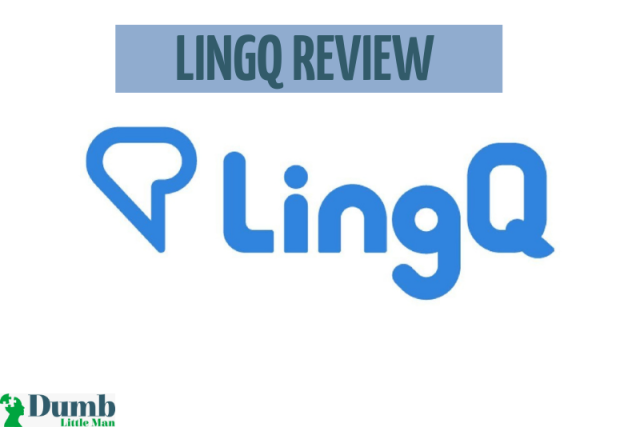 When it comes to language learning programs, there is no doubt about the quantity available online.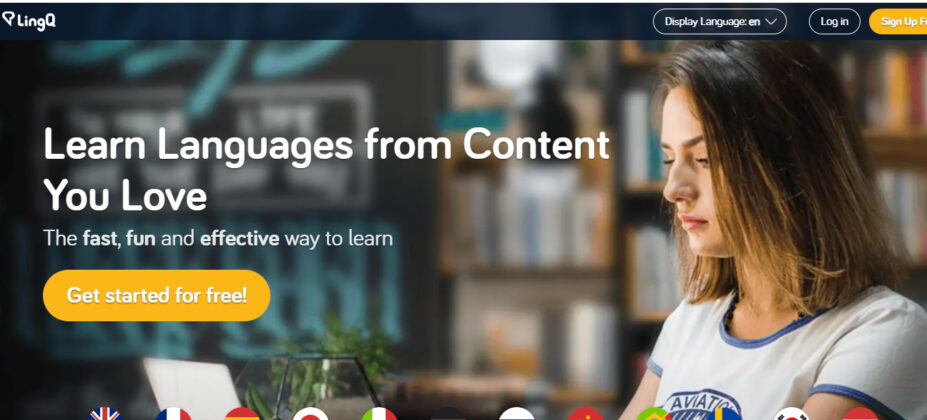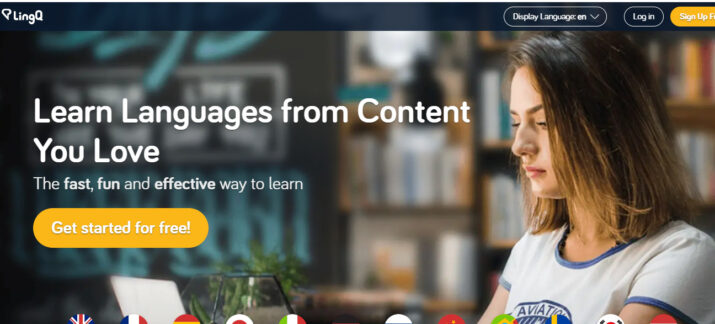 Image from lingq.com
These are accessible in a wide array from iTalki, Babbel, I Will Teach You A Language and so much more.
With the right course, you can polish your language learning skills and master a new language in a matter of weeks.
Keeping that in mind, LingQ is quite similar to these programs. The focus of this particular app is on reading and listening. You are only going to need just a few lessons to get you on track when learning a foreign language.
This is because LingQ provides a learning path for beginner, intermediate and advanced learners.
But if you're thinking about trying out this app, make sure to go through its features and advantages beforehand. Here is everything you need to know about this language learning program.
LingQ Review
LingQ is one of the very few online language learning forums that provide a variety of learning resources targeted at teaching you a new language via entertainment which you will thoroughly enjoy.
As mentioned previously, this program offers the reading and listening element, which is crucial for people who want to become really proficient in their target language.
LingQ provides a plethora to offer, including YouTube videos, news articles, audiobooks, podcasts, and so much more. It will definitely help you enhance your reading, writing, listening, speaking abilities.
Not only that, but with the essential vocabulary-building tools ready to use at LingQ, you will gain a deeper understanding of the language you are trying to learn.
LingQ is among the few virtual language apps that enable you to create your customized online lessons.
This is significantly beneficial as it allows the student to have their own path where do not get overwhelmed with LingQ lessons.
You may also discover resources on almost any topic, and you can even integrate your own if what they offer does not meet your individual needs.
Things to like about LingQ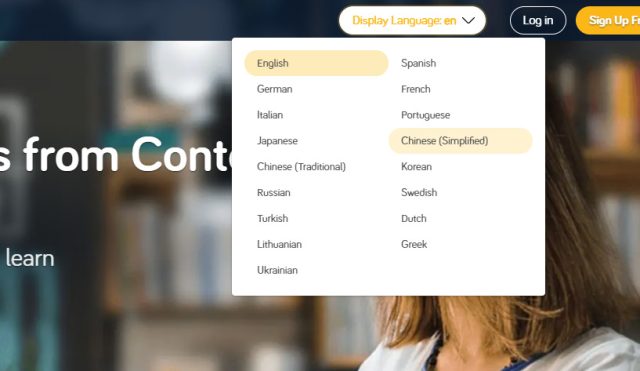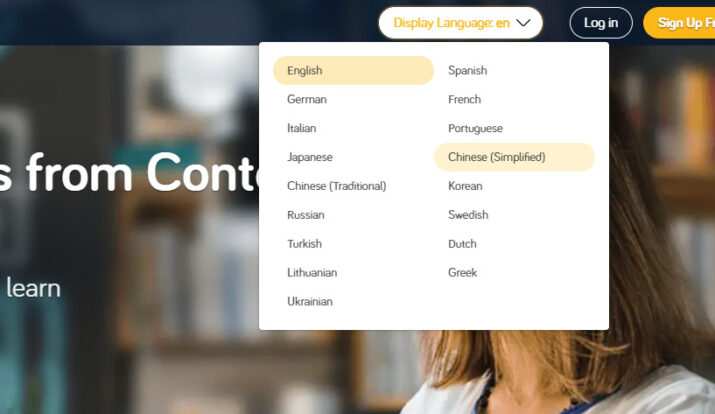 Image from lingq.com
One of the most beneficial features of this app is that it is quite easy to import any lesson that you were looking to study.
Other than that, you can even take the help of the app's SRS flashcards to make a quiz from words that are only available on particular pages throughout the program.
Considering your past reading history, LingQ 's library shows the number of familiar and unfamiliar words that are specific to each lesson. And to help sweeten the deal, the app provides many different dictionaries that offer different contexts to difficult definitions.
Things not to like about LingQ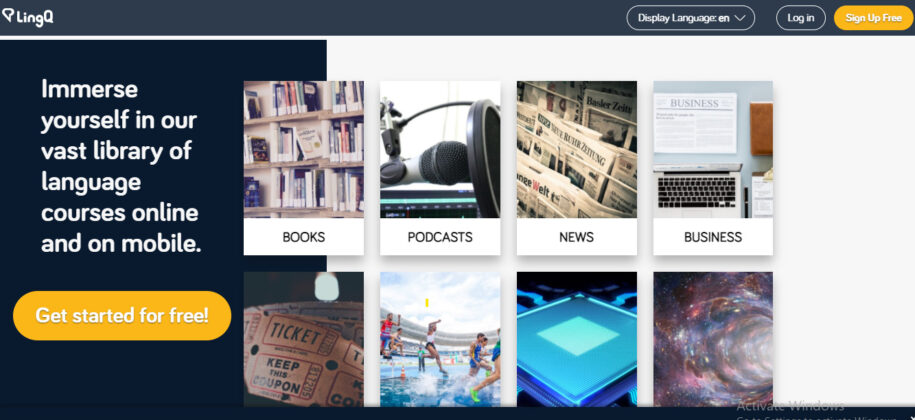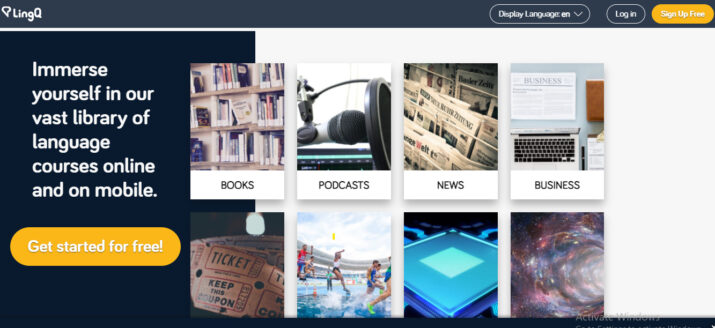 Image from lingq.com
The app's word-reviewing system is quite mismanaged. According to users, any word they look up in the dictionary is added to a huge list of unfamiliar words, which makes it quite hard to navigate around the app.
Moreover, most of the studying material on the app's platform isn't even original. It is mostly uploaded from other users on the Internet. Understandably so, it may not always be reliable content to study from.
Except for that, anyone that has used this app does say that the free version has very little to offer. So if you want to get the most out of this app, you will have to pay up the money. However, you should keep in mind that these paid features can be found at other apps as well, which might even be available for free.
What Languages Does it Offer?
Going through the LingQ review, you will see that it is quite diverse when talking about the vast variety of paid language learning programs. This is all thanks to several factors.
The most fundamental of them is the sheer number of languages available on this platform.
Spanish, German, French, English, Chinese, Japanese, Portuguese, and Italian are among the multiple languages offered by LingQ. Essentially, it has all the popular languages a student will need to study.
Aside from that, there are another 20 languages under beta testing.
This implies that this language learning program is aggregating content for them, but it does not yet have a sufficient amount to provide a comprehensive and meaningful curriculum.
Arabic, Czech, Finnish, Hebrew, Latin, Norwegian, Romanian, Slovak, Turkish, and Ukrainian are a few of the languages involved.
The special part about LingQ is that it makes sure to have a solid base in a language before uploading it on their language learning forum.
This helps to make sure that the new learners do not get frustrated while studying a language they require tons of practice in. Because who would want to learn a language when there are only a few lessons available.
LingQ makes sure there are fresh learning materials all ready to go for their consumers so they may get the most out of the LingQ courses.
Price of This Language Program

Image from lingq.com
When it comes to the LingQ cost, students will have to be understanding the level of commitment towards this app.
Language programs can be rather costly, regardless of you paying a one-time charge or a regular monthly subscription.
One will have to contemplate the number of months of practice sessions that go into a foreign language before they truly begin to understand it.
Learners do receive a lot of features in the free version, which is quite impressive. But don't expect it to be very useful. In short, the maximum number of LingQs you may generate is 20, which is rather restricted.
However, a student can only import five lessons at a time, but that is about it. Students can not solely depend on the free version of LingQ if they want to work on their language skills and learning style.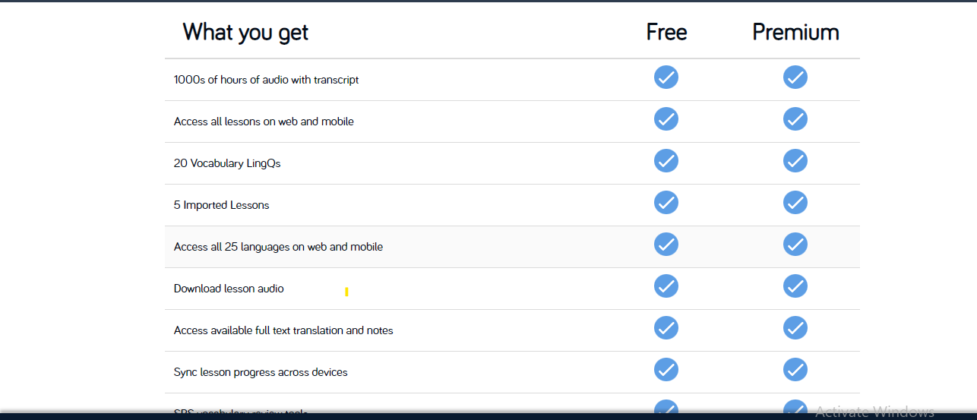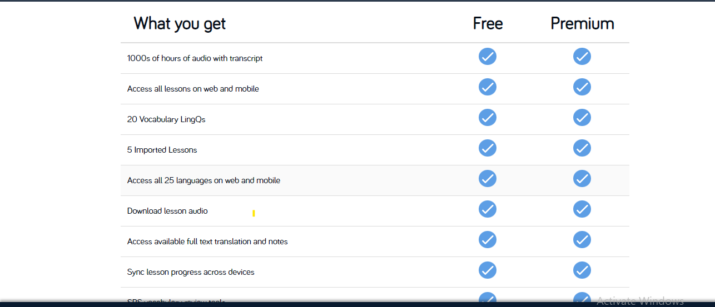 Image from lingq.com
One must pay in order to have full discretion over any courses they choose to publish, as well as unlimited access to LingQs. This is not available in the free version of this learning app.
The cost of a LingQ Premium account is $12.95 every month. You will receive a discount if you buy an extended subscription for the premium lessons.
There is also a Plus plan for language learners, which is identical to the Premium account but for the addition of 3000 points each month.
These points may be used to purchase additional LingQ services like Skype classes, text edits, and avatar upgrades which is a great deal for intermediate learners.
With the Plus plan, you will have to pay $39.99 per month, which offers the same discounts as the normal premium plan. Learners essentially gain access to all of the lessons on their computer and mobile devices, as well as restricted LingQs and lesson imports.
To sum up, you will spend $71.94 ($11.95/month) for a 6-month membership.
A total of $107.88 will be for a 12-month membership, which is $8.99 per month.
And lastly, you will pay $191.76 for a 24-month subscription, making it $7.99 per month.
How Does LingQ Work?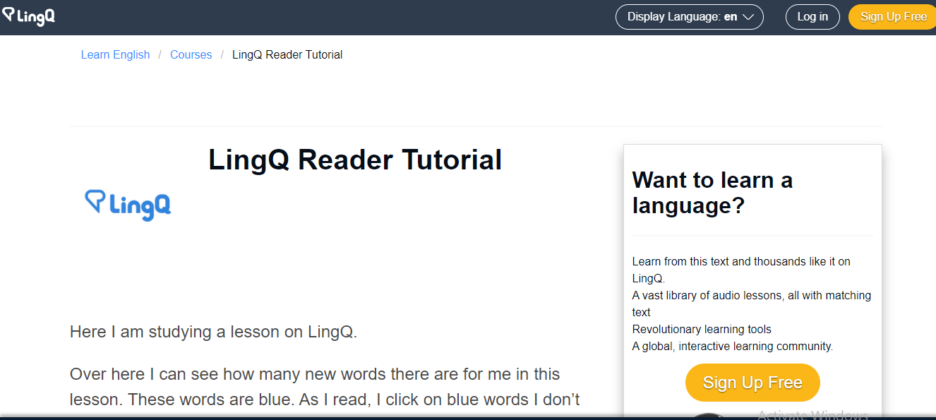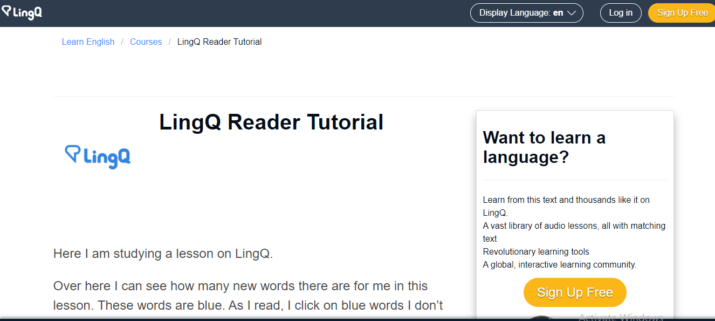 Image from lingq.com
LingQ makes learning a language fairly easy. Even though beginner language learners will face problems with this app, there are many features that can help them too.
The LingQ app's Getting Started section is positioned at the top of the main menu. It might be less evident if you are accessing it with the online version.
Surprisingly, the web and app versions are not the same. Even though some of the films are dialect-specific, the app version offers fifteen sets of videos that change based on the languages you pick.
Language learners will see basic material initially when they join up for this language platform.
Other than that, they also have the option to select from more advanced courses due to the variety of interesting content available.
The levels are divided into the official A1-C2 categories, which is a terrific feature! This helps to clearly show the beginner, intermediate, advanced level.
CLICK HERE TO READ MORE ABOUT LINGQ
What Are LingQs?
The core of this language learning service is creating "LingQs" while you read.
A LingQ is a link between a term you do not understand (new words) and its definition. That may appear easy, but LingQ's implementation is really beneficial. This feature is also known as the 'LingQ Reader'.
The terms for which you have not created LingQs will be marked as 'known' when you go on to the following page. This is quite advantageous, especially if you already have a basic knowledge of the language. Not only that, but it saves you from scrolling endlessly.
In the case that you have never used LingQ before, it is amongst language resources that seem like 100 percent new terms at first.
However, that number will alter as you progress through the content. The majority of the terms will be highlighted in blue when you first begin taking courses.
These blue words indicate that LingQ believes you have never encountered these terms before.

Image from lingq.com
You can choose terms that you do not know to view a translation as you read through each section. Once you have decided on the appropriate translation for the scenario, that term becomes one of your "LingQs." This indicates that it will be added to your list of terms for subsequent evaluation.
Your LingQ's, which were previously blue words, will now be marked in yellow in all the lessons you encounter in the future.

Image from lingq.com
If you do not need to be reminded of the meaning of these new words too often, you may unselect and remove them from your review list.
The proportion of how many words you are unfamiliar with getting color-coded.
One may highlight a single word in yellow and pick a definition to be LingQed ("linked") to it by clicking it.
As previously mentioned, blue words are the unknown words, green color is for easy, yellow for intermediate, and red for difficult.
This way, you will have an idea of how many new words are now a part of your vocabulary list. And with time and enough practice, a beginner will become an intermediate learner!
CLICK HERE TO READ MORE ABOUT LINGQ
LingQ's Language Lessons?
The lesson system lies at the heart of LingQ. A little paragraph in your target language appears in each session. A reading and listening component is included in every class.
You may choose any of the blue words, listen to them, or have them read out by native speakers and tell LingQ that they are not one of your unknown words.
This technique will help strengthen your listening comprehension in that specific language so learners may understand the more handy phrases. As these practiced speakers talk, picking up on their words can immensely assist the language learners.
If the reading is too quick, you may slow it down to half speed. The native speaker reads the early lessons at a considerably slower pace than the latter ones.
The lectures are divided into courses, with the majority of the courses following a narrative. Each lesson builds on the prior session's tale while also introducing new terminology.

Image from lingq.com
This will help you complete your preparation with a few online lessons as possible. It is possibly one of the best extra features of LingQ.
LingQ's Vocabulary Building Tools
LingQ's vocabulary-building tools are one of the best language resources you will come across. As previously stated, you may add a LingQ whenever you are in a class or listening to a LingQ audio file and come across a term you do not recognize.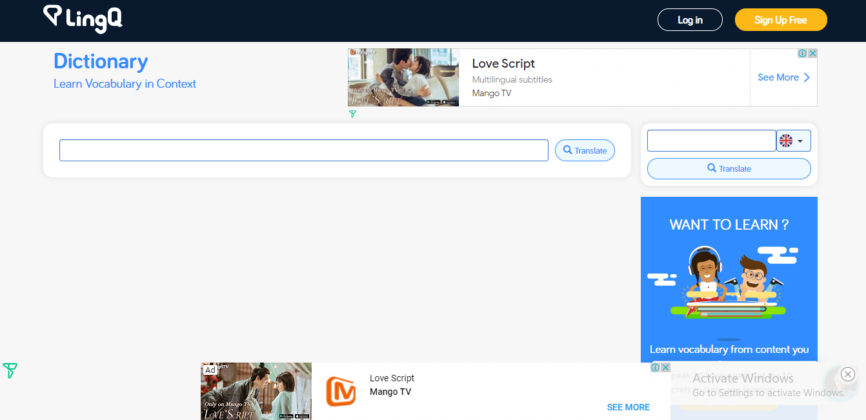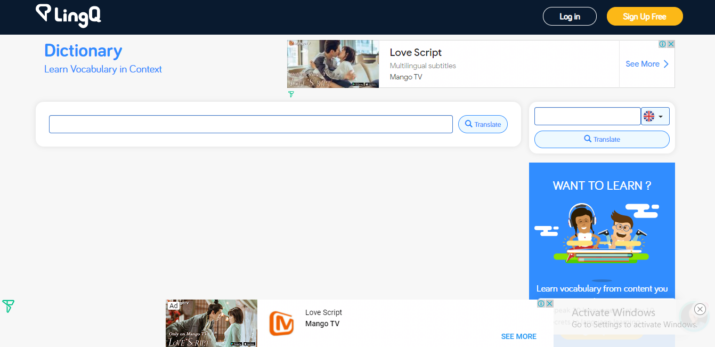 Image from lingq.com
Each LingQ is given a score between one and four. These are New (added as a LingQ), Can't Remember, Not Sure, and Learned.
Students can also construct a new LingQ by selecting a term. This word will then be added to their flashcard collection, which is one of the many commendable extra features of this language learning app.
Regular flashcards, reverse flashcards, cloze deletions, multiple-choice questions, and dictations are four distinct techniques for vocabulary learning. They are based on the meanings and situations that you used to choose each term.
This technique will help you pick out the unknown words and work on them.
For students, flashcards are a great way to see how many words they can recall in beginner lessons. They can start by writing corrections and reviewing words they do not know to give them a better grip.
Not only that, but it also will enable the students to communicate fluently and overcome even the most adequately challenging exercises.
Who knew learning a language would be this easy!
LingQ's Additional Features
Import Your Own Material
LingQ lets you import nearly any ebook, blog post, newspaper article, YouTube video, or even Netflix subtitles into the program. Anyone with an account may contribute content to the site, and LingQ will automatically include it in your newsfeed.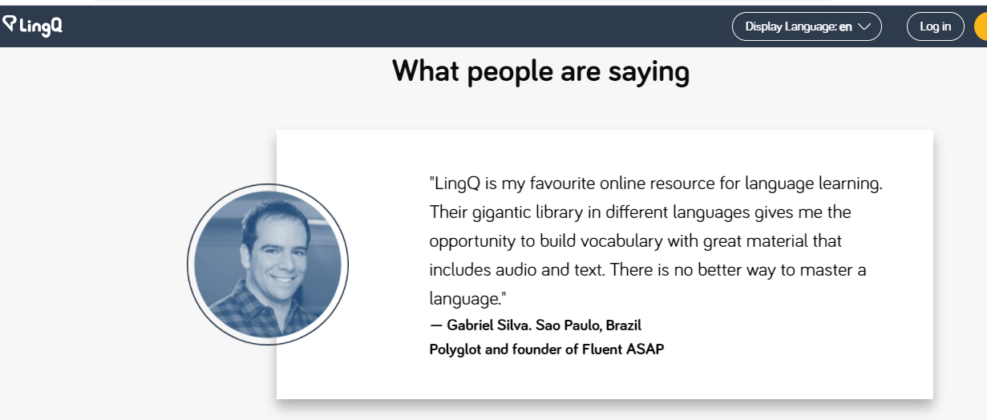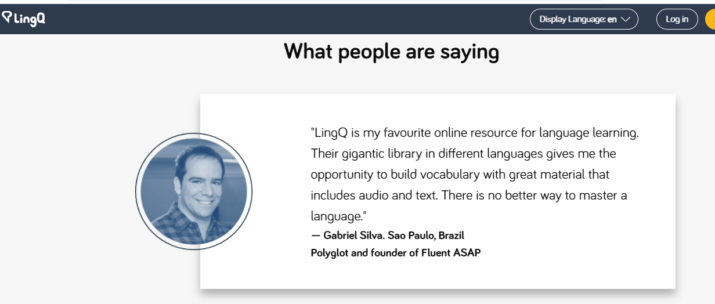 Image from lingq.com
There are three alternatives available to you: lesson, ebook, and vocabulary.
It's even easier with the LingQ browser plugin, which allows you to import youtube videos in seconds and launch the lesson right from the website.
LingQ can take a video and convert it into a downloadable audio file that you can sync with the subtitles. You can use the same philosophy with your material and learn better when it comes to a new language.
CLICK HERE TO READ MORE ABOUT LINGQ
Tutors
Another great feature about this app is that LingQ offers tutoring for its students. Instead of scheduled and carefully organized video meetings, it's essentially the same type of ad hoc tutoring through Skype that you may plan with people you meet on other language-learning sites.
Anybody can volunteer as a community tutor and charge a fee for speaking and writing corrections.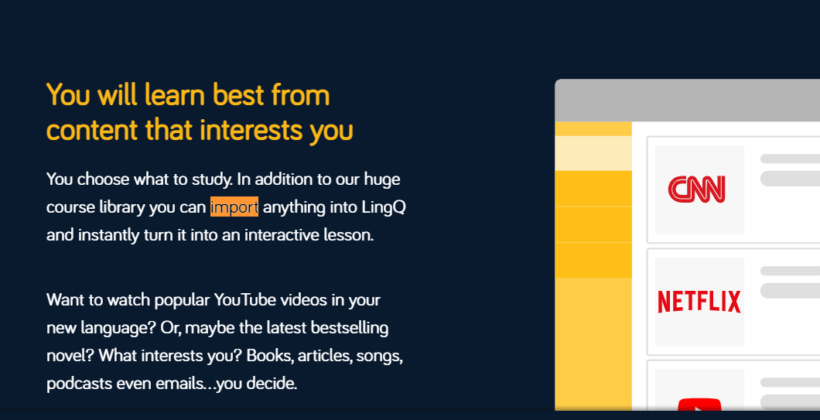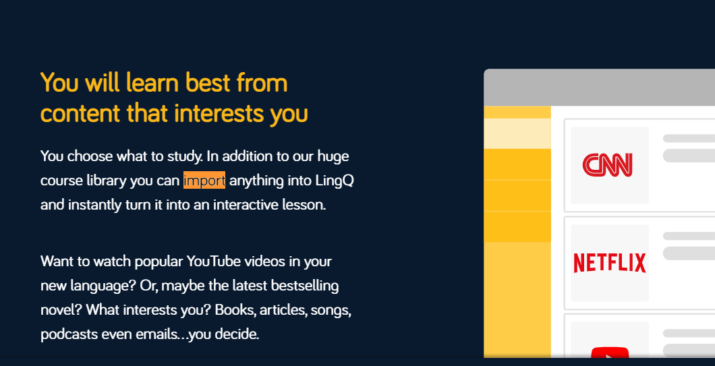 Image from lingq.com
LingQ also deducts 15% of the cost charged. You can converse with these tutors, which is beneficial because they correct and guide you all throughout the verbal exchange.
When students use a tutor, they can even earn points. How incredible is that!
Avatars
The reading tool's aim is to generate LingQs, which reward you with coins. However, you may only use them to customise your avatar's clothes and surroundings. As a result, there are many people out there who would fairly assume that the avatar will play a significant role on LingQ.
However, that isn't the case at all.
When you look at the old Comic Sans font used in the avatar's store and other certain factors, it isn't hard to see that the system hasn't received an update for quite some time.
Users have a restricted number of options for interacting with avatar items. Every piece of clothing belongs to a whole outfit. Therefore, no matter how hard you try, you can't get your avatar to wear specific clothing items.
Several background items also need the purchase of a prior background item, even though these items cannot be used at the same time.
When users discover that they can't use their LingQ coins for anything helpful or fun, they are left dissatisfied. Perhaps, it will change in the near future with LingQ.
CLICK HERE TO READ MORE ABOUT LINGQ
How Can You Access LingQ?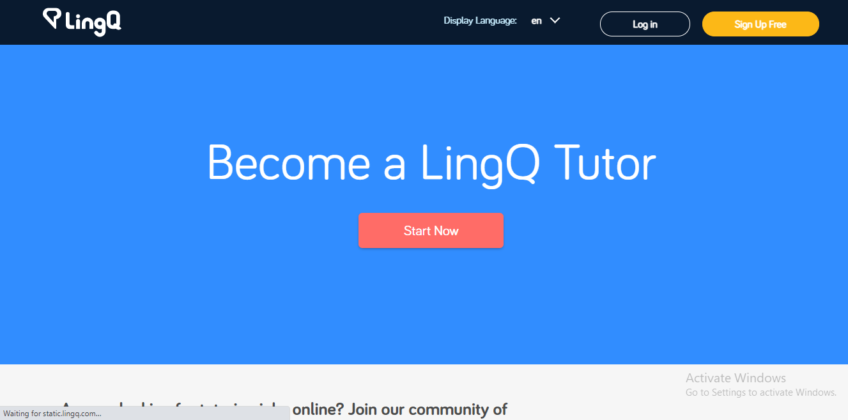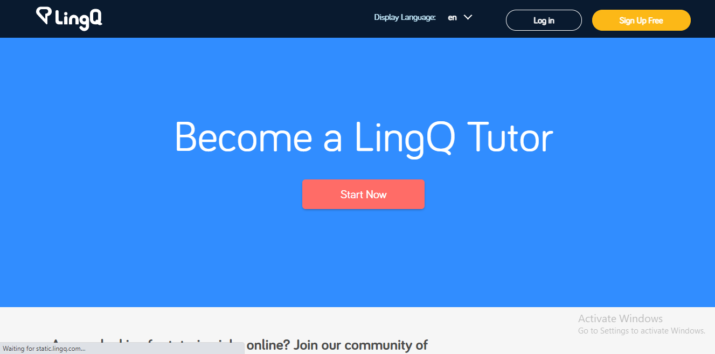 Image from lingq.com
LingQ is accessible as a downloaded app for cellphones, tablets, iOS, and Android in complement to the desktop site. This enables you to finish LingQ classes and practice with your LingQ flashcards.
As previously stated, the app and the web version are two separate entities. LingQ 101, step-by-step instruction to using the LingQ Reader, is included in the app version. This is a practical learning technique in the LingQ system that is beneficial to people who want to get started studying right away.
Several people choose the desktop site since it allows them to access more of LingQ's many extra features. However, many users found the app to be simple to use and a good simplification and representation of LingQ's main functions.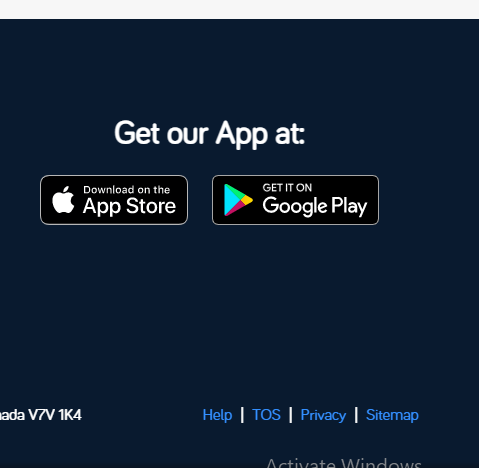 Image from lingq.com
LingQ doesn't have the same level of support as other graded readers
LingQ's method to level-appropriate information is centered on the user's interaction with the app, rather than on methodologically chosen materials. As a result, you should only utilise it when your aim is to absorb as much information as possible. But aside from that, people continue to choose graded readers and graded reading applications.
The Chairman's Bao, Du Chinese, and Pleco's graded readings are still excellent alternatives for learning Chinese.
Readle, which contains reading and comprehension tasks at the conclusion of each level-specific session, is a good choice for beginners and experienced German students using Android smartphones.
Even though many learners have not tested Satori Reader, the majority of user evaluations portray it as an excellent tool for advanced Japanese students who are almost prepared for native speaking material but are not quite there yet.
LingQ's free version isn't up to the mark
Considering that the strongest feature of LingQ is the ability to recognize familiar and unfamiliar words at a glimpse, the free edition is almost worthless.
Regardless of you erase them from your word lists, it only permits five downloadable lessons and twenty LingQs in total. If you go over this limit, you won't be able to search up descriptions, mark terms as known, or pinpoint unfamiliar words. This, in most user's opinions, entirely defeats the app's objective.
The Premium Plus edition, which costs $39.99 a month, adds 3,000 credits to your account every month, allowing you to buy interactive courses, writing revisions, discussion groups, and courses from the lesson store. Relatively higher-quality programs, such as italki and LangCorrect, can effectively replace all of these functions.
As a result, it is advisable to only go for the premium version of LingQ, which charges $12.99 each month or $107.88 annually.
CLICK HERE TO READ MORE ABOUT LINGQ
Downgrading to LingQ's free version is far from hassle-free
One of the most irritating aspects about LingQ is how tough it is to convert to a free subscription.
To begin, LingQ will try to tempt you with a multitude of incentives in order to persuade you to stick with the paid version of the app. One of them offers a three-month subscription for 50% off. Another provides the "Vacation Plan," which charges $2 per month and allows you to save all of your data. Finally, it will provide you with a lifelong subscription for a single language.
When you reach the final proposal and select "remove my data," a prompt will most likely tell you to erase all except five of your classes.
It is impractical to downgrade unless you personally erase your courses, which is inconvenient if you intended to use them for the duration of your subscription period.
Any Apps Out There Except for LingQ?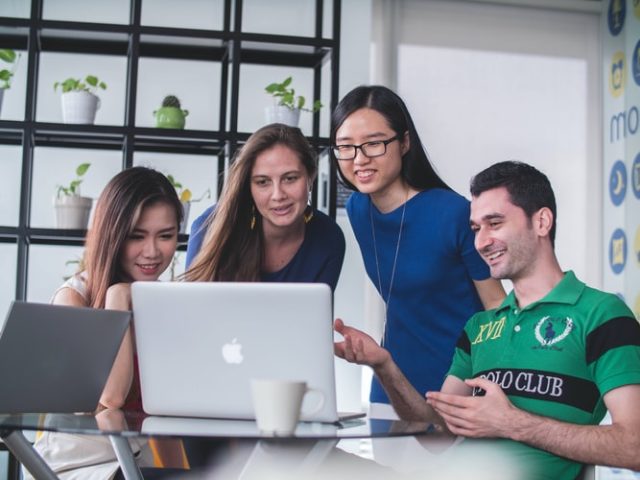 Images from images.unsplash.com
Even though LingQ happens to be very popular on the Internet, it isn't the only one. There are many other apps out there that are also just as good for learning new languages, if not even better. Let's also take a look at these other language learning options.

This app uses a story-learning method where the developer narrates many different stories in various languages. The entire idea is based on repeated exposure to your chosen language through short tales, which he considers to be among the most fundamental means of communication.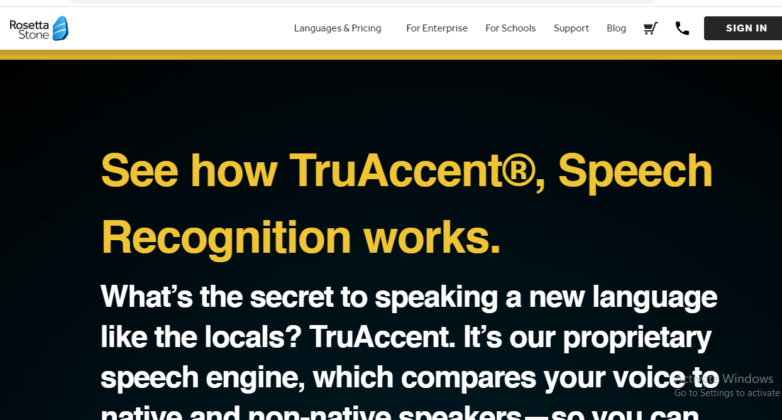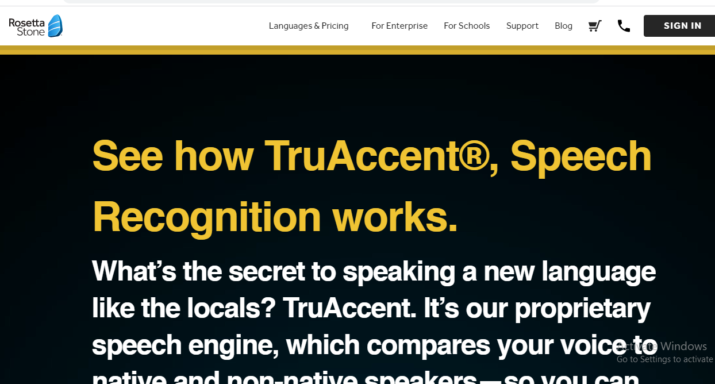 There are many different courses available for catering to the needs of different individuals. However, the best part is that each lesson comes along with its specific supplemental learning material.
Pros
The courses are available in a variety of languages and different difficulty levels. Moreover, all the learning content also happens to include English translations, which is an essential criterion for choosing how you want to study.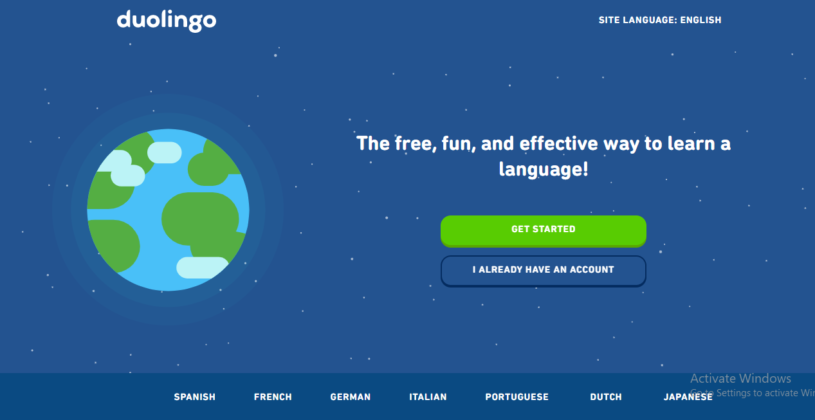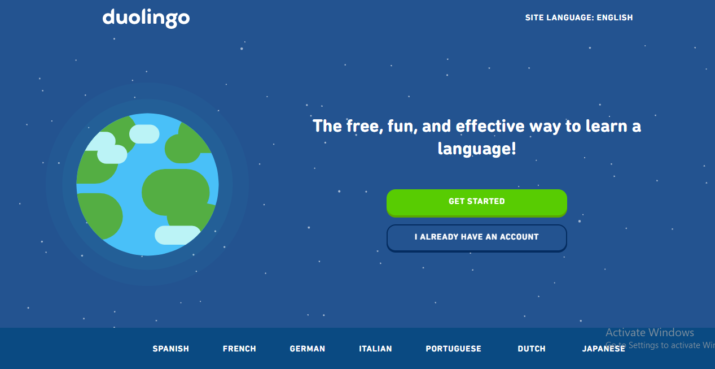 Cons
Since the app is based on learning from stories, there is a lack of synergistic learning, which isn't good news for when you're in interactive situations.
CLICK HERE TO READ MORE ABOUT I WILL TEACH YOU A LANGUAGE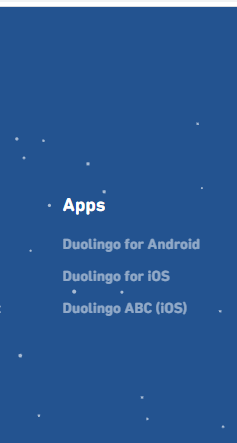 Images from italki.com
italki is a system where you may schedule language lessons with an instructor instantly. On italki, you'll discover hundreds of private teachers that provide many different lessons. They establish their own schedules and prices, and they come with distinct credentials and expertise.
italki does not provide lessons; rather, teachers use their service to organize the classes. Italki is mainly used to make payments, and courses are generally held through video conference applications.
Unlike most language lesson apps, the service helps teaches pinyin which can help learners understand Mandarin written content and audio files.
Pros
You can arrange classes with the teachers according to your schedule and everyday activities. Moreover, there are many different teachers on this website, so you can learn almost every other language.

Images from italki.com
Cons
It might be hard to find a teacher who is willing to charge what you can afford for every lesson. And since these are live classes, you probably don't have the option to learn at your own pace.
CLICK HERE TO READ MORE ABOUT ITALKI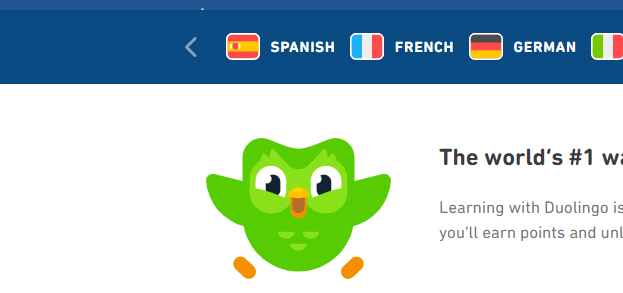 Images from yabla.com
Yabla is an immersive program that uses video material to help you learn new languages.
It's a fun approach for advanced-level students to enhance their targeted verbal skills. It's also very beneficial for improving your listening skills.
You not only view the videos, but you also learn from them through short games related to the video content.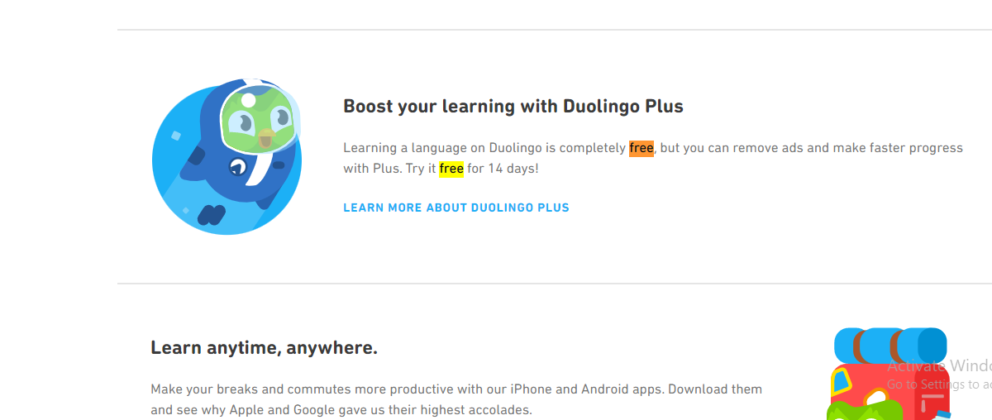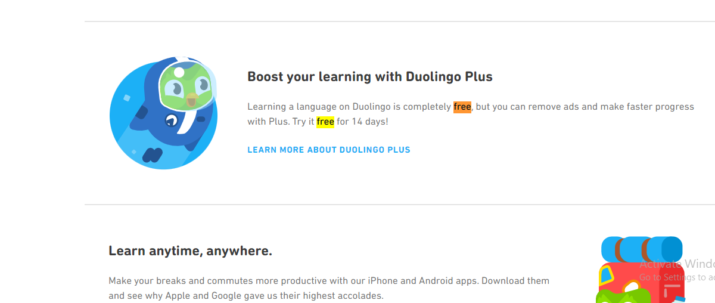 Images from yabla.com
Yabla isn't a whole language-learning package. It is more of a useful resource to help you go over the level where introductory language lessons stop.
Pros
You may alter all translations to some other language, which is a valuable Yabla tool. For instance, you can take the help of translations in English, French, and German for learning Spanish.
Furthermore, Yabla's media collection is enormous, because there is always a fresh new video to watch.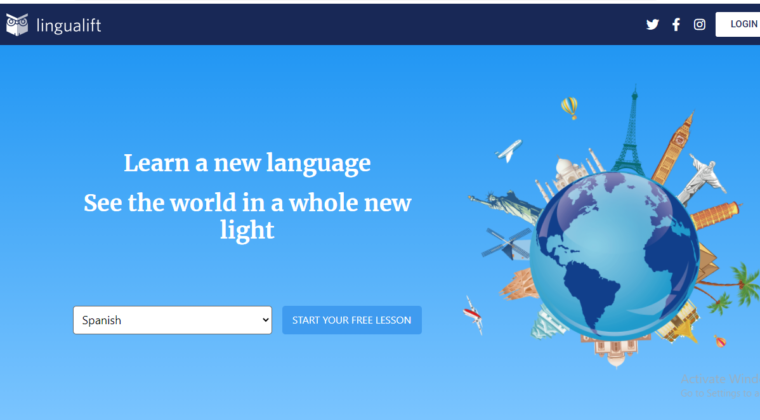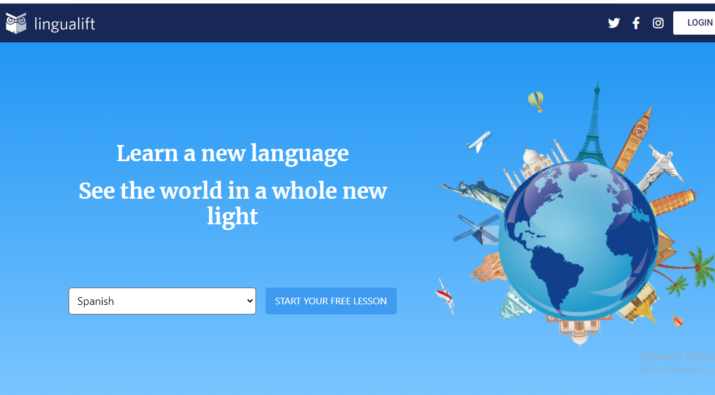 Images from yabla.com
Cons
There is a very obvious lack of structure in the material's presentation, which makes it hard to understand the content. As a result, this app isn't suitable for beginners.
CLICK HERE TO READ MORE ABOUT YABLA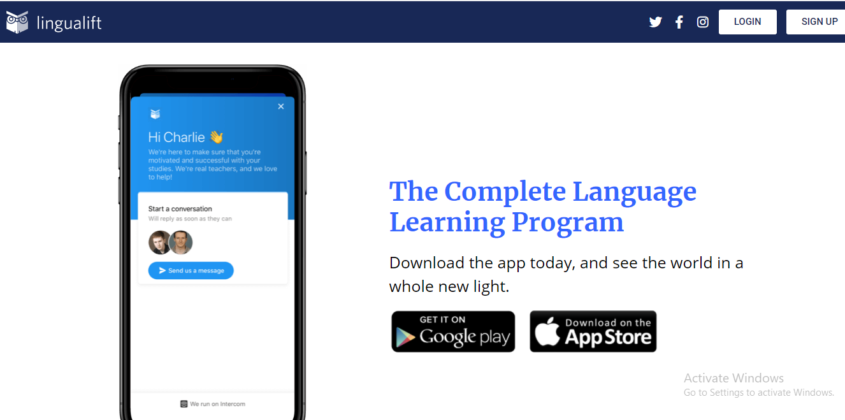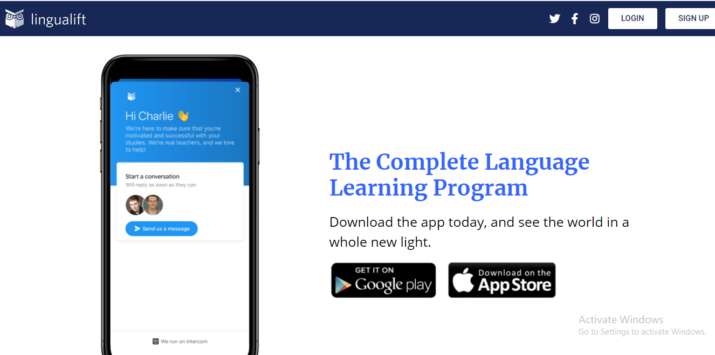 Images from preply.com
Preply is a virtual learning platform that brings students and teachers together for one-on-one online courses.
The app itself doesn't provide any studying material. It just serves as a channel for you to access its extensive database of teaching professionals. You may go through each teacher's portfolio, view their introductory videos, and sort them by pricing, reputation, expertise, and availability.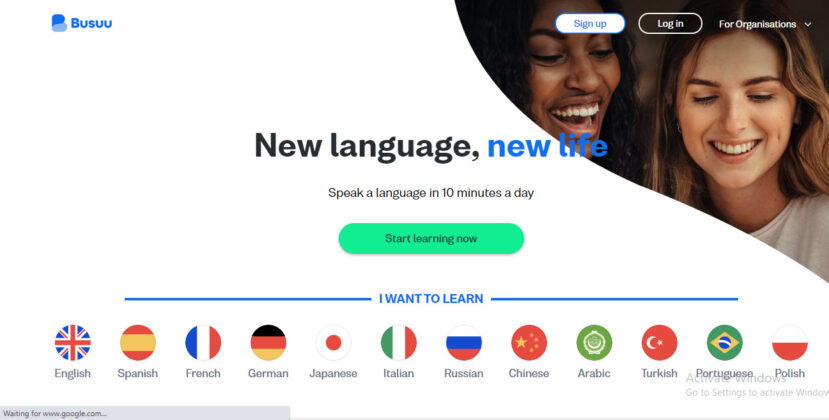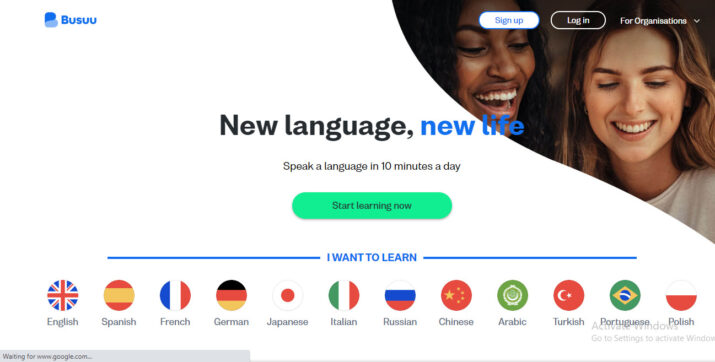 Images from preply.com
Preply works like a coordinator for you and the educator, ensuring that everything runs well. After trainers receive payments, the lesson begins. The sessions are then held on Preply's Space portal.
Additionally, learners may also get a full refund if the instructor provides the lesson in an unsatisfactory manner.
Pros
Preply's most appealing feature is how simple it is to get started and utilize the platform. You may create an account in a few minutes and have quick access to a large database of tutors. To filter the selection, you can also use parameters like price range, timing, native speakers, specializations, and much more.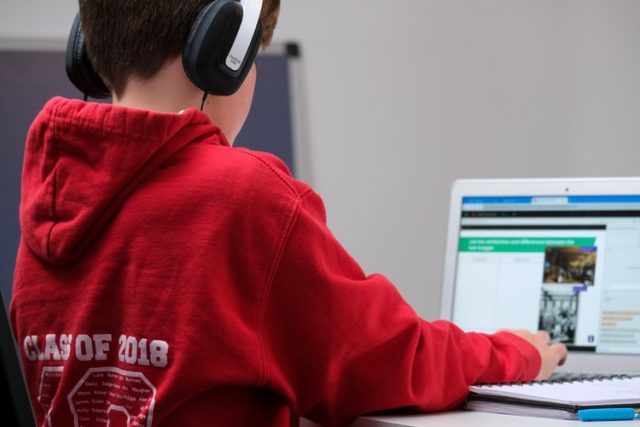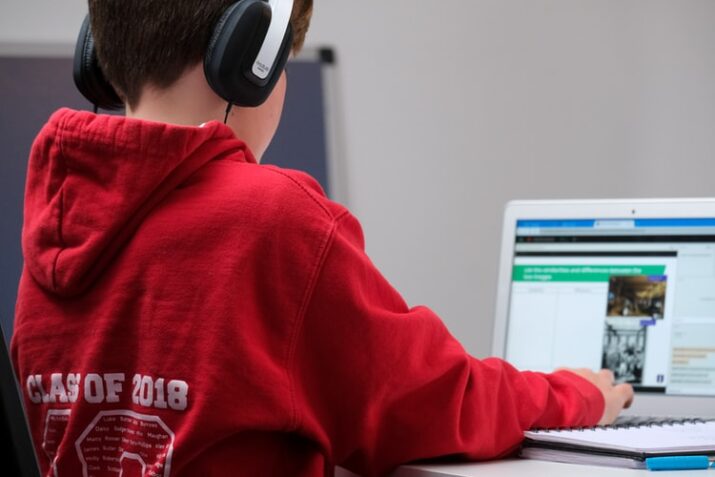 Images from preply.com
Cons
There is no option to select a single lesson. You can only pay for bundle sessions, which may be a risk because you don't want to be stuck with the wrong teacher.
Even though there is an option to request a different instructor, you only have that option for a limited number of times.
CLICK HERE TO READ MORE ABOUT PREPLY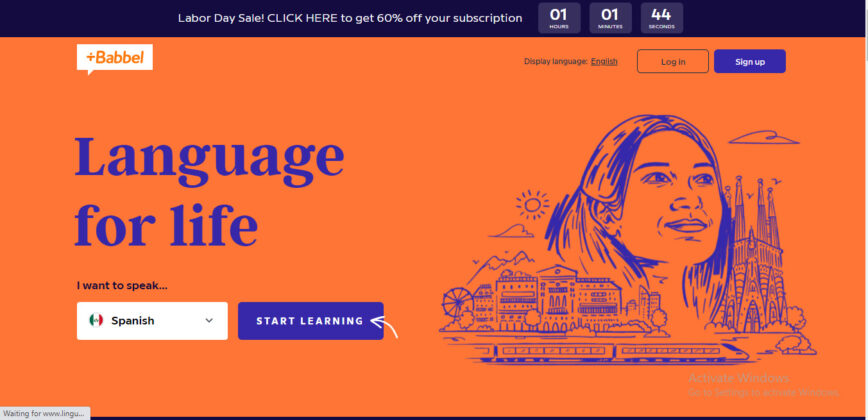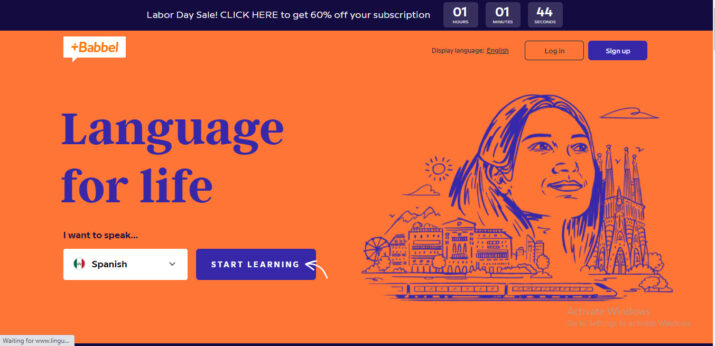 Images from babbel.com
Babbel's free edition includes 40 lessons, so even if you don't want to spend any money, you can learn a lot of words in one of the 13 languages it supports.
Each lesson begins with a step-by-step presentation of vocabulary using visuals. The words are then utilized in related sentences and brief conversations that are tailored to the learner's level to assist with the rapid development of communication skills.
Aside from basic beginner's classes, Babbel offers distinct bundles dedicated to developing specific abilities such as vocabulary or grammar.
But if you already have some familiarity with a dialect and know what your limitations are, you may seek to enhance those particular skills.
Babbel's lessons may be downloaded for convenient offline studying, and the application will give you helpful alerts so you don't skip a lesson.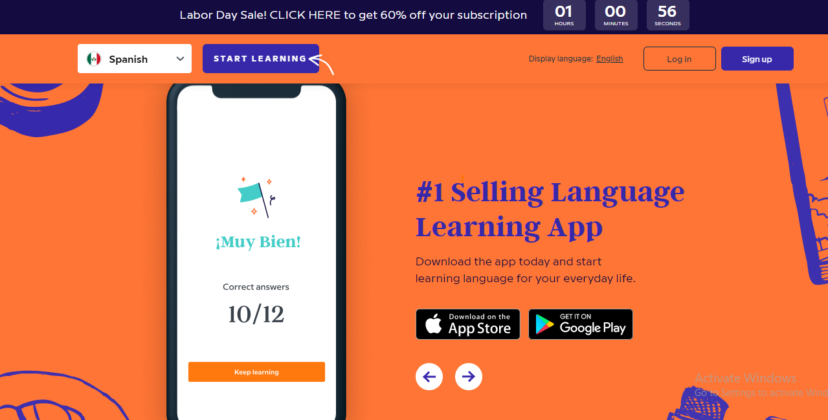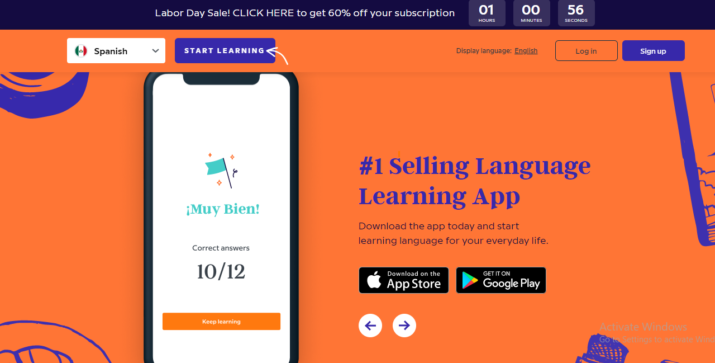 Images from babbel.com
Pros
Babbel uses a lot of visually attractive images to help you recall vocabulary and phrases. It also provides a wide range of courses that cater to the needs of many different levels of learners.
Other than that, Babbel has a very user-friendly interface that makes it easy to use. As a result, you can conveniently track your progress and learn languages in a fun manner.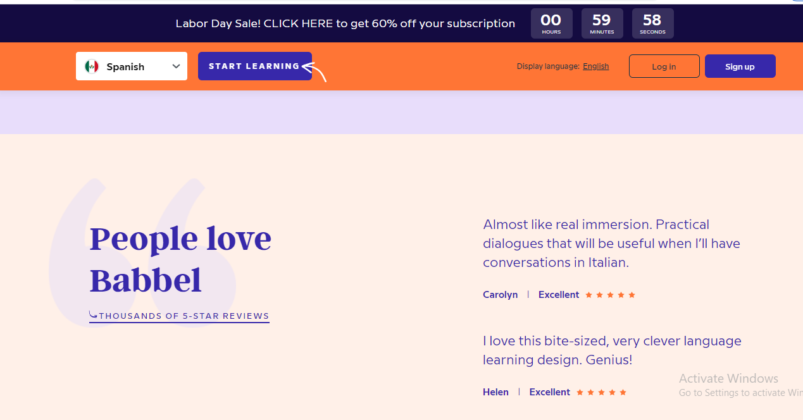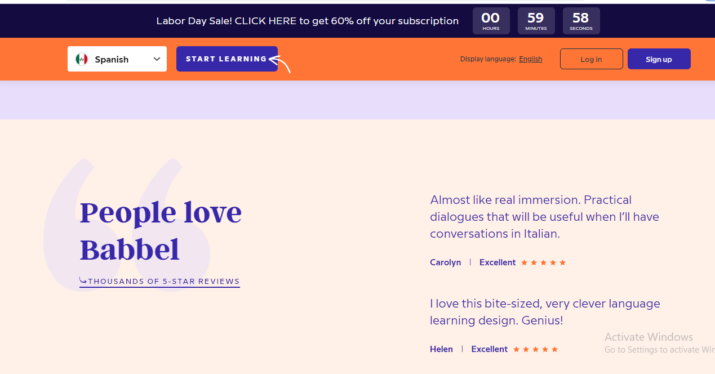 Images from babbel.com
Cons
The free version of the app only gives you access to a single course. If you want to try out more lessons, you will have to choose from a variety of different monthly payments.
According to some users, the lessons in Babbel are too repetitive and can become boring at one point.
CLICK HERE TO READ MORE ABOUT BABBEL
Conclusion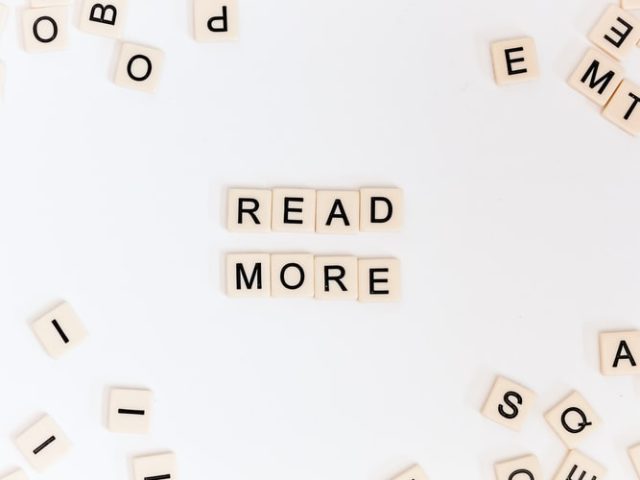 Images from images.unsplash.com
There is no doubting the fact that LingQ is a very capable app for learning new languages and polishing up the old ones. But when you look at all the other options available such as I Will Teach You A Language, iTalki, Babbel, Yabla, and Preply the choice becomes a little more difficult.
Regardless of which languages software that may be, make sure you know what you're spending your hard-earned money on. And don't forget to have fun learning new languages!
CLICK HERE TO GET LINGQ AT A DISCOUNTED PRICE
CLICK HERE TO GET I WILL TEACH YOU A LANGUAGE AT A DISCOUNTED PRICE
CLICK HERE TO GET ITALKI AT A DISCOUNTED PRICE
CLICK HERE TO GET BABBEL AT A DISCOUNTED PRICE
CLICK HERE TO GET YABLA AT A DISCOUNTED PRICE
CLICK HERE TO GET PREPLY AT A DISCOUNTED PRICE
Like this Article? Subscribe to Our Feed!
Passionate in tech, software and gadgets. I enjoy reviewing and comparing products & services, uncovering new trends and digging up little known products that deserve an audience.