How to Reduce Jetlag and Enjoy Flying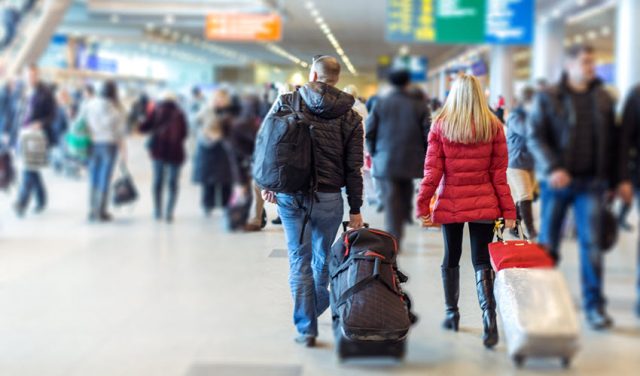 So they say to be careful while opening the overhead compartment because items may have shifted. They even talk about procedures for a water landing on flights that don't go over water. However, no one seems to mention the tiring effect of jetlag and travel in general.
Despite an ever more interconnected world, and technology's promise of reducing the need for physical travel, we seem to be more mobile than ever before.
Many of us travel long distances quite frequently, and here are a few ideas that I've found to be helpful over the years for reducing – if not completely eliminating – jetlag, and for enjoying the potentially stressful experience of long-haul flight.
Keep to your usual routine
Follow your regular schedule as closely as possible before you fly. Make sure that you get enough sleep the night before you travel, and don't do anything that's particularly stressful or demanding. Keep your exercise regimen going – step it up a little, if possible – the week before you fly, and make sure your diet is healthy and that you are taking some good vitamin supplements and antioxidants. You don't want to get sick before or during the flight, since this will make any jetlag feel worse, so keep your immune system up to par.
Get some sleep
Jetlag seems to be worse after a night flight so traveling during the day may be preferable. However, if you're flying during the night, it's important to get some sleep. Just two or three hours will make a big difference to how you feel. Some people seem to have no problem with this, but I'm a light sleeper and find it very hard to fall asleep on a plane. You need to be reasonably comfortable – a Travel Pillow or Neck Rest can really help. Noise Canceling Headphones and a blindfold are really useful, too. Some airlines provide these, but they are often not very good, so it's better to bring your own. All of these will halp ensure that you can screen out some of the noise of kids laughing, babies crying, people talking, etc.
Focus on comfort
Airline seats are notoriously small and cramped, but it's often possible to get a seat with more legroom – try to book an exit-seat, or look for cheap or free airline upgrades. Some airlines have a 'premium economy' service on their long-haul flights – these seats have more legroom and greater recline, and they aren't necessarily much more expensive than economy class. Of course, you can sometimes get a good deal on or an upgrade to business class, which is an excellent service on most long-haul flights. The business class market is very competitive, and many airlines now have fully flat beds.

 
Keep hydrated
Drink lots of water to keep yourself hydrated, and don't drink any alcohol, which has a dehydrating effect. I'm not sure why airlines seem to want to ply their customers with booze throughout the flight, but my advice is to say no to any alcohol that's offered. Also, don't drink much coffee or tea, since the caffeine might keep you overly alert.
Watch what you eat
Some people try to manipulate their diet before and after flying, but there doesn't seem to be much evidence that this is effective. I think the best advice is simply to eat regularly at the usual meal times and to eat only small quantities – don't have a heavy breakfast or dinner before or after flying, for example – stick to salad, fruit, a little meat, and avoid eating lots of starchy foods like pasta and potatoes. You don't want to be hungry, but you certainly don't want to feel uncomfortably full.
Get some exercise and stay fresh
Try to get some exercise during the flight itself – walk around a bit, do some stretches. It can be very difficult to do much of this on a long-haul flight, but it's very important to keep your circulation going. If you have to transit, walk around the terminal and try to get some fresh air, if possible. Also, keep fresh by cleaning your teeth and washing your face every few hours – it makes you feel better.
Jetlag remedies
Several herbal and homeopathic preparations are available for beating jetlag. I have never tried these, but some people have told me they are effective. As with all such substances, it will be a matter of trial-and-error as to which, if any, works for you. The proper use of melatonin – a naturally occurring substance that regulates our sleep pattern – may also be helpful, but you do need to get the timing right, and I have personally not found this to be effective. The judicious use of more traditional sleeping pills may be helpful, but don't overdo it, and be very careful about taking alcohol with such pills at high altitude – the effect will be magnified – and you don't want to be sound asleep for many hours on a flight since this immobility will increase the risk of deep vein thrombosis (DVT). If in doubt, avoid such pills.
Be realistic
Don't expect to jump immediately and fully into your usual routine after your flight. Our bodies aren't adapted for this kind of long distance travel, so it's always going to be a little but tiring, whatever steps we might take. Take a shower, get some rest and, if possible, give yourself a day or so as a buffer so that you can recuperate before resuming your schedule.

 
Enjoy yourself and relax
Travel can be a stressful experience, but it's important to be as relaxed as possible to avoid feeling frazzled at the end of your journey. There are many things beyond your control – delays, baggage problems, the behavior of other people – and so the best thing is not to worry about these things. Just do what you can to make yourself comfortable, relax ad enjoy the experience. Even long-haul flights can be interesting and rewarding – you can have some time to yourself, to read, to write, to think – so why not make the most of it and enjoy the experience?

 
What kind of travel tricks do you have? Let us know in the comments!
Like this Article? Subscribe to Our Feed!