How To Make A No Sew T-Shirt Tote Bag In 10 Minutes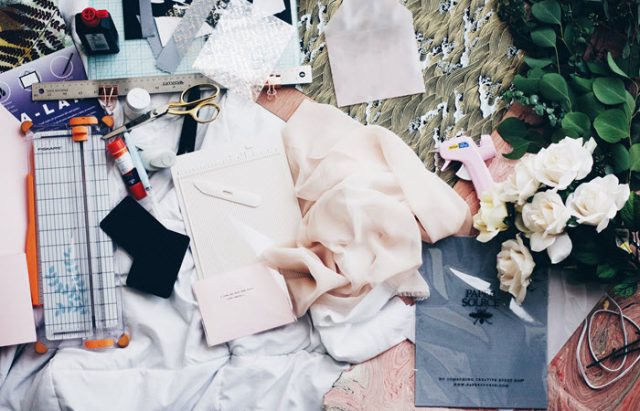 Our earth is going through irreparable damage caused by plastics. Remember, National Geographic's latest photos in which marine creatures were seen stuck in plastic or swimming with plastic waste?
That clearly shows how badly we have ruined our surroundings. And in the wake of the severity, many nations have proposed a ban on plastic bags. Well, that's commendable.
But have you thought of doing something to save the Mother Earth from your side?
Well, if you haven't, you can start it today. You can, at least, minimize the plastic waste by using reusable tote bags. Undoubtedly, it's an easy way of doing your part in the protection of the environment.
Even, you need not buy them! You probably would have an old custom t-shirt or any tee that you no longer wear. Do not discard or toss it. Instead, make a reusable tote bag out of it in just 10 minutes!
Don't worry; there is no sewing involved in it. All you need is a t-shirt and a pair of scissors.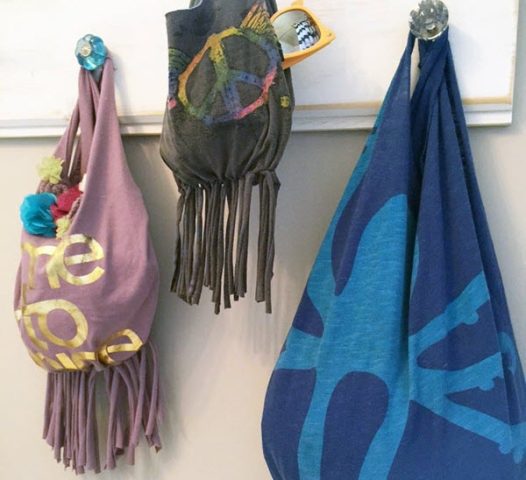 Here is how to make a tote bag in 10 minutes.
Chop off the sleeves
Start by folding your old or thrift store-bought t-shirt in half. Now, chop off both the sleeves at once. This will leave you with identical sleeves.
However, if the t-shirt material is thick, don't cut the sleeves at once. Start with one and then fold the cut piece in half and use its chopped side as a measuring guide for another sleeve.
Chop off the neckline area of the t-shirt
Use a bowl and a marker to draw a scoop shape area that has to be cut off. Or you can do the same by folding it in half and using the freehand cutting method. Make sure to cut the neckline a little larger than its actual size.
Cut slits at the bottom area
Cut one-inch long slits on both layers of the bottom. The length will depend on how deep you want your tote bag to be. But make sure the slits are long enough for easy tie-ups that go twice. Also, consider the length of the tote bag as it's probably going to stretch with weight. And, you won't like to carry a bag that stretches up to your legs when filled with some goodies.
Line up the slits and start tying one end to the aligned front and back end. Keep tying the knots until you are done. In case you do not want the fringes to be visible, turn the t-shirt upside down and then start tying the knots.
Now, your no-sew tote bag is ready! Yes, just three steps to create your own t-shirt tote bag in about ten minutes.
No-sew draw-string tote bag
The one that you saw earlier is a no-sew fringe tote bag made out of a t-shirt. You can also make a draw-string bag a little different way.
Cut off the sleeves and neckline
Take an unused tank top of your choice. Fold the top and cut off the sleeves and neckline a little bigger than the actual size.
Convert the bottom hem into drawstring closure
Slit the top layer of the bottom hem. Run a sturdy cord through this enclosure until you come back to the same place. Now, pull the cord tight and tie it in a way that closes the bottom. Now, your drawstring shopping bag is ready!
Why should you use a T-shirt bag and not a plastic bag?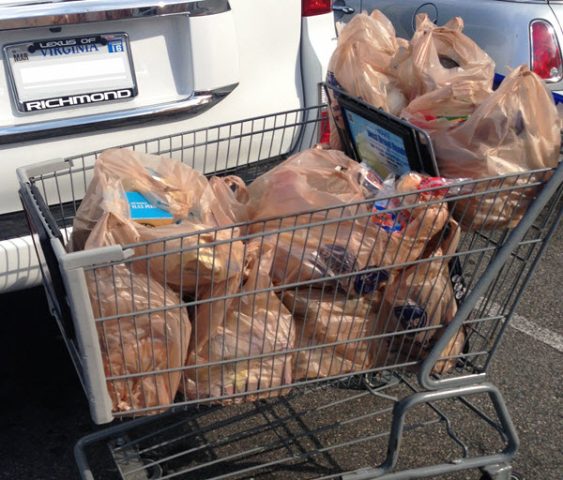 As mentioned earlier, plastic bags are causing plastic pollution affecting our marine life and the Earth. As per Plastic Oceans, about 500 million bags are used all over the world annually. And this figure accounts for approximately 1 million bags per minute. It's alarming as plastic bag usage leads to plastic pollution.
The use of plastic bags can be curtailed with reusable bags. T-shirt tote bags are great as they are easy to carry and lightweight. In fact, you can put a lot of heavy items in it. Plus, they do not have an adverse impact on our surroundings!
Tips to consider when using reusable bags
You might have had heard about E. coli breakout lately. That's a kind of food poisoning disease. And we all know food poisoning originates from contaminated food. Dirtiness is one of the causing factors.
Those who use or are using reusable bags hardly pay attention to wash it regularly. Even some of the bags come in such materials that are hard to clean. That is where t-shirt tote bags come in handy.
These are easy to clean. What all you need to do is to throw your bag in the washing machine and it's done! You can clean it thoroughly as well.
Using the same bag again and again for a visit to the grocery store, poultry farm or a local market isn't a good idea. The reason is simple — it will lead to bacterial contamination in no time.
So, the ideal solution is to have different t-shirt bags for different purposes. This will help you separate your fruits and vegetables from meat and other food items. Separate bags with varying codes of color or labels will also prevent contamination while washing.
Conclusion
Whether you have designed a t-shirt using a t-shirt maker in the past or bought it from a thrift store, if you no longer wear it, convert it into something usable. Plastic pollution is already making mayhem, affecting our surroundings in the worst way possible. We cannot banish it completely but at least, we can take the initiative to minimize its use. And, in that, there is nothing better than using an old shirt as a reusable bag!
Follow the tips we mentioned earlier and give your old t-shirts a facelift. Repurpose them to do your part in saving the Earth.
If you have any such ideas that would minimize the use of plastic bags, feel free to let us know in the comment section given below. Or share your concept of no-sew t-shirt bags with us!
Like this Article? Subscribe to Our Feed!
Hola! I am Heena Ray and I am a freelance graphic designer. I am also an aspiring blogger. I use Designhill to connect with prospective clients. An expert on various tools like Adobe Photoshop, Illustrator and Coral Draw, I have successfully designed several application interfaces, android apps, logo designs, business card designs, letterhead designs, envelop designs, flyer designs, brochure designs, web banners, etc.