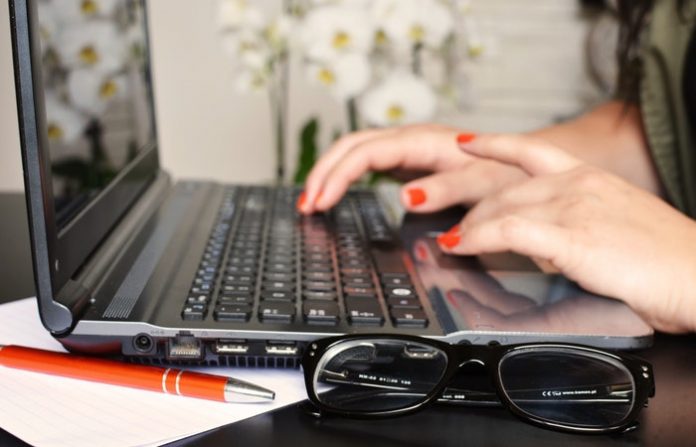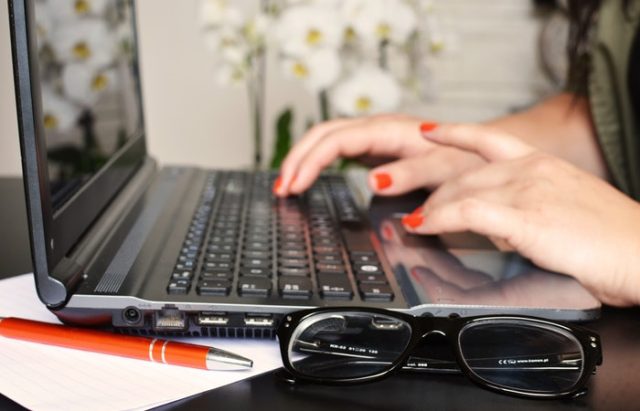 Whether you are starting a new business or you already have a brand and want to create an online presence, you are going to need a website and a good domain name for it. But, do you know how to choose a website name?
After launching your website with responsive WordPress themes, like Genesis or TemplateMonster, you should think about your brand name. Naming a website is not a small fit. In fact, it is an extremely important decision.
Domain names have a huge impact on the success of your business. It can influence click-through rates, referring links, type-in traffic, online advertising, and brandability.
Another thing you have to keep in mind is this: Changing a name, later on, is a huge hassle that is sure to hurt your brand and search rankings. So, you have to choose the perfect name from the very start.
You might have some name ideas already, but is there something important you have to keep in mind when registering the name? Are there things to avoid? What name is sure to make the most impact on the web?
In this article, we will answer these questions, share some useful tools, and essential tips to help you choose the best domain name for your business and finally register it.
You Want a Brandable Name
You want your domain name to sound like a brand name.
Why?
Well, do you really want to end up with a name that is generic, indistinguishable, easy to forget, and not related to your business? If you want to be successful, choose a website name that is memorable, unique, and stands out.
You Want to Avoid Numbers and Hyphens
Hyphens and numbers in domain names look and sound generic and strange. They definitely do not make good brandable names. They are also often misunderstood.
For example, if you hear a website address with a number in it, you won't easily know if it's a numeral (3) or if it is spelled out (three).
And hyphens are easy to forget or misplace.
If you choose a domain name with a hyphen because the one without a hyphen is already taken, you will end up sending your potential customers straight to the competitor. Hyphens are also often used in spam domains and you definitely don't want to be associated with those.
You Want to Avoid Doubled Letters
Domain names with doubled letters in them have more chances to lose traffic to typos and misspellings.
You Want It Short
When it comes to domain names, the general rule is this: the shorter, the better.
The shorter the name is, the easier it is to remember, type in, pronounce, and share with others. It is also less shortened on social media and search results, which is good for branding.
You Want It Pronounceable
While it is true that most people will type your domain name in or even click a link, psychology makes it important for the name to be pronounceable.
People are more likely to remember and have positive associations with things they can easily say or think about, including pronouncing it in their minds. If the domain name cannot be easily said out loud, the domain is more likely to lose a lot in terms of memorability and brandability.
You Want It Easy to Type
A name that is easy to type is critical to your success online. Words like "u" instead of "you" and words with multiple spellings are easy to forget, misspell and mix up. They can make you lose lots of leads and traffic.
You Want It Intuitive
A well-chosen domain name gives people a clear idea of what the website is all about. If the name of your choice tells people that your business is producing exactly what it is producing or offering exactly what it is offering, then you've won big time.
You Want to Avoid Trademark Violation
Try to avoid words used by well-known brands as much as possible. This is not about your domain name being confused with theirs; it is about the possible legal actions they can take against you. If you have any doubts regarding the name you have in mind, better consult with a legal professional to be safe.
You Want to Use Broad Keywords
It used to be imperative to find a domain name with the target keyword in it, but Google does not give any privileges to such domains anymore. They tend to have a negative association, both with the end users and the search engines.
If you can get a domain with a keyword which makes it clear what the website is about, you most definitely should grab it. But, try to use broader keywords instead of the target keywords you want to be ranked for.
You Want to Stick With .com
It is very true that finding a domain name with .com extension is very hard in 2017 as it's been around for too long. There are plenty of new extensions to use, not only the top-level domains(TLDs) like .com, .net and .org, but such niche specific ones like .pizza and .photography. And while it is easier to get such a domain extension, .com is still the most credible one. People simply trust it more.
Besides, .com domains are more memorable. A lot of users even type .com automatically after every domain name.
If you can't find the name of your choice with the .com extension, try to stick to the established top level domains. Here are the most established ones and their proper uses:
.net – Mostly technical sites, Internet infrastructure sites.
.co – Usually stands for company, community, and commerce.
.info – Informational websites.
.me – Blogs and personal pages.
.org – Nonprofits and non-commercial organizations.
.biz – Business and commercial websites.
And don't forget about country-specific domain extensions if your business is centered in one particular country. These are the domains like .it for Italy, .de for Germany, and .uk for the United Kingdom.
The Best Domain Name Generators
All the above recommendations might have scared you off. And yes, it is not an easy task to get a great domain name these days, especially considering there are about 331.9 million domain name registrations in the top level domains this year so far.
But, don't fret! There are dozens of tools designed to help you out. They are called domain name generators and we will introduce you to the best of them below.
Lean Domain Search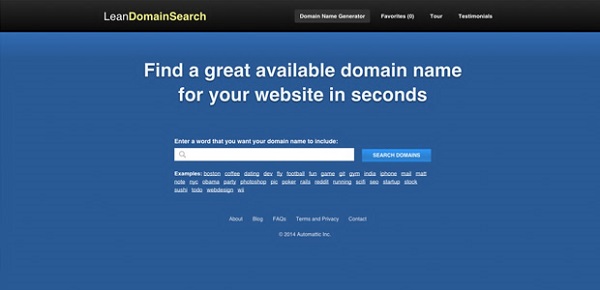 Created by team Automattic, the people who are responsible for the WordPress platform, Lean Domain Search is really easy to use, including country-specific. You will need one seed keyword and we recommend one that defines the niche you work in.
The generator can generate tons of name ideas based on your keyword and chances are – some of them will be available with the .com extension.  Lean Domain Search can filter the results by popularity and length. You can save your favorite ideas, track the history of your searches and share the results with your team if you want.
This is a great tool to use if you don't have any ideas but you have a couple of keywords that define your business.
NameStall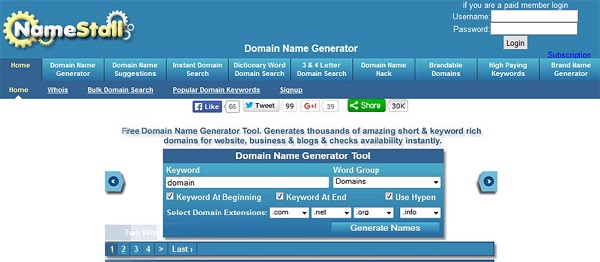 NameStall is an awesome generator that provides amazing flexibility. It allows you to choose if you want your keyword placed at the end or at the beginning of the name. It allows selecting TLDs, including country-specific ones. You can also choose from various groups of words.
For example, there is a word group named "1500 popular last words" or one named "500 popular first words". By selecting one of those groups, you will allow the generator to add the popular words to the keyword you specified. This is an awesome search customization feature.
NameStall is a good choice if you do not have a specific name in mind, but want to have more ways to customize your search.
Name Mesh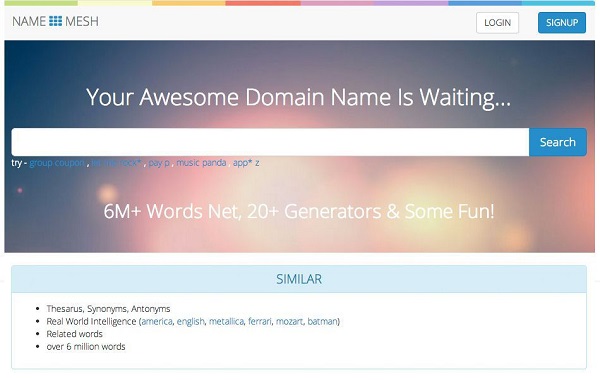 Name Mesh is a versatile tool. It searches for domain names based on more than one keyword. As a result, you get a huge list of names, which can be divided into such categories:
New
Common
Similar
Short
SEO
Fun
Mix
There are also filters you can use which will sort the results based on extension, unregistered domains, and length. Name Mesh can also suggest other keywords for you if you can't find a name.
Name Mesh is the tool for you if you are not opposed to spending more time on looking through more choices.
Check Your Names for Availability
Most of the name generators check the availability of the domains automatically. Simply put, there shouldn't be any unavailable names in the results the domain name generators provide.
But if you want to double check or forgot to check in the first place, GoDaddy is the best tool for it. And if you want to check the availability of your name across the social networks you are planning to use, the best tool is Namechk.
Where to Register Your Domain Name
There are two ways to go about registering a domain name. The obvious first route is to register a free domain name when you get your hosting. And you will need hosting to launch your online business anyway, so why not use all the benefits it provides?
The most trusted hosting providers on the market are  Bluehost.com, HostGator.com, and InmotionHosting.com.
If you've already got your hosting and did not register a domain name with it or you've already used your free name for another project, there are dozens, if not hundreds, of domain name registrars out there. There are both free and paid options. We will show you the two most popular and trusted registrars here.
GoDaddy.com

GoDaddy has been around for a really long time. It is the go-to name registrar for a lot of professionals. Their prices are not the cheapest on the market, but they often offer promotions and deals.
If you need to claim a name fast, GoDaddy is the best tool for you.
NameCheap.com

NameCheap is another popular registrar. It is slightly cheaper in the long run than GoDaddy. If you are sure you will run your online business for a long time, we recommend registering a name for 5 years as that is the cheapest option.
Both these websites offer hosting as well, so if you haven't got your plan yet, check out their hosting offers, too.
Final Thoughts
Knowing how to choose a  website name and getting a domain name are very important tasks. They can be really challenging, particularly if you are doing it for the very first time.
However, it doesn't always have to be a complete hassle. In fact, you can make it a fun and an educating experience.
To get an even deeper understanding of how to choose a website name, make sure to read this free ebook.
Like this Article? Subscribe to Our Feed!
I'm falling in love with beautiful web design. I like to share my experience and explore something interesting. I also cooperate with TemplateMonster.com for helping everyone to find their best solutions for their own online projects. For more fresh ideas find me in social networks.