5 Tips And Tricks To Rock Your Halloween Wig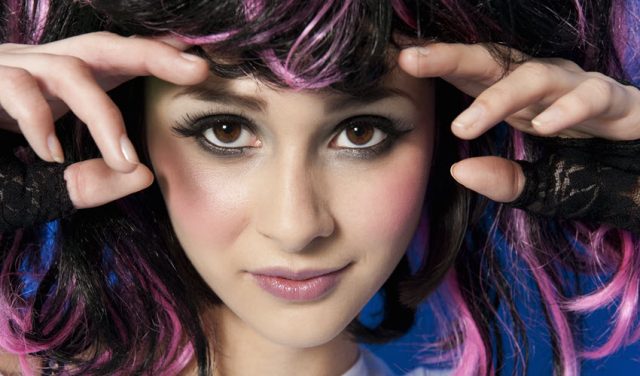 Wigs are a great way to transform your look! They are quick, easy and, as an added bonus, only temporary.
The right wig can transform you from Snow White to Cinderella in the blink of a wand. Or, you can be your favorite movie or book character.
Men, want to return to the days when your hair was worthy of being in a hair band? Then let's get wiggy with it!
1. Be comfortable wearing your wig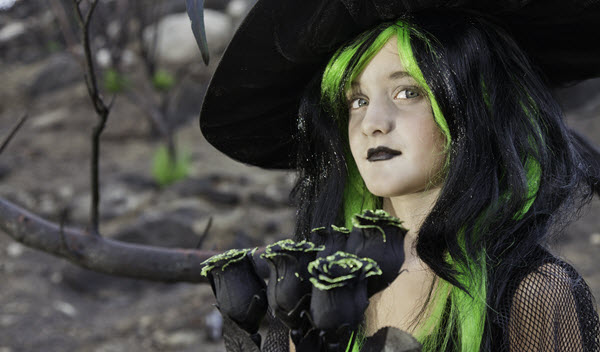 Wigs are user-friendly and easy to wear. So, whether you want to give someone a shock or a scare, here is some info to get you comfortable wigging out.
Tip: When purchasing a wig for a costume, grab a stocking cap. A stocking cap is a nylon cap designed to keep your own hair in place and add a buffering layer between you and the wig making it more comfortable.
The typical price range for a wig is between .99 cents to $1.29.
Trick: Don't let wigs give you the slip. For added security, add a few bobby pins on either side of your ears. Place them through the wig into the cap, crossing them in an x shape.
2. Wear it straight out of the bag
Most costume wigs can be worn, with a little fluffing, straight out of the bag.
Tip: Take the wig out of the bag, turn it upside down and give it a firm shake. Allowing the fibers a little "hang time" can help with any misshaping that occurs in storage.
Be careful when handling a synthetic wig though. If you handle it for too long, it can tangle easily.
Trick: Got tangles? Fear knot! Take a wide tooth comb and run it through the wig to loosen any tangles. A little moisture spray can work wonders to help remove knots that can occur from over handling.
3. Fix your wig to add volume
Tip: If you want added drama (and who doesn't?), you can tease the wig at the base. Teasing the wig at the base will add a little lift. To keep the effect, add some hair spray for hold.
Trick: Not a tease? You can add volume by doubling up. Try stacking two wigs, one on top of the other. This works best for curly wigs.
Additionally, try a sock! You can stuff a clean sock in the wigs under side cap area. Fold the wig in half, hiding the sock, to create a dramatic fall for your hair.
Use bobby pins to secure the edges at the crown or top of your head. You will be using your own hair for the front and the wig at the back. Use a head band or ribbon to create a seamless look.
See Also: 7 Hair and Makeup Looks to Try This Week 
4. Check out these hair-thinning tips
A thinner wig or stocking cap can offer shear perfection without cutting a single hair.
Tip: For this particular look, make sure you minimize your own hair as much as possible. Braid or wrap your hair around your head as close and smooth to your head as possible, then put it under a stocking cap. You can double up on the stocking cap if you have a lot of hair.
Trick: Going bald? Try a stocking cap. Choose one that is close to your flesh tone. Place the stocking cap over your hair.
If you just want to be bald on top and have hair on the sides, then put the stocking cap on and add beard or mustache hair found online or at costume shops. Using a hair safe adhesive like spirit gum, attach the beard hair around the base of the stocking cap. Do this on a foam head form (also found at the wig or costume shop) and place wax paper or aluminum foil on the base of the head for easier removal. Allow for plenty of drying time.
On a budget? You can use cotton balls to make hair where you want it on the stocking cap.
5. Experiment with colors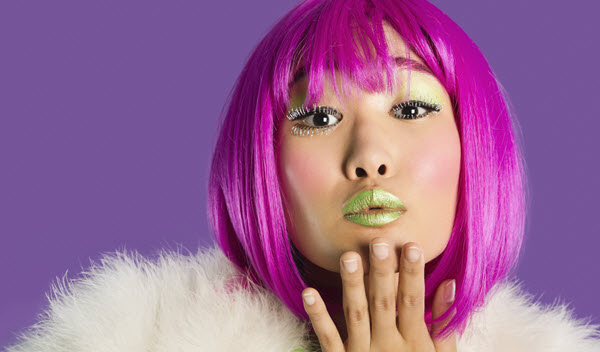 Coloring your hair in a salon takes time, effort, and money. Wigs, on the other hand, come in a rainbow of colors.
Tip: Not seeing what you want? Start with a white wig and use color spray to create your desired of color. Use a spray safe for hair and always spray in a well ventilated area.
Caution: your temporary color will sweat when you do so keep it off clothes and furniture you care about.
Trick: Feeling less patient than Picasso? Then grab a wig in the base color you desire and some clip-in color hair sold on thin tracks in wig stores and costume shops. It's quick, easy and less messy.
See Also: How to Remove Hair Dye From Your Hair
Bonus Trick: Go Hilary or Donald!
Costume Treat!
Consider the scariest costume of all — the candidate coiffure. If you are looking to go as your favorite or most feared potential POTUS, here are some tip for finding the perfect wig.
For Hilary: This look will be a little spendy.
Look for a lace front wig where you can wear your hair off your face. Make sure it has a monofilament top so you will have a believable part and multidimensional colors. This wig, well-groomed, would be either human hair or synthetic and could be anywhere from the $200 to $500 dollar range.
For Donald: You can get this look on the cheap.
Look for a wefted wig, a wig where the top usually has a pre-teased base to hide the construction. You will want a solid color wig and will likely be a synthetic wig.
To find the signature Donald Trump volume, you may need to look for a women's wig in Large. Use a teasing comb to dishevel the top and you too can look like a billionaire for just $40!
I hope you have a hair raising Happy Halloween!
Like this Article? Subscribe to Our Feed!
Jeanna Doyle is a makeup artist with over 25 years in medical and media settings. Licensed in cosmetology and trained in oncology esthetics, Jeanna is the founder of the nonprofit Suite HOPE and developer of The HOPE Method – a corrective makeup curriculum. Jeanna has worked with several A-list celebrities and is author of the book Wig Ed: What To Look For When Looking For a Wig.