Getting your Home Ready for Winter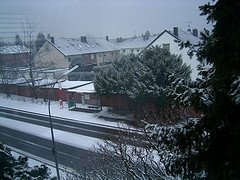 I woke up yesterday and it was 40 degrees outside. Since I am a nice guy, I started compiling a list of things my tenants could do to prepare for the winter. While at it, I actually learned a few things that I could be doing at my house. Thought I would share a few.
Doors and windows: Caulk, replace worn weather stripping and broken or cracked glass. Install storm windows. Seal during temperate weather because sticky materials stop sticking when temperatures dip below 50 degrees.
Exterior faucets: Turn off the water supply before the first frost. A shutoff valve usually is situated in the basement or crawl space near each exterior faucet. Roll up hoses and store them in a dry place.
Sump pump: Manufacturers recommend that sump pumps be examined and cleaned four times a year, and one of those times is now. When sump pumps are exposed to extreme cold, ice can form on the pumps and cause damage that prevents the pumps from turning on. This is especially critical toward the end of winter when snow starts to melt, and the pumps are needed to keep a basement from flooding.
Garages: Check the weather stripping at the bottom of your garage door. Moisture buildup tends to cause the bottom of garage doors to warp, preventing them from working properly. Accumulated snow and ice also will keep the door from closing correctly.
Fans: Reverse the switch on your ceiling fans so they blow upward, toward the ceiling. Ceiling fans are a great idea in the summer, when air blowing downward can improve circulation and make a room feel four degrees cooler. A cooling draft is a poor idea when it's cold, however. By reversing the fan's direction, the blades move air upward in winter. This is especially valuable in high ceiling rooms, where heat that naturally rises is forced back down into the room.
Filters: Replace your heater's air filter monthly. Your heating system will work less hard, use less energy and last longer as a result. Most homeowners can replace filters and do such simple tasks as cleaning and removing dust from vents or along baseboard heaters.
Drafts: Seal leaks with expanding foam. To seal the attic floor and defeat "chimney effect," pull the insulation back from all areas over heated living space and look for penetrations made for wiring, ductwork, and plumbing. When you find them, apply a small amount of foam to the area. It will expand to nearly three times its original volume, closing off any escape passage for air.
Outlets: Electric outlets — Install foam gaskets behind all the light switches and electrical outlet covers, even on interior walls. These simple foam gaskets help seal the holes created when the outlets and light switches are built into homes. Then use child safety plugs to keep the cold air from coming in through the sockets.
DIY Network Tutorials on:
[PDF] Exelon Energy Corp Winter Checklist
Sources:
AZ Central, Consumer Energy Center, DIY Network
image by: Woolve
Like this Article? Subscribe to Our Feed!