Fundera Reviews: Business Loan for Small Business Owners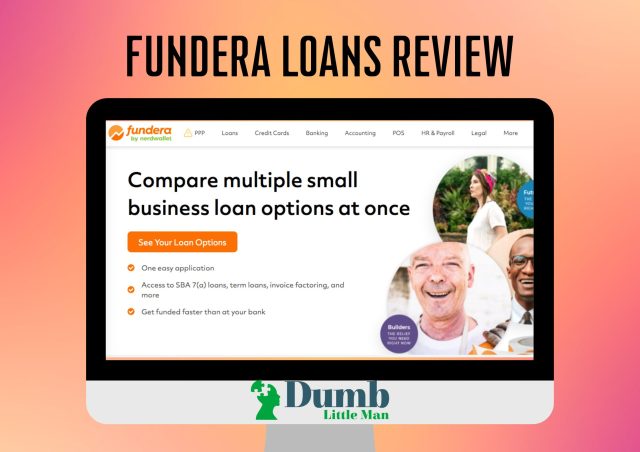 Fundera is a company that connects businesses with investors. Like a loan broker, this company does not make loans. Instead, it connects you with other business financiers who may be able to help you.
Fundera picks and chooses which business funders to work with. At the same time, other matchmakers may work with as many as 50 to 100 direct funders. Fundera works with far fewer as part of its quality-over-quantity philosophy.
Merchant cash advances, short-term loans, lines of credit, medium-term loans, SBA loans, equipment loans, invoice financing, and personal loans are among the products offered by Fundera's partner. Let's discuss it in detail!
Overview: Fundera Loans Review
Lender
Best For
Fee & Credit
More Details

Best For Small Business Loans

Loan Amount:

Up to $1 million

• Loan Term: 2 to 5 years • APR: 10% - 60%
What is Fundera Loan?

Fundera is a digital marketplace that connects small businesses with financial institutions. It mainly focuses on assisting small businesses in the United States in obtaining the appropriate kind of financing to help them overcome financial obstacles and expand.
Unlike many other financial marketplaces, Fundera does not deal with hundreds of lenders since they only want to present their consumers with the most acceptable options. They choose their partners based on stringent criteria and prioritize quality over quantity. You can evidence funder's dedication to quality by many favorable Fundera reviews on various consumer review websites.
Besides this, Fundera collaborates with several small company brands (via their referral program) to assist consumers in discovering the correct funding. In addition to this, letting businesses explore their financial choices directly through their website.
What are the Types of Loans Offered by Fundera?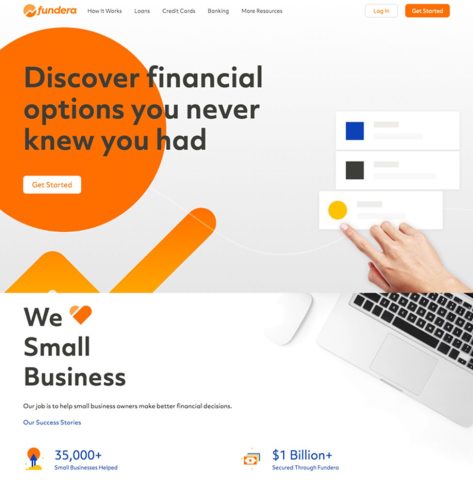 Fundera is a company that connects businesses with investors. With this online tool, you fill out a single application, which Fundera utilizes to connect you with appropriate company finance choices from its network of linked lenders.
SBA loans
Short-term loans
Invoice financing
Equipment financing
Merchant cash advances
Lines of credit
These are just several other financing options available through Fundera's network.
Business Loans
A company line of credit is helpful for companies with recurring finance needs that change over time. You only utilize the money you need with a business line of credit, but you can borrow up to a certain amount.
A business line of credit will sure best option for young firms, have regular cash flow concerns or require working capital to expand or meet seasonal demands.
How does Fundera Loan work?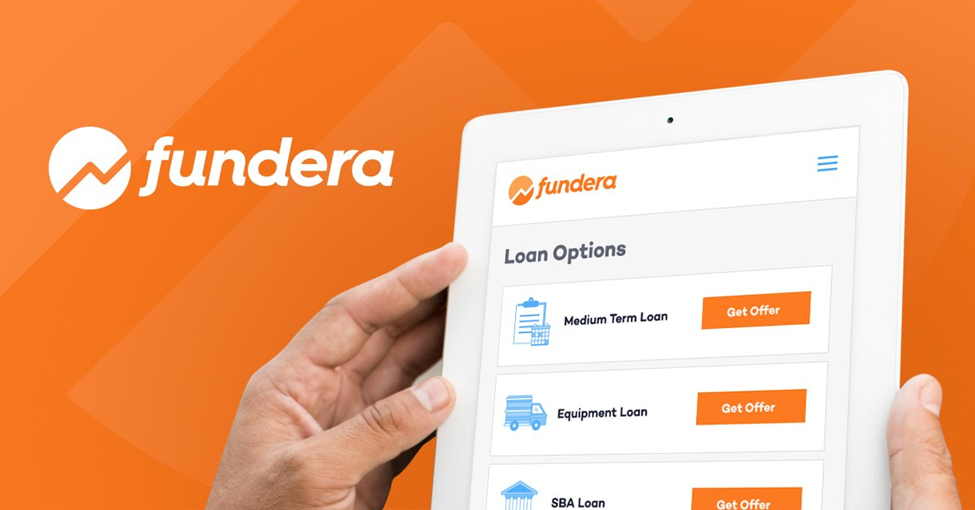 Fundera is a lending marketplace established in the United States that allows business loan applicants to submit a single application. It obtains information on various loans with conditions tailored to their requirements. With Fundera, you'll speak with a business loan expert who can provide you with more information and advice on various businesses.
Fundera's program provides recommendations, and your business loan specialist goes over them with you. It helps you see the pros and cons of several loan kinds and conditions. The expert may also assist you in positioning your company to qualify for better credit products in the future.
Fundera connects eligible candidates with a variety of lenders. Some of the funding options accessible to business owners include a Small Business Administration (SBA) loan and Business Term Loan. Moreover, Business Line of Credit, Invoice Financing, Equipment Financing, Short-Term Business Loan, or Merchant Cash Advance is also an option.
Click Here to Get Started With Fundera Loans
What are the Features of Fundera?

Let's discuss features in detail!
Privacy & Security
Fundera is a lending marketplace, which means they don't decide whether or not they will authorize you for a loan or what kind of finance or cash you'll need.
They gather your data and link you with a lender that can provide the company finance you require.
Their privacy policy indicates that when they obtain a credit report on your behalf or communicate with a possible financing source regarding your account. They may share your personal information with third parties.
The website employs SSL encryption and authentication protocols to secure the personal and private information of organizations and individuals. It helps engage with Fundera to investigate financing possibilities or receive funding.
Customer Support
You may reach customer service by calling 1-(800)-386-3372 or emailing support@fundera.com. If you choose to seek finance through one of Fundera's lending markets, you'll be entering into an arrangement with a loan provider, not Fundera.
Following the completion of your loan, your loan expert will keep in touch with you to assist you in obtaining superior financing arrangements in the future. However, they are unable to deal with difficulties relating to the loan.
Installment Loans
The word "installment loan" refers to a type of loan in which the borrower receives a lump sum payment. In exchange, you'll make regular payments (typically monthly, but occasionally weekly) until your loan, plus interest, is paid off. Installment loans are usually for more than a year.
Short-Term Loans
Short-term loans can be an effective (although expensive) option to obtain funds quickly. They characterize short-term loans by streamlined application processes and terms of less than a year.
You'll pay a flat charge instead of paying interest, at least in the classic sense. You can calculate the cost as a percentage (or multiplier) of the amount you're borrowing.
So, if you borrow $10,000 and the factor rate is 1.3, you'll end up owing $13,000. They pay the payments every week or every business day; before you commit to anything, be sure you're okay repaying on an expedited timetable.
Equipment Loans
Equipment loans are similar to installment loans, with one crucial difference: the equipment you're buying serves as collateral (security) for the loan. Secured loans often have better profit rates and conditions than unsecured loans.
SBA Loans
The Small Business Administration (SBA) is a federal organization that helps small enterprises. It does not provide direct loans to small firms; instead, it guarantees loans made by banks and other financial institutions.
This assurance enables enterprises to take advantage of favorable rates and conditions. You'll have to go through a lengthy, laborious approval procedure to meet all of the program's standards as a trade-off.
Fundera Loan Requirements?
Fundera does not have a set of criteria and conditions for businesses to qualify for a loan through their platform because it is a financial marketplace with multiple lenders on board. On the other hand, Lenders have their terms and conditions, so double-check them once you've narrowed down your choices.
Most lenders on Fundera have a minimum credit score, yearly income, and operational time requirements (time in business). Furthermore, most lenders will not lend to firms or owners currently bankrupt. Many of them will also ask for a personal guarantee. Did you know that cash was a difficulty for 29% of businesses? But that isn't all; there are a variety of other causes for firms to fail.
These are some of the most prevalent terms used by lenders. They can, however, differ, so it's always a good idea to thoroughly consider a loan provider's terms before applying for a loan.
How to Apply for Fundera Loans?

Fundera has made the difficult task of locating a suitable loan for your company much more straightforward. Fundera exclusively links you with loan providers that fulfill your standards in every area. That's because of the staff of financial professionals and an easy application procedure.
The following are the steps in the Fundera financing process: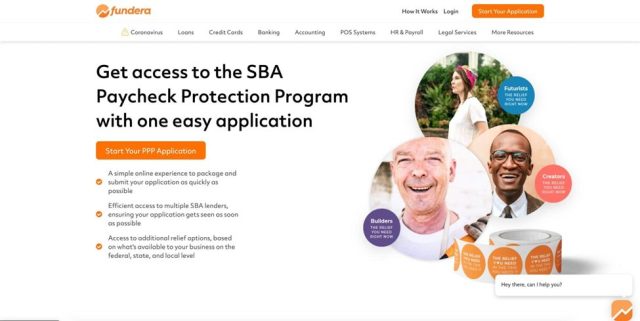 Step 1 – Fill Out the Application Form
Go to www.fundera.com and select the See Your Loan Options option in the upper right corner of the home page.
They will send you to a new page where you'll be asked a few easy questions about your company, which you will use to decide which financing alternatives you qualify for:
How long have you been in business?
How much money do you make every month?
What is your credit rating?
How much cash do you require?
Step 2 – Talk to a Lending Specialist
Fundera will provide a list of loans that you can apply for based on the information you submit. They'll link you with a loan specialist from Fundera's team to help you choose the correct loan type and lender.
They will ask you a few more questions about your business and your needs so they can identify the best choices for you.
Step 3 – Compare Your Options and Choose the One That Best Suits Your Needs
The loan professional will assist you in evaluating all of your possibilities, comprehending their specifics, and comparing them to choose the most acceptable funding solution for you (based on your credit score and the interest rate you need).
Step 4 – Apply for the Loan
After you've decided on an offer, you'll be given an application form to fill out to apply for the loan. To get money, fill out the application form and submit it along with the relevant papers.
How much does Fundera Loan Cost?

At any point during the financing process, Fundera does not charge borrowers an origination fee or any other form of cost. Fundera, on the other hand, charges lenders for each client they get on board through the platform.
The commission, often known as an acquisition charge, can range from 2% to 5% of the loan amount. However, lenders may impose various fees or interest depending on their terms and criteria. The loan provision, interest rate, and payback periods vary depending on the kind of loan and lender.
Click Here to Get Started With Fundera Loans
Who is Fundera Loans Best For?
Fundera is a fantastic resource for locating the cash you require. The application procedure is simple, and the website and customer support services are straightforward and helpful.
One thing to understand and make sure of is that Fundera works with a small number of lenders, so even if Fundera doesn't approve you, you might be able to find finance elsewhere. On the other hand, other lenders are likely to charge more excellent rates and fees than Fundera's platform.
Fundera is a fantastic location to start your search for company finance if you're entirely overwhelmed by your possibilities. By just creating an account and entering essential company information, you will be able to assess which items you may be qualified for. With just one application, Fundera can help you acquire and evaluate offers from some of the most significant funders in the business.
Fundera Loans Pros and Cons
Let's discuss the pros and cons in detail!
👍 PROS
► Saves time by a single application
Fundera acts as a business funding matchmaker to offer users an effective lending process with a decent interest rate. Just apply and wait for approval.


► Different types of funding options.
Besides this, Fundera offers different loan options within the business lines. From short-term loans, small business loans, and equipment loans, Fundera provides the best interest rates at medium-term loans. Moreover, you will get invoice financing with this loan specialist.


► Free to use
This platform is free to use with no hidden fees and tax returns. It offers relief financing options and annual revenue to business owners.
👎 CONS
► Not a direct lender
These loan providers are not direct lenders to offer loans for small businesses. YES! There are multiple lenders with different credit card statements for the entire process.


► No personal loans
Fundera offers different loan options for an online marketplace. But these business lenders don't offer personal loans to meet your financial needs.
Fundera Compared to other Lenders
| Lender | Est. APR | Loan Amount | Loan Term | Min. Credit Score |
| --- | --- | --- | --- | --- |
| Fundera | 10% - 60% | Up to $1 million | 2 to 5 years | 640 to 700 |
| Fast Capital 360 | 6.25% - 10% | Up to 5 million | 3 months - 25 years | 500 |
| MainStreet Finance Group | 54.23% | $5,000 to $5,000,000 | Up to 25 years | 600 |
| BlueTrust | 472% to 841% | up to $1,500 | 6 - 12 months | Not specified |
Click Here to Get Started With Fundera Loans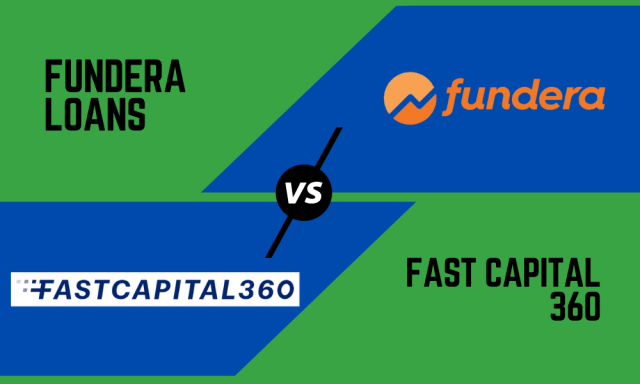 Fundera is a lending marketplace established in the United States that allows business loan applicants to submit a single application. Whereas Fash Capital 360 offers exclusive short-term loans with invoice financing and reliability.
Furthermore, Fundera offers a variety of funding and loan solutions with effective business term loans and interest rates. However, Fash Capital 360 provides an effective credit line with equipment financing to make the loan borrowing process more accessible.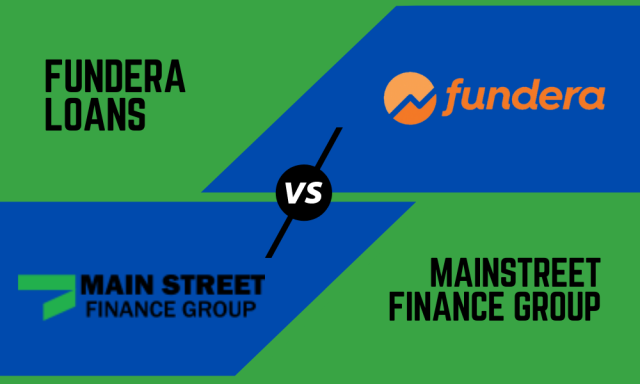 Fundera has made the difficult task of locating the right loan for your company much more accessible. However, Main Street Finance illustrates that your small business loan depends on the monthly revenue and the credit scores.
Moreover, Fundera has an extensive network of lending partners and 9+ financing and loan possibilities. Main Street Finance requires you to submit a complete application before qualifying for the loans with effective bank statements and relatively few lenders.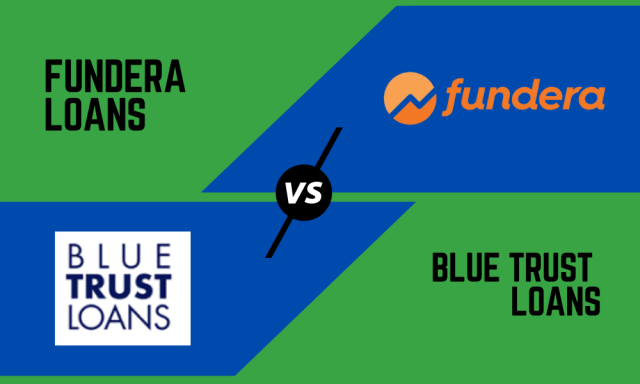 With Fundera, you'll speak with a business loan expert who can provide you with more information and advice on various businesses. Whereas BlueTrust is exclusively an online lender that offers short-term installments as an alternative.
Fundera is a lending marketplace established in the United States that allows business loan applicants to submit a single application. However, BlueTrust will offer professional service fees to business owners for the whole process.
>> Full Article Review: Blue Trust Loans Reviews: Compare Top Lenders of 2023
Final Verdict
For businesses in need of cash, Fundera offers a variety of funding and loan solutions. It might be challenging to determine which sorts of funding are suitable for your company. Therefore, it's a good advantage that Fundera links business owners with a loan specialist who can help them figure out which choices are right for them.
This no-fee platform is a beautiful alternative for company owners who want personalized attention without employing an expert for advice. That's because it has an extensive network of lending partners and 9+ financing and loan possibilities.
Fundera is a way to match small business owners with different lenders. It offers exclusive services and interest rates with a compelling personal credit score, equipment financing, and merchant cash advances.
Fundera team aims to offer to originate loans with no origination fee and lines of credit. Therefore, Fundera is a beneficial option to choose by business owners. It is a healthy option with practical repayment terms, an easy application process, and reliability.
Fundera Loans FAQs
Is Fundera trustworthy?
Fundera is a trustworthy lender whose client base is quite satisfied, unlike some other businesses for financing options. Do you want various loan choices accessible for the clients with a single application? Then you came to the right place that is worth it if you have a credit score of 550 or above.
Does Fundera offer SBA loans?
Partners from Fundera provide a massive range of materials, including short-term loans, personal loans for business purposes, invoice financing, equipment loans, SBA loans, medium-term loans, and cash advances.
Is Fundera a direct lender?
Fundera materials include small business loans, business line credit, invoice factoring funding, equipment loans, and merchant cash advances. Fundera is included in some business leaders who have the capital for a startup firm. Moreover, the interest rates are meager.