Five Inspirational Must Read Books for 2015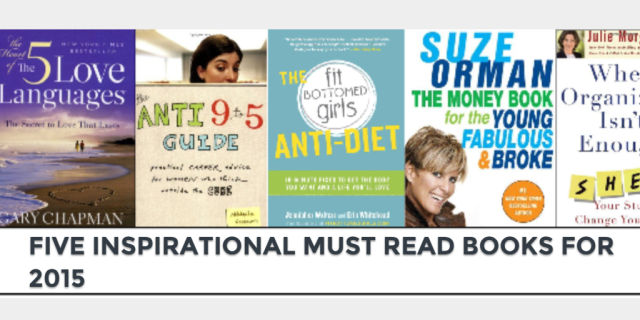 What better time than the beginning of a new year to make some positive life changes? The challenge is in figuring out where to begin and how to stay motivated. Here's the good news: anybody who wants to become healthier, better organized, happier in their relationships, more effective at work, or more financially secure can look for inspiration and guidance in inspirational books. Here are five inspiring books suitable for anybody wishing to make some positive lifestyle changes.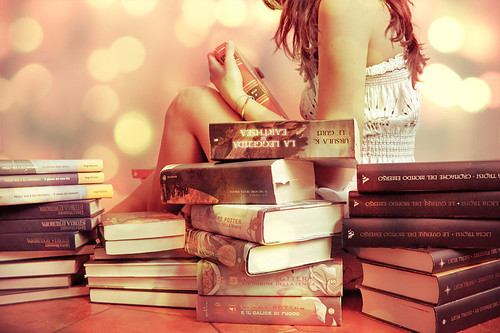 1. The Fit Bottomed Girls' "Anti-Diet"
Anybody who is tired of the diet industry pushing a one size fits all, body size ideal is going to love this book. It isn't about obtaining a size zero physique or a six pack. It is about adopting an overall healthy lifestyle sans the bland diet and obsessive amounts of exercise. The guiding principle behind this book is that permanent change comes when people take small steps. In the book, this is referred to as the ten minute solution. Think of it like this: most people aren't ready to make a permanent lifestyle change when it comes to diet and fitness, but they can make a commitment for ten minutes. Ideally then, these ten minutes add up to make some really meaningful changes. A final bit of good news – women (and even men) of all shapes and sizes will be able to apply these principles to their lives. There is no fat shaming in this book, only encouragement for people to love their bodies no matter what and to try and live better. This book is full of inspirational readings that are sure to attract audiences of all ages and backgrounds.
2. "The Anti 9 to 5 Guide: Practical Advice for Women Who Think Outside the Cube" by Michelle Goodman
This book offers a really humorous take on the sometimes frustrating process of moving away from a frustrating and unsatisfying job in a cubical form to the exciting world of freelancing. As a matter of fact, the author herself made the transition to freelancing while still managing to keep up with the bills. Readers looking for good practical advice will find much to be happy about in the pages of this book. For example, she encourages the reader to seek out mentoring and information from others within the industry they would like to join. Even better, she provides step by step instruction on how to do so. While written for women, men seeking the same career change would do well to take the offered advice.
3. "5 Love Languages" by Gary Chapman
This book has been one of the top books on relationships over the past several years. The basic idea of the book is that people express and receive love in different ways. The specific way in which a person expresses and receives love (or at least desires to) is known as a person's love language. According to the author, many of the issues couples face are due to conflicts in each other's love language. For example, if one person's love language is acts of service, s/he may express that love by making sure the partner's car is always clean and full of gas. S/he also might cook dinner for the partner. On the other hand, if the partner's love language is giving and receiving gifts, s/he might feel slighted if not on the receiving end once in a while. The author smartly recommends that partners consider each other's' love languages as a means to strengthen relationships.
4. "When Organizing Isn't Enough: Shed Your stuff: Change Your Life.
I am going to get organized! Isn't that a resolution we've all made more than once in our lives? So, what's the problem? In our attempts to organize our lives, most of us simply rearrange our things. What we don't do is throw things out. The end result of this failure to minimize manifests itself into a variety of other issues, including frustration and stress. Here is a really practical guide for making decisions about what to discard and when, as well as how to organize what you keep. Both genders would be well-served to read this one!
5. "The Money Book for the Young, Fabulous, and Broke" by Suze Orman
Once again, Suze has written a fabulous book to which anyone can relate. One of this author's many strengths is her ability to combine humor, empathy, and reality in her efforts to help her fans become more and more financially stable. In targeting this particular demographic, Suze does a great job of teaching financial lessons early on. Why is this book inspirational? It is because Orman doesn't seek to judge, she simply wants to educate. She knows that young people make money mistakes and that they need guidance. So, rather than heckling and harassing them about those errors, she provides sincere guidelines to getting out of money trouble, saving, and the value of prioritizing family and education.
There they are. Five great books that are sure to kick-start anybody's positive movement towards the goals of happiness, success, romance and longevity. Keep in mind that the beauty of inspirational books is in their ability to motivate us without demands.
Like this Article? Subscribe to Our Feed!

Laura Callisen is an extensive full time blogger at GrabMyEssay who is trying to spread her personal experience achieved during her journeys and studyings.