Farmers Insurance Reviews: Insurance Offers, Features, Cost, Pros & Cons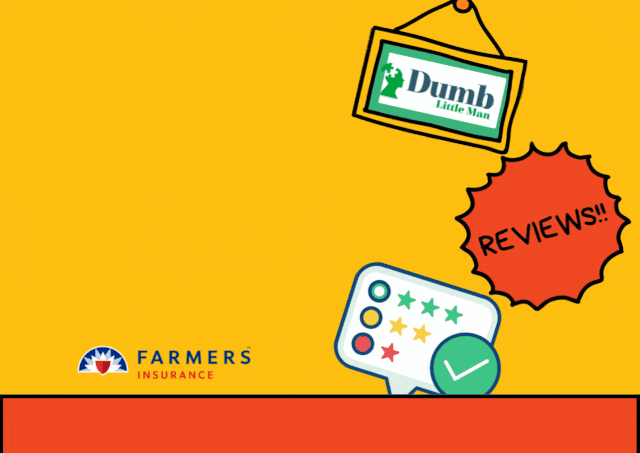 It is mandatory in every state in the USA to have every car owner liability car insurance for the protection of both the driver, the vehicle, and the passenger. There are factors that can make the process of signing up for insurance such a pain for the customers.
If you're an individual that has incurred a traffic violation in your record, you might find it hard to find an affordable premium for your insurance policy. An accident record can also make your premium higher than those that do not.
Good thing there's Farmers Auto Insurance that could provide a relatively low premium than others to those who have violation records and accident records. As we compare the premium costing for cheapest car insurance companies, Farmers have lower rates for those who have records within the industry average.
You'll have peace of mind when entrusting your policy with Farmers as they are one of the pioneer companies in the insurance industry. They gained an Excellent rating at AM Best, the body that measures the capacity of the company to pay for their policy holder's claims.
Farmers Insurance Review: What is Farmers Auto Insurance?

Farmers Insurance started way back in 1928, since then it had continuously provided insurance products beneficial for consumers of any form. Farmers Auto Insurance provides insurance coverage for a wide variety of cars from sedans to sports cars. This insurance company is renowned for providing excellent service with their home and auto insurance policy aside from other insurance services they also offer. They also offer policies that can be tailor-fitted to what kind of car you drive and coverage that you need.
How does Farmer's Car Insurance work?
Cars are investments we spend on, an asset we all want to use and take good care of, however accidents, parts wear and tear as well as damages caused by Force Majeure will surely break your heart and your bank. Having an auto insurance policy can save you a headache.
With Farmers Car Insurance Policies you will have comprehensive and collision insurance for an affordable premium. There are different types of auto insurance Farmers offer, it will depend on which coverage you would like to avail yourself of.
Once you avail of the policy and sign the contract your coverage will take effect. In case you encountered a problem, are caught in an accident, or need assistance that is covered in your auto insurance plan, you just have to inform the company. A claims representative will be assigned to you and process the claim immediately. experience their ease of processing for all levels of coverage. Farmers Insurance can even send assistance on a Catastrophe Response Team that can handle huge disaster scenarios.
What are the Features of Farmers Insurance?
| Coverage type | What it pays for | Required? |
| --- | --- | --- |
| Bodily injury and property damage liability | Costs for injuries, deaths or property damage from an accident you caused. | Typically required. |
| Uninsured or underinsured motorist coverage | Medical and property damage costs after an accident with a driver who has insufficient insurance or none at all. | Often required. |
| Collision coverage | Repair expenses from traffic-related accidents, regardless of who's at fault. | A car loan or lease may require it |
| Comprehensive coverage | Repair costs from events outside of your control — including weather events, hitting an animal while driving, theft and vandalism. | A car loan or lease may require it |
Farmers Auto Insurance is a must-have for every car owner, it's your responsible way of protecting your asset and pre-covering for any circumstantial liability in the future. Farmers Insurance got you covered comprehensively depending on what coverage you would like to get covered from.
Unlike other insurance providers, Farmers Insurance offers a customizable plan and provides a wide array of coverage options. It gives its customer the freedom to choose what area they wanted to have covered with their vehicles. Farmers Auto Insurance Policy has the following coverage and options for plan holders:
Liability Insurance coverage – it covers the damage cost to the other party for injury and property damage liability. This kind of coverage is mandatory for all States in the country.
Collision Coverage – covers the cost of replacement or repair of your vehicle provided that you're at fault in the circumstance. It also covers the cost of the damage incurred with the other involved vehicle, property, or animals.
Comprehensive Insurance Coverage – covers other damage made aside from collision incidents. This includes comprehensive coverage for force Majeure, animal-related damage, theft, fire, and other circumstantial events.
Uninsured Motorist – covers the damages or loss by uninsured drivers or the underinsured ones.
Medical Payment Coverage – assistance in the medical payments on the insured and its passenger regardless of who's in an at-fault accident.
Personal Injury Protection – covers the expenses for the insured's rehabilitation and wage lost as a result of the accident.
Towing Services – this includes roadside assistance and towing services to auto policyholders.
Loss of Use Coverage – it will sum up an amount to reimburse during the span of time you were unable to use your car due to a repair.
Guaranteed Value – Pays an agreed value in case of a car total loss incident.
Customized Equipment Coverage – covers any customized gear you added to your car.
Personal Umbrella – Additional liability coverage for lawsuit protection.
Glass Coverage – covers no cashout for windshield break-out cost.
Spare Part Coverage – up to $750 worth of spare parts coverage.
Original Equipment Manufacturer OEM – cover brand original parts for cars of 10 years and below.
New Car Replacement Coverage – If your car got totaled within 2 years after purchase, you'll qualify for the car replacement of the same make and model.
Accident Forgiveness – the insurance company will forgive an accident if you'll drive for 3 years without any accident incurred. This will help you lower down your premium.
Farmers Insurance Mobile App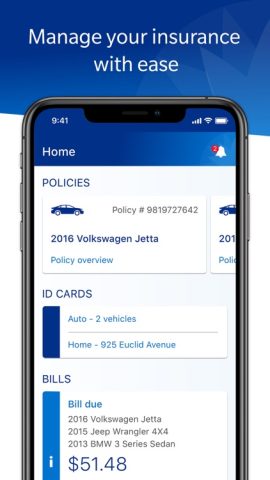 Easily manage your account policy with their mobile app. You can simply pay premiums using the app and manage your payment channels. Report a claim in just one click or ask for roadside assistance with it. Be paperless with your billings and get an instant discount by just installing the app.
Having a mobile app also let you get in touch with your agent constantly. You can also view and review policy documents and receive important notices about your account using this mobile app. This app aims to make your life easier with your insurance transactions in the most convenient way possible.
Signal Discount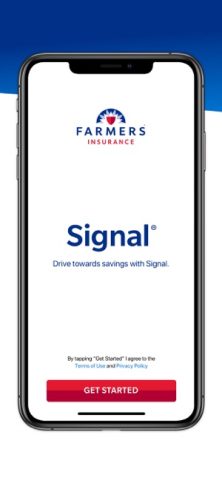 Farmers value safety and they are giving rewards you can use as a discount if you'll just drive safely. The signal is a mobile app you can download and enroll your account with farmers. You can earn as much as $100 each month just by driving safely without incurring any violation or accident. You'll have to maintain a score of 80% or more to be eligible for the rewards. These rewards can be used as a discount on top of your premium cost.
There's an opportunity for you to earn as much as 15% of your total premium cost that you can use upon renewing your policy the next year. Policyholders under 25 years old have a bigger discount bracket with Signal safe driving.
Signal mobile app monitors the driving behavior that can eventually help you correct your driving discipline. The signal app can detect your speed, breaking habits, mobile phone destruction while driving, and the number of miles you have driven.
How much does Farmers Insurance Cost?
| Type | 25 Years | 35 Years Old |
| --- | --- | --- |
| Minimum Coverage | $587 | $520 |
| Full Coverage | $1,800 | $1600 |
The average pricing cost for full coverage from Farmers Car Insurance is $1,540 per year. There are many factors on how and why this average rate. It will vary with the age of the person driving the car, how many tickets or violations has he or she incurred in the past year which will greatly affect the price. If the driver already has an accident prior to signing for the car insurance companies. These factors will surely affect how much premium you will be paying for the coverage.
A 25 years old driver can avail of a Farmers Insurance policy for only $587 a year with minimum coverage and $1,800 for full coverage. This pricing may change depending on the factors stated above.
The auto insurance rates for a 35-year-old driver can range from $520 a year with minimum coverage and $1600-$1700 a year for full coverage. Pricing may change with the driving records that you hold and credit standing tabulated by J.D Power.
Click Here to Open an Account with Farmers (Official Page)
Who is Farmers Insurance Best For?
Farmers Auto Insurance can be a perfect fit for individuals that carries an at-fault accident record in the past. Out of all insurance carriers, Farmers has a slight premium increase for an individual within 35 years of age that has an at-fault accident record in them.
It is also recommended to drivers 25 years and below, Farmers have a lower premium rate for them than other insurance providers. 17-25 years old driver also has a bigger discount bracket with the Signal program that can earn them rewards which they can use to lower their premium the following year.
Farmers Insurance Pros and Cons
PROS
Many Available Coverage Options
Farmers Auto insurance has a wide array of coverage options which brings customer satisfaction. Auto Insurance coverage can be personalized depending on which area you would like to provide protection to. Aside from the comprehensive insurance coverage most policyholders avail, they also have different coverage for different areas of circumstances.
You can choose to have spare parts replacement, glass coverage, and repair coverage. They even offer extended customized equipment coverage for any customized gear or equipment car lovers/collectors integrate into their cars. This optional coverage looks unessential at the first glance but can save you a lot once an untoward incident happens.
By having options for additional coverage, you as a car owner can provide protection even to the smallest details or unfortunate incidents that can happen with your car. This can save you a serious amount of money and let the insurance company handle it themselves.
Ease of Processing Claims
We all get insurance to get us covered, when the unfortunate happens, our car insurance company should got our back. More often than not, claims processing is giving policyholders a hard time claiming the benefits. Farmers Car Insurance is different, its years and years of experience have given its policyholders the ease of claim processing.
Farmers' Car Insurance can send a claims team on site of the accident to provide a real-time claiming process. It has been one of the strengths Farmers Insurance Group has if you compare car insurance companies in the market today. You can also file a claim using their mobile app and receive actions on the process instantly.
Real-time claiming is a game-changer. In this modern life, we all have, the last thing we would want to do is to spend a day or two just by processing a claim. Farmers Insurance, they are only a call away and will start working on the claims immediately.
Great Discounts Available
You can significantly reduce your premium with Farmers' Car Insurance discounts. Your premium will remain at the minimum if you hold a clean driving record. take advantage of discounts upon purchasing multiple policies from auto, Farmers Homeowners Insurance, and Life Insurance.
Farmers Car Insurance also rewards safe driving, they launched a Signal program where you can enroll by informing your Farmers Insurance Agent and downloading the mobile app. All you need to achieve and maintain is an 80% score and above to start saving and earn rewards from the mobile app. There are also bigger rewards brackets for younger age group drivers. 17-25 yrs old can accumulate bigger rewards as they drive safely. Bigger rewards mean bigger savings on your premium on your next policy renewal.
CONS
Premium Rates
Farmers Insurance Policy has a slightly inclined premium than average insurance products. The main reason for this is the extensive coverage and protection of its policyholders.
Low Customer Loyalty Rate
Farmers Auto Insurance has a low customer loyalty rate compared to other issuing insurance carriers in the market nowadays.
Click Here to Open an Account with Farmers (Official Page)
Farmers Insurance Compared to other Insurance Company
| Insurer | J.D. Power Rating | A.M. Best Rating | Multiple Discounts | Gap Coverage |
| --- | --- | --- | --- | --- |
| Farmers Insurance | 811 Customer Satisfaction | A- (Excellent) | Yes | Covered |
| Progressive | 3/5 | A+ | Yes | Covered |
Farmers Insurance
Farmers gained a customer satisfaction rating of 811 from J.D Power which is a good customer satisfaction score. It also has a negative or an excellent rating with a am best rating. AM Best measures the capacity of an insurance company to pay in every claim from their policyholders.
Farmer's auto insurance company has a good track record in processing claims. They are providing real-time processing of claims to provide customers hassle-free transactions when facing unfortunate incidents with their cars.
Farmers Insurance Company offers gap insurance and other additional liability coverage you can avail of. These options for other insurance products will help you decide on the range of coverage you would like to avail yourself of. Other insurance products advertised don't allow you to customize your plan as much as Farmers does.
Progressive
Progressive Auto Insurance is also one of the top insurance providers in the country. It has comprehensive and other optional liability coverage to choose from. It has rideshare insurance, gap insurance, and parts and equipment coverage.
It ranked 819 from J.d Powers Customer Satisfaction Ratings and has an A+ rating with AM Best. They provide a lot of discounts consumers can avail of and make their premiums lower. Unlike Farmers, their claims processing can be a bit of a challenge but in an acceptable range.
Final Verdict: Farmers Insurance
Farmers Auto Insurance company is overall does an excellent job in providing auto insurance policies than the competitors. It exceeded customer expectations and the service provided to its policyholder. Let's summarize key points that make Farmers Auto Insurance stand out:
Fast Claims Processing
One of the strengths Farmers Auto Insurance has is its ease of claims processing. Studies and Farmers' Car Insurance review shows that they value their customer's time and need during unfortunate events. This is a sign of their commitment to their policyholders to provide quality insurance services that makes them stand out.
All you have to do as a claimant is to call their hotline and dedicated claims officers will immediately get in touch with you. They will step in and handle the process from there lifting the burden off of their customer's time.
Seasoned Experience
Farmers Auto Insurance motto goes like this; "We know a thing or two because we've seen a thing or two." This shows how their 92 years of experience have polished their craft and made them one of the top notched providers in the industry.
Farmers is one of the pioneer insurance provider companies in the country. It was established in 1928 and never stop innovating for improvement of its service to all its policyholder.
Great Customer Service
Your connection with them won't end once you sign up for a policy. Their dedicated customer service team will assist you and provide a good customer satisfaction experience all throughout.
Feel valued with the customer service support that can assist you with queries and questions about renewal, claims, amendments, and others. Competitor companies have a lack of good customer service foundation that transpire their service poor to their policyholders.
Farmers Insurance FAQs
Do Farmers have a grace period?
Farmers Insurance provides a 90 days grace period. Their new structure of grace period in line with the current pandemic situation allows customers to avail themselves of the 12-month equal installment plan for the premium. Contact their customer support team to assist you with the process.
Remember that a grace period is a given leeway timeframe after your policy has due. You can still make payment within the grace period without having your policy lapse. Additional charges may be added after the grace period which is often called the late fees. It is always defined clear and stated in every contract so make sure you clearly understand your contract's grace period.
What is the grace period for Farmers auto insurance?
The new policyholder has a grace period of 14-30 days to enroll an additional vehicle to the account. This grace period also allows new customers to amend by adding coverage or managing important account details. It is recommended that you ask your insurance agent to discuss with the specific grace period details of your contract. Oftentimes, grace periods are sunken deep down the deep contract wordings you signed.
The late payment grace period for Farmers Auto insurance is 10 days from the due date. By the end of the 10 day grace period, a late fee will start adding to your amount due so better on try making it on or before the due date or at least within the grace period to avoid extra charges.
Can you cancel Farmers Insurance at any time?
Yes, you can cancel at any time but it is always advisable to cancel every after contract coverage year to at least benefit the coverage for the remaining months in the current year. You have to inform the company ahead of time and provide with a proper notice to cancel.
To do so, just call Farmers' hotline at 1 (888) 327-6335 and an insurance agent will let you know of the process. There is a cancellation charge of about $50 that most of the previous policyholders are not happy with. Make sure you clear the policy's unused premium or coverage which Farmers can refund.
The refund policy may differ in every policy depending on which phase you cancel. Refunds may take weeks to process so you have to make sure you follow up regularly with them.