ExpressVPN Review 2023 – Should you buy it?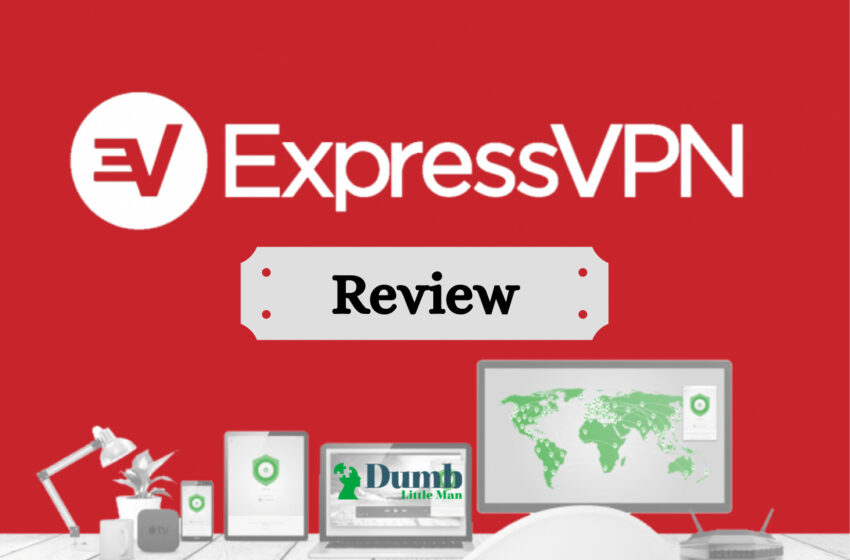 If you entered a grocery store and found more than one brand of the same item you want to buy, what do you do? Go for reviews. Exactly!
VPNs assist in making you anonymous on the internet. It encrypts your internet use and allows you to manipulate your devices into thinking and functioning as if they were in another location.
ExpressVPN is one of the fastest and safest VPNs reported by ExpressVPN! The hiccup has always been the cost of it.
ExpressVPN usually offers a discount that makes it affordable. But, there are other VPNs out there offering similar features for lower prices. The question is: do you need to pay so much for a great VPN as ExpressVPN?
I have taken out time to answer that question here. I ran series of tests on PCs, mobile devices running Andriod, IOS, Mac, Windows, and Linux. I checked device compatibility and security performance and its protocols. I also checked their privacy policy to see if ExpressVPN is trustworthy.
Here are the details of my extensive test on ExpressVPN.
High-Performance VPN
After the completion of my comprehensive test, ExpressVPN came out trusted. It enthralled in every trial thrown at it. The overall outcome of the test is a testament that it needs little or no improvement.
Let me get into some details. One of the captains to take you on this flight is the array of choices given. ExpressVPN gives you the option of more than 3000 servers that seats in 160 locations in 94 countries. Are you kidding? Beat that!
It has five concurrent connections that are more than okay for its subscribers.

People comments
As someone who refuses to place a hundred percent trust in any digital-service company, Here to give you people two cents on ExpressVPN.
It is fair to say that ExpressVPN is one of the most established players in the commercial VPN market.
And you have probably seen their advertisements. Or watching your favorite YouTube get paid to endorse the product.
I will focus on three simple questions. First, is it easy to set up and use? Is it a trustworthy, secure service? And who exactly owns and operates ExpressVPN?
I have been able to find some interesting answers to these questions, so let us dive in. If you have not seen it already, ExpressVPN rolled out a new design for their website and apps in January 2021.
A user on the play store reported that he was positively overwhelmed by the features. They were the first to use the big, fat power button that made it ridiculously easy to connect. Back in the day, most VPNs look like complex data monitoring systems.
Even with these new designs, and the power button remains central to the connection experience.
It takes a somewhat complex security product and makes it accessible, whether you consider yourself tech-savvy or not. Users say they get access to more servers than what to do with, a built-in speed test, and an industry-standard 30-days money-back guarantee.
Pressed for time? See My Major Findings
Breakneck speeds. I have not come across any VPN that do brilliantly even at long distance. The location far from me was faster than my current location speed.
Gross server network. It is never difficult to find a server and the fastest speed near you with over 3000 ExpressVPN servers in 90 locations ExpressVPN.
First Grade Encryption. With ExpressVPN encryption technology and high-security features, your internet connection is one hundred percent kept anonymous.
Privacy dedicated team. ExpressVPN protects its users. The no-logs policy is not just a mare talk.
Get customized apps for Andriod, IOS, Windows, Mac, Linux, and routers. On every operating system, you will experience a user-friendly feature app.
Value for money. Users with long-term subscriptions get to enjoy the affordability of their service.
ExpressVPN Quality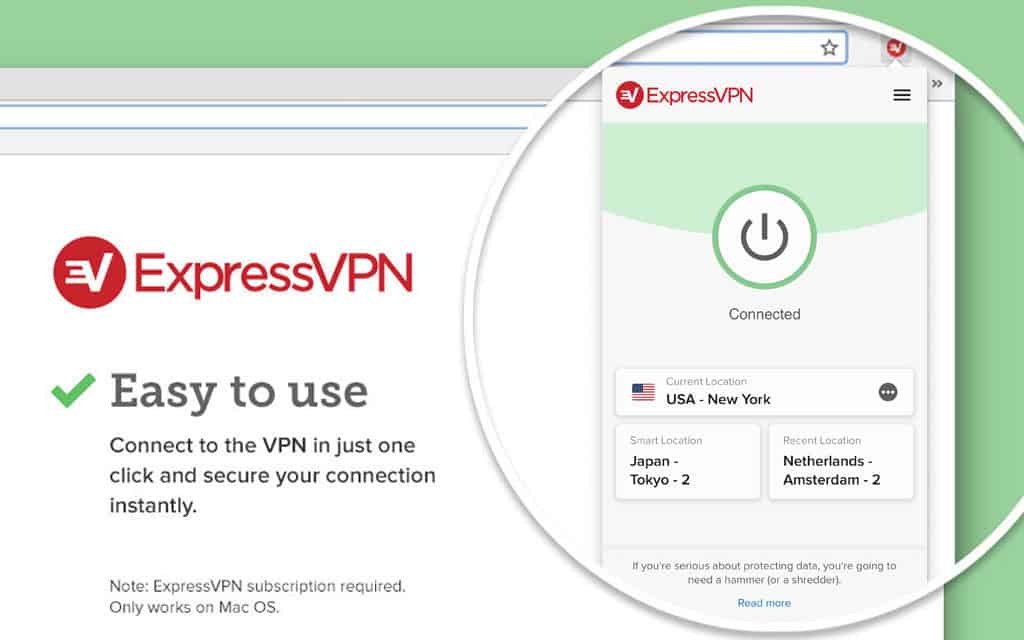 Under the hood, they continue to offer standard security features. Features like a kill switch, which they call a network lock, Ipv6 Leak Protection, Ram only servers, encrypted DNS, and other more technical benefits than the average user will take advantage of but might not fully understand.
And that is okay. I mean, when it comes to the installation, setup, and use of the ExpressVPN on any device, it tends to rank pretty high on the list.
They strike a good balance between offering important advanced security features while keeping the design simple enough for anybody to use.
Ease of use is just one component of a virtual private network. It has to deliver on the promises of security and privacy, right?
And this is where ExpressVPN is reliant on building your trust like pretty much every other company that operates a centralized private network.
You have to trust that when they say they don't log your data, they are not logging data.
Server Network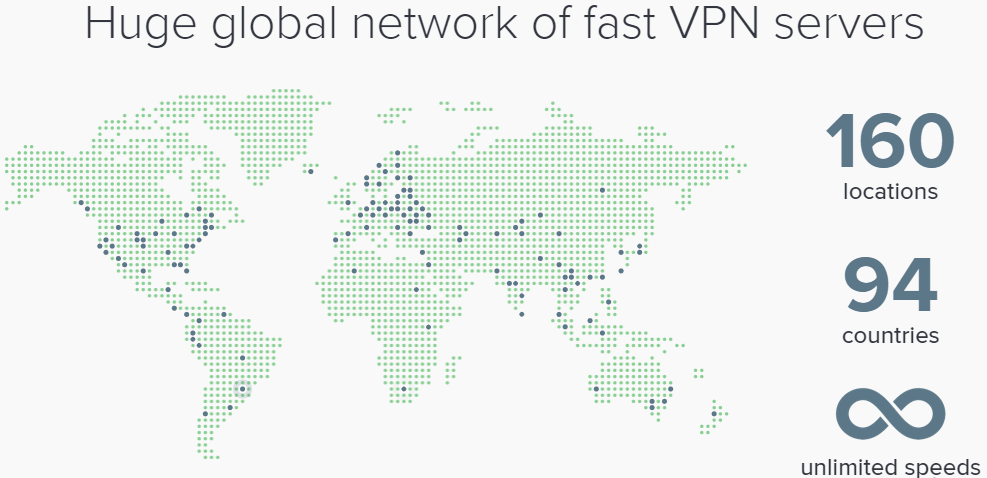 Click Here to Know More About ExpressVPN.
ExpressVPN has loads of servers globally, which can help you find a stable and faster connection. Note that network speed can slow down, and connection reliability may reduce when severs are crowded. Also, remember that speed is likely to drop when you become farther away from the server. Good thing that ExpressVPN has thousands of servers in 90 countries. That gives you the chance of finding an uncrowded ExpressVPN server close to you.
ExpressVPN has coverage within countries. For instance, it's good to have a VPN server on the two Australian coasts. ExpressVPN servers are also present in countries that are VPNs deprived. Examples are Turkey, Venezuela, and Hong kong. Remember, places like this are virtual locations and, this might affect speeds. It is not out of place to say North America and Europe have the best coverage. And their servers are evenly distributed. No doubt, ExpressVPN server is your best bet.
TrustedServer Technology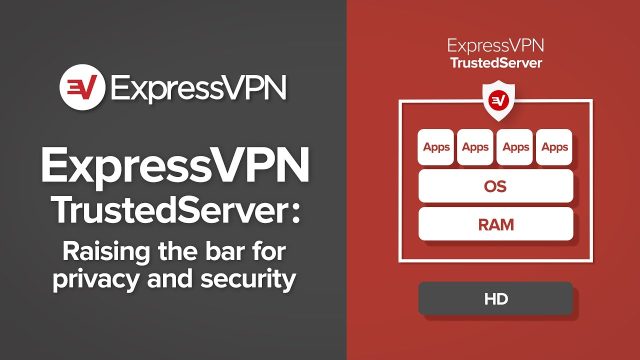 By operating RAM only, ExpressVPN increases your security and privacy level. It is known as the Trustedtrusted Technology.
RAM is not capable of storing data from your browsing time. All data deletes once it restarts.
With each reboot from a safe read-only image stored on the hard drive, everything is loaded fresh including, the operating system. This operation increases the safety of the technology in the following ways:
With ExpressVPN, the software is consistent across all servers.
It stores zero data on the hard drive.
The software reinstalls and updates itself any time the server reboot and new security patches.
If you are looking to be anonymous online, ExpressVPN is your go-to.
ExpressVPN and Virtual Locations
Almost three percent of ExpressVPN virtual servers are in virtual locations. That means that physical servers are somewhere else. The IP address you decide to use is within the targeted country but, the virtual server is close to you. You can check all the virtual locations on the ExpressVPN website.
The speed is very reliable. Some underdeveloped countries do not have good internet connections or internet speed. That means that the VPN can only perform better with good infrastructure in that country.
The limitation in locations like these is that your speed reduces if the server location is far from you.
You can find a faster server on your own. This feature chooses a server for you to base on speed, distance, and latency. You will be able to find fast servers without wasting time with hit or miss.
Privacy Policy

The privacy policy is essential when it comes to VPN. It is one of the main determining factors of whether or not customers will make the final decision to purchase the VPN or not.
The evidence that ExpressVPN stuck to their Privacy policy is that they do not collect logs.
A fair question is; are they staying true to this statement? The difference between ExpressVPN and other VPNs is that most other VPNs make these claims regardless of whether or not they have evidence.
In this case, we do have evidence that comes in the form of independent audit reports. Multiple ones, ones examining the security of the network and if there are any faults within the network. When it comes to the Privacy policy and their no logs policy, ExpressVPN values both.
It could not have been demonstrated any better in the real-life situation.
There was a time the Turkish government seized an express VPN server as part of an investigation. They were unable to extract any information out of the servers.
Thanks to their servers running on ramdisks rather than a physical hard drive. It means that there are simply no physical drives for information to be stored. Any minimal data stored by RAM gets erased with every machine reboot.
ExpressVPN location in British Virginia islands also helps. In the end, the British Virgin Islands is a territory of the UK country that is not exactly known for its positive attitude towards Internet privacy.
Jurisdiction does not make any difference since it is really about whether or not the provider collects the information. Due to their minuscule amount of data collection, where they are based does not matter.
When it comes to high-profile cases, most providers will do their best to corporate with the government to the best of their abilities regardless of their Privacy policy. The privacy policy got me doing this ExpressVPN review.
Dedicated IP Addresses?
If you are reading this, you have an IP address. But what is an IP address, and how does it affect your privacy? An IP address is a number, and it usually looks like this: 171.18.254.1. These four numbers represent 4 bytes of information or 32 bits.
Your devices require IP addresses to connect over a network, just like people need physical addresses to send physical gifts to people. People tend to hide their IP addresses by browsing the internet through a VPN. When it comes to IP addresses, ExpressVPN does not offer fixed addresses. Other VPNs give you the option of buying a dedicated IP address for you alone.
The options favor people running websites and need a single IP.
However, there are vendors and services online that can block your account because of multiple locations.
I will suggest that you avoid single IP addresses. They are not as safe as the ones shared. ExpressVPN blends your IP address with other users' traffic. That will make it difficult for anyone to track your data and activities on the internet.
ExpressVPN have all their servers recorded as one location but has multiple IP addresses for each. Users are randomly assigned to new IPs anytime they reconnect because the IPS gets rotated. ExpressVPN increases its security by alternating IP addresses. Even though a dedicated IP address serves its purpose, alternated IP Address is the most recommended in this ExpressVPN review.
Speed faster than Light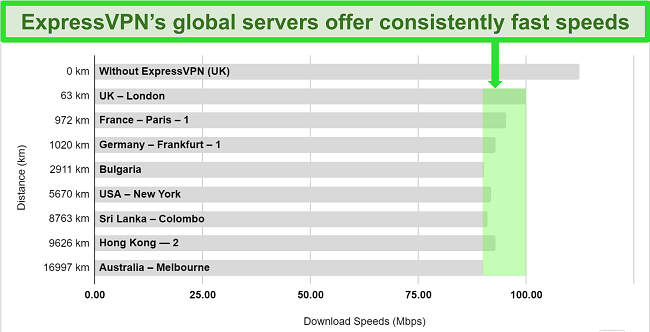 Above all the VPNs I have tested, ExpressVPN gave me the fastest speed ever. I was also amazed by how steadily fast my connection was on both long-distance and local servers.
Comparing server speeds, I focused my test on the three things below:
1. Download speed. It is how fast you receive information or download a file from the internet. That affects your browsing experience when loading websites or trying to download.
2. Upload speed is the time used in sending data. That shows how fast you can post on social media, upload files, etc. know that your upload speed will be significantly slower than your usual download speed. The reason this is so is that people spend lots of time downloading data than uploading. Upload speed measured in megabytes per second.
3. Ping is the time it takes a data to travel. That is vital when you need to send a quick message. Ping measured in milliseconds.
After testing servers in 25 plus locations, My internet speed was nothing less than 300Mbps. The download speeds on my mobile phone and PC were insanely fast. This was the same as the upload speeds.
Protocol Speed Tests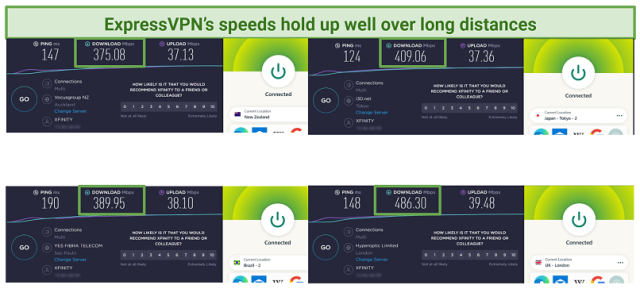 VPN protocols should be on your list when looking out for the best VPNs to use. After comparing the speeds of each protocol, I realized that L2TP/IPsec was the fastest. Even though L2TP/IPsec top the list, all the protocols did well. The protocols gave speeds of more than 312Mbps.
I still recommend that people use the other protocols even though L2TP/IPsec performed best. This is because L2TP/IPsec is an older protocol that is not as secure as the new one.
Although IKEv2, Lightway TCP, and OpenVPN UDP gave the same speed range, I will recommend Lightway TCP. It strikes the balance between speed and security. There you go! You know the best VPN protocol to use now.
Security — First Class encryption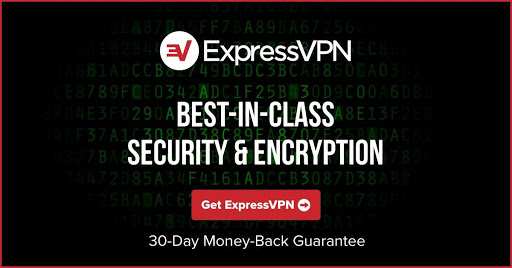 A lot of VPNs say they protect you when there is an internet connection failure or even say your VPN IP address remains concealed. How do you find out that is true? Testing, researching, and confirmation are the only ways you can find out if it's true or not. ExpressVPN's range of security Features and military-grade encryption will secure your data in the event of things.
I carefully examined ExpressVPN's additional security features, like the split tunneling, and the kill switches feature. I also checked its protocols and carried out deep research on its Lightway technology. Finally, I observed the outcome of its third-party audits.
I did this to know how its practice and infrastructure were held up under inspection. The only shortcoming, I observed was that ExpressVPN doesn't give malware and a built-in adblocker. This is a suitable feature undisputably, but the ad and malware blockers obtainable by other VPNs don't work very well most of the time.
You will need to use an extension or a dedicated app for protection anyway. Knowing that there are many good ad blockers available for free, I wasn't concerned that ExpressVPN doesn't have these features.
No other VPN beats ExpressVPN when it comes to security.
Encryption — Military-Grade Protection
ExpressVPN's encryption technology guards your private data. It keeps your data safe with 256-bit AES encryption.
The 256-bit AES encryption merges an AES 256-bit cipher with a 4096-bit RSA key and SHA-512 HMAC authentication.
In plain words, your information is safe. ExpressVPN uses the same encryption used in the military, banks, and governments to protect sensitive information. The number of bits allows you to know how many likely combinations are available to make the key. 1 bit gives 2 possible combinations. The moment you get to 8 bits, there are already 256 — at 256 bits, it's a number seventy-eight digits long! That is insane! The world's most powerful computer would take millions of years to decode just 1% of the data it holds.
The SHA-512 HMAC authentication (or grasp). ExpressVPN uses is extremely safe for data transmissions, E.g.: P2P file sharing. Using a joint undisclosed key, both the sender and receiver of
the file have a way of verifying the file's authenticity. Any variation in the key will be evidence that somebody tampered with your file, so any breach would be quickly identified and dealt with.
ExpressVPN also practices perfect forward secrecy. Perfect forward secrecy alternates your encryption
key every time you log on. Even if somebody could decipher the key (unlikely), none of your past or future VPN sessions could be decoded.
This is because they would have used a different key. Individually, the protocol will change your encryption level to some extent. For instance, the Lightway protocol makes use of wolfSSL instead of AES. It is still 256-bit encryption. It is just as secure, and it's open. This meaning it's constantly tested and updated by third parties.
ExpressVPN gives a better option when it comes to shielding yourself on the internet.
Security Protocols — Multiple Alternatives for All Devices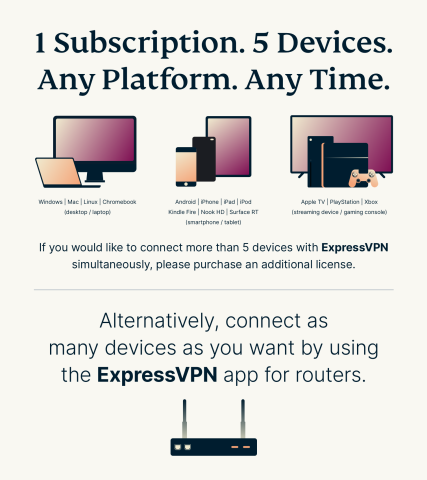 Click Here to Know More About ExpressVPN.
ExpressVPN gives several security protocols that allow you to customize the VPN for any circumstances. Protocols are a set of instructions a VPN uses to tell it how to encrypt your data. They are switched in the protocols stub for Android, IOS, Windows, and Mac. It uses commands in the terminal for Linux.
These are the differences between the protocols:
IKEv2
Mostly believed to be faster than OpenVPN, it was only 3% faster in my tests. I use this protocol when the others aren't working because IKEv2 is not as secure. There is no TCP selection, so it can be blocked by firewalls.
Lightway
The lightway protocol is ExpressVPN intellectual property. No other VPN servers offer the Lightway protocol. It pipes less battery and switches between networks flawlessly, making it a good choice for mobile devices. The TCP option is recommended for unstable networks and was 12% faster than UDP in my tests.
L2TP/IPsec
If you prioritize speed over security, then the L2TP/IPsec is good for you. As one of the older protocols, it's less secure. But it was the fastest protocol in my test.
OpenVPN
Being open-source, it is one of the most secure protocols. People constantly explore the code to reinforce it. It also has UDP and TCP options. They had almost the same speed in my test.
Lightway
What's this lightway thing? ExpressVPN has introduced something new and something big called Lightway. How does light way change the entire Vpn experience? Is lightway necessary? The effects on the features will be discussed here.
Many of the protocols used today are standardize across VPN services. These are some of the benefits of using Lightway:
Small codebase. It is interesting to know that Lightway has only 1,000 lines of code, which is one of the lightest VPN protocol code bases. This makes Lighway easy to audit. Lighway drains less battery, so it's great when you're encrypting traffic on a phone.
Updated encryption. wolfSSL is a modern cryptographic library assessed by third parties and offers military-grade 256-bit encryption.
Fast speeds. In my test, I reached a download speed 6% faster than my usual VPN connection. You can also change from wolfSSL encryption to ChaCha20 to increase the speeds.
Establishes connections promptly. It was easier for me to connect with lightway in a flash.
Rapidly changes networks. When your signal drops, Lightway idles your VPN connection instead of dismissing it. That permits you to re-join right away when you're switching from WiFi to a mobile network. It also helps you connect faster when you're reactivating your phone from sleep.
Leak Test Results — Double-Check
ExpressVPN ticked all the boxes of my leak tests on Andriod, IOS, Windows, and Mac. I used ipleak.net with ten different VPN servers in my first test.
Even if a VPN does a great job protecting you in every way, leaks like these can still happen. That's why it's great that ExpressVPN has built-in leak protection to hide your information from every method hackers use to access it.
Private DNS on All Servers
I ran the DNS leaks test on ExpressVPN and it did excellently well. Also, the major reason it passed the leak test was because of its private DNS server. To navigate between websites, you will need to access the Domain name server. A Private DNS server lays off this middleman, eliminating one more area where your data can be leaked. ExpressVPN server gives the ease of switching to default DNS servers. You can also send DNS requests anytime you want.
Independent Audit
This ExpressVPN review shows that Independent audits done by Cure53 and PwC demonstrated ExpressVPN is as secure as it claims. Few VPNs have had independent audits completed on their logging policies. This indicates that ExpressVPN has an authentic policy and that they're keen to put it to the test.
Kill Switch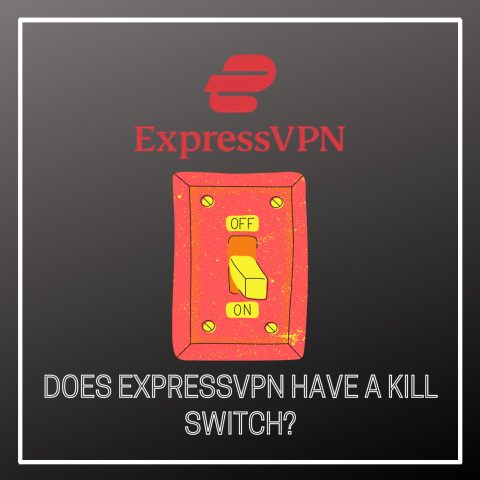 For protection, ExpressVPN's kill switch blocks your internet traffic if the VPN ever disconnects This is an important feature in VPNs. Network Lock is what ExpressVPN calls its version.
I tried refreshing a website; while switching to a server in Canada just to test the feature.
Each time the connection is unfinished, ExpressVPN lets you know in the browser that the traffic has been blocked.
The key switch is enabled automatically on Macs, Windows, and Linux. You can also give access to devices on the LAN. This is convenient if you have a printer connected to WiFi, so your files aren't affected by a defective server.
With the Android and desktop apps you can snap the kill switch on and off, unfortunately, the router app cannot.
This is called the Network Protection on Android, and it takes one added step to activate. You need to set the VPN to "Always On" in the mobile app settings.
While Network Lock is available on desktop, Android, and routers, there's no kill switch available for iOS. I keep a record of the best VPNs for mobile, including for iOS, and ExpressVPN is among the best. It is a big downside that they lack this vital feature on the IOS app.
Split Tunneling
Split tunneling allows you to spare some traffic from the VPN tunnel. This is helpful if you want a local connection for photogravure but still need a VPN for other internet activities.
To get on track, you need to decide which apps will use the VPN. While adding and removing hard is a simple task, you will have to disconnect the VPN when sorting the Apps.
In the Split Tunneling settings, you have 3 choices:
Do not allow selected apps to use the VPN
Only allow selected apps to use the VPN
All apps use the VPN
The first option helps to remove my trading apps from the tunnel and put this feature to the test.
All thanks to the ExpressVPN vast server network that enabled me to connect to a server in the UK just to visit Google. It worked like magic. I got search results related to the UK while still connected to my US bank.
This feature is only available for Android, Mac, Linux, Windows, and router apps. Sadly, there is no split tunneling in the iOS app.
Privacy — ExpressVPN never stores your data
ExpressVPN's location, privacy policy, and proprietorship make it one of the safest VPNs you can get. Trust is a big deal when it comes to using a VPN. VPNs hide your data from hackers, governments, and internet gurus like Google. And to do this, they need access to your data.
When you are connected to a VPN, you're giving the IP and logs of your online activity to a third party. That's why it's so crucial to choose a reliable company to be accountable for the data you give them. Fortunately, ExpressVPN has proven that it takes users' privacy seriously. This may be due to data retention laws.
ExpressVPN never keep logs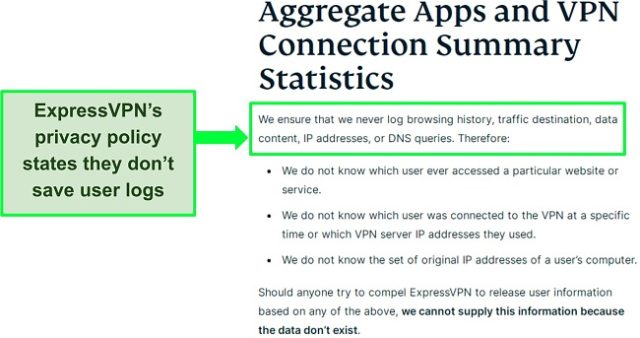 ExpressVPN has a firm no-log rule, so it will never store, share, or sell your personal information.
ExpressVPN claims it only gathers:
The day a connection was made (there are no exact time)
Data you used to sign up (usernames and emails).
The amount of data moved that day
The VPN connection server (not the IP address assigned to you)
The number of apps and apps versions you have activated.
I was enthralled by how little data is stored. I can't think of another VPN that collects so little data. That is the small amount of data requires to keep the VPN and stay in contact with users. It only shows that you have used a VPN at some point or the other, nothing more. That is another reason why ExpressVPN is the best way to stay anonymous online.
To further protect yourself you can pay ExpressVPN with cryptocurrency and create a new email for your account.
I reached out to their support through its live chat to know if my payment information and email information can be deleted. I got a yes. It can. Only if I cancel my subscriptions.
ExpressVPN does not collect:
Your IP address or the VPN IP address you've used in the past.
Information on your browsing history which are websites you've accessed
DNS queries that are the websites you've attempted to access
Metadata
In a nutshell, there's no record of where you used ExpressVPN from or what you did online while connected.
Diagnostic data can be shared with ExpressVPN only if you permit. After downloading the app, on the "Help Improve ExpressVPN" page simply choose "No Thanks".
The ExpressVPN's zero-logs policy was challenged in 2017 when one of ExpressVPN's servers was held by the Turkish government while finding information about a murder. But they found nothing because no information was stored, proving the no-logs policy is real.
ExpressVPN International Limited – the parent company behind the app uses ExpressVPN as its single source of revenue. The company has also worked with the Center for Democracy and Technology to help advance privacy rights worldwide. This, alongside its proven track record, reveals to me that ExpressVPN is devoted to internet secrecy.
Situated in a Privacy-Friendly Place
ExpressVPN is located in the British Virgin Islands. It is a country with no data retention laws.
The country where a VPN company is situated is very essential because it is obliged to follow the rules and regulations of its jurisdiction.
Coupled with their strong privacy laws, it's very tough for prosecutors to obtain a warrant. They don't have a built surveillance program, and the British Virgin Islands are also outside of the fourteen Eyes Alliance or SIGINT Seniors Europe.
This is an arrangement between nations to share information about their citizens.
Although it's a British overseas terrain, the British Virgin Islands has an autonomous government. This is good because Britain is a member of fourteen Eyes. Other countries can petition the British Virgin Islands high court to share information, but they cannot be mandated to disclose data about their citizens or companies.
Even if another country was able to convince them, ExpressVPN retains no information on its customers anyways. Still, it adds a spare layer of protection to be headquartered in such a privacy-friendly zone.
Placing itself in such a privacy-friendly country shows that ExpressVPN is devoted to shielding its users. With obfuscated servers, your data is secured.
Usability – 5 stars!
ExpressVPN's mobile and desktop apps are good-looking, steady, and user-friendly. It has a smooth, contemporary design with a big center power button. This might sound like a simple thing; trust me you would be amazed how many VPNs make something as indispensable as connecting tough.
You get to pick which VPN server location to use or benefit from the single-click Smart Location feature. This robotically links you to the closest high-speed server for fast protection.
Piloting through the app to find your app settings is easy, just click on the hamburger
menu. From there, you can then use the change security protocols, speed test, access the split tunneling feature, and use the toggles to turn other features on and off, such as the Network Lock.
ExpressVPN ranks number one for easy, straightforward protection on the internet.
Direct and Fast on all Devices Installation
The ExpressVPN app is very easy to install. Of course, before you start, you will need an active VPN subscription and a device running Android 5.0 and above. When all that is checked, you are good to go. I gave a guild on installing and setting up the Expressvpn app below.
Device Compatibility — Available on a Pile of Hardware
ExpressVPN is well-suited for operating systems on a wide range of devices. ExpressVPN apps are available for devices running Andriod, iOS, Windows, Mac, and Linux.
There are also apps available for a lot of routers. One thing that makes the Express VPN app stand out among other VPN apps is how the app suits every device.
Regardless of what operating systems are in the devices each app functions the same way.
One exemption is the Linux app. It doesn't have a design interface, so I had to relate with it using text. I still found it easy to switch servers and access all the features using the command line.
Although most apps look similar, there will be a minor alteration in the features obtainable with each. ExpressVPN Android app has the same features as the ExpressVPN windows app.
Desktop — Apps for Windows, Mac, and Linux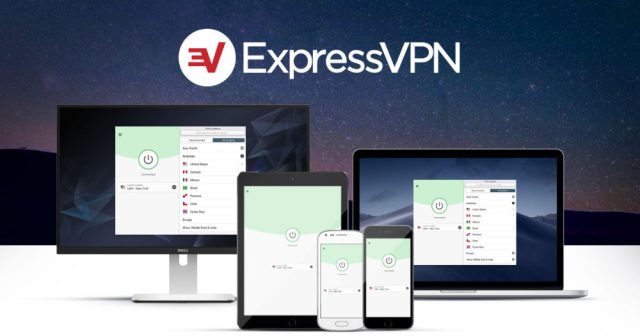 ExpressVPN's Windows app and Mac apps are very alike. They share the same internet protocols (L2TP/IPsec, OpenVPN, IKEv2, and Lightway), which is hard to find with other VPNs. The only
the significant difference is that you don't get the split tunnel feature if you're using Operating System eleven on a Mac.
Users with Windows 7 or newer, and macOS 10.10 or newer have a better chance. The app was very easy to use on all three versions of desktop, even though it took some time to learn the commands for Linux.
The app does not have a graphical user interface. So, you will have to install and use commands in the terminal. For instance, Expressvpn connect will relink you to the location you used last. The command Expressvpn list will show the entire list of servers that you can choose from.
The Linux version has all the other desktop apps' vital features apart from split tunneling. Other noteworthy differences are: First, it only uses OpenVPN and Lightway and you can't use app shortcuts like with Mac and Windows. This feature gives you one-click access to websites from the app, which most people seldomly use. Apps are offered for Linux users with Arch, Fedora, Ubuntu, and Raspbian systems.
Regardless of the operating system, you are using, you'll get an ExpressVPN features-filled version of it.
Android & iOS
The iOS app and Android apps are alike to the desktop types just that the iOS app doesn't have some major features.
All the Android app has the same features as desktop apps like auto-connect, kill switch, and split tunneling; with a few. The Protection Summary indicates a proportion of how frequently you've connected to the VPN since you installed it. The home screen has a slink on the bottom with tips that link you to its blog.
To download the ExpressVPN app on the play store or app store, you will have to sign up on ExpressVPN's website.
Android apps allow you to pick between OpenVPN and Lightway protocols. It's a good thing to have access to Lightway, because it's the best protocol for mobile devices. It was designed precisely for flawless switching between network connections and saving battery life. The Android form has app and website shortcuts that can be used. In general, the Android app works just as well as the desktop app. During my test, it was easy to switch between mobile data and WiFi immediately using Lightway.
Sadly, the split tunneling and Network Protection that is the kill switch feature is missing in the iPhone version. It's also doesn't have the Protection Summary and the guidelines that show at the bottom of the Android app. But it still has the website and app shortcuts available on the remaining versions of the app.
Luckily, the Lightway protocol is now completely available on iPhones. It was only available in a beta version for a long while. I logged in to new networks in few seconds by connecting to Lightway. IKEv2 is also accessible, but I will suggest sticking with Lightway; TCP is faster than UDP.
Reinstall VPN Configuration! That is the only feature the iPhone app has that Andriod does not have. The Reinstall VPN Configuration allows you to reinstall the VPN from inside the app if you're having issues. On the Android app, you have to uninstall and reinstall it from the Play Store, so this makes restarting the app easier if you're having troubles with it.
With iPhone, you will need to purchase and install through the App Store and need iOS version twelve or the latest.
Generally, ExpressVPN has great apps on Phones. It's quite sad that the iPhone version doesn't have split tunneling or a kill switch.
But this is pretty common for a lot of iOS versions of other VPN applications. It's fair to say it is a general shortcoming.
Available Browser Extension
ExpressVPN's browser extension gives you an extra security opportunity, but it can only be used on desktops. There are devoted browser extensions for Firefox and chrome. You can also add it to Microsoft Edge, but you still have to download it through the Chrome browser and permit extensions from other stores in Edge's settings. This method also works for Vivaldi and Brave.
These extensions are more like a remote control for your app instead of proxies. This is great because you get all of the app's features. You will have to download ExpressVPN to your desktop anyways. Your browser and app can both be connected.
If you want your internet browsing to be safer, you can do that by activating HTTPS everywhere. ExpressVPN automatically accesses a website that offers HTTPS and this is because the website uses encryption. I visited seven different websites I usually use with this option activated, and it gave me the HTTPS version.
The browser extension is very useful, the sad thing is that they're unavailable for phones or tablets. Switching between browsers on a desktop and apps is easy, but with a touch screen, it could be annoying. It's also unfortunate there's no Safari extension. I have a special bias for that browser. Browser extensions are available for Chromebooks that use ChromeOS, but I had troubles syncing when I tested it, so I don't advise using them. Looking to add a VPN to your browser? ExpressVPN works better.
Devoted Router App

ExpressVPN has a local app for routers that comes with manual settings on selected devices. This feature makes ExpressVPN stand out from other VPN providers mostly for its ease of use. You don't get to see many VPNs with a fancier app for routers.
You will get several benefits from Installing the app. First, you will protect every device connected to your home network, regardless of whether they don't regularly support VPN software. That includes gaming consoles. Plus, there's no bound on the number of devices that can be connected the moment it is installed on your router.
You can install ExpressVPN manually on router models from Netduma, Asus, D-Link, DD-WRT, and more. But manual configuration consumes more time, and you will only be able to switch your IP addresses. Your browsers control the Manual configurations and the router app.
Buying routers with ExpressVPN preinstalled is the easiest way to get set up. You can find some routers with the firmware already configured for you on the ExpressVPN website.
Concurrent Device Connections – Connect up to 5 Devices
ExpressVPN allows you to connect to five devices without any trouble. The better part of it is that you have unlimited connections when you connect it to your router.
I set up ExpressVPN on my PC, laptop, Android, and iPhone to test this feature out if it will work. I had browsers open on every device. I didn't notice any setbacks on the websites, and there was no lag in the game. So, you won't have to fear simultaneous connections disturbing ExpressVPN's speed performance.
Pricing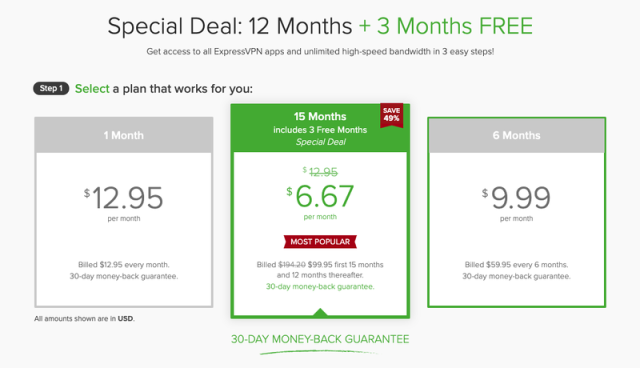 Click Here to Get ExpressVPN at Special Deals!
You can enjoy affordability with ExpressVPN's long-term plans. Although, the monthly plan is also worth its value.
There are indeed many countless VPNs available for low-price. In addition, ExpressVPN doesn't offer so much customization with its features as some VPNs do. However, in my opinion, think it's worth the price because of its unbeatable performance. It's higher than so many other VPNs when it comes to stability, speed, reliability, privacy, and customer service.
You have three different subscription plans to pick from with ExpressVPN and each of them comes with the full version and features. Other VPN services have cheap plans that only give you a few features.
There is one month, six months, and annual plans being offered currently. The lowest price is $6.67 per month. The plan gives you a 49% discount, so you can save money.
You can pay for ExpressVPN with Mastercard, Paypal, Visa, Qiwi Wallet, Bitcoin, Maestro, and more. If you pay with cryptocurrency and use an email you create exactly for the service, you will be able to sign up and use ExpressVPN anonymously.
It also has a hassle-free money-back guarantee, so you have up to 30 days to ask for a refund if you're not satisfied with the services. I contacted live chat support to ask for a refund to test this. They asked me why I was leaving and approved the cancellation in about fifteen minutes. The support team member assured me it would take about 5-7 days to process, but I got all the money back in my account within three days.
The exception to this rule is iPhone users that order ExpressVPN through the Apple store. Here, they get a 7-day trial and will need to request a refund from Apple if they decide to continue after those 7 days are up. They are not obliged to uphold the 30-day money-back guarantee. That is why I advise people to constantly sign up on ExpressVPN's website. You can easily download it on your mobile device and sign in later.
Refer a friend. If you want to save money, then refer your friends to sign up with ExpressVPN. Both of you get 30 days of service for free when you do this. Under your account settings, you'll see a little gift package icon where you can enter their email.
Although ExpressVPN costs a little more, ExpressVPN gives the best value for its price.
Support & Reliability
ExpressVPN's live chat service is user-friendly, interactively helpful, and available round the clock.
I contacted its support team over ten times while writing this review, and I received a response from an agent within 15 seconds. They always had the answers to my questions, though sometimes it might take them 2 or 3 minutes to examine hard queries.
For instance, it wasn't easy to find guidelines about using its browser extensions on iPad or Chromebooks on the website. Its support team answered me with everything I needed to know about these devices after a while. The time is not significantly late.
One hiccup I found was that the chat disconnects too quickly. The moment I left the chat room while waiting for a response the chat disconnects and closes.
This isn't a bother since you can request to speak to the same agent when you open a new chat. Its agents also take your email address if you're registered, so they can reply to you through your email if the chat gets disconnected.
ExpressVPN's website has an enormous collection of FAQs and setup guides. If you wish not to talk to a live agent, you'll most likely be able to find your answers in their FAQs. It also allows you to use its ticketing system or send direct emails. Since I like it quickly, I prefer the live chat more.
The ExpressVPN website is less stressful to navigate and full of helpful resources. It's also available in sixteen different languages, including English, French, Spanish, and Dutch.
When you sign up with ExpressVPN, you'll always have someone available to guide you through the process.
3 Easy Steps to Installing ExpressVPN
It didn't take me up to 5 minutes to install, signup, and set up ExpressVPN. See my quick guide.
Select a subscription plan. Go to ExpressVPN's website to commence the sign-up step. Choose a subscription plan and enter your information.
Download and Install the App. After signing up on the App, you will then be eligible for the MBG. You can then download the App on your mobile device or PC and enter your activation code.
Time to browse. With a single click, you can connect to the expressVPN server. Easy peasy. Browse the internet on the goal with full protection.
This step works for Andriod, iOS, Windows, and Mac. You will need the command line if you are using Linux. It is as fast as installing other versions, and ExpressVPN has complete setup guides on its website.
ExpressVPN is one of the simplest VPNs to download and install.
Conclusion
ExpressVPN is the most trusted and fastest VPN I have ever used. It was unbelievable that some of its long-distance servers increased my speeds.
ExpressVPN is unbeatable when it comes to security. private DNS servers and Its military-grade encryption assisted it to pass all of the leak tests I threw at it.
With all these mind-blowing features, it has a firm no-logs policy with it headquarter in the privacy-friendly British Virgin Islands. I trust the ExpressVPN service to handle all my online data.
Some online service app like Binance does not support VPN apps. The only downside I observed with ExpressVPN was that it doesn't come with an ad blocker, which other top VPNs have. However, that isn't something to worry about, since there are some great ad blockers available online for free. That is not just a random ExpressVPN review. It's tested and trialed.
Generally, I recommend the ExpressVPN app to people interested in using VPN services. It's undeniably
worth it for the price. ExpressVPN works the magic!
FAQs
Is ExpressVPN Secure?
Presently, ExpressVPN is said to be the leading VPN service for both casual and power users. The company runs a top VPN service at a pocket-friendly price.
You won't find suspicious statements in the company's Terms of Service.
Is ExpressVPN Authorized?
Yes! ExpressVPN is authorized in 90 countries. You can access services and online resources via ExpressVPN without fear of punishment anywhere around the world.
Some countries ban the use of VPNs because of illegal activity or try to control them. In most cases, it's more than likely to avoid these boundaries in applicable countries.
Does ExpressVPN keep logs?
ExpressVPN doesn't keep data logs of its subscribers. To offer a standard service, ExpressVPN tracks certain data. This data cannot be used to tie a person to any user data.
Click Here to Get ExpressVPN at Special Deals!
Like this Article? Subscribe to Our Feed!
At Dumb Little Man, we strive to provide quality content with accuracy for our readers. We bring you the most up-to-date news and our articles are fact-checked before publishing.