Erie Insurance Reviews: Insurance Offers, Features, Cost, Pros & Cons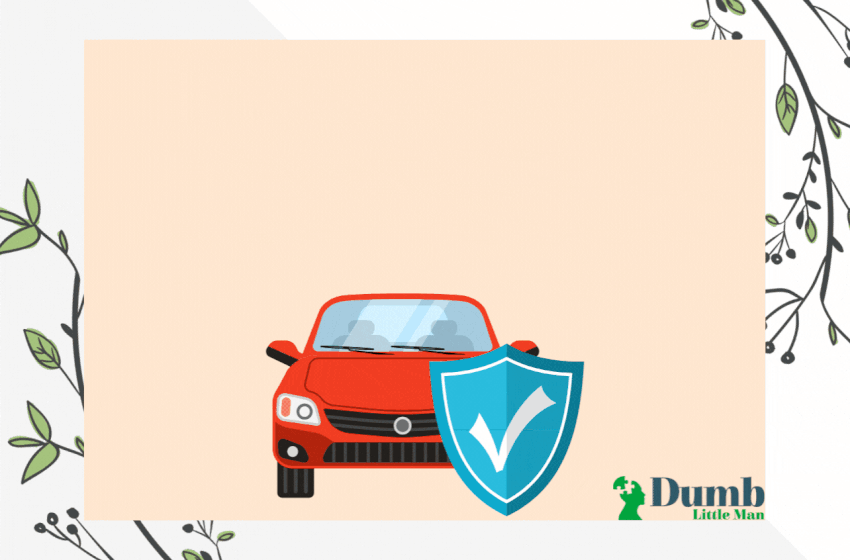 Finding the right auto insurance that will fit your budget without compromising the coverage? Get excellent customer service that will focus on what you need and take immediate action about it in times of accident or other unfortunate instances.
Transfering because you somehow felt neglected on how your past auto insurance company treated your insurance-related concerns? It would be frustrating to deal with such important matters but feel underserviced by the insurance company you signed up for.
In this article, we highlight Erie Auto Insurance. Its online review has been promising and what's even interesting about this company is its pride in delivering quality service and securing customer satisfaction at the same time.
Their auto insurance plan is fully customizable and can be altered depending on what type of coverage you want and your budget. They also provide discounts you can take advantage of every time you renew your policy the following year.
Erie Insurance Review: What is Erie?

Erie Insurance has been receiving awards for providing high-quality insurance services since 1925. They are offered insurance services that focus on these 3 main things, auto and leisure, home and property, life and more, and business insurance. The company's vision is to be an insurance provider that puts customers first above all.
Erie is part of a Fortune 500 company with the highest ranking J.D Power ranking of 857 for overall customer satisfaction rating for the year 2021. Erie's capacity to pay for its policy holder's claim stands at an A+ rating (Superior), measured by AM Best.
Henry O. Hirt the founder of Erie Insurance Company once said; they aim to provide insurance service to everybody perfectly, at the most affordable cost and as humanly as possible. Up until today, the company still provides one of the best insurance-related services to its policyholders and prospective clientele.
How does Erie Auto Insurance Work?
Erie has been keeping its promise to keep its auto insurance rate at an affordable range compare to other car insurance companies. It is even known to be one of the most affordable car insurance providers with an average of only a $100 per month premium.
The auto insurance policy includes main coverage as follows:
Liability Coverage (Bodily Injury Liability) – In case of a car accident and you at fault with another individual involved got injured, this coverage will protect you from medical payments claims and damages.
Liability Coverage (Damage of Property) – this covers the cost of the damage you incur towards another car or damage on others' property under your negligence. Coverage is at $50,000 max for bodily injury and $25,000 for the damage of property.
Personal Injury Coverage – this covers you and members of your family or any individual that you insured under your policy for medical expenses.
Uninsured / Underinsured Motorist – This coverage is important when you met an accident with an uninsured or underinsured driver. It is as important as getting your own insurance as you don't always know who's insured and who's not and who you encounter.
Comprehensive Coverage – it gives coverage to your car in case of theft, damage but not from a collision or fire. It also includes part repairs such as glass and other essential parts of your vehicles.
Collision Coverage – coverage for any collision-related accident. It is optional if the vehicle you drive is totally yours and not loaned from any banks or financial institutions.
Erie also provides "built-in" protection from your car and have it covered at every angle. Below is the built-in protection you can avail of to give your car the total protection that it needs.
First Accident Forgiveness – the first time you encounter at fault accident, there will be no surcharges that will incur. This simply means that your premium rate will not be affected by your first accident forgiveness report.
Windshield Repair Coverage – covers the repair of your broken windshield and has your comprehensive deductible waived.
Pet Injury Coverage – this gives pet coverage getting injured from an accident with $500 maximum coverage. It will cover vet expenses and the medicine cost of your injured pet that encountered an accident with you. This is automatically included in every Erie auto insurance policy.
Travel Expenses Coverage – In case of a loss or damage of an insured vehicle, this will cover the accommodation, meals, and other expenses.
Borrowed / Rental Car Coverage – Erie auto insurance gives automatic protection to a borrowed vehicle unit.
Locksmith Coverage – covers locksmith fee in case you left the car keys inside your vehicle.
Roadside Services – roadside assistance in the accident venue with towing assistance.
Aside from all the coverage mentioned above, here are the extras you can opt to add to your coverage options:
Erie Auto Plus
It is a coverage that will only cost you $1 a day that provides additional coverage for your protection. It has a diminishing deductible, transportation expenses coverage in case your vehicle got totaled, all your transportation costs will be covered until the settlement has been finalized. Coverage limit increases an emergency cost on your travel, sound equipment on your car, and other personal items. It also has to waive deductible in some situations. A death benefit of $10,000 for the insured and relative that dies from the car accident.
Erie Rate Lock Feature
This is an interesting feature as it locks any possible chance of making your premium higher the next year because of an accident report. The rate lock does not include adding or eliminating a vehicle from your policy and or changing an address or your parking spot. This feature could be very beneficial for you to be worry-free in case you encountered an accident with the cycle of the year. There are other conditions applied and it is best to talk to a local Erie agent about these additional coverage options.
Motorcycle Insurance
You can add a motorcycle to be insured with your auto coverage that has $3000 worth of benefits. It covers protection towards the parts and accessories. There's also an option to a higher limit of coverage options with additional premium cost. This is a value for money coverage of not having to purchase a separate policies for your motorcycles.
New Car Replacement Coverage
Provides the right value for your vehicle in case it got totaled. It has a non-depreciative value, unlike other insurance providers that make your car value depreciate as time goes by. Discuss this coverage with a local Erie agent to get more information about this add-on coverage. Other insurance companies provided a depreciative value of your vehicle as a replacement to your car but not with Erie Auto Insurance.
Rental Car Coverage
This will cover rental car costs while your vehicle is being repaired or while you are away and met an accident. The rental expenses will be covered by your Erie insurance coverage.
Roadside and Rental Bundles
Erie Insurance offers a cost-efficient bundle you can add to your auto insurance coverage as an Erie customer. Upon purchasing insurance, it is always wise to have bundle protection under one additional cost. This coverage includes roadside assistance and transportation expenses cost at the same time.
Please take note that Erie insurance coverage options may vary depending on what States you're in. Each state has different laws and governing bodies in coordination with the National Association of Insurance so it's better to check your State's Erie auto coverage and additional coverage options using their official website.
What are the Features of Erie Insurance?
Erie Auto Insurance provides car insurance at a relatively affordable rate than other insurance companies. You can customize your auto insurance plan depending on your budget and the coverage that you need. Erie Auto Insurance not only covers cars and motorcycles, but it also covers various types of vehicles such as:
Recreational Vehicle
Boat
Collector's Car
ATV
Snowmobile
Golf Carts and more.
Enjoy a much lower premium at Erie Auto Insurance Discounts you can always avail of. They have different discounts available to lower down your auto insurance rates, below are some of the discounts you may want to check on.
Multi-Policy Discount – This discount can be availed if you have other types of policies with Erie such as the other type of insurance they offer like home insurance and their life insurance. Have a discount by insuring all of your other cars under one policy. By availing of multiple services from Erie, discounts can be significant and can save you a lot.
Diminishing Deductible – If you haven't filed a claim for a consecutive year, your deductible will lessen by $100 to a max of $500. Diminishing Deductible varies depending on which state you are in so it's better to talk to an Erie Insurance agent.
Vehicle Storage – Have a reduced usage discount every time you go out of a country or for any reason without using your vehicle for 90 days or more. You need to report this event prior to sending your car to storage for proper documentation and application of rewards eligibility. This discount is however not available in the State of Kentucky.
Safety Savings Discount – Erie values safety more than anything. The safer you drive, the more discounts you get. It is advisable to gear up your vehicle with safety devices such as burglar alarms, anti-theft devices, anti-lock brakes, and other safety features you can install in your car.
Payment Discount – Pay one time for an annual fee and get an upright discount. This will save you from receiving monthly bills and having to worry about getting the payment done on a monthly basis.
Youthful Driver Discount – Erie offers discounts for young drivers that are part of your family. For drivers under the age of 21, unmarried and still live with their parents. They also have a "Youthful Driver Longevity Discount" for unmarried drivers.
College Student Discount – Get a discount while your son or daughter who does not drive is a way for college study. Erie understands the expensive College fees parents are paying and provides them with extra discounts that they need.
Erie Insurance Mobile App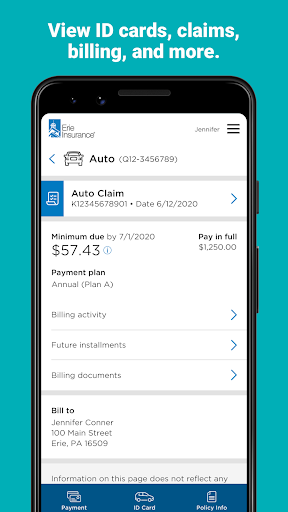 Get an Erie Mobile App and secure a safe and fast transaction online every time. In the mobile app, you should be able to view and review your auto insurance policy. View your billing and pay bills with just simple steps at the mobile app. Get an update on your claim or talk and get in touch with an Erie Agent.
Just install the Erie Insurance app and create an online account having your policy details on it to have online access to it. The Erie mobile app is relatively new and still requires some improvement but the innovation on its system online. The company has been very consistent in aiming to provide high-quality service.
How much does Erie Car Insurance Cost?
Erie's average auto insurance cost is at $1,233 per year with full coverage however it may go up and lessen depending on various factors. Driver's age and traffic violation records are some of the biggest factors in determining the premium rate.
An 18-year-old driver with full coverage will cost about $3,614 a year, this rate is way affordable than competitor insurance companies. A 30 years old driver without an accident record can only pay a premium of $1,521 a year and a driver of the same age range with an accident record will pay $1,924 a year for full coverage.
The minimum coverage is very affordable but it is always recommended to upgrade your plan to have additional protection for you and your vehicle. Having maximum coverage is always wiser than spending a hefty amount of money in covering for the unfortunate expenses you might get in the future.
Click Here to Open an Account with Erie (Official Page)
Who is Erie Best For?
Erie's car insurance is best for individuals who are looking for an affordable policy with comprehensive coverage. Other insurance company offers the same coverage with a higher premium rate. Erie has been an award-wining insurance service provider with 96 years of experience that can give assurance of their high-quality service.
It is also best for bundling all of your insurance under one trusted company. If you are looking for life insurance, homeowners insurance, and auto insurance. Erie Insurance Group will take good care of all of your insurance and will even provide great insurance discounts with your premiums for you to save money and spend it somewhere else.
Erie is a committed company that provides quality insurance providers that will take good care of you and your insurance-related needs then this company deserves a closer look. They value customer satisfaction at all times that's why they ranked the highest with an overall customer satisfaction rating with very few customer complaints.
Erie Insurance Pros and Cons
PROS
Affordability and Value for Money
Upon study from various third-party measuring platforms, Erie has one of the most affordable premium rates in the country. They are $400 cheaper than most insurance providers. The amount you saved can then be used to avail additional or optional add-on features for extended protection for you and your vehicle.
Get discounts from various discount options that they offer to lower down your premium cost. These auto insurance discounts can be availed by every policyholder as long as they met the conditions of the rewards. Discounts are also a form of motivation to drivers to drive safely and get rewarded in form of discounts that they can use upon renewal of their policy.
Enjoy value for money with their add-on bundles that will save you more rather than adding extras separately. Broaden your car insurance coverage without having to pay more with Erie auto insurance. Check their bundle add ons and see which perfectly fits the coverage that you need.
Erie Insurance Group
Get all your insurance need under one trusted insurance company. Not only that you will gain great discounts from availing all of your insurance need from Erie, but it will also help you manage all of your policies easier. Have a dedicated insurance agent to take care of all of your policies under one company.
Erie's Life Insurance offers term life insurance, whole life insurance, universal life insurance, and ERIExpress life insurance. Get up to $500,000 coverage with ERIExpress life insurance with easy processing and fast approval methods. You can even take a look at Erie's Business Insurance that protects your business comprehensively.
Erie's Home Insurance has generous coverage with home and personal property insurance. Get comprehensive repair coverage. It includes fire, theft, and property damage that is inside your house. It also covers the actual structure of your home and makes any repairs covered by the home insurance.
Great Customer Service
Since Erie has been established way back in 1925, its main vision is to provide a customer-focused insurance company for everyone that most insurance companies failed to provide. Customer Satisfaction is at the core value of the company for every Erie Customer.
Erie customers nowadays enjoy a fast claiming process and great customer after-sales assistance. You can always find a local professional agent you can count on to aside from the customer service hotline they have for every transaction you may deal with regarding your policy.
They even ranked 1st in providing overall customer satisfaction to their customers with the J.D Power rating analysis done by the year 2021. This proves to show how committed they are to providing a better customer experience in every Erie customer.
CONS
State Bound Limit
Erie's coverage may be limited depending on which state you are in. It is recommended to take time in studying the coverage in line with the State limitation. There are states that does not have certain coverage due to local state law limitation. You can view the details online or talk to their local agents for accurate information. Best to study the coverage before signing up to avoid confusion in the long run.
Limited Coverage
The basic coverage is affordable but the add ons can be costly depending on the additional features you would want. Erie offers one of the most affordable auto insurance providers in the country, however adding and additional coverage can be costly. It is always a good thing to have a plan that provides extra coverage for you and your vehicle to save you from serious expenses in the future.
Personal Approach
Although the personal approach to your transaction is beneficial in every way, most competitors are now launching a faster way to address concerns about your policy. In applying for a policy, you need to talk and get in touch with a local agent for it as well as for their claiming process. Competitors now launched different online platforms to make the processes streamlined for all of their customers. Erie though has already launched a mobile app that needs a lot of innovation with its system.
Erie Insurance Compared to other Insurance Companies
Erie
JD Power Rating: 857 Overall Customer Satisfaction Rating
AM Best Rating: A+ Superior
Multiple Discounts: Yes
Gap Coverage: yes
Farmers
JD Power Rating: 828 Overall Customer Satisfaction Rating
AM Best Rating: A- Excellent
Multiple Discounts: Yes
Gap Coverage: yes
Progressive
JD Power Rating: 842 Overall Customer Satisfaction Rating
AM Best Rating: A+ Superior
Multiple Discounts: Yes
Gap Coverage: optional coverage
Click Here to Open an Account with Erie (Official Page)
Erie Insurance
Erie Insurance achieve the topmost ranking in overall customer satisfaction tabulated by J.D Power for the year 2021. It has also maintained an A+ ranking from AM Best for the current year. Erie Insurance never failed to provide quality insurance services since the day it has been established way back in 1925.
This company has been proven to be one of the top players in the insurance industry all throughout the years of its existence. It stayed true to its promise by providing excellent customer service to every of its policyholder and giving high-quality insurance-related services.
Aside from providing auto insurance, you can also sign up for their Erie Homeowners Insurance, life insurance, and other insurance you can sign up for under one company. You can ask for an insurance quote and review coverage limits by getting in touch with one of their insurance agent.
Progressive
Progressive has an above-average J.D Power rating of 842 for overall customer satisfaction metrics. Its good record on fulfilling policy claims made them earn lesser customer complaints so far.
AM Best rating of Progressive insurance is at A+ which means Superior, the highest financial strength rating that there is. Simply means that AM Best is very much capable to fulfill the insurance claims of every policyholder within the next years to come.
Progressive has an above-average customer review online and received fewer customer complaints. This is a good indicator that the company is doing something good for its customers.
Final Verdict: Erie Insurance
The main reason for each and every one of us in purchasing an insurance policy is to have peace of mind. A guarantee that in case something unfortunate will happen to us, there's an insurance company who will take care of everything. With this in mind, be cautious in choosing the right insurance company that can provide the peace of mind you need.
Erie has been very consistent in providing high-quality insurance services to all its policyholder. Get comprehensive auto insurance with them and customize your add ons to get added protection on you and your cars. Save a lot of money by getting different types of insurance under Erie Insurance Group.
Enjoy their customer focus approach that brings customers' concerns first above all other matters. Their hassle-free claiming process only requires you to do the reporting and they will step into the situation almost immediately. Erie Insurance is truly the company to go for that will protect the common good of all its policyholders.
Erie Insurance FAQs
How to Know Which Coverage is Available on the State I am In?
Simply visit their official website and click on your State in the choices available. You can see full details on the coverage, limitation, and other helpful information about auto insurance specifically for the chosen State.
The premium rate may also vary depending on which state you are in. The factors that may affect these changes could be the current taxation standard of the state that you are in.
How Do you Determine My Premium?
Insurance companies have a "Risk Assessment Indicator", these metrics will define if you will be eligible for a low premium auto insurance or for much higher premium insurance. Common factors include age, state, frequency of driving, and accident report.
The risk indicator will determine a premium and will tabulate after a year with the current policy if you will be eligible to receive a decrease in your premium cost. A good driving record within a year helps lowering down your premium cost.
What is Erie Auto Insurance's Grace Period?
Erie Auto insurance has a grace period of 30 days from the premium due date. Avoid lapses in your coverage if you pay within the 30 days grace period. cancellation of policy may take place after the 30 days grace period.
This grace period is the timeline after your due date when you are allowed to make payment without having your contract canceled. One of the solutions for not having to worry more about the grace period is if you make an annual payment for your policy. This only means you will be receiving a bill once a year and not a monthly thing for you to always think about the grace period.
Click Here to Open an Account with Erie (Official Page)
Like this Article? Subscribe to Our Feed!
Vanessa is a mom of 3 lovely children and a software geek. Outside of her career as a health and wellness instructor. She enjoys writing and researching on topics such as finance, software, health and culinary.