DIY: 6 Simple Steps To Start Podcasting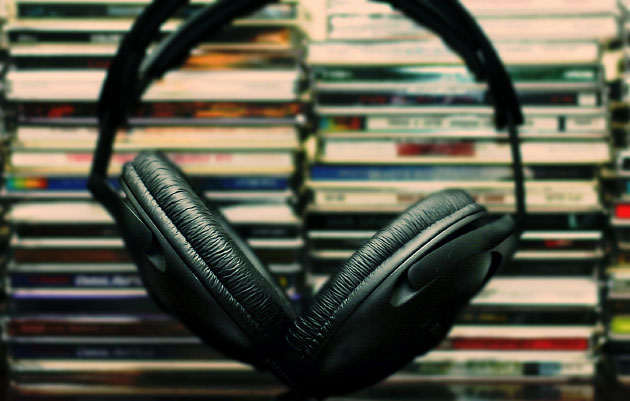 Are you one of those hard-headed individuals that prefers to reinvent the wheel each time instead of learning from the experience of others? Don't be. After going through a laborious week of research, question asking, and more research, I've finally got Podcasting all figured out. I'll help you learn what took me about 40 hours — in the next 4 minutes.

I'm not claiming that my way is the only way, or the best way, but I guarantee that it's the simplest and fastest way to turn your Podcast from an idea into a tangible product that people can listen to. Now that I'm in the know, I present you the simplest 6 steps to start podcasting.
Equipment: Alesis Podcasting Kit
You might have speakers and a microphone installed right into your computer, which is cute, but it's not high enough quality to make your podcast sound professional. You don't want this to sound like it's coming out of your basement, even though it probably is. After speaking to a producer that managed a radio station for 8 years, we've come up with the simplest solution: The Alesis Podcasting Kit.
The Microphone connects via USB, and the headphones connect into the regular headphone jack. This microphone allows you to have crystal clear sound, and the headphones are necessary so that sound from your speakers doesn't get into the microphone. If that were to happen it would create an echo known as a feedback loop.
I ordered my Podcasting Kit from JR and received it promptly in a couple of days, with free shipping on top of that. I'm a satisfied customer, and don't see why you would go elsewhere. <Buy Alesis Podcasting Kit>
Calling: Skype.
You're going to want to download Skype, which is a free application that allows you to call people from all over the world using the internet. If you're on Skype and you call another user that has Skype, you're talking for free. If you call from Skype to a person's phone, you're spending pennies per minute.

 
I can't imagine having anything more convenient than this. Skype will even balance out the volume of your voice, and the volume of the person's voice that you are speaking with, which makes the next step — recording — so much easier. <Download Skype>
Recording: Call Recorder.
If you're on a Mac, the best alternative for recording Skype conversations is Ecamm's Call Recorder ($14.95). If you're not on a Mac, you'll need to buy one (or use a free alternative that seems very similar to Ecamm's version).

 
This application will automatically record audio/video in Skype and save it in whichever format you designate. Sure there are other ways to record, and believe me I've looked into all of them, but this is so easy that it's not worth looking anywhere else. <Buy Call Recorder or Download Skype Recorder>
Editing: Garageband.
Once again, if you're on a Mac, you're making good decisions in life. Mac ships stock with a program called Garageband which allows you to easily edit music, voice, or instruments. I find it to be very intuitive, so I think anyone could do it.

 
You will want to cut out any awkward pauses, or cut out irrelevant segments. You'll also want to add an introduction, with voice and music. Garageband will even allow you to format the Podcast with proper tags and will then convert it to whatever format you're comfortable with.
Audacity: This is another alternative that works for both Mac and Windows. While I haven't used it, I hear good things, and best of all it's free. <Download Audacity>
WordPress Plugin: Blubrry Powerpress.
If you aren't using WordPress then you probably haven't heard of the term 'internet' before. I do my blogging and Podcasting through WordPress. Not only is it the simplest way to create a website, but it's also the simplest way to set up a Podcast.

 
The best way to do this is to take 5 minutes to upload and install the Blubrry Powerpress plugin. It does exactly what you want, nothing less, nothing more, and it comes with a fantastic support forum and staff. The CIO was on the phone with me personally to explain a concern that I had about Podcasting.
This Plugin creates uploads your Podcast to iTunes automatically, complete with tags, description, and pictures. If you don't have WordPress, Blubrry will host and post your hosting for $8 month! <Download Powerpress Plugin>
Sharing: iTunes.
This step isn't necessary, not unless you want your Podcast to appear in the iTunes store. The advantage of being in the iTunes store is that listeners can download your podcast to iTunes with 1-click, and then right onto their iPods.

 
I recommend making a separate feedburner feed for your Podcast, and submitting that to iTunes. This is because iTunes doesn't provide you with an admin panel. If you ever need to change your feed URL, you'll be able to conveniently login to Feedburner and change it there in 1 minute. <iTunes Submission Instructions>
I've presented you with all the technical information that you're going to need to start Podcasting, but what quality of Podcast can this system really provide? Boy, I gave you all this free info and you're doubting me? Haha, don't worry, I'm not offended, I'm willing to put my money where my mouth is and show you the quality work that this system can produce.
Go ahead and check out my Practical Personal Development Podcast (this link opens up iTunes), which features expert interviews on ways to become happier, healthier, and more productive. Just think, one month ago, I didn't even have an intention to Podcast, and now it's all up and running.
You've got the technical data, you've got the proof, but there's still a large chance that you aren't going to make this Podcast. The last ingredient is courage, and my suggestion is that you don't worry about your voice, saying the right things, your technical skills, or if you'll have enough time. I'm sure you can get one of these up and running, just take the first step — just do it!
Like this Article? Subscribe to Our Feed!