11 Best Dive Computer in 2023 (Diver's Review)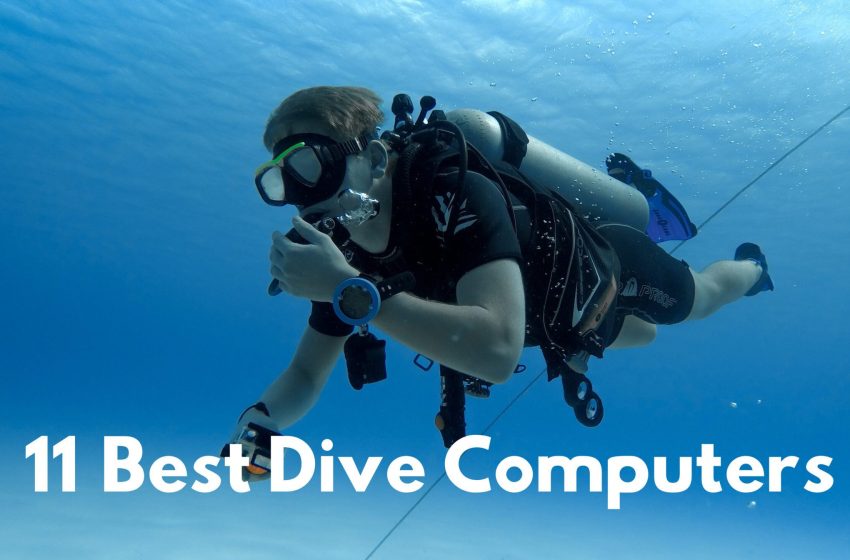 Isn't it cool how scuba divers look when they are going scuba diving. Their sleek look makes you want to be a scuba diver who dives into the sea for a living or recreational purposes. However, there is some bit of science that is associated with diving. Science is one of the things that keep divers alive when they dive into war. The human body has a limit to the pressure the body can manage. Without adequate data about the water pressure, the human body can lose air, nitrox and be severely damaged.
Perhaps the essential part of diving can tell the water pressure. This would, in turn, inform the diver how safe continuing diving is. Knowing the water pressure is vital for the best dive experience technology has made it easy for divers to tell how safe the water pressure is. The technology in question is the dive computer. There are different types of dive computers, and in this post, we would give you a list of the best dive computers
Quick List Overview of 11 Best Dive Computer in 2023
1. Mares Puck Pro View in Amazon
3. Cressi Leonardo View in Amazon
6. Suunto D4i Novo View in Amazon
7. Cressi Donatello View in Amazon
8. Suunto Vyper View in Amazon
9. Oceanic Geo 2.0 View in Amazon
10. Cressi Neon View in Amazon
11. Mares Puck Pro Wrist View in Amazon
Here are the list of the Best Dive Computer in 2023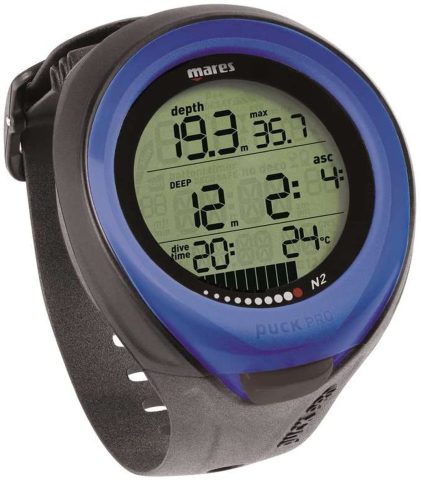 Description
The Mares Puck took the market by storm in 2008. The dive computer came in a sleek design that is unbelievably easy to use by divers as it has a single button that a diver can use to navigate it. It is 2 inches wide and an inch thick, just like a hockey puck.
Product Review
The mare puck pro is a watch-style technology that carries an extreme punch when it comes to power. It comes with a comprehensive RGBM nitrox computer which is surprising for its relatively low price.
Interestingly, even with this slimmer watch style look, it has a larger display. Who knew a watch could have such a big screen. Also, you can upgrade the firmware and the multigas capacity. In addition, it has a button that makes it easy to scroll, and you can use this button while wearing gloves. Plus, the size and thickness make it durable and damage-resistant. It is one of the best dive computers to grace the wrist of a diver.
Pros
It has a widescreen which makes reading easier.
It is user friendly and easy to use
It is relatively inexpensive
Great to buy for first-time divers
It has air, nitrox and gauge modes
Cons
It can't be worn as a watch
Pro divers fine the one-button scroll annoying
It doesn't come with a compass
Zero air integration
Price
$465.00

Description
The Suunto Zoop Novo is like an oversized watch with multiple buttons for navigation. It has a long strap which is excellent to wear around the wrist or the forearm of your wetsuit. It comes in different colours, and you only have to choose the one that fits your style.
Product Review
Like the Mare Puck Pro, it is simple to use, and it is one of the most accessible dive computers you would ever see. This watch-style technology is best for both expert and amateur divers. It has excellent decompression capabilities, which would make you use it for a more extended period.
Although it is a simple device, it is more advanced than the Mare Puck Pro, making the Suunto Zoop Novo is perfect for you when you want to use a more advanced device. Plus, with a battery life of almost 12 months, the Suunto Zoop Novo is worth every penny. In addition, it has air, nitrox, gauge, freediving and off mode.
Pro
It has a large display for a clearer view
Easy to operate
It is not expensive
You can customize the backlighting
It has an off mode which you can use when you want to have a leisurely surface swim in between dives
Cons
Although it is watch style, it can be too large for the wrist.
It doesn't come with a compass
You have to buy a charger separately
Price
$384.90 (with cable) or $299.95 (without cable)

Description
The Cressi Leonardo is another watch-style tech that is an elegant, all-around nitrox dive computer that comes in different band colors. Similar to the Mare Puck Pro, it has only a button for navigation. Also, it has a larger high-definition screen that aggregates all the necessary data that you need.
Product Review
The Cressi Leonardo dive computer has a single button for navigation. As a result of this, the interface is incredibly easy to understand. If you are a beginner looking to start a diving career, you should consider this elegant watch. It has a decent dive log which can save more than 72 hours of data. It also comes in a console if you don't like watch-style dive computers.
Furthermore, with the inbuilt alarms and battery life icon, your safety during the dive is more than assured. Speaking of batteries, the Cressi Leonardo has a battery life of more than three years. Neat isn't it. Why not place an order for yours before it's sold out.
Pros
Crisp display
Quality band
Friendly price.
Smooth RGBM algorithm
Can easily connect with computers
Cons
The alarms are reportedly too loud
It doesn't have a compass
Poor backlighting.
Zero and no wireless air integration
Price
$199.95

Description
Mares Quad has four navigation buttons on the side and is visibly labelled. In addition, the Mares Quad dive computer comes with a large screen and displays data prominently.
Product Review
The Mares Quad is simple to use. The four buttons that come with it and are adequately labelled allows for easy navigation. In addition, the large screen and deco dive display which displays data clearly, aids with underwater visibility. With the ability to see your dive time display, nitrox menu and icon for switching gas, you can feel safe when diving. When you now throw in the decompression dive organizer, you have a more than ensured memorable experience while diving.
Pros
Clear data display
Multigas switching.
Over 200 dives battery life
Organized data display
Cons
Not so suitable for the wrist
Cheap LCD display which makes reading under the sunlight hard.
Price
$389.95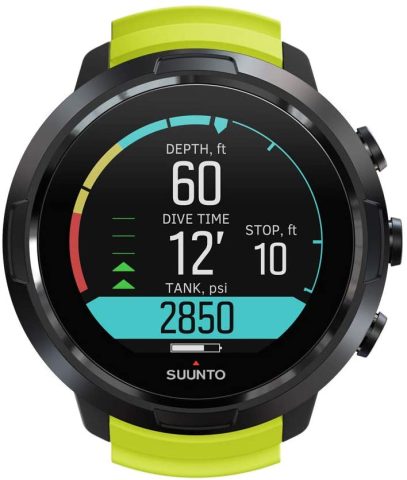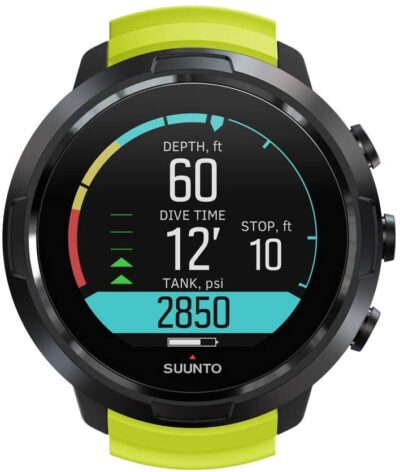 Description
Just like the sun, the D5 shall rise. Pardon us for being a little dramatic, but the Suunto D5 is worth every ounce of praise. This modern, sleek tech is a new market entrant. It looks close to a smartwatch, and it is rechargeable.
Product Review
You are guaranteed with long battery life as you can recharge it. It also comes with a bold display and runs on the Suunto FusedTM 2 RGBM decompression algorithm. Thus, it comes with a vibrant look with high functionality. This dive computer has three modes. They are the nitrox, freediving and gauge modes.
In addition, it can resist water up to a depth of 100m which is great if you are a recreational diver. You should be dashing online to buy this sleek piece of technology.
Pros
It looks more like a wristwatch
Bright display
Multigas options
Customizable algorithm
It comes with a compass
Cons
The rigid algorithm as you can only follow the Suunto dive plan.
Compass recalibration after each charge
It is expensive
Price
$929.95

Description
Over the years, the Suunto dive computers have evolved, and the D4i Novo is a mark of that evolution. The D4i is a lightweight style computer which high durability. The durability doesn't take away the stylishness of this technology. It comes with a comfortable strap, and it is compact looking.
Product Review
Strapping this technology onto your wrist you will find that it fits incredibly. Unlike the earlier Suunto designs, this dive computer can fit any wrist without discomfort. With its three modes, nitrox, air and freediving mode, you have the freedom to choose your diving style.
Interestingly, even as it is similar to a watch, you get crucial readouts. Plus, the watch's algorithm is conservative, which means you can't take unnecessary diving risks. Although, this can be slightly changed.
Pros
Up to 140 hours of dive data
Great gas integration capacity
Low pressure warning.
Intuitive controls
it is budget friendly
Cons
The strap is known to quickly weaken over time.
Problems with tank pressure transmitter. Although this is common among transmitters
No compass.
Price
$468.91-$499.95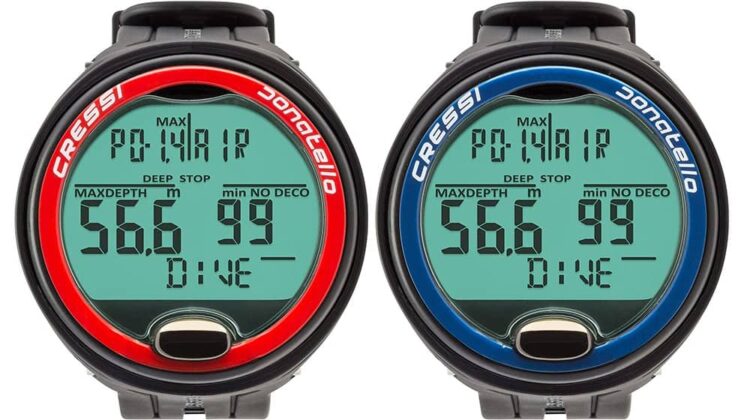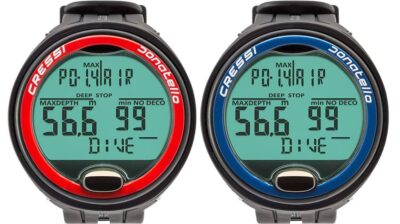 Description
These names make you remember either the great renaissance artists of old or the teenage mutant ninja turtles. We favor the turtles, especially Donatello, the smart one. The Cressi Donatello dive computer is similar to the Leonardo dive computer but more modern and less clunky. Also, most of the problems trailing the Cressi Leonardo have been fixed.
Product Review
The Cressi Donatello now comes with a freediving mode which opens up the watch to more divers. It maintains the easy maneuverability of the Cressi Leonardo but with an upgraded menu outline. The backlight problem has also been fixed, and this means you
See the watch clearer than before. Also, on the constant alarms, which divers find annoying, you can now switch off alarms. If you don't want to switch off alarms because of safety fears, you can adjust the alarms to when you want them to beep.
Cressi Donatello still retains its air, nitrox capacities, and it is in overall a great dive computer
Pro
You can replace the battery
It retains the easy single button interface
Retains durability and air, nitrox capabilities
Perfect for beginners
Intuitive display
Cons
It doesn't have an inbuilt compass
Price
$279.95

Description
The Suunto Vyper is a durable multi-mode dive computer. It is pretty versatile and has a high-end nitrox capacity. Also, it weighs 68g which makes it reasonably light on the wrist
Product Review
The Suunto Vyper comes in different modes, and as a result, it can cater to a wide range of diving situations. During your diving holiday, your safety is assured, as it has an RGBM algorithm that aids continual decompression. In addition, it comes with a state-of-the-art dive simulator and planner. You really should be in the market for this dive computer
Pros
Comes with an inbuilt compass
Clear display
It is adaptable
Easy to strap on dry suits
Cons
More suited to recreational diving
It can be a little bit clunky on the wrist
Price
$434.55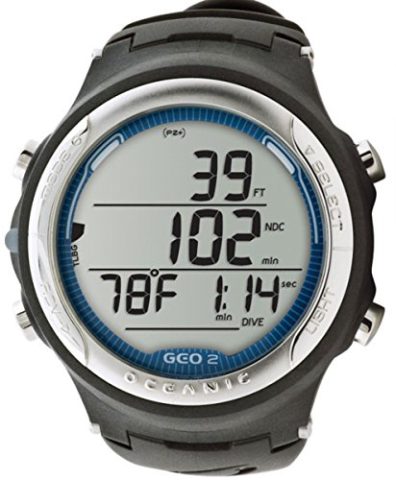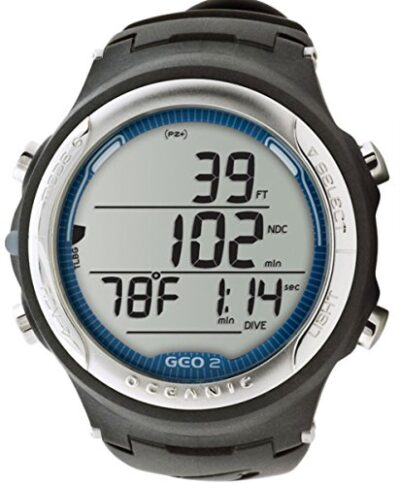 Description
The Oceanic Geo 2.0 dive computer is a watch-sized technological device that is available in four colours. The Oceanic Geo has qualities that would be majorly appreciated by leisurely or semi-pro divers.
Product Review
The Oceanic Geo 2.0 is expertly designed like a watch which makes it easy to carry about. If you are an occasional diver who dives for fun, you shouldn't splash the cash on a more expensive dive computer. The Oceanic Geo 2.0 would be perfect for you. With its two different algorithms, it supports four modes. It can serve as a plain watch. It also offers nitrox, freediving and gauge modes. Plus, it ensures your safety as it has more than an alarm system.
Pros
It is not expensive
Dual algorithm
Smaller but brighter display screen
Cons
Zero air integration
Reading can be difficult on the small display screen
Low storage capacity
Price
$249.95
Description
The Cressi Neon is a pocket-friendly dive computer that is best suited for the occasional scuba diver and freediver. This technological delight comes with an optional Bluetooth and a replaceable battery. It measures about 48mm wide and has a PTU wristband that finishes with a metal buckle
Review
This fancy-looking watch-like computer is versatile as it can be used for several water-based activities and is easy to use with its two-button navigation. Although the Cressi Neon is on the cheap side, it can switch between gasses. In addition, it has four diving modes. There is the off, the nitrox, gauge and apnea mode.
Pros
Affordable price
Easy to wear
Gas switch functionality
Intuitive display menu system
Cons
Zero air integration functionality
It doesn't have an inbuilt compass
The Bluetooth functionality has to be gotten separately
Price
$349.95

Description
The Mares Puck Pro Wrist is a technological improvement of the Mares Puck Pro. It comes in a slim design which makes it comfortable to wear. Also, it has stopwatch functionality.
Product Review
Buyers of this technological device enjoy the screen layout and the intuitive menu, making reading and navigation easy. It has an impressive memory for its price with a 35-hour dive log accessibility. In addition, you can update the firmware and replace the battery without problems. Plus, linking this device to your phone is more accessible as it comes with a Bluetooth clip connector.
Pros
Upgradable firmware
Downloading dive data is easy
Can handle up to two nitrox blends
Cons
The cycle menu can be annoying
You can't set a depth alarm
Price
$279.95
Conclusion
Deep diving can be a pleasant experience especially when you invest in any of the best dive computers listed above.
FAQ's
Q. What is a dive computer?
A dive computer is a form of safety technology and a vital part of your scuba kit. It is a diving-assisted technology that provides accurate time diving data you need to execute a safe dive. When a person dives too deep, there can be severe damage to the body. The dive computer prevents this by calculating the dive depth and the time spent during diving to find the time to continue to dive safely.
Q: How to use a dive computer?
You use a dive computer by correctly reading the data provided in big digits on the dive computer screen. These data are:
No Stop Limits
The no stop limits allow you to make stops for air decompression when you are swimming up and the amount of time you need to stop.
Time
This is the total estimation of the amount of time you have been diving
The Dive Depth
Your depth level in the water
Dive History
Your dive history allows you to track your diving periods so you can safely engage in other activities before and after diving.
Ascent Speed
This data is concerned with how fast your swimming up to the surface. You would be altered for an emergency decompression stop when you have ascended wrongly.
Battery levels.
There is a readout on the watch that tells you your battery level.
Compass.
Not all dive computers come with a compass, but they are good to help you with a sense of direction when diving
Q: When using a dive computer, I should ascend (go up) at a rate not faster than?
When you ascend at speed greater than 30ft per second, you have ascended wrongly and too fast. Any of the best watches we have provided in this list will alert you when you have ascended incorrectly
Like this Article? Subscribe to Our Feed!
John is an avid researcher and is deeply passionate about health and finance. When he's not working, he writes research and review articles by doing a thorough analysis on the products based on personal experience, user reviews and feedbacks from forums, quora, reddit, trustpilot amongst others.