Check Out The Top 10 Garage Door Trends For 2016


Nothing says "Welcome Home" like a garage door that beautifully extends your home's personality. And nothing says jewels of the neighborhood like the trendiest garage door that boosts curb appeal as well as makes a good impression on guests. Your garage door takes up almost 40% of the exterior space of your home and it is often covered by a garage bay; thus, it deserves some attention.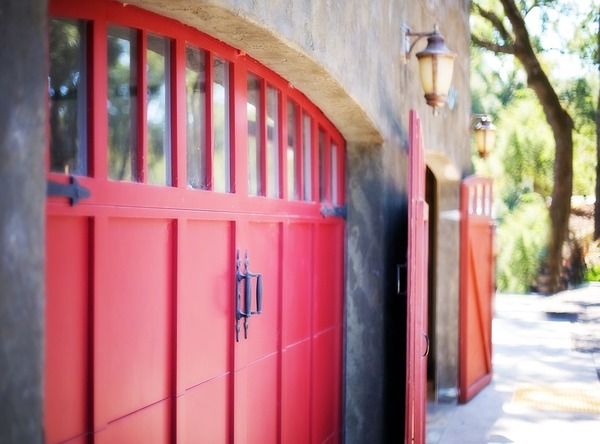 As 2015 ducks out of sight, we are looking forward to seeing more curb appeal garage door advancements of 2016. If you are looking for a new garage door, 2016 is the year to upgrade—especially with the most advanced technology, safety features and improved styles. So, let's have a look what you have to look forward to:
1. Garage Doors Keep Getting Bigger
I just love the way today's new homes are showcasing the garages as a significant part of the structure. The newest garage door designs are not completely integrated into a home's style, but still look pretty impressive on their own. This is a somewhat wonderful thing, because garage doors are getting bigger and still keeping up with the style, as well as curb appeal.
2. Multiple-car garages are all set for a comeback
Obviously, you don't want a massive door on the front side of your home, as you have more choices available for several bays. So, 2016 is all set to pitch the multi-car garages trend—the simple and uniform doors that avoid drawing much attention to themselves keep your home within it's architectural style.
3. Contemporary Windows
Garage doors with stylish windows will add a striking architectural element to the front of your home. If you are looking for a modern look, it is advisable to opt for a left-side door or offset aligned windows. Make sure to have windowpane; satin glass not only offers you privacy, but also adds a sleek addition to your design.
4. Bold Colors
I am so happy to see homeowners are embracing colors and ditching the white garage door. Homeowners are becoming bolder with their choice and want their garage doors to complement their home's exterior. Unique colors let the homeowners express their stylish personality, as well as design sense.
5. Faux wood
Wood has been always the first and foremost choice for garage door material since it's timeless as well as stylish. However, real wood is not the most affordable. Iif you still wish to have a wooden door, you might be surprised to see how realistic and high quality faux wood is. Faux wood is not just affordable, but it is easy to maintain and it is one of the most suitable choices to improve your garage's insulation.
6. Garages Aren't Only for Cars
Homes and businesses alike can benefit from their garage; I have seen so many families using their garage as an additional room in their home. Spare bedrooms, workshops and family rooms are some of the examples of what homeowners are creating with their garage. Many families are becoming larger and they need extra room to accommodate everyone comfortably. Turning a garage into bedroom means everyone has a place to sleep.
7. Harness the power of future technology
A machine to machine technology is bringing innovative solutions to nearly every industry. By making use of your phone and simply swiping a finger, you can easily see at a glance if the door of your garage is open or locked. You can have complete details, like the temperature of your home and when was the last time back door was used, and more insights about your garage from any corner of the world.
8. Insulated Garage Doors – Keep the Outside Out
A garage door has not been limited to storing your car; thus, homeowners are looking for different ways to make the room even more comfortable. This is the reason insulated garage doors are most in demand. Insulation helps to improve the home altogether. This is very effective when the garage shares an adjacent wall with a room inside the house. The upgraded insulation will add control over your heating and cooling system to reach a set temperature; that means heat and air will be trapped inside. So being a homeowner, you can save more money on your energy bill.
9. Maintenance-Free Garage Doors
Garage doors and openers are becoming more streamlined, as well as efficient, as many companies are providing on call, 24/7, same day maintenance or installation service to solve any challenge on the largest moving object in the home. So, it is advisable to go for Precision Garage Door Service for inspection, maintenance and service.
10. Customization
Digital eCommerce shopping has transformed the tedious shopping experience to a seamless fun-loving experience. So, now you are not required to visit showrooms to find the perfect garage door for your home; with a few clicks and interactive menus, you can choose your desirable garage door from the comfort of your home. You can also compare the product and get your desired product within a few clicks of your mouse.
The garage door is an opportunity for style, personality and resilience. It's a trend of time and current ideology. Every homeowner wants to express their self with stylish personality, as well as their unique sense of design. Increased family sizes mean extra living space and
bonus room to accommodate everyone comfortably. As these factors will change, the garage door trend will also change with them.
Conclusion
So, will 2016 be the year of the new garage door for you? The above 9 trends are my pick for the top garage door trends in 2016. Did I get it correct or miss the mark? Your garage door has always said a lot about your home. So, choose a trendy garage door and express your stylish personality.
I would love to hear your thoughts in the below comment box, with the above latest trends in mind get in touch with our Precision Garage Door Service.