Why You Should Buy a Soundbar for your 4K TV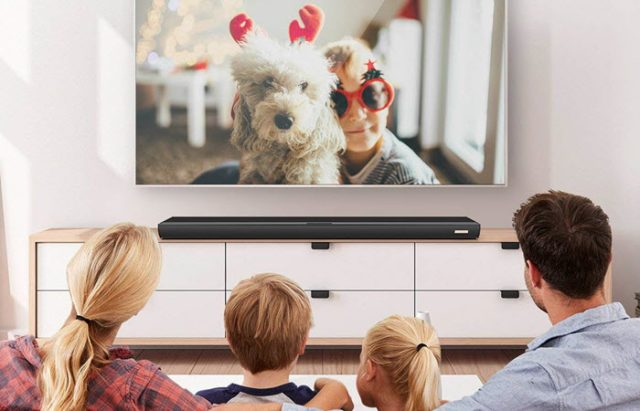 As televisions evolve, so do all of the equipment that go with it. You bought a 4K television because you wanted a crystal clear picture with bright and bold colors. It follows that your sound quality should also be top-grade. This is why many people have started to buy soundbars for their home entertainment system.
What is a Soundbar?
A soundbar is a one or two-piece system that functions as speakers for your 4K television. They're specifically designed for people who are not able to install freestanding speakers for their television. Additionally, the sound output quality of just about any soundbar is infinitely better than you'd get with your traditional television speaker system.
These devices are designed to fit seamlessly into a very compact and slender space. Soundbars generally only use two cords when you hook them up to your television. This eliminates the problem of clumsy cords hanging out the back and around your entertainment system.
Most soundbars also play the sound back to you in surround sound. This allows you to immerse yourself in your show without taking up the usual space that a traditional surround sound system would. There are several speakers built along the entire length of the soundbar. You can set them and choose which output you want to use.
Deciding Between a Soundbar and a Sound Base
When you start searching for a soundbar, you'll notice very quickly that there is a subcategory called a sound base. Both of these devices perform the same action. They give you crystal clear and uninterrupted sound quality. However, a sound base is designed to sit on a shelf or TV stand. They're durable enough to support your television's weight. Additionally, a sound base can't be mounted on a wall as a soundbar can.
Why Get a Soundbar?
If you're thinking about buying a soundbar, you obviously want better sound quality than your typical television speaker will give you. You'll get greater clarity, a richer sound, and an overall better experience when you use a soundbar. Additionally, soundbars also support:
Dolby Atmos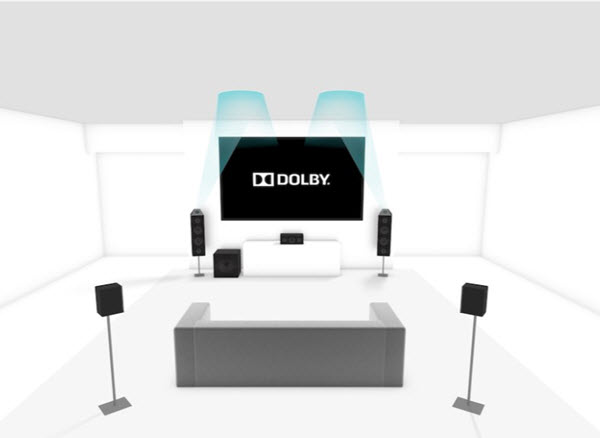 Dolby Studios released Dolby Atmos to take their viewers listening experience up to the next level. They added layers and layers of sound to a traditional listening experience. This layering was made possible because the rich sound comes from above the listener. Any sound you hear can travel in a variety of directions. In turn, you get a surround sound experience that's better than ever before.
DTS:X Sound
To get the most out of your 4K television, you want to be able to experience the sound that comes with your UHD-Blu-rays. This is known as DTS:X sound. A soundbar can take this clear audio and magnify it, so you get full room-filling sound. Additionally, it can help to project it around the room. It turn, you'll get a viewing experience that matches your 4K television.
Types of Soundbars
There are generally two different types of soundbars available. They both perform the same task of enriching your audio experience. The mounting system is what makes them different.
Traditional Soundbar
A traditional soundbar is designed to sit right in front of your television. Some companies are designing them to blend right in with your television to increase the overall aesthetic appeal. They're very slender in build. This makes them easy to set on a smaller television stand without a problem.
Wall-Mounted Soundbar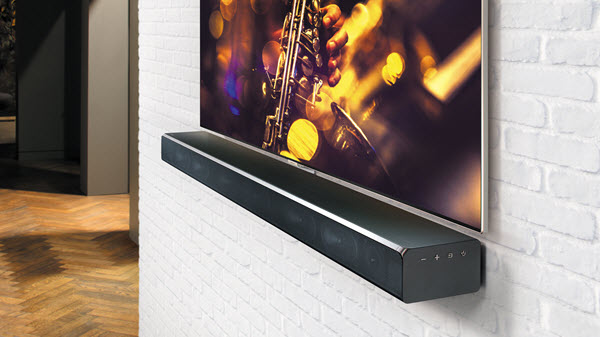 The second type of soundbar available is the wall-mounted soundbar. This is a great alternative for people who want to hang their 4K television up on the wall. Mounting your soundbar on the wall creates a clean and sleek look. You get mounting hardware included when you buy your soundbar. This allows you to install it yourself quickly and easily.
Reasons to Invest in a Soundbar
There are several reasons why people choose to purchase soundbars for their home entertainment systems. They include:
Aesthetics: A soundbar can add a clean and modern look to your entertainment system. They're designed to be sleek, space-saving, and they appeal to people who like the more modern design.
Audio Projection: As we mentioned above, soundbars can project the audio up toward the ceiling of your room. This will cause the audio to come from all angles when you use the soundbar. You'll be able to immerse yourself with clear, room-filling sound.
Sound Quality: People want their sound quality to match their new 4K television quality. A soundbar gives a sound quality that is unmatched by traditional television speakers. This includes the speakers on your new 4K television.
Subwoofer: If you're after that deep bass sound, you can purchase a subwoofer to add on to your soundbar. You can also find a soundbar that comes with an additional subwoofer included. This will let you experience the entire range of sounds each time you use it.
When it comes to buy soundbar, there are several important benefits that come with this purchase. It's important that you shop around and compare various options, so you're sure that you find the correct soundbar to suit your needs. If you do this, you'll get a sleek addition to your home entertainment system that gives you sharp, clear, and rich room-filling sound quality.
SPECIAL PROMO:
Buy on amazon : https://amzn.to/2JsRJDG
30% off coupon when check out : 303NVBPH