Best Proofreading Courses Online in 2022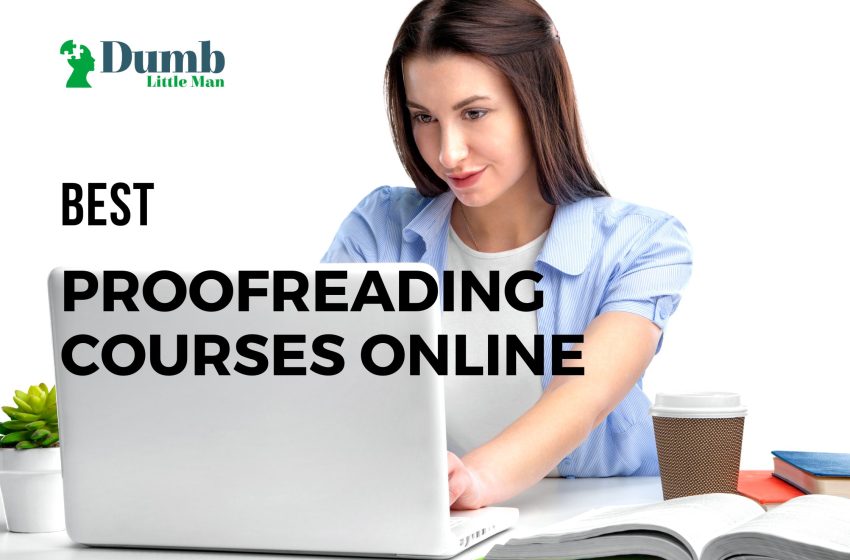 At face value, proofreading often seems like a very simple job to do. After all, what could be harder than just reading a piece of text and fixing grammar here and there? But there is more to proofreading than that in fact, if you want to make a career as a freelance proofreader, then you will need to learn some of the proofreading skills used by top editors.
That way, you will be able to take a holistic approach to proofreading and deliver exemplary value in every text that you edit. The good news is that you don't have to attend a physical proofreading academy to learn editorial skills. With proofreading courses online, anyone can become a professional proofreader with time.
However, there are many online proofreading courses these days. Each of these courses is designed for people who want to enter the freelance proofreading business. Sadly, not all of them give you the kind of value you need. But don't worry. We searched the internet and analyzed a myriad of courses to come up with the list below. Keep reading and learn how you can become a professional proofreader with these courses.
Best Proofreading Courses Online
| Broker | Best For | More Details |
| --- | --- | --- |
| | Creative Professional | securely through Creative Live website |
| | Experienced Proofreaders | securely through Proofreading Academy website |
| | Professional | securely through Wordvice website |
| | Aspiring Freelancer | securely through PaperTrue website |
| | Students | securely through Skill Share website |
| | Beginners | securely through Proofread Anywhere website |
| | High-Level Proofreading Pro | securely through Edit Republic website |
7 Best Proofreading Courses Online
#1. Best for Creative Professionals: CreativeLive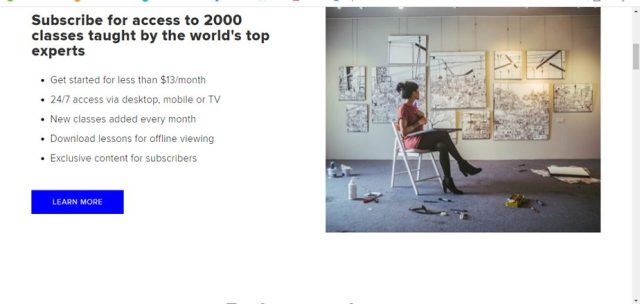 CreativeLive is not a proofreading training platform per se. Instead, it is a comprehensive education company online that offers over 2000 lessons, including editing and proofreading for journal publishers.
It is one of the most revered platforms with highly skilled tutors and superb educational tools for both beginners and professionals. However, the platform is most suited to writers in the creative space who want to write pieces free of grammatical errors. The skills taught here are also quite diverse.
How does it work?
CreativeLive is a full-service educational platform that allows you access to its 2000 courses under one monthly subscription fee. Think of it as a Netflix for courses. Access to these courses starts from as low as $13 a month.
You also get 24/7 access once you sign up with new courses being added every day. There are also several free classes and you are allowed to download various courses to study offline. Simply head to the CreativeLive website, sign up for an account, and start learning.
Pros
One of the most affordable platforms with monthly subscriptions starting from $13 a month
You get a huge variety of course options with vetted tutors around the world
It takes just a few minutes to get started
You can also download and store a course for future use
Courses are updated on a regular basis as well.
Cons
It can be hard finding the exact proofreader course you need due to a huge variety
The monthly recurring fee can add up in the end to a lot
Price
Unlike the other course platforms in our list that charge a one-time fixed price to access essential proofreading for spelling errors and editing, CreativeLive charges a recurring $13 fee per month to access its collection of courses. There are no other hidden fees or upfront costs.
#2. Best for Experienced Proofreaders: Proofread Academy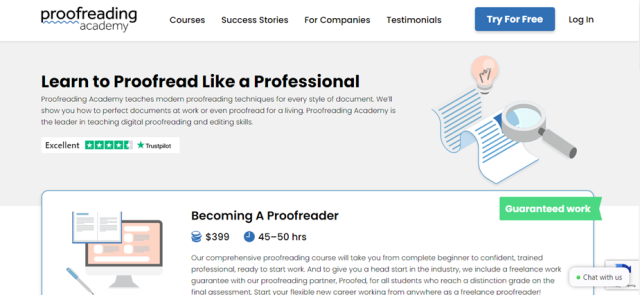 In case you are searching for a proofreading course to help you sharpen up your editing and writing skills, then Proofreading Academy is the place to be. The platform is most suited for experienced editors. It offers a 50-hour rigorous proofreading course that includes the basics of Microsoft word and so much more.
The training program also offers guaranteed work as a freelance editor once you are done with online education. You don't just get to learn important skills with this course but also access to work opportunities that should help you earn some decent revenue.
How does it work?
Proofreading Academy is one of the few online education companies that allow you to try its courses for free. You don't need any commitment. Also, the courses are geared toward both individuals and companies.
So, once you are on the website, make sure you choose accordingly. The Proofreading Academy is a 50-hour course that has 15 modules, each with a full assessment. It requires a lot of time commitment but it is surely worth it.
Pros
The course is very comprehensive, making it perfect for professional proofreaders.
You get up to 50 hours of training including editing skills for Microsoft word
One of the more affordable proofreading courses on our list
You also get a free trial to test out the course
Cons
The course will need you to commit and dedicate time
There is no training on how to start an editing business for the publishing world
Price
Like the courses we have already reviewed above, Proofreading Academy also features a single one-time payment that allows you lifetime access to its proofreading course. You will pay around $399 so it's generally cheaper compared to the other courses above. But in case you are still not sure if Proofreading Academy is for you, you can try a free trial and see how it goes.
#3. Best for Professionals: Wordvice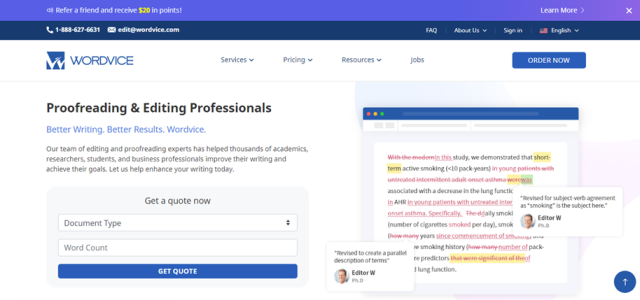 Wordvice is a proofreading and editing company that provides services for creative writers, academic writers, and so many others. While it is not a training platform per se, it still offers a series of incredible resources that you can use, including a formatting test.
You also get writing guides, how to proofread citations and academic references, and so many others. The platform also has general proofreading jobs for people who want a career as a freelance editor in a fast-paced organization.
How does it work?
If you have some question marks about your proofreading skills and would love to learn from Wordvice, just head over to their website. But there is no need to create an account. Instead, head to the tab marked "resources". Once you click it, there will be a drop-down menu giving you a huge variety of info about proofreading and what it's really about.
Pros
The platform offers job opportunities for folks who have the needed skills
You get a comprehensive learning experience that cuts across academic and creative writing
You don't need to open an account to get started
Every material offered here is free of charge
Cons
The courses are not customized or tailored in any way
You will not also get one-on-one tutoring from professionals.
Price
Well, all the essential proofreading materials offered by Wordvice are actually free. You can simply access them as part of the resources section of the online proofreading service. There are no hidden fees and you don't have to sign up for an account at all.
#4. Best for Aspiring Freelancers: PaperTrue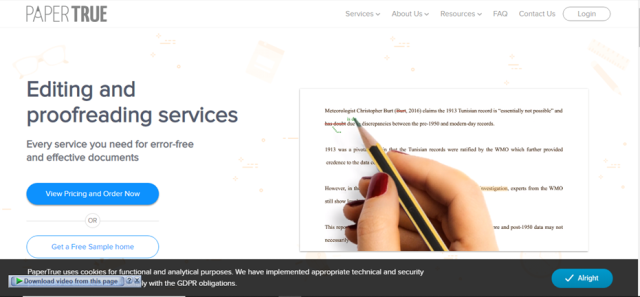 PaperTrue is actually more of a professional proofreading service designed to help organizations with their editing needs. However, it still offers training for people who would want to join this industry.
Although the training is not as comprehensive as you'd expect from say a Udemy course, it is still good enough to set you on a path towards editing your own work. You will also get a proofreading exercise with every session to ensure you are updated.
How does it work?
To take advantage of PaperTrue, start by heading to their main website. Once you are there, head to the resources section and access the training materials available. The section is updated very regularly to give you up-to-date info about proofreading and how to do it right. In that case, you may want to check back regularly just in case.
Pros
The platform has a publishing training center with dozens of tips and tricks
All the info offered here is free of charge
You can apply for an online proofreading job once you are done
The firm also gives you practical hands-on skills in this area
Cons
The courses are not as comprehensive as with the other providers
You will need to learn mostly on your own
Price
The materials that PaperTrue offers as part of its proofreading training are free. Remember this is a proofreading company that charges fees for people who want to access its professional service. But for the training alone, everything is free.
#5. Best for Students: Skillshare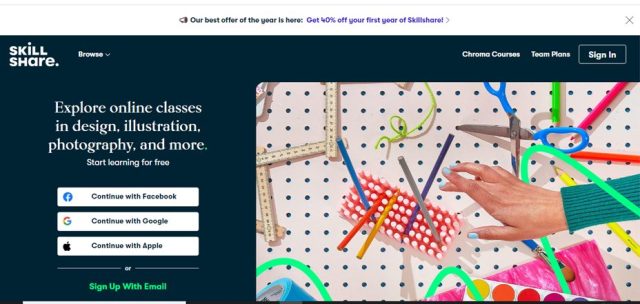 Skillshare is also an all-inclusive skill learning platform that gives users access to a myriad of creative courses. Although editing and proofreading are offered, Skillshare is more of a marketplace, featuring hundreds if not thousands of courses around creative arts.
Skillshare markets itself as a lifelong learning platform with repeat clients who want to grow into their crafts. You will get the first month for free after which you can pick the annual plans to continue accessing these exciting courses.
How does it work?
So, first of all, go ahead and sign up for an account at Skillshare. You can sign up with Facebook or Google if you wish. Also, the platform provides courses for both individuals and teams. Make sure you chose accordingly.
Once your account is created, you can decide to try the platform for free for one month or basically choose a pricing plan and get the full experience. Either way, you will enjoy a superb variety of courses including an introductory course on power basics and more.
Pros
Gives you broad access to a wide range of creative courses at one single fee
You get thousands of courses to choose from with different tutors
Getting started takes just a few minutes
Flexible pricing plans for all students
Cons
This is not a proofreading specific platform
It can be hard navigating through this huge variety of courses
Price
Skillshare offers three pricing plans. The starter package starts at $159 a year. However, as for the two other packages, the platform offers custom pricing. In essence, you will need to get in touch with the sales team and they will give you a tailor-made price designed to cater to your needs.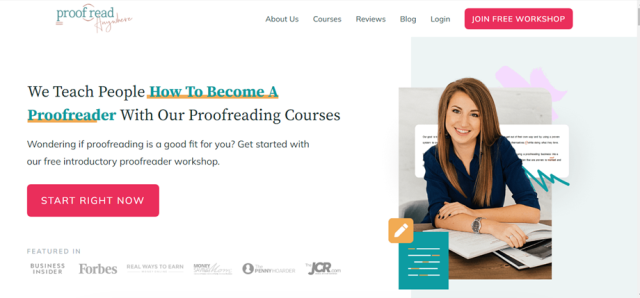 Proofread Anywhere is a beginner proofreading course designed to give you all the proofreading basics you need. The course targets mostly students and has been doing this for the last 7 years. So far, tens of thousands have used the proofreading tips and editing tools taught under this course.
The course also teaches you more than just proofreading. While you will learn superb editing skills, you will also learn how to market your skills and start attracting proofreading gigs easily. The course materials here are tried and tested, simple to understand, and you also get hands-on proofreading tests to get you over the line.
How does it work?
So, the first step is to head over to the Proofreading Anywhere site. Click on get started. You will be redirected to the sign-up page where you can open an account. This takes a minute or two. After that, you will see multiple courses on the website. Choose the proofreader course that suits you best, proceed to check out, and wait for a confirmation.
As soon as everything checks out, you will be able to access the proofreading materials offered here, including a 76-minute free workshop and a host of other materials designed to up your copyediting skills. You can learn as fast as you want with Proofread Anywhere. Also, the proofreader online courses are updated on a regular basis to ensure you maintain your writing ability in your own work. There will also be two proofreading tests or more across the entire duration of the course.
Pros
Offers comprehensive training for aspiring professional proofreaders out there
You also learn how to market your freelance career in proofreading
The program also lets you learn at your own pace
Simple course content with regular updates to ensure you grow into a professional editor
Superb track record, having trained over 15000 students.
Cons
The course has several upfront costs that may be off-putting to some learners
It requires a lot of time and commitment due to its comprehensive nature
Price
Proofread Anywhere is a comprehensive training program designed to give you lifetime access to its training program with one single fee. However, the fees are not standard and will depend on the type of course you want. But despite this, there are so many free goodies for aspiring proofreaders who want to build a successful proofreader career.
Nonetheless, you get two pricing plans. The first is the Ignite plan which comes for $497 and the second is the Ignite plus which comes for $597. These fees are inclusive of the final exam and other additional copyediting and proofreading skills needed.