13 Best Free Art Programs • Top Free Art Programs   Products of 2023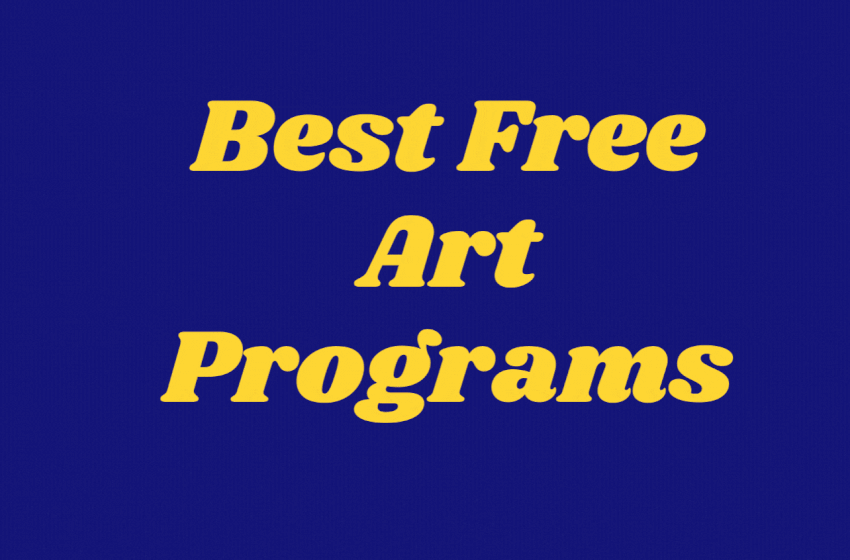 Digital art is both enjoyable and rewarding. Designers may now generate excellent visual representations utilizing their computers and other digitally savvy gadgets, thanks to numerous significant advances in technology.
Drawing software for PC lets users create real works of art using a wide range of built-in tools, effects, and colors, which can be exported to several file formats.
On the other hand, if you're searching for the best free drawing software alternatives, worry no more. This article introduces some of the finest and best free drawing software available on the market today, as well as their highly competitive and attractive features.
Best Free Art Programs in 2021
13 Best Free Art Programs
#1. Top Consumer's Choice: Corel Painter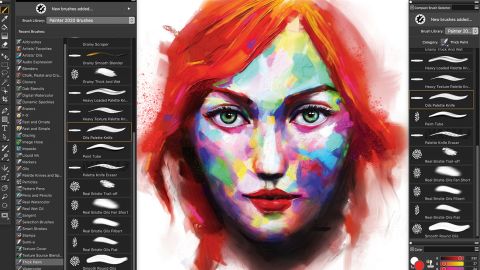 Corel Painter is well-known for its thorough and daring approach to natural media reproduction and digital painting effects. With features that are appropriate for everyone, from beginners to experts,
Corel Painter expertly mimics a wide range of creative mediums, providing a dizzying assortment of brushes and artistic media from which to select.
This effectively turns your PC or laptop into an art studio, particularly when combined with a graphics tablet like the Wacom Intuos 5 or, if you can afford it, one of the pro-level Cintiq products.
It epitomizes the new term natural media, providing users with an unmatched hands-on, nearly tactile approach to digital painting. However, the learning curve for Corel Painter 11 may be a little high for novice users.
How does it work?
With its new version, the Corel Painter 2022, you can isolate a layer only to show the specific layer content to stay organized if you utilize multiple layers. Numerous layer upgrades make the work more accessible, such as collapsing and moving numerous selected layers.
Its captured panel is also helpful on which it allows you to replace brush tips that you can save and customize. There are also preset Dab Effects that will enable you to get multiple looks from each dab. Its Captured Dab library gives you to alter the brush's face without changing the settings inside the meeting.
Virtual brushes of this free drawing software are alphabetized and put into categories with a filter feature for convenience. It also has an upgraded button feature which you can keep your favorite brushes on the go in a custom palette, plus the brush size library gives you an easy turnaround to your most used brush sizes.
An improved stroke preview panel is one of the most noticeable – and helpful – new features. This displays what each stroke will appear like when you hover over it before applying it to your canvas, which we found very helpful for previsualizing and planning the direction we wanted to take our painting.
Pros
More fun and intuitive to use
Brush preview is fantastic
It contains a variety of brushes and media that you can use
Very accessible and easy to learn and familiarize
Cons
Has many functional bugs
Fewer advanced controls
Price
Corel Painter: $429.00 as a one-time purchase or $199/year subscription fee
#2. Most Popular Digital Painting Software: Paint Shop Pro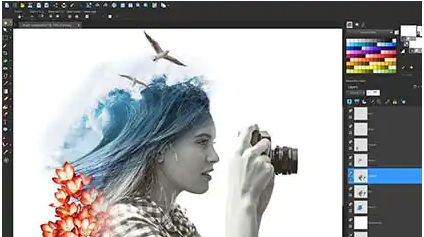 Corel PaintShop Pro is a professional picture editing program developed for photographers and photography lovers searching for a Photoshop alternative.
It's an intriguing solution since it focuses on the user and allows you to release your imagination and create stunning graphics.
You can effortlessly clear your photographs of imperfections, improve them with rapid changes, add fun and eye-catching effects, and much more thanks to the extensive set of professional editing tools provided by this photo editor.
The user interface is clear and easy, and the range of learning tools available to you, such as video and textual lessons, will undoubtedly assist you.
How does it work?
Paint Shop Pro is image-editing software that is quicker and more versatile, with more creative tools, more accurate editing, and simple quick repairs for your greatest photographs and ideas.
Corel spends a lot of time and effort developing and adding capabilities to the venerable image editing software, using user advisory boards and program data to determine what customers want.
AI Background Replacement, AI Portrait Mode, and a much better AI Style Transfer are among the new features in the 2022 edition. It also includes support for the HEIC and HEIF file formats used by iPhones, as well as an enhanced Welcome and startup experience.
The upgrades include new brushes, color palettes, gradients, patterns, and picture tubes, as well as a Frame tool for inserting pictures within forms.
Pros
Photoshop-like capabilities at a reduced cost
Effective effects and editing tools
Extensive assistance and tutorials
A good selection of vector drawing tools
Cons
The program is not compatible with macOS
Operations are slower with an inconsistent interface
Price
Paint Shop Pro: $79.99
Paint Shop Pro Ultimate: $99.99
Paint Shop Pro Photo Video Bundle Ultimate: $139.99
Paint Shop Pro Photo Mirage: $69.99
#3. Most Interesting Open Source Painting Program: GIMP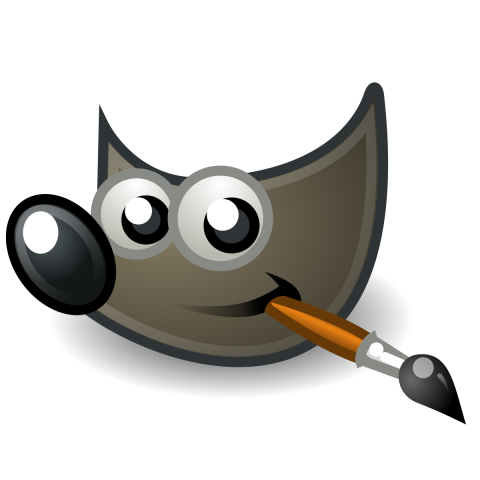 GIMP is a free and open-source image editor with a variety of professional-quality features that can compete with other art software. Its outstanding montage capabilities enable users to fine-tune photos/images and create artwork from scratch quickly.
It also has sophisticated tools that include layer masks, filters, animation package, and Bezier curves. It also supports pre-installed or downloaded plug. It is noteworthy that they are composed of the following plug-in scrapping, color correction tools, configurable brushes, noise reduction, gradients, and automated picture improvement tools.
GIMP offers all of the advanced capabilities that photographers, graphic designers, and illustrators seeking the most practical method to get the job done will appreciate. GIMP, in addition to being open-source software, is readily extendable. Its numerous customization options and compatibility for third-party plug-instable the user to increase productivity.
Drawing tools such as this one is entirely free, but that doesn't mean it skimps on functionality. Overall, the program is a force to be reckoned with among the finest free picture editing apps, and it's the perfect bundle for geek photographers who prefer to keep their working area under control.
How does it work?
The software has a standard interface that follows the layout of high-end graphics paint software. Its graphic user interface has been designed to be cleaner and faster, which is divided into three sections that include the primary editing area that comprises the following: layer, toolbox, undo, paths, and channels.
Although GIMP may not have the complexity of professional picture editing applications, it has all the necessary editing capabilities, commands, and tools. The program goes beyond the fundamentals by including sophisticated editing capabilities such as channel modification.
It enables simple conversions from one picture format to various formats while maintaining the original quality and removing any compression so that the image looks just how you want it to. GIMP not only allows you to work on pictures of any type, but it also allows you to edit and generate GIFs by using various layers.
GIMP is a massively influential, modular-extensible picture system that can handle the most challenging retouching tasks while creating images and animations and allowing for almost unlimited file format conversion.
Pros
Provides essential editing tools and features
Completely free and open-source
Allows editing to various file formats
Has a slight learning curve to be familiar with
Cons
It contains fewer features compared to other paid software
Downloading the software is slow since this free drawing software includes an ample file
Price
GIMP is an open-source and FREE tool that you can download from its website.
#4. The Ever Dynamic Free Painting Software: Clip Studio Paint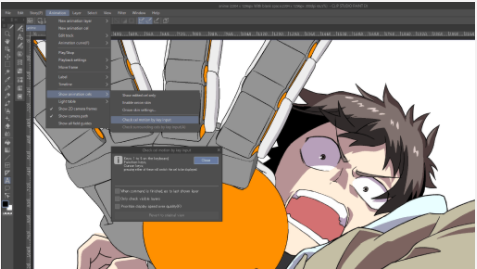 Clip Studio Paint is an excellent and best drawing software for artists and a fantastic choice, particularly for comic artists and beginning artists like yourself. It offers an extensive collection of brushes, as well as a market where you can purchase brushes designed by artists who use them.
It includes excellent sketching tools with a good selection of customizable brushes and layout capabilities for creating comics and other forms. It also has impressive editing and adjusting capabilities.
It has a diverse set of features, ranging from sketching and painting to comics, storyboarding, photo editing, and the most recent addition of animation. It comprises the standard art software features, such as color palettes, layers, canvas flipping, configurable brushes and rotating, a preview/navigation window, layer/selection transformation, and so on.
The most significant feature of CSP is its community. It's global, and if you have a query or a problem, it's not challenging to locate someone in an art community who can help you sort it out. They have frequent webinars where you can connect with artists and see how differently they utilize this program to produce beautiful things.
How does it work?
Clip Studio Paint offers plenty of exclusive capabilities and significantly speeds up and simplifies the drawing process. This includes all the features such as vector lineart, which feels identical to drawing bitmap lineart but can be changed in weight or easily bent and moved without sacrificing quality, as well as a subview menu that allows you to choose colors from reference pictures quickly.
It also includes more specialized capabilities like pen stabilization, vector drawing tools that appear just like their comic tools for adding frames, raster equivalents, text, speech bubbles, and 3D mannequins that you can position and draw over. The 3D function also enables you to import your models.
The flow, the brushes, the canvas, and the export choices are all excellent, and the comic software section includes various drawing and painting tools that provide amazing variant effects for comic tales. This software also enables you to perform animation while still using all of the painting tools.
Overall, it's a fantastic piece of software that proves every aspect of Clip Studio Paint was built from the bottom up with artists in mind, and the list of features continues to expand.
Pros
Can build a whole comic and immediately send it to platforms, or you can design for print.
Allows you to animate everything on a single screen.
Can sketch in vector and then correct the whole drawing without having to start over.
More brushes available to be used
Cons
Can't export drawings in SVG
The timeline is a bit complicated to understand
Price
Clip Studio Free Trial: Available
Clip Studio Paint Pro: $49.99
Clip Studio Paint Ex: $219.00
Clip Studio Paint (Upgrade Pro to Ex): $169.00
Clip Studio Paint (Upgrade Debut to Pro): $44.99
#5. Top-notch Free Painting Software: Krita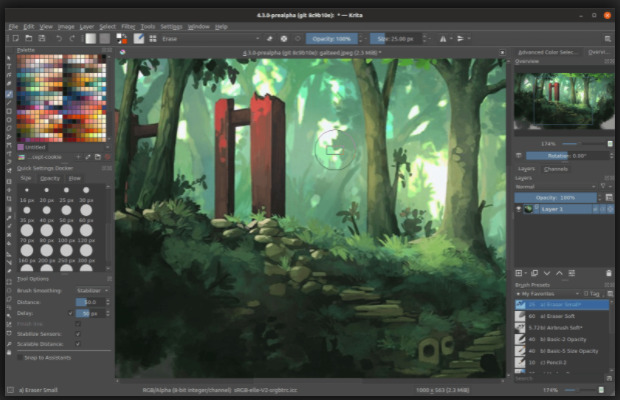 Krita is an open-source illustration software that is available for free to the public. The program specializes in painting and is ideal for creating oil-inspired artwork, concept art, comics, and other projects.
Krita has been around for a long time and has always focused on digital drawing. The creators' dedication to developing quality software shines through, drawing software that everyone from amateurs to professionals can use daily.
However, Krita lacks a dedicated support staff. Instead, you may submit your queries on active community forums. There are additional FAQ sections where you should find the majority of your answers. The individuals who respond to the questions on these boards are all volunteers.
Start using Krita if you want to work as a freelance digital artist or maker. The program is strong and will not drain your bank account since it is free! The tools are fantastic for illustration, and the company is constantly striving to improve the program.
How does it work?
Krita is a fantastic image editor that comes in handy when creating pictures for our articles. It is simple to use, very intuitive, and its features and tools provide us with all of the choices we could need.
Krita is an excellent professional-level digital illustration program. The program is robust and packed with valuable features. The most significant part about Krita is its easy-to-use interface and a large selection of brushes. It also has some of the most refined animation tools capabilities I've seen, particularly for free and open-source software.
The program concentrates on digital drawing and avoids overwhelming the user with too many buttons and features instead of maintaining a clean and structured layout. Krita has a wealth of documentation to assist users in quickly mastering the software.
Its layer tool allows for simple handling in any animation, such as multiple-level layer groups, drag & drop layers, and quick access to the color ring picker.
Pros
Designed best for any illustration
Completely FREE
It has a vibrant community for support
Easy and straightforward to use
Cons
No customer service
It can only be used in a desktop version
Price
Krita is a FREE tool that can be downloaded on its website.
#6. The Free Painting Software with an Endless Canvas: Mischief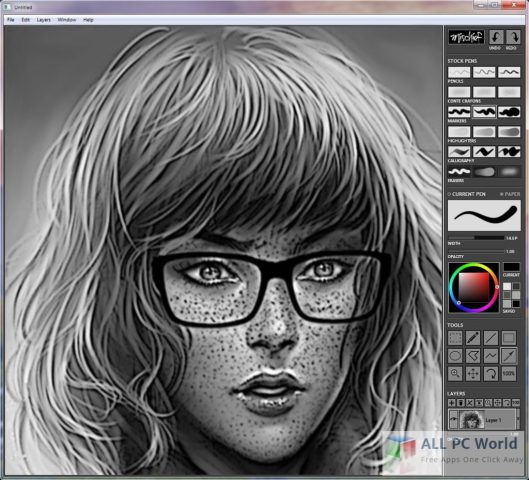 Mischief is a program that allows you to create and collaborate on an endless canvas in a novel manner. Mischief removes the constraints of notebooks and whiteboards, allowing for free sketching and mapping of ideas throughout the brainstorming and concept development process.
The program is developed for Windows and Mac operating systems to be as smooth and user-friendly as possible. This painting software introduced a new method to create digital pictures with an endless canvas and adjustable brushes.
The tool's limitless canvas and zoom are two of the main characteristics that make it an appealing proposition for every artist out there. It also enables users to add minute features that are largely invisible to the naked eye.
You may produce mind-blowing masterpieces while rethinking working in thirds, rectangular frames, or traditional notions of size and intricacy. While other programs slavishly follow the old standards of what art should be, Mischief tears them up and begins again.
How does it work?
Mischief is compatible with drawing tablets. Furthermore, its responsiveness is exceptional since it provides a natural sketching experience that creates a genuine sensation anytime you draw.
Its realistic brushes are fantastic since they can export any canvas region in various formats such as PSD, JPG, and PNG media file formats.
It features a cutting-edge new stroke representation that provides the richness of pixel-based brushes and vector scalability. By utilizing a pencil brush and a paper textured backdrop, you can make sketches that appear nearly precisely like pencil drawings.
Mischief is a winner because of its vector scalability, raster sketching feel, simplicity of use, and low pricing.
Pros
Easy to use because all you need is to draw
Contains advanced new stroke representations
The viewable canvas can be exported to different media
The program is vector based which allows flexibility
Cons
It needs more brushes for full-usability
Needs more added features for advanced sketching
Price
Mischief FREE version: Available
Mischief Pro: $25
#7. Best Drawing Software for Beginners: MyPaint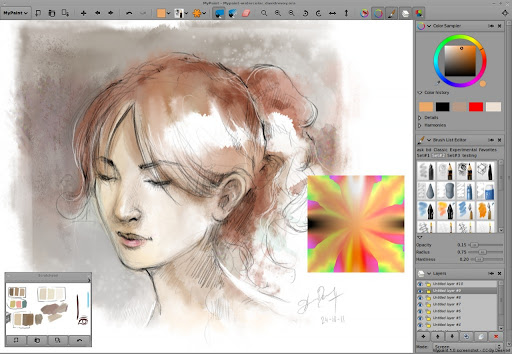 MyPaint is a raster graphics editor for digital painters that focuses on painting rather than picture modification. It is compatible with graphic tablets and other similar devices.
It is a quick painting drawing software that focuses on full-screen usage. It allows you to concentrate on the art rather than the software. You work on your canvas with few interruptions, simply bringing up the interface as necessary.
MyPaint has a wide range of brush choices tools that you may utilize, giving you a greater capacity to create the creative style you are looking for. With the variety of options available, you may make a more realistic painting approach if that is what you want.
In addition to a basic GTK + 3 interfaces, the program includes limitless canvases, texture packs, customizable brushes, support for graphic tablets, and a full-screen mode with no distractions. Its default file format is Open Raster, although it also allows storing pictures in PNG and JPEG.
Aside from that, it is a free tool that you can use without paying for it. You may connect it to your digitizing tablet to have greater control over the design of your creations.
How does it work?
MyPaint works with pressure or tilt-sensitive graphic tablets and has a simple brush selection. It includes a simplistic interface for generating custom brushes, with an emphasis on brush dynamics.
It includes various brushes and pencils, native stabilization, and a beautiful Lines and Curves tool that works well with a mouse. You may also see the Pressure Variation for Lines and Curves in real-time. Furthermore, the GUI does not take up extra space.
It enables you to express yourself more simply than other painting tools on the market, and the choices provided are beneficial. It allows you to create without needing to be a web designer.
Its brush engine is sufficiently flexible and customizable to offer helpful and productive tools. You may create expressive and artistic results with its devices.
Pros
Many options for drawing and editing
Great for making quick load plans and canvas
Easy and convenient to use with its simplistic interface
Easy and fun to paint with its brush engine
Cons
Bugs sometimes occur though they can be fixed easily
Layer switching sometimes lag
Price
MyPaint is a FREE tool that can be downloaded on its website.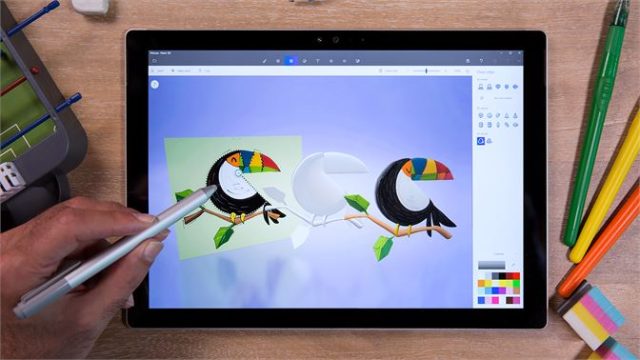 Microsoft Paint 3D is a dependable, stand-alone graphics editing tool. This drawing software is designed to assist both experienced and inexperienced artists in unleashing their creativity and bringing their ideas to life.
It's a reinvented traditional paint drawing software application with a fresh appearance and feel. Its wide range of brushes and editing tools allow users to create almost any dimension. It is available for free as a built-in program in Windows 10, so you may simply use the utility if you have this version.
The familiar but updated interface allows you to create 3D designs from scratch or use models in the built-in library. Brushes, 2D shapes, 3D shapes, stickers, 2D and 2D text choices, 3D scene effects, digital canvas, Magic Select, 3D view mode, history slider, and mixed reality are essential tools that allow users to bring their creative ideas to life quickly.
Paint 3D also includes a Remix 3D community where you may import, modify, and share your digital work with others. This is also a fantastic location to find and browse through other people's 3D creations.
How does it work?
Paint 3D allows you to build your creations from all sides, whether 2D masterpieces or 3D models. It has an added sophisticated modeling application component that maintains a lot of the menu structure and user interface.
Paint 3D has several tools that give a new dimension to simple picture creations. 3D sketch tools, package the setting, export video, and generate quick cutouts are all included in the set.
It allows both novice and expert artists to express and realize their ideas. It also has additional capabilities that give you greater flexibility to create with various brush dimensions and other editing tools.
Canvas 3D also fully interacts with Remix 3D, allowing you to import, modify, and share your artworks, as well as export films of your workflow from start to finish for others in the community to witness.
Pros
Can share 3D images online
Easy 3D image editing and creation
Integrated into Windows 10
Easy interface navigation
Cons
It doesn't have any standard image correction tools
Cannot extrude 2D objects
Price
Microsoft Paint3D is a FREE tool that can be downloaded on its website.
Check out Microsoft Paint 3D here
#9. Best for Digital Arts: Artweaver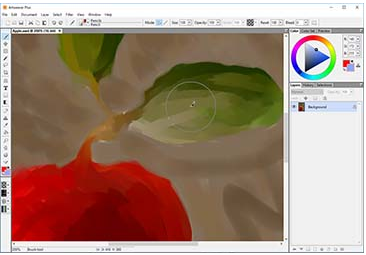 Artweaver is both an art supplies shop and a blank canvas in one. You may use it to build your masterpieces and explore the many built-in features such as paint, pens, calligraphy brushes, pencils, sponges, crayons, and meetings designed to look like renowned painters.
Artweaver is simple to install and remove, and it includes a comprehensive Help file that will be useful to newcomers to graphics software and creative experts. It's a powerful software with many capabilities that are usually only accessible in costly graphics programs, yet Artweaver is free.
Artweaver has everything you need to get started with artistic endeavors, including full support for layers and a large selection of brushes, as well as several effects filters.
Brushes are highly customizable, allowing them to be customized to very particular jobs. Support for transparency and the Photoshop PSD files means that not only can very spectacular results be generated, but it is also possible to work with files produced in another drawing software.
How does it work?
The UI of Artweaver is remarkably similar to that of Photoshop; thus, creative experts and amateurs who are acquainted with Photoshop will have no trouble navigating its palettes and windows.
The Artweaver's toolbox has many tools as Adobe Photoshop and other graphic drawing software, such as selection tools, move tools, color swatches, a paint bucket, and a clone stamp. Layers in Artweaver make experimenting simpler.
You may also create a backdrop layer and then another layer for brushwork so that you can paint without affecting the original background layer. Users have extensive control over each tool and may fine-tune every element of it using the control pallet.
Upgrading to the premium Plus edition of the software includes support for Photoshop plug-ins, photo editing, and the ability to save and replay onscreen occurrences, which may be used to teach methods to others. Large documents may be produced using Artweaver Plus, and you have a lot of flexibility over the brushes.
Pros
Customizable brushes that you can easily use
Has features such as mirror painting tools and perspective grid tool
Little to no program lag
Compatible with Photoshop plug-ins
Only supports TrueType fonts and not OpenType fonts
Utilizes RGB color mode only
Price
Artweaver FREE version: Available
Artweaver Plus: $39.31 yearly
#10. The Most Sophisticated Free Painting Software: PixBuilder Studio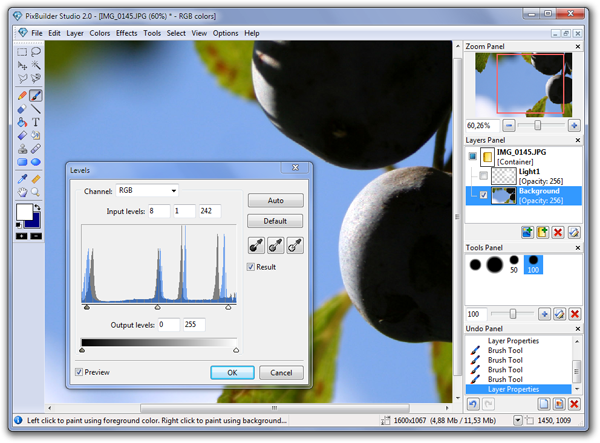 PixBuilder Studio is a sophisticated picture editing and image processing program. The program includes color management capabilities, picture rotation and scaling tools, and a variety of high-quality effects. Layers, multi-step undo, gradients, and masks make PixBuilder an excellent picture editing tool.
You can make graphics for the web using its save feature, plus your work will be more efficient due to the multilingual interface and configurable shortcuts.
PixBuilder Studio is offered as both portable software and a setup installer. In any event, the downloaded file size for this drawing software is just 3 MB. Amazingly, such a tiny free painting software has many capabilities that are typically only accessible in professional software packages.
Overall this is a powerful image editor with layers, color curve changes, and Adobe Photoshop 8BF effects. You may improve the features accessible by using these 8BF filters.
How does it work?
Many professional-quality features are available for digital picture editing in this software program.
You may also utilize the following color management features in PixBuilder graphic software: levels manipulation, brightness/contrast control, color balancing, and curves for professional results.
In PixBuilder, you may modify color channels to get excellent professional-looking picture editing results. Other complicated objectives may be achieved by using built-in high-quality effects such as various blur kinds, sharpen effects, and others.
PixBuilder program is also suitable for image processing and illustration creation since it supports layers, multi-step undo, gradients and masks, and text layers. You can always utilize the built-in shapes image editing or the versatile selection transform and management capabilities to create complicated raster forms and effects.
Pros
High-speed, lightweight, and compelling image editor
Supports 8BF plug-ins. The interface is very intuitive and simple
It supports layers and has many editing functions
Cons
It doesn't have many advanced features compared to paid apps
Lack of customer support
Price
PixBuilder is a FREE tool that you can download on its website.
Check out PixBuilder Studio here
#11. The Most Daring Digital Drawing Software: Gravit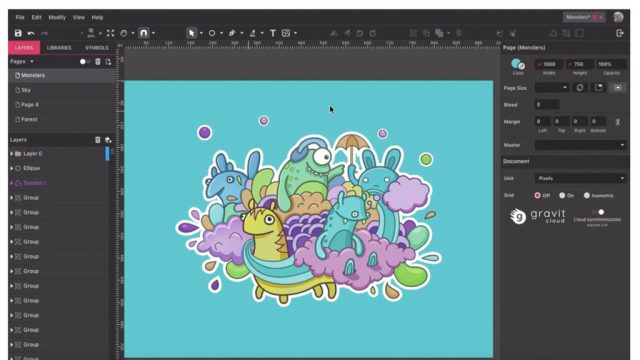 Gravit Designer is a full-featured vector graphics design tool for a product, graphic, and online designers. The software has a collection of solid devices that allow users to unleash their full creativity while creating beautiful and intricate vector graphics.
Gravit Designer uses UI design, graphics, and icons to build strong marketing tools, ideas, presentations, animations, and artworks, which may help turn your basic tasks into really spectacular outputs.
Gravit Designer's primary advantages are its free software, sophisticated and user-friendly dashboard, configurable interface, drag-and-drop capability, and extensive editing features.
The software itself is appealing since, in addition to being free, it provides a collection of useful features and tools that rival other solutions in its class. Gravit Designer is intended for graphic, product, or online designers who know what they're doing and need something more than a beginner's tool.
How does it work?
Gravit Designer is capable of revolutionizing the way you work with tools such as UI design, icons, graphics for marketing tools, generating fantastic concept art, animation, or presentations. Furthermore, this cross-platform software is free to use and works well on Windows, Chrome OS, Linux, and Mac platforms, and may run as an in-browser or desktop version.
Its sophisticated and helpful dashboard enables users to adjust the width and height of their papers flexibly. There is also an option for users to leave this section empty to reference the optimum dimension of their creations.
This software's highly configurable, simple, and clean interface enables users to browse and explore Gravit Designer easily. The interface allows users to open numerous documents and quickly access them through the tab shown in the upper right corner.
There are three visible tabs for libraries, tutorials, and layers on the left side above. The library tab has an extensive range of drag-and-drop capabilities. When utilizing the platform for the first time, users may go to the instructional tab for assistance. Finally, the layer tab displays a list of open layers and pages.
Pros
It has a customizable and intuitive interface
Lots of functions in a nifty environment
A cross-platform that is FREE
Fast and flexible tools tailored to art designers
Cons
Lack of shareable features
Complex to learn
Price
Gravit Designer FREE: Available
Gravit Designer PRO: $49 yearly
Check out Gravit Designer here
#12. The Ad-Free Graphic Design Software: Medibang Paint Pro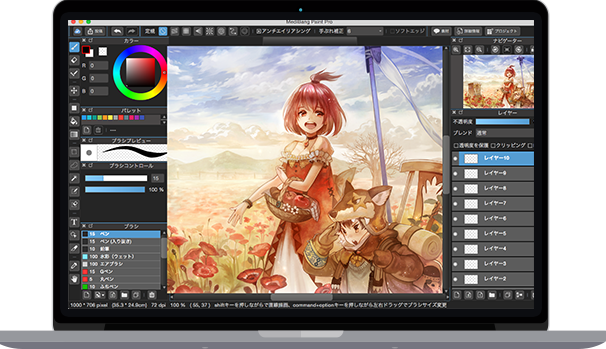 MediBang Paint is a free painting software that transforms your smartphone or tablet into a portable digital canvas, allowing you to create art virtually anywhere. Despite the lack of a price tag, MediBang Paint is free of advertisements, but you will need to sign up for a MediBang account to get the most out of it.
With MediBang Paint, you can have almost all of the capabilities of desktop painting software in the palm of your hand. It supports multiple platforms such as desktops, tablets, and smartphones.
Medibang is a drawing-focused app. As a result, it lacks numerous picture editing capabilities seen in other art applications and digital art tools. Because it is such a tiny, lightweight drawing software, it is very quick and responsive.
It enables you, the artist, to concentrate on producing precisely what you want rather than fussing about looking for this button or that tool.
How does it work?
When you choose your first blank canvas, you'll be given a quick tutorial on utilizing the different tools. The UI is clean and uncluttered, and it seems that much effort has gone into making it function on smartphone displays, where space is limited.
The software includes brush tools, tones, typefaces, and anything else needed for comic creation or illustration. MediBang Paint also provides cloud storage, allowing you to backup or transfer your work.
The user-friendly interface makes it simple to switch between brush sizes and color settings. It includes toolbars and palettes for tablet applications, and the menu system has been converted into buttons.
The tools are placed at the top of the workspace when you first glance at them. The menu functions are on the left, the shortcut bar is at the bottom, and the layers palette is on the right. There is a comic panel creation tool that allows you to make comic panels quickly.
You may select how thick your lines are by clicking the dedicated button, and a large panel with padding will be produced on your canvas. The panels may then be subdivided by cutting the large board. The distance between each forum may also be adjusted.
Pros
It comes with layers with complete blending modes
Very user-friendly and has an intuitive interface
Has cloud storage for backup purposes
Has an online community
Cons
Requires MediBang account to access features
It can be hard to familiarize at first
Price
MediBang is a FREE tool that you can download on its website.
Check out Medibang Paint Pro here
#13. The Enhanced Best Free Graphics Software: Paint.NET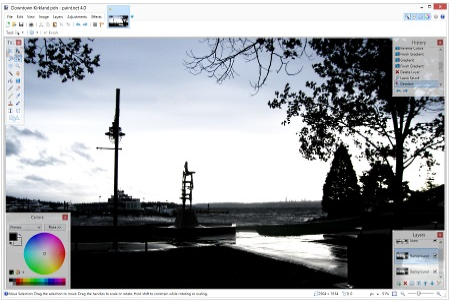 Paint.NET is a popular picture editing program for Windows users. The software is simple to use and has many helpful picture correction features that allow you to improve your photographs without sacrificing quality.
Moreover, Paint.net is a free picture editing program that may serve as a decent substitute for Photoshop. In reality, it has many editing tools that enable you to edit and improve pictures, eliminate defects, and apply filters and effects.
The desktop program has a configurable interface and editable layers, allowing for multi-level picture manipulation. The user interface of Paint.NET is essential, with numerous useful features that do not overburden the machine.
This software is a very competitive online picture editor that is also quite versatile and helpful. It is simple to use and capable of doing non-standard picture editing tasks.
How does it work?
The interface is comparable to Microsoft Paint's, with various brushes for special effects, drawing shapes, has a magic wand for faster editing, and a clone stamp for copying or deleting parts of the picture.
With this picture editor, you can quickly change the brightness, contrast, color, saturation, and image levels and eliminate flaws such as red eyes. Furthermore, Paint.net may be connected with other plug-into to add functionality, filters, effects, and compatibility for additional file formats.
You may also use Paint.NET to change an image's color, brightness, curves, contrast, levels, and saturation, as well as a variety of special effects that can sharpen, blur, emboss, distort, and eliminate that red-eye look with a few clicks. There's also a Gradient tool, a basic text editor, a powerful zoom feature, and a Clone Stamp tool to assist you in cleaning up blurry images.
Paint.NET is a pixel photo editor that can enhance the quality of a photo and make unique and creative modifications to it. Layers in Paint.NET allow you to modify individual parts of your picture or build an image from many distinct sections.
The Adjustments menu contains all picture-altering capabilities, including Hue/Saturation and Curves tools. In this drawing software, you may overlay and combine layers by selecting a "Layers" palette tool which you may go back to any point in the picture editing process.
Pros
I can quickly edit pictures to make them appear excellent and free of obvious flaws.
Easy to use with many useful features such as effects and functions
Organized user interface that has many plug-contains different file formats for saving images
Cons
Cannot manipulate photos such as deep skin retouching
Limited brush features and for Windows users only
Price
Paint.NET is a FREE tool that you can download from its website.
How We Rank the Best Free Art Programs?
The most delicate painting and best free drawing software provide various creative tools for artists of all skill levels, from beginner to professional. The amount of control you have over your medium is what makes the free drawing software so helpful. With these, we keep in mind these valuable things to get the most out of the art programs in the market.
Pricing
There are many best free drawing software and programs that range from the less expensive to the most expensive ones. But in this list, we have gathered the free ones that are mainly used for novice artist to start their journey in the digital art world.
Features
Distinct painting and the best free drawing software programs have different strengths and areas of emphasis. The features should be taken into account so that you can select the most features that can enhance your skills in digital art.
Integrability
Every art program should be integrated into the most used software in the present. It will let users fully utilize its capabilities with other media.
Support
To comprehensively improve not the software but also the skills of every artist, every art program should have a community that they can rely on or customer support to ask queries if ever they will encounter problems when using the program.
How to Choose the Best Free Art Programs?
To get the most out of an art program, it should include the following set of features:
Toolsets for Beginners and Professionals
Every drawing tool has a basic toolset that includes the essential drawing tools. The majority of it has a color palette that may be customized based on the user's preferences. The drawing software should also have sophisticated capabilities available on specific contemporary drawing tools that may help you enhance your creative methods and techniques.
Integration
Drawing text tools should connect with other products you use daily, such as picture editing software, Microsoft Office, and other design tools. It would be advantageous to incorporate external devices such as electronic sketchpads that can transfer pictures into the screen to facilitate work.
Pre-Built Effects
The drawing tool should include built-in effects and a set of plug-ins you may use to enhance your drawings and sketches.
Features for Import and Export
Users should be able to save and open drawings in various file formats using the drawing tool.
Template
It is beneficial to have built-in templates in a drawing tool that are professionally developed for use.
Conclusion: Best Free Art Programs
These are some of the finest and best free drawing programs and painting programs. Digital painters or artist has always faced technical obstacles in their work nowadays that they want to solve.
Digital is just the most recent media that artists have found in their desire to convey their tales, which are only limited by their creativity. Thus looking for good free drawing programs that you can use is very vital in every artist's dreams.
If you find the one that will match your taste, then have a trial test with Clip Studio Paint. It will provide you with a worthwhile and engaging experience to further enhance and improve your artistic ways.
Free Art Programs FAQs
What is drawing software?
A graphics software that is used to create drawings. It keeps an image in vector graphics format, allowing all parts to be separated, manipulated, and resized independently of one another.
Drawing programs often provide a plethora of different effects for creating elaborate drawings. Although more painting tools are added to drawing programs and more are introduced to paint programs, their fundamental structure is entirely different.
Drawing programs (vector graphics) enable the development of objects that may be freely modified. Paint programs (bitmapped graphics) offer a canvas on which to apply electronic paint.
What is the best free drawing software?
From the above-mentioned art programs, we recommend the Top-consumer's Choice, which is Clip Studio Paint. It has a trial version that you can utilize.
Clip Studio Paint is an excellent application purposedly made for comic artists and beginners who want to join the digital art world. Furthermore, it offers an extensive collection of brushes that you can use.
It has excellent sketching tools that are customizable so that you can freely do what you want in your sketches and drawing. With its creative editing and adjusting capabilities, you will indeed have fun with every sketch you draw.
Like this Article? Subscribe to Our Feed!
Vanessa is a mom of 3 lovely children and a software geek. Outside of her career as a health and wellness instructor. She enjoys writing and researching on topics such as finance, software, health and culinary.