There`s No Babbel Japanese – Try Super Alternatives Instead!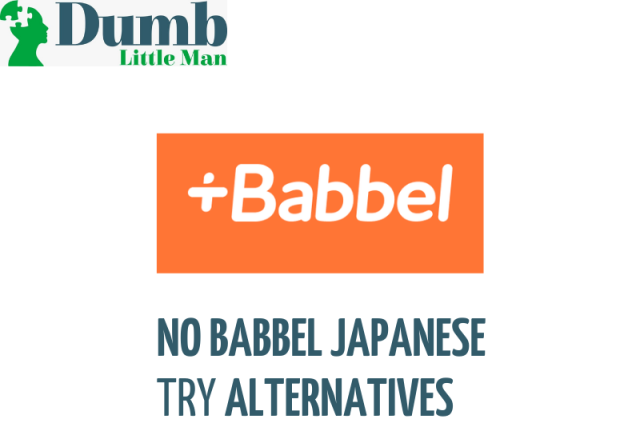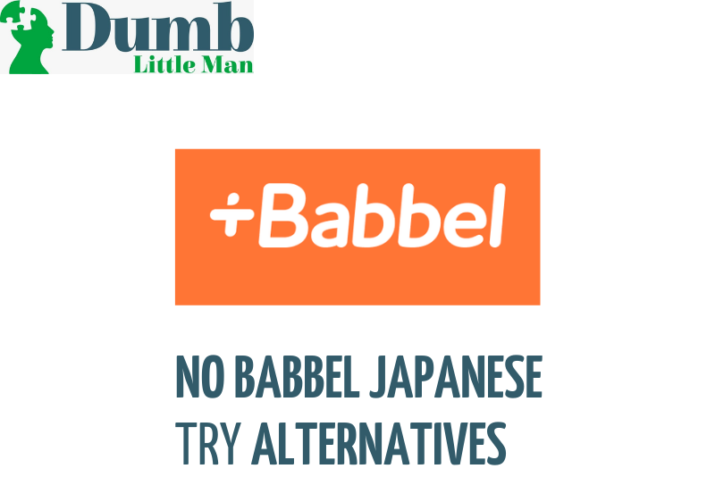 There are around 125 million native Japanese speakers worldwide. Japanese is a widely spoken language in Japan, although it is also spoken widely in Brazil, Guam, and the United States.
Learning a new language is difficult. Learning the language can help you advance your profession, particularly if you work in tourism, international relations, or translation.
While we love Babbel's courses because bit by bit of lessons on grammar, there is no Babbel Japanese!
So which website or apps can teach Japanese in a manner close to Babbel's Spanish courses?
This article discusses the best alternatives to Babbel worth trying.
Let's get started.
CLICK HERE TO READ MORE ABOUT BABBEL
There`s No Babbel Japanese – Try Super Alternatives Instead!

When learning a language, listening and speaking are the best way to learn. The Pimsleur main focus is teaching through listening. Pimsleur's main focus is to help you learn new phrases, build your vocabulary and grammar skills through podcasts.
Learning Japanese lessons is audio-based. It gives you 30-minute sessions in which it gradually introduces words and phrases for you to listen to and repeat back. This spaced repetition makes it easy to get a reasonable language proficiency faster.
Its app is available on both the web and mobile.
What I like about Pimsleur
The quickest approach to learn is to concentrate on speaking and listening
It's an audio-based technique, so you can practice it while traveling with family
Strong for learning minute details of pronunciation – you can't hope to speak a language fluently yet have poor pronunciation.
Pricing
It will cost you $550 to purchase the whole Japanese language program. That's a significant sum of money, especially if you're not sure you'll enjoy the program. Pimsleur, fortunately, offers both a free seven-day trial and a different price system.
Do you prefer to pay a set monthly fee? A Pimsleur subscription, which costs $14.95 per month, is pricey compared to Babbel.
CLICK HERE TO READ MORE ABOUT PIMSLEUR
2.Rocket Japanese

the fact that Babbel doesn't have Japanese courses means you have to learn it elsewhere. the best place to start is Rocket Japanese.
Both rocket Japanese and Babbel have a similar approach to language learning. Their Japanese course includes almost all aspects of the language, including speaking, listening, writing, grammar and vocabulary, and cultural knowledge.
Its structure emphasizes listening to conversations. compared to Pimsleur, it's more focused on being conversational rather than just listening.
CLICK HERE TO READ MORE ABOUT ROCKET JAPANESE
What I like about Rocket Japanese
Listening, Speaking, Reading, and Writing – Hiragana, Katakana, and Kanji – in a well-structured course
With four audio lessons and four languages and cultural modules, this course is well-designed
You can watch videos on how to write Japanese letters and characters
378 hours of content available for students
Pricing

There are three different buying choices available.
The first level is $99.95.
Levels 1 and 2 are $249.90 each.
The 1,2 & 3 levels each cost $259.90.
Compared to Babbel, it's an expensive alternative.
3.LingoDeer

Do you want to learn Japanese in English or French? LingoDeer makes this happen.
Launched in 2012, LingoDeer is the only language learning app dedicated to East Asia languages. Its first courses were in Japanese, Korean, and Chinese languages. It has increased the number of languages to include Spanish, Russian, and many more.
What I like about LingoDeer
Varied lesson style: Japanese lessons include reading pictures, matching words with pictures and definitions, and removing the incorrect word.
For all lessons, the audio quality is professional and clear. Makes it easy to understand and mimic native speakers.
Learning tips: Lingodeer has a language learning section that teaches you the history of Japan. All Japanese learners definitely appreciated this.
Offline mode and knowledge cards that can be downloaded
Pricing
Lingodeer is a free app that gives students access to travel phrase-books and Japanese lessons. However, to access the entire Japanese course, enjoy the support, and download resources for offline use, you can pay a monthly subscription of $11.99.
CLICK HERE TO READ MORE ABOUT LINGODEER
4.Japanese POD101

How about learning from a site or app whose focus is one language only?
Japanese pod101 uses over 2950 media resources to teach Japanese. All this is meant to help learners navigate through the course easily. They are doing a great job of improving the lessons frequently.
It's a fantastic Babbel alternative for beginners to intermediate students.
What I like about Japanese Pod101
Learning the language through culture makes it fun
Funny and recent topics are a sign that the course is frequently updated.
Pricing
it has both free and premium plans. With its basic plan starting at $8 per month, it's cheaper than Babbel.
CLICK HERE TO READ MORE ABOUT JAPANESE POD101
Other products
There are additional language learning apps and platforms similar to Babbel. Currently, the closest to Babbel that teach Japanese are Mondly, Lingualift, Busuu, and Rosetta Stone.

You can get started by using entirely free platforms to learn Japanese such as Memrise, Duolingo, NHK World easy, Marugotto course, and YouTube.
If you want to enjoy better courses learning Japanese language, premium apps such as Italki, Speechling, LingQ, Genkijacs, Tofugu, and Wani Kani. some of these are expensive than Babbel. some of them might not be definitely worth it.
Conclusion
Just because there is no Babbel Japanese doesn't mean you can't get a relevant website that has a Japanese course. The above are outstanding examples of sites that offer Japanese resources to get you started.
If you have learned before, tell us your best site to learn Japanese. If not, pick the best site and let us know what you liked.
Have fun learning Japanese.