5 Ways to Achieve Any Goal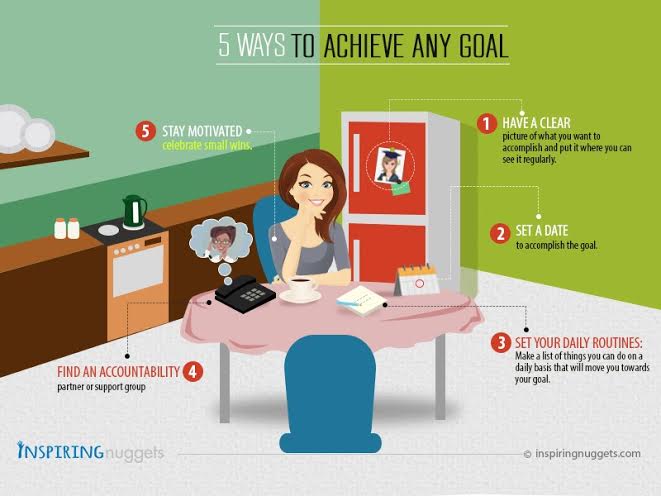 You are frustrated!
You passionately desire to move from where you are to that grand goal you have set for yourself.
The only problem is that you seems to fall short of reaching your goal every single time. The passion just seem to die off over time.
You are perplexed! What happened?
You started out with so much excitement, your goals and the thought of accomplishing them put a spring on your steps every single time.
Somewhere along the line things changed and you simply lost track of time!
You wonder what you could have done differently.
Well, your frustration is understandable and the good news is the scenario can change. Incorporating these 5 proven steps will help you accomplish your goals every single time.
1. See your goal regularly:
Have you ever set out to do something you were really excited about? But 2 months after setting the goal you forgot all about it?
The energy simply wore off after a short time simply because you stopped seeing it.
Take for example you want to run a half-marathon in 8 months. You start running 3 times a week, all excited and motivated. How long do you think the excitement will last? The only way to keep the excitement on till you accomplish the goal is to find a way to keep the goal before your eyes.
Get creative about this. As the saying goes "out of sight is out of mind". Keep your goal in sight.
"Review your goals twice every day in order to be focused on achieving them." – Les Brown
2. Set a date to accomplish the goal. Just imagine setting a goal without a date to accomplish it.
How do you pace yourself?
How do you measure success?
Truthfully, it is not a goal unless a complete by date is defined.
If you plan to run a half marathon in 6 months, the frequency of your run on a weekly basis will be different from it will be if you have a year to train for the same race.
Set the date, write it down and now make a plan to achieve the goal.
3. Map out a plan and set your daily routines: You have set the goal and know when you want to accomplish it.
What do you need to do on daily basis to accomplish your goal?
Let's stay with the half marathon example. If you plan to run a race in 6 months, what training regimen do you need to follow?
How many miles do you need to run on a weekly basis to develop the endurance you need for a long race?
Depending on how many miles you need to run on a weekly basis you, you can now set the number of miles and frequency of run every week.
The same principle apply to any goal you have. You need to map out a plan to accomplish your goal, in great details.
Take a moment to think about it. What do you need to do on a daily basis to make your dream come true? Write it down.
Going from where you are to where you want to be requires a strategic plan so go for it.
"Setting a goal is not the main thing. It is deciding how you will go about achieving it and staying with that plan." – Tom Laundry
4. Find an accountability partner: get someone that can keep you accountable, or encourage you towards your goal.
A coach, a trainer, or a friend. Anyone that believes in your dreams that can support your endeavors.
If you want to lose weight, you might want to get a trainer who will work with you and keep you on track. Or a friend you can discuss your dietary choices with on a regular basis. Create a strong support system around yourself.
5. Stay motivated: celebrate little victories. Your goal is to run a half marathon but celebrate your first 5k race as you start preparing for a 10k. The quick wins provide a sense of progress and encouragement.
Let the frustration you have experienced energize you to embrace the change you need wholeheartedly.
Moving from wherever you are to where you want to be takes determination and strategically mapping a plan to move towards your dream.
You have all it takes to get things done, stay with it and bring out the best in you.
"What you get by achieving your goals is not as important as what you become by achieving your goals."- Zig Ziglar
Like this Article? Subscribe to Our Feed!

Julia Olayanju is the founder at Foodniche Inc. She loves to write inspiring articles that will energize readers to live their best life now.