5 Quick & Simple Breakfast-On-the-Run Ideas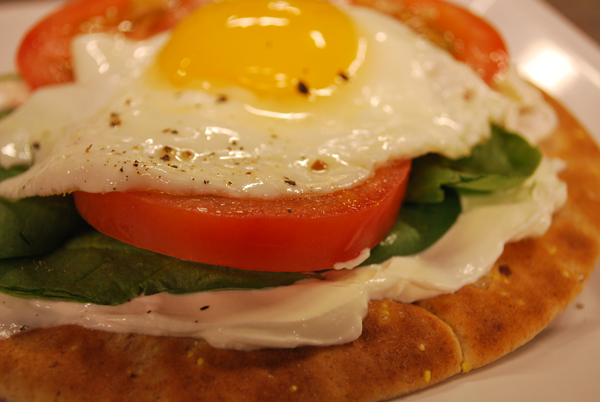 OK, show of hands: how many people leave the house without eating breakfast? How many of you buy a bagel or pastry on the way into work? If you wait 5-10 minutes in line, you could use that time instead to make your own quick breakfast that is cheaper, tastier, and healthier.
Perhaps your idea of breakfast is simply a cup of coffee. And maybe also you notice that you tend to binge eat at night. If so, this is another great reason to consider making your own breakfast. By having something in the morning you'll be less likely to binge eat at night. Binge eating at night stems from accumulated stress and hunger that is built up during the day. You can ward this off by keeping your energy levels consistent throughout the day starting with a nutritious breakfast.
Quick and Simple On-the-Run Breakfast Ideas
1. Yummy Oatmeal.
Oatmeal is very healthy. It helps to lower cholesterol and takes 2 minutes to cook in the microwave. Add some nuts, cinnamon and honey and you have a delicious, nutritious breakfast. Pour it all into a tall plastic cup and bring it with you.
1/4-1/2 cup Oats (see the box for exact directions)
1/4-1/2 cup water
pinch salt
handful nuts (almonds, walnuts, pecans are great)
cinnamon to taste
1-2 tspn honey
Optional
1/8 cup milk
1-2 tspn brown sugar instead of honey
1/4-1/2 favorite fruit (bananas, strawberries, blueberries)
2. Dreamy Cream of Wheat.
Cream of wheat is naturally lowfat and low calorie. It is also very easily digested making it great for an empty stomach. It is a perfect way to get the day started right. There are a few different kinds so follow the instructions on the box. Usually microwave cooking time is anywhere from 2-5 minutes. Eat at home or bring it with you in a tall cup or sealed container.
Cream of wheat
Water and/or Milk (see box for amounts)
1-2 tspn Honey
pinch salt
1 sliced banana (mashed banana is nice too and then you don't really need the honey)
Optional
handful walnuts or pecans
1-2 tspn brown sugar instead of honey
3. Pink Smoothie.
Smoothies are an easy and yummy way to get good nutrition. It is best to eat fruit on an empty stomach so morning is the perfect time for a fruit smoothie. Blend these ingredients together and take this breakfast along with you.
1 Cup frozen berries (strawberries, blueberries, raspberries, blackberries)
1 Banana
1/2 cup vanilla yogurt
1/2 cup water
Optional
1 scoop Whey or Soy Protein instead of Yogurt
1 Tbsp ground flax seeds
additional 1/2 cup water if using the protein powder
4. Green Smoothie.
This is the super healthy one. You get your fruits and greens in one drink. By blending your greens you'll be releasing all the amazing nutrients that are often left locked inside unless you chew them extensively.
If you're scared, don't be! Try it once and you'll be hooked. You'll be pleasantly surprised at how delicious this is. Mix this in your blender and take it on the go with you. Sip it all morning for continuous healthy energy! You won't even need coffee if you get in the habit of drinking this!
What I do with this is drink half of it at say 10am and then the other half at 11am. Another side benefit of drinking green smoothies is that they reduce your cravings for junk food.
2 bananas
1 cup frozen berries (any kind)
1 big handful green leafy vegetable (spinach, kale, mache, arrugala, romaine leaves, your choice!)
1 cup water
Optional
Spirulina
1 Tbsp ground flax seeds
1-3 tspn flax oil
Protein powder (whey or soy) + additional 1/2 cup water
5. Traditional Egg Sandwich.
So this one may not be as nutritious as the green smoothie, but it will be healthier and cheaper than the one you get at McDonalds and just as delicious. The protein in this breakfast will keep you going all the way until lunch.
In a small microwave safe bowl, scramble egg and milk. Microwave for 30-45 seconds per egg. (Microwaves vary so test yours out with the lower time first) You can also make a sunny side up egg the same way. Just be sure to pierce the yolk before microwaving.
You can also scramble or fry and egg in a small frying pan in a minute or two right on the stove top. Choose the method that is easiest for you. Combine egg, bread, cheese, and meat. Wrap in plastic or tinfoil and bring it along with you or enjoy it at home with a tall glass of orange juice.
1-2 eggs
1-2 Tbspn milk
Slice ham
Slice cheese
Bagel
pinch salt
pepper to taste
Optional
Other meat: sausage, bacon
Whole grain bread
Tabasco sauce
Breakfast doesn't have to take long to make, especially if you use these recipes. And the benefits are many:
save money
better nutrition
more energy
reduced junk food cravings
reduced night time binging
may even save time!
If you're not hungry right away in the morning, like me, then make your breakfast, bring it with you, and eat it when you first start to feel hungry. Any of these recipes can wait to be eaten until you arrive at work.
Do you have a favorite quick breakfast recipe? Please share it with us! We'd love to hear from you!
Written by K. Stone of Life Learning Today.
Like this Article? Subscribe to Our Feed!