3 Critical Time Management Techniques You Shouldn't Forget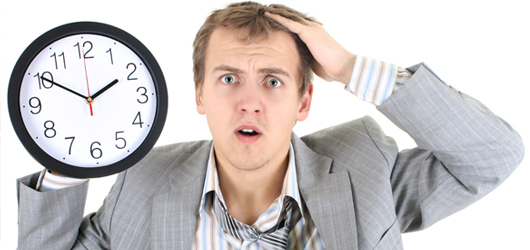 So if the mountain of papers is threatening to engulf you, if you can't remember when you last left work on time, or if you seem to work all the time but not get much done … these are three key tips that you may want to consider.
(And for those who've got time management pretty much sussed, these are all great reminders for when life throws a curve ball or two, and you need to get back to basics.)
Schedule the Big Rocks, Let the Small Stuff Flow
I've only come across the "big rocks" catchphrase in the last couple of years, but it expresses a timeless trick for great planning: get all the big stuff into place, and let everything else fit around it. Schedule blocks of time for writing that report or having that essential meeting that keeps getting postponed. You'll find plenty of time to take care of your emails in between.
At the beginning of the week — Sunday evening or Monday morning — write out the Big Rocks that you want to accomplish this week. These should be the important things — if you looked back on the week and said you did them, you would be proud of having done them. Be sure to include not only work stuff, but some of the tasks that will further along your life's goals and dreams. (Leo Babauta Big Rocks First: Double Your Productivity This Week, Zen Habits)
Do The Worst Task First
I came across this tip in my third year of college … and how I wished I'd heard it a couple of years previously! It made an instant difference to how my work went. Instead of dallying through easy tasks in the morning with the spectre of an essay looming, I got on with the essay first.

 
If you can summon up the strength to do the thing you feel most resistance towards first in your work day, the rest of the day will be a breezy ride downhill … you won't be struggling to keep pushing yourself onto harder and harder tasks as you get more tired during the day.
An author I've recently started reading, M Scott Peck, wrote about this in his first book The Road Less Travelled, in the context of helping one of his therapy clients overcome "her tendancy to procrastinate in her job":
[We] discovered that on any given work day she would devote the first hour to the more gratifying half of her work and the remaining six hours getting around to the objectionable remainder. I suggested that if she were to force herself to accomplish the unpleasant part of her job during the first hour, she would then be free to enjoy the other six. … She agreed, and being basically a person of strong will, she no longer procrastinates.
(M Scott Peck, The Road Less Travelled, p17) 
Don't Over-Commit Yourself
One of the biggest reasons we have time-management struggles is because we're simply trying to do too much. If you have far more work than you can cope with in a typical workday, don't kid yourself that discovering a better system for handling email will suddenly let you accomplish everything. You need a more radical solution: one that involves delegating some of your work, or talking to your manager about your workload.Similarly, if you're taking on huge numbers of projects in your personal life – perhaps studying for a qualification, learning a musical instrument, chairing a community group, and bringing up kids – then you're almost certainly not going to be able to devote enough time to each of them.Many of us find it hard to say "no" when we're asked to take on a new commitment. I really struggle with this too, but these words helped me:

As I wavered on the brink of accepting (and regretting it) I suddenly found myself saying "I have a rule that I never commit myself to anything unless I can commit myself wholeheartedly, and I don't feel I can do so with this." To my surprise the other person, though obviously disappointed, accepted my reason like a lamb! (Mark Forster, Wholehearted Living, Get Everything Done) 
Have you struggled with time-management? What advice has helped you? Share some tips and ideas in the comments!
| | | |
| --- | --- | --- |
| | Written on 6/9/2009 by Ali Hale. Ali is a professional writer and blogger, and a part-time postgraduate student of creative writing. If you need a hand with any sort of written project, drop her a line ([email protected]) or check out her website at Aliventures. | Photo Credit: kwerfeldein |
Like this Article? Subscribe to Our Feed!