21 Top Travel Apps and Tools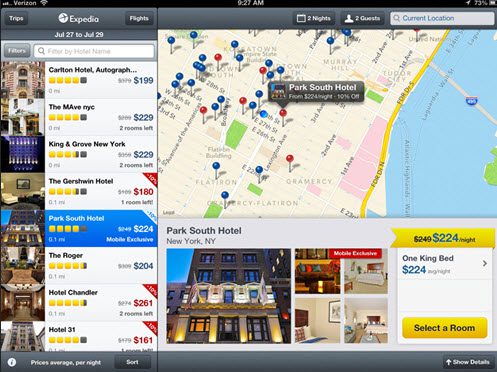 How did we live without smartphones?
If there's one time that you really rely on these gadgets, it's when you're traveling. Or more to the point, when you're trying to travel but are instead stuck in an airport wondering if you'll ever actually see the inside of a plane, semi-edible food or your luggage ever again.
Here are some of our favorite smartphone apps that can help you out when you're trying to save money on travel, planning a vacation, sitting in the terminal, looking for a place to eat or attempting to communicate in another language. Best of all, many of these are free.

Expedia
This travel app has been around for years, but with its mobile app, Expedia is even more of an essential tool for the budget-conscious traveler. In addition to the usual travel search and booking tools, the Expedia apps for Android and iOS can turn you on to exclusive discounts on last-minute hotel bookings. This can come in very handy when you've just found out that you (and your 300 fellow passengers on the doomed flight that's been grounded indefinitely) need to spend the night where you are but the airline has no intention of paying for it.  Link
Orbitz
Another old favorite among frequent (or cheap) travelers, Orbitz lets you search for the best deals on flights, hotels and cars. Plus, it offers a price-matching guarantee if you find the same flight for less elsewhere—like on one of the other travel apps. Link
Kayak
Another all-in-one travel aid, Kayak lets you shop and compare prices on flights, hotels and car rentals. Savvy travelers try several of these sites and choose a favorite. Link
Hotel Tonight
This is another hotel booking app that offers last minute deals on hotel rooms at discounts of up to 70%. The cool part of this app is the choice of accommodations: hip, basic, solid, charming and luxe. Since "charming" in apartment-ese means "old and tiny," maybe you should be wary of those classifications. Link
GateGuru
If you're stuck in an unfamiliar airport wondering where to find the closest decent food, or the only bar that's open all night, that's when you'll appreciate GateGuru. In addition to directing you to eats and libations, this free app can also find amenities like a yoga room. GateGuru can also estimate wait times at TSA checkpoints and provide real-time flight status updates. If you spend way too much time stranded in airports, this one is a must-have. Link
Skype
Already a favorite for placing calls all over the world without paying long distance rates, this video calling service is especially valuable when you're stranded in a far-off country and trying to find your way home.  Link
FlightTrack Pro
This app costs $10 but is totally worth it for frequent fliers. This baby can give you updated flight times and terminal maps, plus terminal and gate numbers for your flight. You'll be glad you have this when your flight arrives in a huge, spread out metropolitan airport a half hour late and your connection is on the other side of the airport—and leaves in fifteen minutes. FlightTrack Pro can also forecast delays and show info from SeatGuru's charts. While the price may be a bit steep, this app is less likely to lie to you than a smarmy gate agent. Satisfied users claim this is the only app that can really tell you the location of your "delayed" flight. Link
Packing Pro
If you're constantly wasting money by buying replacements for the things you forgot to pack, this app will be worth the $3 it costs. Pick a list template and record everything you need to pack ahead of time, meaning before you're running frantically out the door to the airport shuttle. Buy Packing Pro once and you'll never forget your toothbrush or your phone charger again. Link
SitorSquat
For a mere $.99, this app gives you the locations of 95,000 restrooms all over the world. More importantly, it tells you which are open and which have handicapped access. If you're disabled, or traveling with someone who is, this app can save you a lot of stress. Link
Don't stop reading yet.  There are a lot more apps that will help you make the best of your trip no matter what kind of things pop up while you are traveling.
TripIt
This handy free app lets you store all of your travel info in one place, including flights, car rentals, hotels, activities and reservations. Having this app on your phone is the next best thing to having a travel agent at your disposal, providing that you remember to enter all your information. Did I mention that it's free?
Link
TripAdvisor
If you're eating your way around the world, one restaurant at a time, this app can give you ratings, reviews and recommendations as well as the ability to book reservations via OpenTable. If you find a winner, or something so horrendous that you can't resist sharing, you can submit photos straight from the app. Link
The Weather Channel
If you think you're flying to a sunny clime but a nasty hurricane heads for the area while you're en route, this app will give you up-to-the-minute info on inclement conditions. You may still be stranded for 12 hours in Atlanta, but at least you'll know why—and can try to book alternate reservations before your fellow passengers snap them up. Link
Goby
If you've landed in a strange city and have some time on your hands, this free app can show you all the neighborhood hot spots like restaurants, hotels and museums, plus events like concerts and plays. Link
Free Wi-Fi Finder
Wherever you go, you'll need to find Internet access, and this app lets you find the free wireless connections in urban areas. You may not actually find a Starbucks location, but maybe there's another coffee shop with Wi-Fi nearby so you'll feel like you never left home. Link
Google Translate
Even without a data connection, this handy app can deliver instant language translation. Users say this one is easy, convenient and reliable, plus it's free. Link
WalkJogRun
Trying to keep up with your fitness routine while traveling? This app helps you find and create running routes in over two million cities. The secret of this $4.99 app is an extremely accurate GPS. Link
Currency – Simple Converter
This $.99 currency converter app works both online and offline, so you'll always we ready to figure out how much you're overpaying for souvenirs. Link
CityMaps2Go
Never get lost again with these interactive offline maps and travel guides for cities all over the world. For just $1.99, you can pre-plan your route by pinning your target locations. Link
Travel App Box
If you have limited storage on your phone, or just don't feel like downloading a dozen apps, this one has it all, including offline maps, currency converter, clothing sizes and international dialing codes. Not bad for $1.99. Link
Chefs Feed
You'll never eat at another mediocre restaurant again with this free app that supplies restaurant recommendations from some of the country's top chefs. Plus, you can sort by dish or location. Link
Help Call
This $2.99 app gives you one-touch access to local police, fire and ambulance departments in more than 100 countries. To make an emergency call, just shake the phone, which could come in handy if you're stuck under a pile of rubble 4,000 miles away from home. Link
| | | | | | | | | | | |
| --- | --- | --- | --- | --- | --- | --- | --- | --- | --- | --- |
| | | | | Written on 8/20/2013 by Linda Cauthen. | | | | | | |