11 Best Video Editing Software • Top SEO   Products of 2023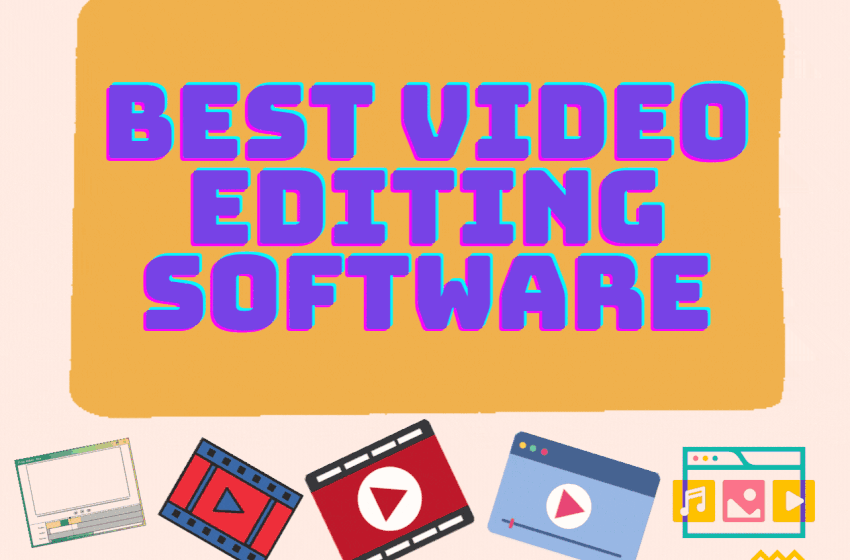 The best way to share ideas is through videos. Because here you can express all your feelings to the camera.
And share the video. But video can be noisy due to different factors especially noise. During recording, with the person's voice, noise also gets recorded in the video.
This can be torture for the people who sees the video if the background noise is too high. But the best thing is you can reduce the noise.
Even if it is too loud through video editing. Therefore, in this article, we will discuss the best video editing software that will help you to create noise-proof high-quality video.
So let's start the discussion, shall we?
Best Video Editing Software in 2022
Here is the list of best video editing software that will help you to create noise-free quality videos.
11 Best Video Editing Software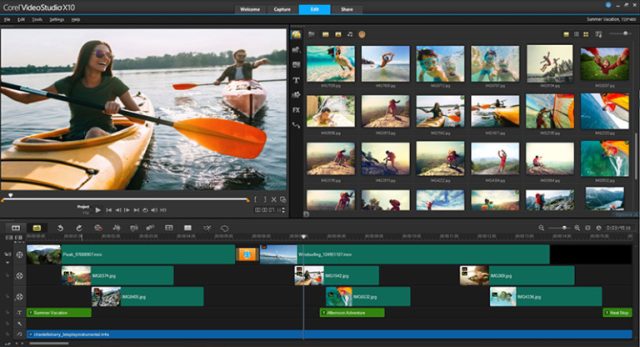 This movie maker is best for the editors who want to do storyboard and timeline video editing. By using this video editing software you can turn images into movies.
Also, provide creative effects, title presets, more than 1500 filters, project templates, transitions, etc. In addition, you can create multiple slideshows and movies because it has different video formats.
You just have to add video clips. Moreover, with the help of video editing tools combining photos, audios, and videos on different tracks become easy.
The best thing about this software is that with edit videos it allows you to record your screen and run the webcam simultaneously to make videos.
Furthermore, its subproducts like Paintshop Pro, Corel painter help you to create static graphics, custom animated overlays, and live paintings.
Besides that, here are some imaging features that this video editing software includes.
Drag and drop video editing
Optimized for 4k display
Pan and zoom
Split-screen video
Batch processing
Chroma key/ Green screen
How does it work?
This editing software provides all the essential tools like trim, crop, and split video that you want during video editing.
Also, you can rotate the video or change the aspect ratio according to device requirements. In addition, with the lens correction feature, you can remove distortion.
And by using the color-correct clips temperature can be adjusted. Moreover, the color correction feature helps you bring out the color in video with saturation, auto-tune adjustments, and more.
The best thing about this software is that it is optimized for Nvidia processors, Intel, and graphic cards. That helps to speed up the rendering process on different file formats.
Pros
Contains a lot of essential features
Provide 4k video support
Available at the affordable prices
Come with a music library and Multicam editing
Cons
Not suitable for professional use
You need proper knowledge before editing high-quality videos
Price
Basic Price: $69.99 with a 30-day moneyback guarantee
Check out Corel VideoStudio Ultimate here
#2. Simple Online Video Editor For Windows And MAC: Filmora 9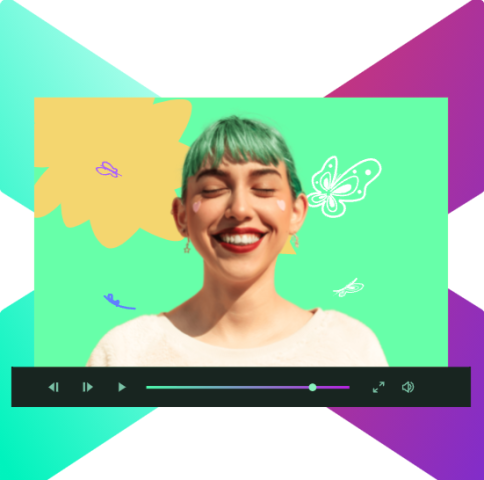 Among all video editors, Filmora is the best editing software for both MAC and Windows. Because of its editing tools.
It comes with soundtracks, drag and drops effects, audio, templates, filters, and much more. Moreover, besides these tools, there are some amazing features to create high-quality videos.
These video editing features include motion tracking, split-screen, green screen, and more. The keyframing feature helps to add custom animation between clips.
On the other side, motion tracking helps you with intuitive object tracking. And the color matching feature of this video editor allows you to take color setting from one clip and apply to other.
Besides this, here are some other features of this professional video editor.
Color grading
Keyboard shortcut
Blending mode for special effects
Direct export of videos
How does it work?
To save time this functional video editor allows you to access the tools and features through the keyboard shortcuts.
In addition, you can import different filters, clips, titles, transitions, motion elements, audio, and much more by using the drag and drop feature.
Furthermore, you also get a green screen feature that allows you to change or remove the video's background.
The best thing about this editor is that it comes with Audio Ducking. Because due to this you can reduce the background noise.
Pros
Provide support to multiple formats
Easy to use
Come with a 4k video format support
Includes a sound and music library
Cons
This free software leaves a watermark on the video footage
In the trial version, only limited features are available
Price
Monthly: $19.99 per month
Annual: $61.99 per year
Perpetual: $89.99 one time payment
#3. Best Video Editing Software For MAC and iOS: Apple iMovie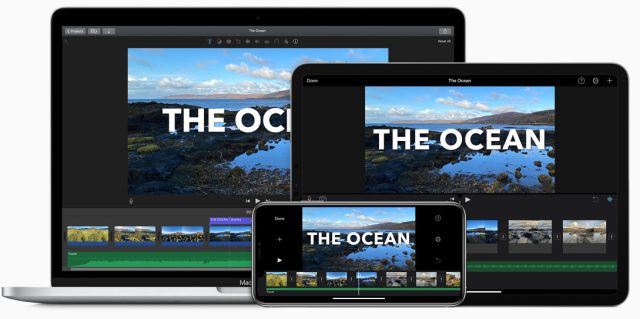 This free video editing software is suitable for both MACOS and iOS users. This free version software is famous because of its advanced features.
It comes with a friendly interface that supports 4k video resolution. It provides decent performance with both audio and visual clips.
In recent updates, this software includes touch bar support and 4k video functionality. In addition, at the playback speed of 60 frames per second, you can process video clips.
To edit the video content it comes with video filters, a green screen, and Multicam editing. And Apple compatibility is the main highlight of these best free video editors.
Here are some features of Apple iMovie that you should know
Automated video editing
Stabilization
Video color settings
Audio and music editing
Video effects and transitions
How does it work?
Due to compatibility with Apple, you can easily export and import audio, video clips, and photos from iCloud. Moreover, you can create slideshows and view the projects on Apple TV.
This best free video editing software comes with many video tutorials that help you to use the software. So if you get stuck anywhere while editing the video.
You can use these tutorials to efficiently use this movie maker. Furthermore, it provides straightforward exporting options.
So that you can export files in multiple formats. Therefore, this video editor is the first choice of MAC users.
Pros
Easy to use interface
Support 4k video format
Contains a set of powerful tools
Through theater mode, you can share multiple videos
Cons
Do not have the motion tracking feature
You can edit the 360-degree video by using this simple video editing software
Price
Available free of cost on iPad and iPhone stores.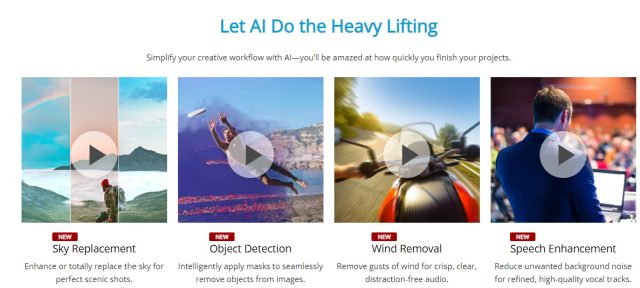 This video editor is available on both platforms: Windows and MAC. It consists of a collection of amazing tools, features, and effects.
To provide a better environment they have an easy user interface. Here you can edit the background clips and music by using plugins.
By buying the subscription you can use all the premium features of this software. But if you do not want to spend money then edit only a small video with this software.
Due to the unavailability of the pro features in the trial version, it is the best editing software for beginners.
Here are some features of this editing software that you will only access when you buy the subscription.
Premium plugins
Motion graphics
Cinematic effects
Pro-level effects
How does it work?
According to customer reviews, this software provides more features to Windows users. Therefore, mac users prefer other editing software.
But the best thing about this editor is that it has an attractive user interface and provide enough feature in trail version to edit the video on small scale.
Pros
Best to edit videos for social media
Royalty-free music
Easy interface for work
4k preview of videos
Cons
Provide more benefit to Windows users
All premium features are included in the subscription
Price
Annual Plan: $19.99 per month
Monthly Plan: $54.99 per year
Check out CyberLink PowerDirector 365 here
#5. Best Standalone Video Editing Software: Shotcut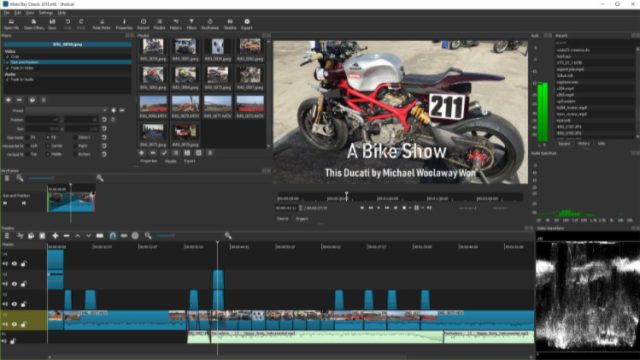 The leading digital publisher of video content is Shotcut editor. It is a powerful editing software for beginners and experts.
To edit background videos this editor is compatible with Linux, Windows, and MAC. This free windows movie maker comes with powerful editing tools, effects, and filters.
It supports all types of video files and international media groups. So that you can directly share edited videos to social media.
Here are some key features of this professional video maker
Audio editing
4k resolution
Huge range of special effects
How does it work?
This editing software for beginners has special features that allow experts to use this software equally. It allows you to export edited videos in any format.
Indeed, it can be used by professionals but it works efficiently with small projects or tasks.
And it is available free in the market that means for small projects you do not need to spend money.
Pros
The menu can be customized
Ability to perform multiple tasks
Automation of multiple processes
Configuration on more than one monitors
Cons
Not possible to preview the filter
Not suitable for beginners
Price
It is available free of cost for Windows, MAC, and Linux
#6. Best Video Editing Software For Windows: Adobe Premiere Pro CC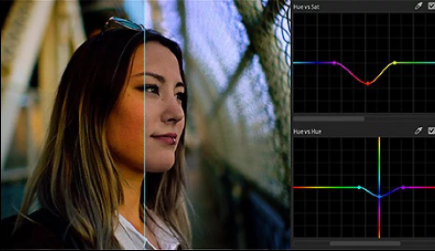 With the graphic designing software, Adobe creative cloud provides the software for video editing. This video editing software is known as Adobe premiere pro.
It is the most famous video editing application. Because it comes with integrated workflows that allow you to edit the video without leaving your timelines.
Thanks to the Adobe Sensei technology because it makes this software efficient. Also, it provides an array of automated tools that are known as adobe premiere elements.
The reason why people prefer to use this software is that it works with the latest video formats. Therefore, you can edit videos in ultra, virtual reality, and high-end 8k.
In short, by using this software you can optimize content for any screen. Besides that, here are some features of this software that you will love.
Motion Graphics Templates
VR Audio Editing
Shared Projects
Video tilting and graphics
How does it work?
This software is compatible with other Adobe products like After Effects, Adobe Stock., and Audition.
It means you can easily download the motion graphics template from any of the software you want. And you do not have to leave the Premiere Pro interface.
Furthermore, through the end-to-end VR 180 capabilities, you can make immersive videos. By using the chroma key option you can remove the background of a video with a green screen.
In addition, color grading and color correction are the robust adobe premiere elements. And the video editing provides an audio editing facility too as it has an Essential sound panel.
Pros
Multiple plugins, features, and options
Integration with other Adobe Cloud products
Attractive user interface
Export completed project in any existing format
Cons
Editing and adding titles is a risky task
Available at the high cost
Price
Individuals: $20.99 per month
Business: $33.99 per month
Students and Teachers: $19.99 per month
School and Universities: Price vary according to package
Check out Adobe Premiere Pro CC here
#7. A Strong Choice With An Array Of Add-Ons: HitFilm Express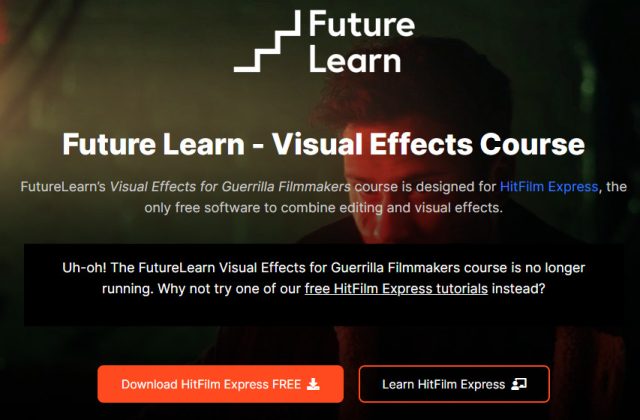 Like the Movavi video editor and pinnacle studio, HitFilm Express is a famous video editor. You can start using this software without paying any cost.
And at a reasonable price, you can add features in the editor to give your edited videos a professional look. This software works on both MAC and windows.
For decoding and threaded rendering, it supports AMD GPUs and Nvidia. Here are some features of Hitfilm express that make it the best editing software.
Export queue
Personalizable Workstation
Professional Formats
Voiceover Recorder
Layer and Track Locking
How does it work?
It is a stabilization tool. Because it helps to stable and smooth the shaky video clips. In addition, it provides powerful tools for video editing.
These powerful tools are zoom effect, color adjustment effect, crop and pan, GoPro FX reference effect, and WAV audio exports.
For beginners, it is the best tool to start with. Furthermore, its low prices attract the attention of every editor.
Pros
Reliable timeline video editor
Provide initiative export features
Suppor the 4k and 360-degree video resolution
Available on both Windows and MAC
Cons
Export speed is slow
You need to purchase extra features
Price
Basic Price: $349 annual fee
Check out HitFilm Express here
#8. Best Video Editing Software For Beginners: Adobe Premiere Rush

It is one of the best video editing apps because of the premiere elements. Also, it is suitable for beginners because of the simple user interface.
This free video editing app comes with a ton of great features like transition effects, haze removal, enhanced face detection, focus adjustment, and more.
In this free video editor, you have the live search functionality, touch-based editing, guided editing interface, and video collages.
This free version app is not compatible with 360-degree video and multi-cam editing. But you can avoid that when you see its vast range of capabilities.
Moreover, both MAC users and Windows users can use the desktop version of this software. It works in three different modes Expert, Quick, and Guided.
In addition, this free tool has amazing features that will make you fall in love with this app.
Premiere pro compatibility
Keyboard shortcuts
Multiple tracks
Motion graphics templates
How does it work?
You can run this best free video editing software on Windows, tablets, and mobile. In quick mode, you can select the preferred media for your video.
And these video editing programs will arrange the data on your work timeline. Here you can adjust the automatic motion tracking, start toning, and video stabilization.
On the other hand, the guided mode educates you about video editing through video tutorials. So that you can efficiently use all the all tools of this video editing software.
Furthermore, in expert mode, only experts can edit their videos and control settings. Here according to your level, you can use this free version software.
Pros
Editing software for beginners
Optimization for social media platforms
Interactive interface
Powerful features to edit background music
Cons
Do not provide smooth video transitions
Only suitable for video editing beginners
Price
Basic Price: $9.99 per month
Check out Adobe Premiere Rush here
#9. Best For Daily Video Editing: Lightworks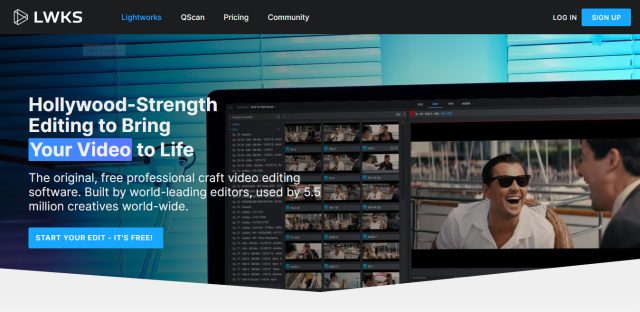 To create the pro-level video you need to use Lightworks. It is the best video editing software that makes it easy for you to edit difficult video shorts.
Not only the pro version, but the free version has a range of multiple features that help you to edit the videos professionally.
In the trial version, you will get amazing audio-editing options, color adjustments, VFX, and much more.
It produces an output resolution of 720p in the free version. Due to this you can watch the edited video on a tv screen and share it with relatives.
Here are some premium features of Lightworks that you will love
Extra import features
Boris Graffiti plugin
Advanced project sharing
Timeline rendering
How does it work?
Like other professional software, it allows you to the facility of multiple cameras and screen recording. You can use this software on Linux, MAC, and Windows.
In addition, it comes with a simple interface that allows beginners to use it efficiently by seeing the video tutorials.
Pros
Come with a cross-platform feature
Support Multiple Channels
Provide 3D video processing
Allow users to edit and crop timeline
Cons
No built-in help
Difficult to understand the editor management system
Price
Monthly: $23.99 per month
Yearly: $239.99 per year
Outright: $389.99 lifetime fee
#10. Best Video Editing Software For MAC: Final Cut Pro X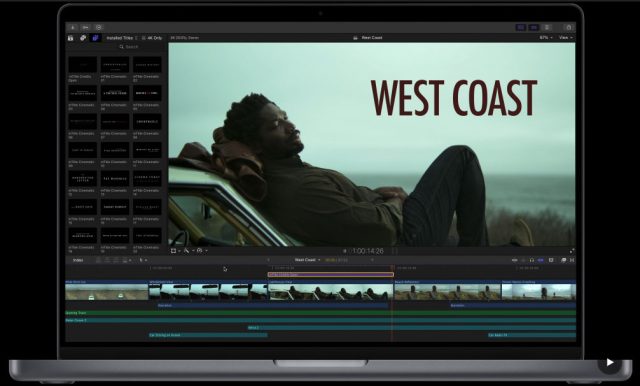 The best video editing software with advanced features is the Final Cut Pro X. With the blend of amazing video features it helps people to learn editing tips.
More than 2 million users, use this video editing software and make it popular than ever. Its interface consists of a three-pane view including a Magnetic timeline and trackless.
Due to this, it is best to use dual monitors. Moreover, you can easily import the video clips in the library that you can further use as assets.
In this professional video editing software, you can import effects, titles, videos, voiceover, music, and more as assets.
In addition, after editing the video you can use the 149 video effects, 100 transitions, 183 title animation templates, and 109 audio effects that this video software provides.
But this is not enough because the final cut has some features that you should know.
Multicam editing
Advanced color grading
HDR video support
360 degree VR editing
Moving and trimming clips
VR headset playback and many more
How does it work?
This great video editing software provides you the facility to use the features with keyboard shortcuts. So that you can do the transition effortlessly.
It has the support for MacBook Pro touch bar editing. This allows you to use touch controls for text customization and timeline scrubbing.
And with the 3D capabilities, you can enjoy text editing. To create a high-quality video this software provides different textures like concrete and plastic, 3D templates, and lightening effects.
That you can add to the video content from any angle. The best feature of this video editing software is Multicam editing that allows you to work on 2 screens.
Pros
HD output results
Multiple formats flexibility
Provide scaling effects without losing the quality
Preview the effects before applying
Cons
Final cut Available at a high rate
Only available for MAC users
Price
Basic Price: $299.99 available on MAC app store
Check out Final Cut Pro X here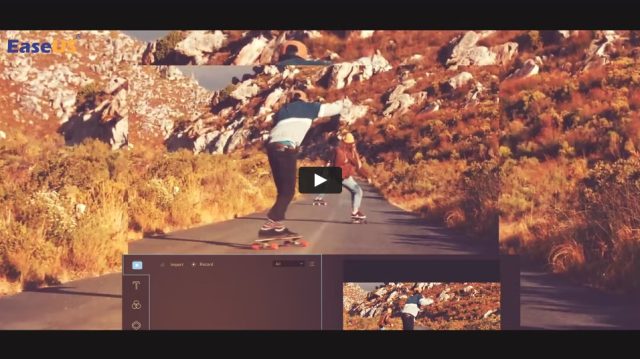 Easeuse is one of the famous brands. First, it was famous for data recovery. But now for video marketing, they introduce the video editor.
This video editor comes with extensive audio editing options. So that you can remove more than 90% noise from the video.
It is famous in the market due to its easy interface and multiple amazing features. It comes with the native timeline editing features like rotate, cut, merge, split, and trim.
Also, for audio timeline-track creation, you can use these features. In addition, with 59 built-in transition effects, you can make studio-quality title animations.
These animations will make the text attractive and allow you to create youtube videos. Here are some other features of this software.
Blend
Clip art
Save/Restore
How does it work?
With the help of this tool video masking and editing background music becomes easy. Even you can narrate over video clips with a simple click.
Here you can add any music file to the timeline you want. It is not just an editing software for beginners because it provides as many professional features as premiere pro does.
Especially it handles project advanced audio filters to provide a better quality sound to videos. You can export videos for iPhones, Samsung Galaxy, HTC, iPads, and other devices.
In addition, you can use the tools of the software to contest youtube videos into MP3.
Pros
The USer interface is accessible
Provide a huge range of transitions and effects
Best for beginners
Available at a low price
Cons
Cost is a bit expensive
Not suitable for professionals
Price
Monthly: $17.97
Yearly: $49.95
Lifetime: $79.95
Check out Easeuse Video Editor here
How We Rank the Video Editing Tools?
We rank video editing tools by their features, user interface, and quality range. The best video-making software is the one that allows multiple imports and exports.
So that you can import different templates for the video. And when you edit the video, allow you to export it in high quality.
In the above list, Adobe premiere pro is the best video editor according to users.
How to Choose the Best Video Editing Software?
To select the right video editing software, you need to review your requirements and editing level. If you just start editing then Easeuse editor is best for you.
But if you want to edit professional videos then select the Adobe premium pro or Final cut pro-X. Because they contain professional tools.
Conclusion: Best Video Editing Software
That's all viewers, if you want to save your time then select the editing software from the list that we mentioned in this article.
Because all software contains professional tools and provides multiple features and effects. By using then you can edit professionally.
Moreover, they are available at affordable prices. And if you are new to editing, you can check the software by selecting trial software.
In addition, some software provides 30 days money-back guarantee. Like Corel video studio ultimate you can select this to save money.
Video Editing Software FAQs
Have a look at the frequently asked questions.
What is the best video editing software?
In this list, many editing software is best but we prefer you to use either Adobe premium pro or Final cut pro X.
What is the best free video editing software?
The best free editing software in the above list is the adobe premium rush. It is available on mobile for free. While the desktop version costs some money.
Like this Article? Subscribe to Our Feed!
Vanessa is a mom of 3 lovely children and a software geek. Outside of her career as a health and wellness instructor. She enjoys writing and researching on topics such as finance, software, health and culinary.