10 Devices for Under $100 That You Didn't Know You Needed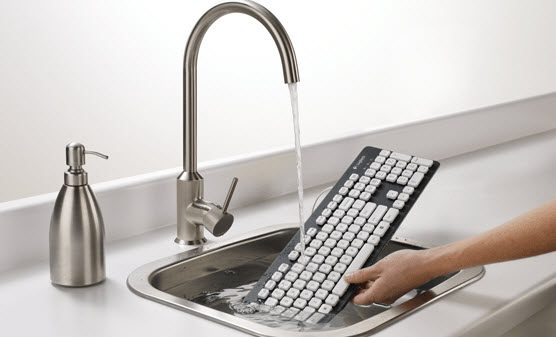 Life can get pretty hectic, and that is why it's nice to find helpful tools that can give us a helping hand from time to time.
To give you an idea of some of the products that are out there, here is a list of ten devices under $100 that can help to give you a much-needed boost in various facets of your life.
There's a little bit of everything mixed in, from tech to cooking and much more.
Let's jump into the list and check out these products you didn't even know you needed shall we?

K310 Logitech Washable Keyboard – $39.99
Whether it's for work or play, a keyboard is probably something that you use every single day.  Now if you're like me, you like to enjoy a snack or drink while you type away.  This, of course, leads to eventual disasters, especially if you're a klutz.  You could spill a whole cup of coffee, and that would definitely make any standard keyboard inoperable.  Not the K310 Logitech Washable Keyboard, however.
Just as its name suggests, the K310 Washable Keyboard can in fact be washed by hand if you happen to make a mess.  All you have to do is use mild soap and a soft cloth and you can erase your mistakes with ease.  It even has drainage holes to help with the drying.  Just one thing, don't try to test it by tossing it in your pool or throwing it in the dishwasher.  It's durable, but not military-grade.  Even if you are sure that you won't spill liquids all over your keyboard, if you're tired of the crumbs and other junk that gets caught in between keys, give the K310 a look.
Beddit – $99
Being productive can be difficult if you don't get a good night's sleep, so if you find that you're always groggy when you wake up, Beddit can help.  What is it?  A small sleep tracking device that you place under your sheet.  What does it track exactly?  Anything and everything related to sleep.  Your physical condition such as resting heart rate, snoring and breathing, movements during sleep, wakeup times, and other factors such as bedroom noise.  Once Beddit collects all this data, it then gives you specific tips on how to improve your sleep, regardless of your situation.
Tile App – $18.95
Tile is like having your personal lost and found service.  The way it works is simple.  You take a Tile, which is a small, plastic device, and you attach it to any item that you think you may lose.  When I say anything, I mean ANYTHING.  Keys would be the most logical item, but you can also attach Tiles to other important things such as laptops, wallets, bikes, and the list goes on.
Once the Tile is attached, you can then track its location via the corresponding Tile app.  You can see when you are getting closer to the lost item, and the Tile will also emit an audible sound to help you out.  Tile has not yet been released, but it should ship by this winter.  The app is currently slated for iOS compatibility with such devices as the iPhone, iPad, and iPod Touch.
Hi-Fun Hi-Call Bluetooth Gloves – $69.99
If you are always on the go and live in a place where the climate gets chilly enough for gloves in the winter, you should probably give the Hi-Fun Hi-Call Bluetooth gloves a strong look.  These definitely kill two birds with one stone, as you get the necessary warmth from the gloves as well as Bluetooth functionality to make phone calls.
If you've ever made that "call me" gesture, then you can use these gloves with ease.  You listen through the glove's thumb while you speak through its pinky.  Charging is done via USB and you can expect around 20 hours of talk time per charge, so you won't have to constantly be recharging them.  Another plus is durability.  These aren't just for walking in the street or sitting in your car.  You can use them for more athletic purposes, such as running or skiing.  As for compatibility, the Hi-Call gloves will work with any cell phones that are equipped with Bluetooth technology, so you should be good to go as long as you're not stuck with a phone from the early 90's.
We're just getting warmed up so keep reading to find more innovative and unique products that you can use every day to save money or maximize productivity.
National Presto Pizzazz Pizza Maker – $49.99
Who doesn't love pizza?  It's one of the culinary world's greatest creations, and you can have it in a jiffy with the Presto Pizzazz Pizza Maker.  Whether it's frozen or fresh homemade pizza, this nifty machine will cook it.
It will work with pizzas 7 to 12 inches in diameter and features independently controlled heating elements on both the top and bottom.  Oh yeah, it the Presto Pizzazz will also cook those pizzas directly on your countertop in about half the time of a conventional oven, meaning you can enjoy your tasty creation even quicker.  This is definitely a good alternative if you're a pizza freak that is tired of paying and waiting for delivery.  With football season about to get into full swing, there's no better time to get one either.
Roku 3 – $99.99
Everybody loves to be entertained, but ask yourself this, do you really need cable anymore?  Think of all the channels you get.  All that extra fluff that you pay for, that you never even watch.  Not only is it expensive, it's also unnecessary.  So what are your other options?  There's tons of them, such as Netflix, Hulu Plus, Amazon Instant Video, and more.  There's one little nifty box that can deliver them all – the Roku 3.
Even though it's the most high-end model from the brand, the Roku 3 still comes in at a sub-$100 retail price.  What that gets you is 1080p HD video capability, a remote control with a headphone jack and ear buds, a motion control for video games like Angry Birds Space, and the ability to stream content from any of the major on-demand providers.  In other words, if you're tired of cable and looking to streamline your entertainment without being sentenced to boredom, Roku 3 is the answer.
FlameStower – $69.99
Like camping?  Worried about how you'll charge your electronic devices when the zombie apocalypse hits?  Or do you want a handy device to keep you powered in case of a hurricane or other bad storm?  Whatever the case may be, FlameStower is a vital piece of any modern survival kit.
FlameStower is essentially a small charger that captures the excess heat from campfires or cooking and stores it.  You can then take that energy and use it to charge your USB-powered devices until everything returns back to normal.  It works with cell phones, GPS devices, and more and is extremely portable.  You can also use the FlameStower indoors or out and during any time of the day, giving you plenty of flexibility when you find yourself in need of a charge.
LINK

Google ChromeCast – $35
Google ChromeCast is a small device that looks like a USB flash drive, but is much, much more.  The device is all about streaming.  Plug it into your HDTV, connect to your home's Wi-Fi network, and you can begin streaming content from your laptop, smartphone, or tablet.  ChromeCast offers a quick and easy way to stream video, music, photos, websites, and more from your devices to your HDTV to share with others or if you just want a bigger screen to take in all the action.  Since it uses the device you are streaming from, you don't have to worry about any additional remotes either. When you consider ChromeCast's price and plug-n-play functionality, it makes a solid choice for someone who wants to stream content to their HDTV with the least hassle possible.
BoostTurbine 2000 – $59.99
Here's another handy device that can help power your smartphone in an emergency, except it doesn't need anything else other than your own hands to charge it.  Compact in size and easy to carry, the BoostTurbine 2000 is a backup battery pack that comes with a crank.  If you're stuck in the middle of nowhere and your phone's battery dies, whip out the BoostTurbine, crank it up for one minute, and you'll get enough charge to give you four minutes of talk time or the power to send a few emergency texts.
Now that's obviously not an eternity, but think of how it could help when you're in a real bind.  You can also recharge the BoostTurbine's lithium battery, which when fully charged can offer enough power to keep your smartphone on and working for a much longer period of time.
USB Cufflinks – $79.99
These are like something out of a James Bond flick.  Not only will these cufflinks add some flair to your wardrobe, they'll also provide the functionality of 4GB of USB storage.  Load them up with that special project you've been working on, put them on, and you're out the door.  They're also engravable if you're looking for some added personal touch.
That just about does it for this list of handy devices under $100.  This isn't a product endorsement for any particular device but I wanted to share as there are many on this list that can make your life easier and won't break the bank.  Do you have a particular budget-friendly device that has helped you with your day-to-day tasks?  If so, let us know in the comments so you can spread the wealth to your fellow readers!
| | | | | | | | | | | |
| --- | --- | --- | --- | --- | --- | --- | --- | --- | --- | --- |
| | | | | Written on 8/13/2013 by Enrique Stone. | | | | | | |
Like this Article? Subscribe to Our Feed!