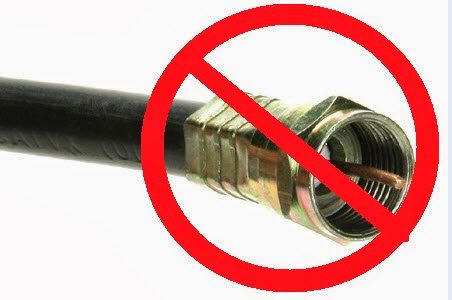 Are you tired of dealing with your cable TV company?
Do they raise your rates every other month, blackout your favorite channel due to disputes with the networks or have frequent outages?
While many of us have grown up taking cable TV for granted, there is growing disenchantment with the major providers, inspiring thousands to cut the cord every year.
But don't fear because you have options that can keep some of your hard earned money in your pocket.
Cable TV has been around since the late 70s, so long that some of us have never been without it. Before that, we had outdoor antennas that picked up broadcast stations for free, at least after you paid for the TV and the antenna. Nowadays, some people believe that you can't get TV shows without paying for cable, but it's not true.
Those broadcast networks are still sending out their signals, and you can still pick them up with an antenna. In fact, broadcast TV quality is better than ever since the digital conversion of a few years ago. Now you can get HD broadcasts of some channels that rival the quality of cable without paying a monthly fee.
If you've considered sparing yourself those monthly cable TV bills, here are some questions to ask yourself, and some ways to watch your favorite shows without paying for cable.
The Questions
Are you getting your money's worth out of cable?
If you're spending $50 or more per month to watch a few shows per week, maybe your cable isn't cost effective, especially if most of the shows you watch are available online the next day. Shows from the broadcast networks can be picked up with an antenna costing less than one month of cable.
Do you need to watch shows the minute they air?
If you're addicted to some of the current hot cable shows and can't wait for them to show up online, then you're likely to miss cable. Plus, you can't get networks like HBO, Showtime or USA without subscribing to cable or satellite TV. Some cable series become available later via online services like Netflix and Hulu Plus.
How much do you watch sports?
Sports are what cable does best, and if you don't have it, your options are limited. ESPN is available only on cable and that's where you'll find most of the hot games. If you're glued to the big screen all weekend, watching game after game, then you're getting your money's worth out of your cable subscription and should keep it.
Cutting the Cord
My decision to cut the cord came in June, after all my favorite network shows had their finales and I didn't even turn on the TV except to watch CNN's coverage of the tornados in Oklahoma. At the end of the month, I got my cable bill for over $100 and asked myself, "Why am I paying for something I'm not using?"
I called up my wireless/landline phone provider and got a cheaper deal for my Internet, then called my cable company to cancel their service. They didn't take it well, which made me even happier to haul their equipment down to their office and dump it on them.
I spent the summer happily watching films and TV shows via Netflix and Hulu Plus on my computer, but with fall TV show premieres and football coming, I decided to look into cable alternatives. I knew I could watch most of my favorite shows the next day online, but I was interested in ways to catch them when they aired, plus watch local news and college football. I did some checking around and found there is life without cable, but it takes a little doing to get what you want.
If you are considering cutting the cord keep reading to see what alternatives are available for you to help you save some money.