Seven Things You Never Need to Pay Full Price For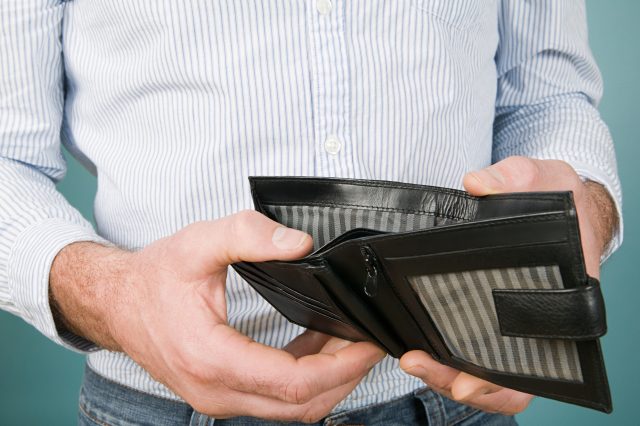 You work hard for your money and you want to get the most from every dollar. You certainly don't want to end up wasting your cash by paying more than you need to. Yet many people do this every single day.
I'm no fan of "frugal living" tips that mean I spend hours of effort for the sake of saving a few pennies, so these are all items you can always save cash on with a minimal time investment. In some cases, you might actually end up saving yourself time too. Each item on the list below is one that I almost never pay full price for:
Clothes
Other than underwear or bathing suits, I can't remember when I last paid full price for an item of clothing (and I think even the underwear was on a buy-one-get-one-half-price offer).
Why drop $40 on a pair of jeans when you can get the same pair on ebay for half that? If you've never bought clothes on ebay before, give it a try; you'll be surprised how many items are brand new, with labels, and from recent lines. Add "BNWT" (which stands for "Brand New With Tags") to your search, if this is important to you.
Clothing chains change their stock every season, so check discount stores and even the online version of the store for "end of season" or "last season" garments. You can often make a great cash saving.
Second-hand clothes are even cheaper, often just a few dollars on ebay or from goodwill stores.
Books
If I'm thinking about buying a particular book, I always check Amazon first – they seem to have a discount on almost every book, compared with the larger retail stores.
Check out the second hand sellers on Amazon as well: you can often get brand new and barely-used books a bit cheaper than the Amazon price – this is particularly useful for academic textbooks.
For leisure reading, don't get into the habit of popping into your local bookstore just to browse and pick up something that catches your eye – you can end up spending a lot of money this way. Instead, try your library (free!) or second-hand book sales run by charities or local community groups, where you can pick up paperbacks for a dollar or less.
Ebooks and Software
Always search for discount codes online when you're thinking of buying an ebook. Authors often promote their books to readers of particular websites, newsletters or blogs, and there's no reason you shouldn't use the code if you can find it!

 
With most expensive software packages, there's a freeware or shareware equivalent: try Google Docs or Open Office as alternatives to Microsoft Office, for instance. If you do need a pricey piece of software, can you make do with the previous version? I saved a substantial amount by buying Adobe Acrobat 8 instead of Adobe Acrobat 9.
Exercise Equipment
It's a sad fact that most exercise bikes, weights, cross-trainers and other equipment end up lying unused in garages and spare bedrooms. Many people get given these for Christmas – or buy them in the grips of a January resolution – and may not even get around to assembling them.

 
If you're fitting out your home gym, try looking in classified ads in your local paper, on Craigslist (US-focused) or Gumtree (UK-focused). Ex-gym equipment is also an option – especially when a gym closes down. You might be able to save yourself a significant amount, though be aware that guarantees and safety claims may be invalidated by buying second-hand.
As with software, buying a slightly older model can save you a lot of cash.
DVDs
There's no easier way to burn cash than to buy DVDs as soon as they're released. Wait just a few weeks or months, and that DVD may well be half the price or less. This goes particularly for box sets of TV series – it's always cheaper to wait for a complete box set than to keep buying single DVDs.

 
Can't wait to see the movie? Then rent it. You might decide it's not worth re-watching – so buying it would have been a waste of cash anyway. If you do love it, wait until the price has dropped.
I've found that Play.com in the UK – PlayUSA if you're in the US – has some incredible prices on DVDs, and Amazon is often similarly good.
Restaurant meals
When you're planning to eat out, always check online for coupons or vouchers. There's certain to be a restaurant near you that's offering a deal, especially if you're going out on a weekday.

 
Here in the UK, the site Money Saving Expert lists restaurant deals. If you have a specific restaurant in mind and you live in the states, you might try spending $10 for a $25 gift voucher.
It's also worth getting to know the places in your local area. Many restaurants will have happy hours, or deals on particular nights of the week. You may even find loyalty schemes or other bonuses for regular customers.
Train/Coach Tickets
I don't think I've ever bought a full-price train ticket. I have a student railcard that gives me a 33% discount on every train journey I take … and I pay even less by avoiding traveling at peak times, and by booking tickets in advance wherever possible.

 
If you know that you're going to be travelling on a particular date (such as for a vacation or trip), then try to book your coach or train tickets in advance. There's often a big discount for this, and train and coach lines will have online sites where you can book. Buying in person on the day is always the priciest way to get tickets.
Those are my seven items … what would you add to my list? What items would you never or rarely pay full price for?
| | | |
| --- | --- | --- |
| | Written on 9/11/2009 by Ali Hale. Ali is a professional writer and blogger, and a part-time postgraduate student of creative writing. If you need a hand with any sort of written project, drop her a line ([email protected]) or check out her website at Aliventures. | Photo Credit: timparkinson |
Like this Article? Subscribe to Our Feed!