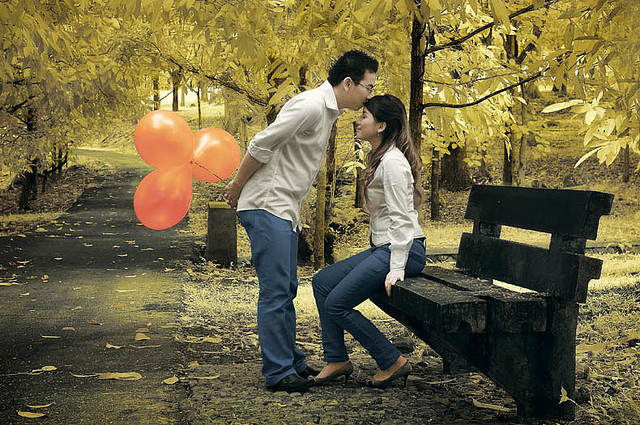 If your financial situation is looking bleak, you may believe that you simply don't have the money to treat your partner in the ways you'd like. Perhaps you think romance means buying big bouquets of expensive flowers, whisking your loved one to a flashy restaurant, or whipping out a bottle of champagne every night.
While those things all look great in the movies, such extravagances aren't reality. By the time work ends each day, the commute concludes, the kids are fed, etc., who has the energy to plan for romance and who has the money to constantly finance it?
Romance is another area in life that begs for simplicity. There are dozens of easy and free ways to be romantic! The beauty is that you can begin today. Don't wait for a special occasion like Valentine's day to do something for your loved one. A little unexpected gesture can mean a lot.
Here are seven ideas (one for each day of the week!):
Hold Hands
Do you ever hold hands with your partner? If this is something you associate with lovey-dovey young couples, don't automatically dismiss it. Taking your partner's hand on a walk is a lovely way to feel close and connected. If you are talking, holding hands will make the conversation more intimate. It's a tiny, effortless thing that instantly makes any moment a caring and romantic one.
Make Dinner Special
If you're having a quiet night in rather than going out to a restaurant, don't just sit on the sofa in front of the television. Set the table, light candles, and put some gentle music on in the background. Use nice plates and take a couple of extra minutes to display the food on them attractively. This will really set the mood for a special meal – even if what you're eating is no different from normal.
Write a Note
When you leave before your partner's awake, leave a note on the nightstand to say, "I love you". If your partner takes a packed lunch to work, pop a surprise note inside. Leave a note in his wallet, or her jewelery case. Get creative and playful – how about changing your partner's background on the computer to a message saying "I love you"? Or putting a note inside the book s/he's reading?
Bake Cookies
Making your partner's favorite treats is another way to do something sweet. The time and care you take is what makes this romantic. How about heart-shaped cookies using their favorite flavorings, or cupcakes with pink or red frosting?
Make a List
Jot down twenty things that you love about your partner. Make them personal and true while trying to avoid clichés. "I love your blue eyes" isn't as special as "I love you for bringing me breakfast in bed every Saturday". Once you've got a list you're happy with, turn it into a framed poster, or make a tiny card book with one item on each page. This could be a lovely surprise gift.
Snuggle Up
If you end up sitting in different chairs to watch a DVD together or, worse, on the other side of the room, try snuggling up on the sofa instead. Give your partner a cuddle when you're both standing in the kitchen. Kiss him/her goodbye in the morning. Like holding hands, these physical gestures mean a lot. Don't only snuggle as a prelude to sex – be affectionate just for the sake of it!
Say "I Love You"
I've saved the best tip until last. This is the simplest, easiest way to be romantic – and yet so many of us don't do it. Say "I love you" to your partner frequently. Make it the first thing you say in the morning, or the last thing you say at night, the words on your lips when you leave for work, and when you come through the front door in the evening.
I'm sure Dumb Little Man's readers will have some great tips on how to be romantic for free (or very cheaply) – so let's hear them in the comments! You might also enjoy the article on Date Ideas That Don't Break the Bank.
| | | |
| --- | --- | --- |
| | Written on 11/03/2008 by Ali Hale. Ali runs Alpha Student, a blog packed with academic, financial and practical tips to help students get the most out of their time at university. | Photo Credit: Here in Van Nuys |
Like this Article? Subscribe to Our Feed!