Peerform Personal Loans Reviews 2023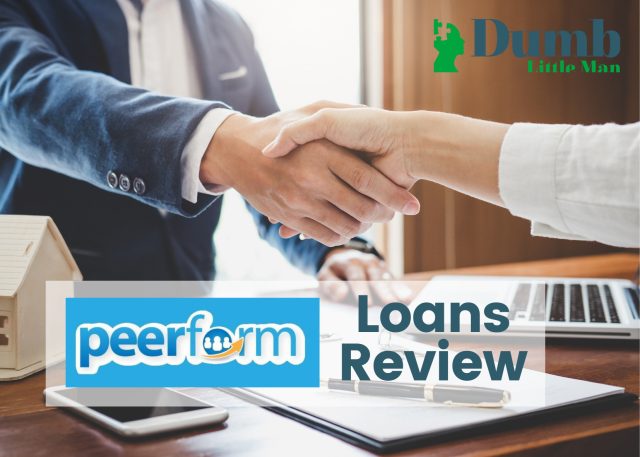 We all have those times when the money we have is not enough to pay for a need. Those are always tough positions to be in.
If you hate all the background checks and credit score assessments that come with borrowing from traditional lenders, good news! You no longer have to go through months of unending paperwork or even bother about having a superb credit score.
Thanks to peer-to-peer lending, you can request a loan without collateral. A fair credit score, your email, contact address, bank account, and a few other details are the only things needed.
Online lending sites like Peerform offer peer-to-peer loans to borrowers with a FICO credit score of 600 or above. That is much lower than what traditional lenders demand.
Peerform personal loans have a fixed interest rate. You will be able to comfortably plan your repayment and maybe even invest in the platform to help others and gain a little profit.
Peerform Loans Review: Topic Overview
Peerform is the leading personal loan platform. As a peer-to-peer lending website, it connects borrowers directly to individual investors willing to lend out money.
A personal loan from Peerform offers the best rates among peer-to-peer lending services. To qualify for a loan on this platform, all you need is a credit report from any of the credit bureaus and a little paperwork (all of which can be completed online).
Borrowers have access to multiple loan types and lenders get to benefit from loan proceeds as a reward for their investment. This type of lending is a helpful alternative to loans from more traditional institutions.
Another edge Peerform has over similar lenders is its fixed low-interest rates. This gives borrowers more control over their budget and improves their financial protection.
What is Peerform Peer-to-peer Lending?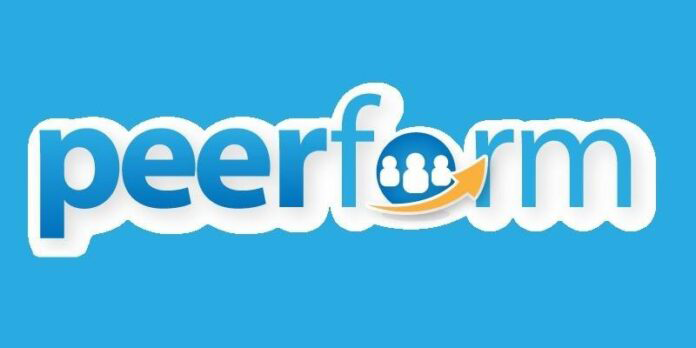 Peerform is a marketplace lending platform. Since its launch in 2010, the Peerform platform has been a source of relief for people in need of cheap loans.
Peerform caters to people with poor credit and Fico scores. It is the place to go whether or not you feel your loan request will be accepted by traditional financial institutions.
Unlike other lenders, Peerform has a low minimum credit score requirement. This characteristic sets it apart and makes it a good choice for people with unappealing credit scores.
Peerform loans can be used for debt consolidation, medical expenses, wedding costs, or other expensive purchases. All loans offered on Peerform are from individual investors.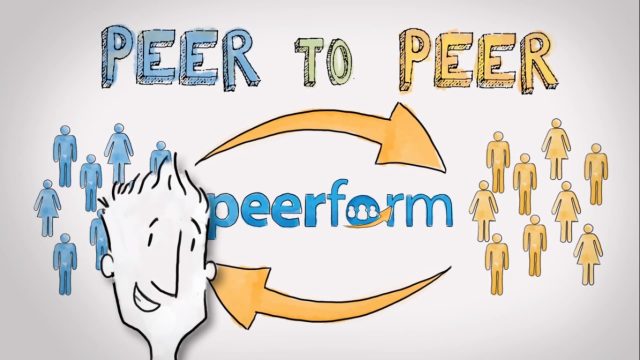 Click Here to Know More About Peerform.
How do Peerform Loans work?
Acquiring personal loans from this lender is pretty straightforward. On its website, Peerform outlines four easy steps borrowers can follow to apply for a loan.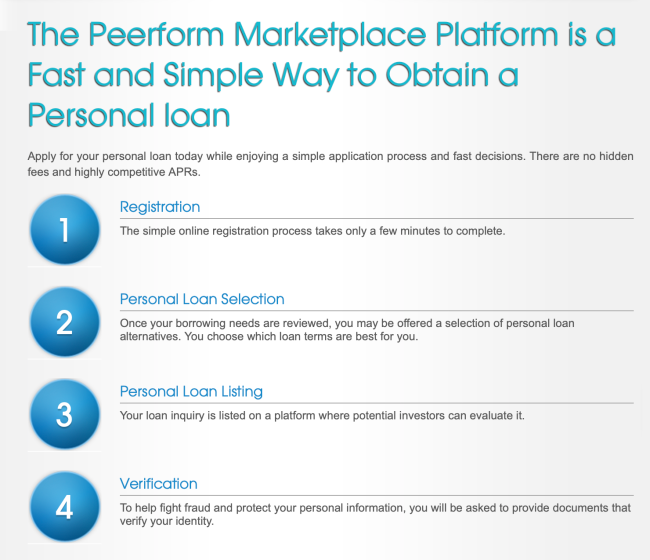 Registration
To register for a loan, you'll only need a few personal information. This include relatively accessible information such as your phone number, home address, date of birth, full name, and income information. You'll also be prompted to create an online account with Peerform using your email address. Finally, you'll be asked to fill in your preferred loan amount.
Personal Loan Selection
After your borrowing needs are reviewed in the registration stage, you'll be offered a selection of personal loan alternatives to choose from. Each of these loan alternatives has different terms and interest rates.
The lending process on Peerform is straightforward. You can choose your preferred monthly payment amount and create a confident plan for repaying the loan early. There is no prepayment penalty.
Personal Loan Listing
All personal loans on Peerform are financed by individual investors. After you select a loan type, your loan inquiry will be listed on a platform so investors can evaluate it.
This is where the Peer-to-peer lending process will begin. Unlike what's obtainable in a bank, investors carry all the risks associated with funding your loan request.
Your loan request will only be accepted when an investor feels comfortable financing it. If not, it will be rejected.
Loan requests are continually visible on the marketplace for up to 14 days. At the end of this period, your loan request will be taken down from the platform if it does not have any investor interested in funding it.
Verification
To complete the loan application process, you will be asked to verify your personal information. This step is important for fighting against fraud.
Protecting your personal information is important to Peerform. At a minimum, you'll need a government-issued ID and 2 recent pay stubs.
The lending platform also reserves the right to ask for other documents such as social security cards, bank statements, credit cards, utility bills, and tax returns.
You can reach out to Peerform through a ChatBot available on their webpage if you encounter any problem while filling the online loan application form. Other serious complaints can also be filled to the Consumer Financial Protection Bureau.
What are the Features of Peerform?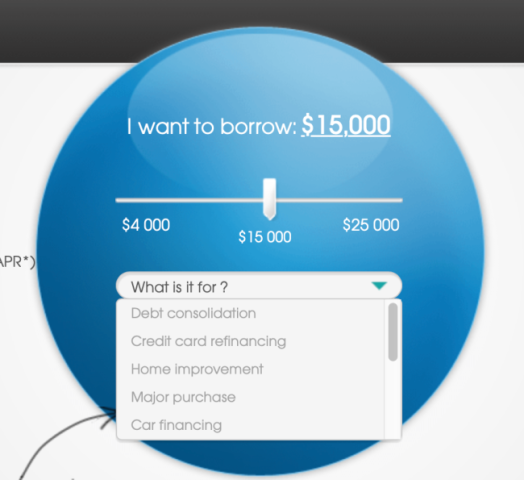 Borrowers and investors using this lending platform to request for and loan money should expect a people-centric experience. The minimum loan is not a high minimum loan amount.
A Peerform personal loan does not require an excellent credit history. It is a good choice for bad credit borrowers. Some other features include:
Fixed Interest Rates and Automatic Monthly Payment Options
Peerform does not offer payday loans. All personal loans offered on Peerform have a fixed interest rate. You can also automate your monthly payment so you don't have to manually send every payment.
Although there is an unsuccessful payment fee associated with defaulting on your payments, this option is still worth trying. It makes it easier for you to budget for every payment from the very beginning.
Free Quote on Possible Interest Rate
Before your application gets accepted and financed by an investor, you'd get a free rate quote. This opportunity to see the possible interest rate will help you properly gauge the cost of any loan type you settle for.
Borrowers don't have to worry about a rate quote's impact on their credit score. Before you get a Peerform loan, only soft inquiries are used to collect your initial rate information.
Best Loan Option for Borrowers with Bad Credit
You can confidently apply for a loan with less than perfect credit. The platform enables investors to lend money to anyone with a credit score of up to 600.
Once you meet up to this standard and can provide all the documents required, your request will be live on the site. There are a lot of investors on Peerform. Your loan request has a higher chance of being accepted than in traditional financial institutions.
There Are No Prepayment Penalties
If you think you might just be able to repay your loan earlier than expected, you don't have to worry about a penalty for your diligence.
Unlike what's obtainable while borrowing from other lenders, it is not more expensive to pay off your loans early. This means that you can always pay your loans sooner than later.
No Collateral is Needed For A Personal Loan on Peerform
You don't need collateral for a personal loan on Peerform. Fair credit history from any of the official credit bureaus along with some personal and bank account information is enough.
You can also complete the entire documentation process at a go. The fact that a Peerform personal loan can be processed without the security of collateral makes it more accessible than those offered by traditional banks.
How much does Peerform Cost?
Borrowing from Peerform is cheap. A borrower is treated with low-interest rates that are serviceable through a simple monthly payment system.
Interest rates are fixed. You can plan and know for a fact when you will be able to settle your loan. Monthly payments can also be automated to ensure that you have no unpaid payments.
If you prefer to use checks for repaying personal loans, you can. You will however be charged with a check processing fee of $15 only.
Borrowers on Peerform have a monthly payment grace period of up to 15 days. After the grace period, they will be charged a late fee worth $15 or 5% (whichever is greater) of the unpaid loan amount due for the month.
Peerform has a unique grading system for classifying each loan request. The interest rate given to your loan depends on which grade it falls under. Annual percentage rates (APR) and origination fees are also calculated based on the corresponding grade of your loan request. The grades are given to each loan request range from AAA – DDD. The range for the amounts payable as interest rate, APR, and origination fees are as outlined below:
Interest rate: 5.32% – 26.06%
APR: 5.99% – 29.99%
Origination Fee: 1.00% – 5.00%
Click Here to Know More About Peerform.
Who is Peerform Best For?
Peerform is the ideal personal loan solution for mid-range borrowers. You can borrow amounts from $4,000-$25,000. Although a Peerform loan cannot be used for educational purposes it can be used for a wide variety of reasons including health costs, weddings, and special purchases.
People with bad credit can also acquire a Peerform loan. Once your intended loan amount falls within the acceptable range of $4,000-$25,000, all you need is a minimum credit score of 600.
Though Peerform offers debt consolidation loans, borrowers with limited existing loans are still preferred over those with a debt-to-income ratio of more than 40%. This is still very generous as people with a substantial amount of existing loans will still qualify.
The debt consolidation offered by this lending platform will help borrowers streamline the servicing of existing credit card debts. You will be able to manage your Peerform loan and credit history efficiently.
The higher your FICO score, the more eligible you will be for a loan. Persons with high FICO scores also enjoy lower interest rates.
Peerform Pros and Cons
✅ PROS
▶ You Only Need a Fair Credit Score
Personal loan borrowers can benefit from Peerform Loans even with a low credit score. This peer-to-peer lending platform can accept FICO scores of 600. Compared to some loan providers, the minimum credit score of 600 is remarkable.

▶ Peerform Offers Competitive Interest Rates for Borrowers with A Strong Credit Score
The amount of interest you are charged as a borrower at Peerform depends on how strong your credit score is. High credit scores attract smaller interest rates. And, low credit scores attract higher interest rates. This is fair considering the risk a low credit score possesses to lenders.

▶ Peerform Offers A Wide Range of Loan Options
Peerform offers an impressive selection of personal loan options with favorable repayment terms. There are multiple lenders on the platform. Once you complete the simple application process, your loan request is posted to be viewed by potential investors.
The approval odds of a loan request on Peerform are high. Home improvement loans, car purchase loans, and marriage loans are some of the many loan options on offer.
🚫 CONS
✖ No Collateral Needed
You don't need collateral for a loan at Peerform. Personal loans at peer-to-peer lending firms are unlike those offered by more traditional lending facilities. Loan terms are softer. There're also no prepayment penalties and monthly payments come at fixed interest rates.

✖ Loan Amounts Amounts Are Ideal For Mid-Range Borrowers
Personal loans from Peerform are ideal for borrowers looking to cover needs such as short-term medical expenses and home improvement costs. You can borrow amounts ranging from $4000 - $24,000. It is easy to finance your projects by acquiring a Peerform personal loan online.
If you choose to use online lenders, you may have to forgo the comfort of sitting in a comfortable office space and having a physical chat with your lender. Even though that may wind up taking a lot of time, you may prefer to do things traditionally.

✖ There Are Small Penalties for Defaulting on Repayment Terms
Borrowers on Peerform can signup for automatic repayments. Even though Peerform does not have prepayment penalties, it still has small penalties for people who default on making their monthly payments.
Every time the system tries and fails to withdraw (due to insufficient funds), a penalty fee of $15 or 5% of the loan amount payable is charged depending on which is higher. Borrowers who prefer to pay manually will also be charged a late fee of the same amount.
Peerform Compare to other Loan Company
| Loan Company | APR | Credit Score Required | Minimum Loan Amount | Maximum Loan Amount |
| --- | --- | --- | --- | --- |
| Peerform | 5.99% - 29.99% | 600 | $4,000 | $25,000 |
| Prosper | 7.95% - 35.99% | 640 | $1,000 | $40,000 |
| LendingClub | 8.05% - 35.89% | 600 | $1,000 | $40,000 |
Click Here to Know More About Peerform.
Peerform vs. Prosper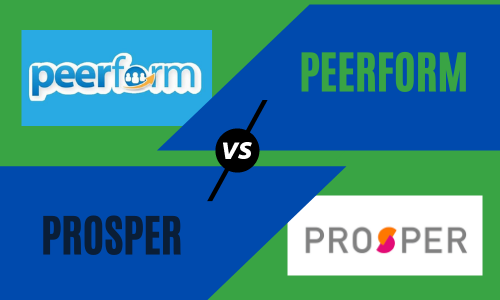 Prosper is another example of a peer-to-peer lending platform. Both Prosper and Peerform offer loans that are financed by individual investors.
The two companies however have a different approach to the way they conduct their business. On Prosper, the Annual percentage rate (APR) range starts at 7.95%. That is much higher than what is obtainable in Peerform which has an APR range that starts at 5.99%.
This sharp difference makes the repayment of personal loans easier in Peerform than it is on Prosper. Prosper also has a higher minimum credit score requirement of 640.
If you have a bad credit history, your chances of getting a loan request approved on Peerform is higher than it is on Prosper.
Peerform vs. LendingClub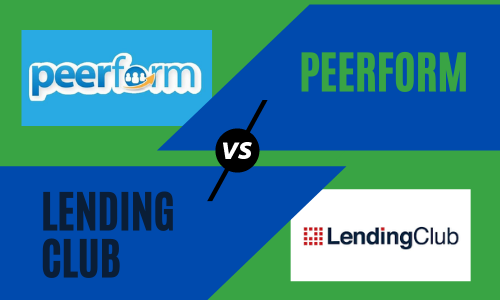 LendingClub is also another peer-to-peer lending company. Like Peerform, it offers potential borrowers the opportunity to check possible interest rates using a soft credit check.
You may be able to borrow as little as $1000 on LendingClub. And, the upper limit for borrowing on LendingClub is $40,000.
Borrowers considering a choice of peer-to-peer lending platforms to borrow from should however note that personal loans on LendingClub are more expensive to repay. LendingClub has a higher APR that starts at 8.05%.
As peer-to-peer lending continues to grow in popularity, people will naturally gravitate towards the company with the cheapest APR. Peerform is a clear winner for investors and borrowers alike.
Conclusion
The best Peer to peer Lending platform is Peerform. It has the best rates and is ideal for the average borrower.
The repayment terms on Peerform range from 3years-5years. Funds are disbursed within 3 days of final loan approval.
Peerform has a low qualifying credit threshold, low-interest rates, and no prepayment penalty. You can also clarify any questions you may have with Peerform's help center through live chat, email, or call.
For borrowers with very little credit or a shabby credit score, Peerform is the right choice. You can be confident of receiving the best service even with a low debt-to-income ratio.
Frequently Asked Questions
What credit score do you need for Peerform?
As a leading online lender, Peerform accepts poor credit scores. To process a loan, the borrower only needs to have a FICO score of at least 600.
You don't have to worry about having a whistle-clean credit score to borrow from this lender. For a start, you may choose to view the interest you are likely to pay through a soft credit check without affecting your existing credit score rating.
What is the easiest company to get a loan?
While borrowers have many options, acquiring a loan in a more traditional financial institution is not easy. Arguably, the easiest company to get a loan from is Peerform.
On this platform, origination fees are lower than those offered by other lenders and loan amounts are easily financed by private investors. You will also enjoy the benefits of unsecured loans that don't need expensive collateral or use difficult loan terms.
What credit score is needed for a $4000 personal loan?
To acquire a loan of any amount acceptable on Peerform, you only need to make sure that your Fico score is up to 600. Compared to other lenders, Peerform loans are very accessible.
No matter the loan amount, you only need to have a fair debt-to-income ratio. Peerform is a good place to acquire a mid-range loan amount without the need for collateral.