How to Find an Affordable Engagement Ring — Without Sacrificing Quality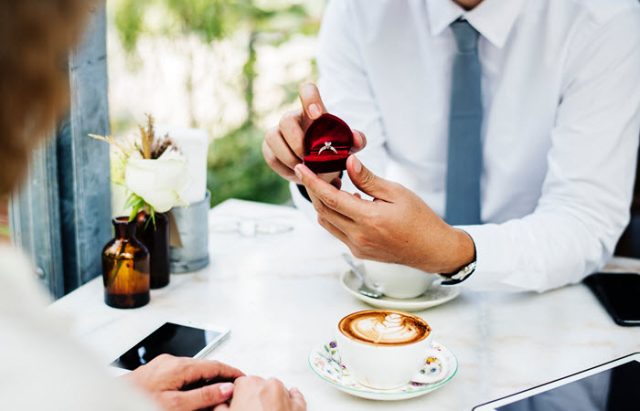 The phrase affordable engagement ring probably makes you think of a lot of things: weird lighting in malls, trays of identical-looking rings, and maybe even your credit card bill. It doesn't exactly feel personal or tailored to the person special enough to spend the rest of your life with — but it doesn't have to be that way.
Yes, you can hand-select your diamond and setting and still walk away with a stunning engagement ring that's affordable and built to last as long as your love. It all comes down to knowing the process, what to expect, and where makes the most sense to invest your hard-earned dollars. And because we want the engagement ring you choose to bring a smile to your face and hers every single day, we're sharing exactly how to get the one that's the perfect balance of beauty and budget.
First things first: Vet your jewelers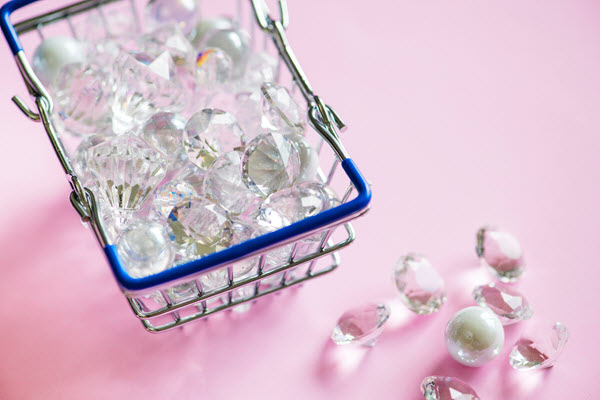 If you go straight for "affordable," you're going to get some options where quality is lacking. That's why we suggest going the other way. Start by vetting all of your options for quality to make sure you're getting the best quality product, no matter your engagement ring budget. (And, yes, you need one of those — we'll get there in a minute.) A great place to start is checking that your jewelers can verify they're all selling you natural, untreated diamonds and that all of their stones are independently certified by a lab and come with a grading report.
There are four grading labs you'll likely hear about:
While each of these labs will grade diamonds for their cut, clarity, color, and carat weight (called the 4Cs of diamonds), GIA is a nonprofit and the world's leading authority on diamonds, gemstones, and pearls. They have the highest standards for grading and education. At With Clarity, we only use GIA certified diamonds because we know the grading reports are stringent and trustworthy, and we can use them to help our customers find beautiful stones.
But, for example, a stone rated as a G color diamond by GIA might not look the same as another rated as a G diamond by another organization. Find out which lab each of your options uses, and then do your homework about their reputation and reports.
See Also: Diamonds As Gifts: How Do You Pick The Right One?
And check that they share those reports
To make sure you're getting what you pay for, always check that your jeweler makes these independent grading reports available to you before you buy. You should be able to see where your stone falls in each of the grading scales for the 4Cs of diamonds. Then do your research so you know what the report is telling you. Our education section breaks each of them down in depth because we want you to be able to inspect your own stone. After all, your priorities for a beautiful diamond might be different than your jeweler's.
Make sure you know the standard prices
It's no secret that brick-and-mortar jewelers have to pay for overhead — or that they pass these costs on to the customer. One way to bypass this is shopping online for your engagement ring. Another is to understand general diamond prices so that you can get a rough idea of how much overhead is getting tacked onto your bill. Diamond prices can fluctuate, but price ranges at certain sizes can give you a good idea of what to expect.
Go in knowing that different diamond shapes will cost different amounts. Some shapes, like round diamonds, sacrifice more precious rough material and therefore cost more. You can use our chart below of the average prices for a 1 carat diamond of each shape to give you a general sense of the price range you're looking at.

But you might not be looking at a 1 carat diamond, so you also need to know what to expect as that carat weight increases. These gemstones also don't increase in price at a set rate — that means a 2 carat diamond is not simply double the price of a 1 carat diamond. Larger, usable chunks of this precious material are rarer, and that's what sets the price. A 2 carat diamond is more than twice as rare as a 1 carat diamond, a 3 carat stone even more so. Expect prices to increase exponentially as you consider larger diamonds.
Set your budget and priorities ahead of time
We're humans just like you, so we know what other expenses you have. Yes, proposals are exceptional, but you don't have to blow through your honeymoon fund or home downpayment to get a ring that's exceptional, too. Before you start shopping, take a hard look at your income, financial responsibilities, and future goals. Then decide how much you feel comfortable spending.
It might help to know that the average cost of an engagement ring in America hovers around $6,351, and that the size of the diamond in that engagement ring is a 1.2 carat stone. There's a lot of pressure to overspend because of the symbolism behind an engagement ring. You want to make her feel special, we get it. But that doesn't mean you have to derail other long-term goals to do it.
Understand where your money is going
It's hardly surprising that the bulk of the cost of an engagement ring is that center diamond — but maybe you don't realize just how much. Settings at With Clarity range from just $250 all the way up to $3150 depending on the type of precious metal used and the size and number of accent diamonds adorning the band.
If you're opting for a 1 carat diamond, the cost for a round diamond that's an excellent cut, G color, and VS2 clarity hovers around $5300. The specifics for the diamond you have in mind will vary depending on its grading for the 4Cs and the shape. But you can see how the diamond easily outweighs the cost of the setting, especially if your beloved likes things simple. Keep this in mind when budgeting. Our gemologists, for example, ask our customers whether their budget is for the diamond alone or for the entire finished ring — make sure you know which of these your budget is for.
Pick your top priorities and cap it to 1 or 2
Anyone shopping for a diamond on a budget is going to have to strike a balance between that number and the beauty of the stone. The good news is, you'll still get a stunning diamond doing this. You just have to make sure you know what your future fiance's priority is, and funnel your money strategically to this diamond characteristic. A good way to do this is to find out if she's most concerned about her diamond being big (carat), white (color), or clear (clarity). We recommend never compromising on cut, since this has the biggest effect on how much your diamond sparkles.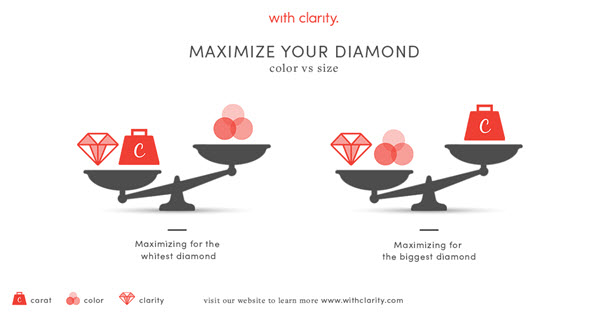 Some of this will be affected by what diamond shape she likes. Emerald cut diamonds, for example, are surging in popularity right now, and if your future fiance loves them you'll need to spend more money on a higher clarity stone. That's because the faceting (or faces of the stone) are bigger and wider, so any blemish is more noticeable. A round diamond, on the other hand, masks small inclusions very well but has other concerns of its own. Working with a gemologist can help you figure out the particulars of her preference and where your dollars are best spent.
Learn some insider secrets
Yes, there are secrets to getting an affordable engagement ring. At With Clarity, our main concern is that you love your ring, so our expert gemologists share these tips with countless customers on the phone each day — and now we're sharing them with you. Here are just a few of the ways you can see a lower bill and still get a seriously beautiful ring.
Befriend fluorescence
Hot take: Diamond fluorescence is not the enemy. In fact, it can be an ally if you're shopping for a stunning engagement ring on a budget. One easy way to save money on your diamond is to opt for a lower color grade stone. Choosing a diamond, for example, that's just out of the colorless range — a G color diamond instead of an F color diamond — can save you serious cash. And you'll save more if you're willing to consider an H or an I color stone.
And that's where fluorescence comes in. There's a nasty rumor going around that fluorescence affects how your stone sparkles. And while technically that can be true, the GIA conducted an independent study and found that this only happens in less than 1% of diamonds. Most of the time, Medium or Strong fluorescence can make your stone look one color grade whiter. And since most people avoid fluorescence because of its unfair reputation, this drives down the cost even further.
Fudge the numbers
People really care about the size of their center diamonds, as we're sure you know. It's a point of pride to have a 1 or 2 carat diamond, but it will cost you more just to be able to say you have a stone that weighs in at this round number. The truth of the matter is that most people can't tell the difference between a diamond that's 0.95 carat and one that's a full 1.00 carat stone — but you'll sure be able to recognize the difference in price.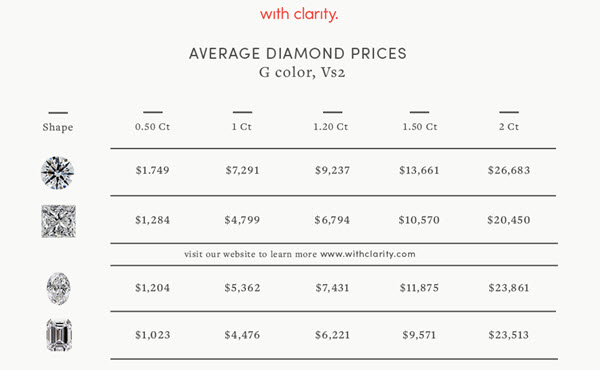 Diamonds that fall just below these "critical weights" are called "off size diamonds," and they can save you some serious money. There is one catch, though. Diamond cutters know that the round numbers get higher prices, so they try to make sure to make stones in these sizes. It can take a little hunting to find an off size diamond, but it's well worth your time. And some businesses, like With Clarity, have on-staff experts that will help you do the hunting to cut down the time and effort on your part.
Add more diamonds
Consider a setting with more diamonds and you might actually pay less. A halo setting, which wraps your center diamond in a glittering ring of accent stones, creates an optical illusion that you and your bride-to-be will love: It makes your central stone look larger by up to a half carat. Remember what we said about larger diamonds being rarer? Since a halo engagement ring uses smaller stones for this feature, it costs significantly less money than buying the bigger diamond even though you're paying for more diamonds.
Pay for what you can see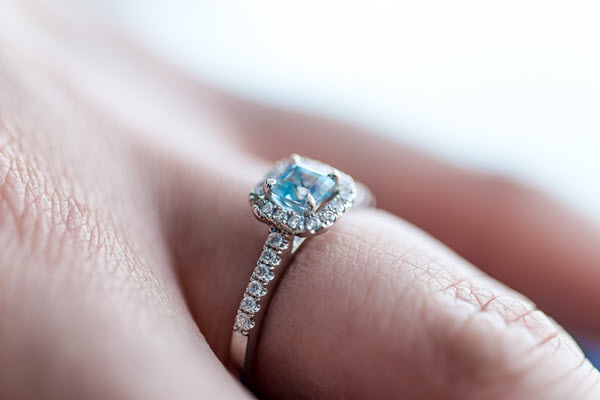 It's only natural to want your engagement ring to look beautiful. But it's helpful to understand the differences in how a gemologist inspects diamonds and how she'll see it on her hand everyday. Gemologists use special lighting and magnification to grade each stone — conditions in which it's very unlikely you'll ever see the diamond you're buying. And at a certain point, it's difficult if not impossible for the naked eye to see the differences between grades. The big difference will only be seen in the price tag.
Clarity isn't the only one of the 4Cs where this happens, but it's a good example. Yes, a flawless diamond is the only one without any inclusions on the inside or outside of the stone. But you'll find no eye-visible inclusions in VVS2 diamonds, which sit three grades and thousands of dollars lower. Finding an affordable engagement ring that's also beautiful very often comes down to asking yourself if you can actually see the difference. If not, why pay for it?
Check for added value services
The actual ring might not be the only cost here, though, and therefore not the only place to save money. Before making your purchase, check on some of the additional services your jeweler offers and the fees associated with them. It's difficult, for example, to get her ring size exactly right when you want your proposal to be a complete surprise. So you might want to choose a company like With Clarity that offers complimentary resizing within a certain time frame after your purchase.
It can also help to think about down-the-road costs of your ring to see where you can save. White gold is the most popular precious metal for engagement rings, but the rhodium plating that keeps it that icy white color eventually wears off and needs to be reapplied. With Clarity offers free dipping, the process of reapplying this coating, for a lifetime to guarantee your ring stays beautiful — and any jeweler you go with probably should, too.
Like this Article? Subscribe to Our Feed!