Find Out Exactly Where Your Money Goes: Keep a Spending Log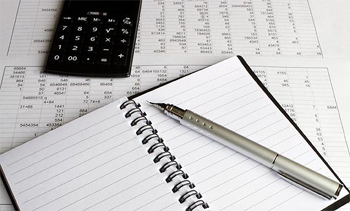 As a quick exercise, try to list out where your disposable income went last month. If it all went to a large purchase, you'll know the answer. If not, if your leftover money went to a ton of random items, my guess is that you'll only be able to account for a small portion (i.e. you have no idea where your money went!).
The latter case mentioned above, where you have no idea where the cash went, is absolutely counter-productive to just about any financial goal you can think of. Most people want to take vacations, upgrade appliances, etc., but, most fail to plan. Have you tried, and failed, to force yourself to budget? Do you think you're just no good at managing your money?
All you need is the #1 tool in the canny consumer's tool kit: a spending log.
What's a spending log?
A spending log isn't that big chunk of wood you threaten to beat your partner with every time they splash out on something totally unnecessary (that's the "spending stick"…). A spending log is a record of how much you spend, when, and on what. Your log can be as simple as jotting down a few figures in your diary or as complicated as a spreadsheet with rows and columns for every item you purchase and the precise time of day. For most of us, something in between will suit.
Creating your spending log
Either in your favorite spreadsheet program or on paper, draw up a grid with these categories as column headings:
Bills (this covers rent, electric, gas, water, car payments etc)
Groceries (anything you buy to eat/drink at home)
Household (toiletries, cleaning stuff, domestic appliances)
Travel (bus, train or plane fare, petrol)
Entertainment (CDs, books, magazines, meals out, days out)
Misc (anything else, eg. buying gifts)
You might want to include more detailed categories, such as "Lunch" if you tend to buy lunch out, "Charity" if you give regularly to charities, "Loan repayments", "Studying", and so on.
In the first column, write "Date" then put each day on a separate row:
Mon, Sept 1st
Tues, Sept 2nd, etc.
It's up to you whether you fill your log in on paper or on the computer. The advantage of using a spreadsheet program is that you can automatically total your spending for the day/week/month, or your monthly spending across different categories. But you might find you're better at regularly filling in a paper log as you can easily carry it with you.
Filling in the spending log
Each day, sit down and enter what you've spent into your log. Put some details that will be useful to you when you look back over the log – that might mean having a "notes" column if you're using a spreadsheet on your computer. For example, if you've entered a figure in "Entertainment", you might want to record exactly what you bought.
Enter large bills on the date which they go out of your bank account – this will help you when you're looking at cashflow.
There are some occasions when it's very hard to keep accurate track of spending – for me, this is usually at a bar or restaurant! The best method is to take out a set amount of cash at the start of the evening, and only spend that, rather than using a card. Afterwards, you can see how much you've spent at a glance.
At the end of a week…After you've been keeping your spending log for a week, think about whether you're spending habits have been affected at all. Are you more conscious of what you're spending, because you're writing it down? Were there things you were tempted to buy, then didn't? Just like keeping a food diary to track your eating, the very act of writing down your spending can help you reduce it.
At the end of a month…Once you have a full month recorded in your log, start doing some analysis. Have a look at
What you spent in total that month
Which category was the most expensive and which was least expensive
Any unusual expenses (weekends away, parties, large payments)
Most people are surprised how much they spend in certain categories. You'll probably be able to identify areas where you could save money; perhaps cutting down on entertainment items, or buying your groceries more economically. If you have to travel most days by bus or train, a monthly ticket will almost certainly work out more cheaply than a daily one.
Challenge yourself to save $100 next month – figure out where you can cut back in order to afford that, and put that $100 aside into a savings account (or even take it out of the bank in cash and keep it in a money box) at the start of the month so that you don't end up spending it.
Have you ever kept a spending log? Did you find it effective in helping you to spend more consciously, save up, or understand where all your money was going?
Ali
Like this Article? Subscribe to Our Feed!