Don't Let The Crooks Win! Use These 12 Ways to Prevent Cellphone Theft.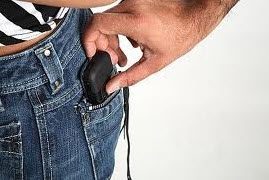 It's hard to believe that cellphones have only been around for about 20 years, since so much of our lives are stored on them today. The smartphone is the one gadget that most of us can't leave home without, which is why it's so frustrating to have yours stolen.
The list price of a high-end smartphone like Apple's iPhone or Samsung's Galaxy can be around $600, so it's no wonder that the devices are targeted by thieves. In 2012, 30% of all robberies in the Los Angeles area involved theft of a mobile phone. Phones accounted for 40% of robberies in New York City. In San Francisco, the figure was nearly half, with many of the crimes occurring on transit lines.
Fear not because there are some easy things that you can do to keep your cell phone safe.

The problem of cellphone theft has become so serious that Americans now spend $30 billion per year replacing lost or stolen phones. A coalition of state attorneys general, district attorneys and police officials have been looking into the problem and some are pressuring smartphone makers to create technology that would cut the number of robberies involving the devices.
Yes, the news is pretty gloomy, but there are a few things cellphone owners can do to curb the chances of having their devices snatched by criminals, and lessen the damage if you do become the victim of theft.
Record your details.
As soon as you get a new device, record all the details about it including phone number, IMEI, make, model, PIN or security code and any other numbers used to identify the phone. Store this information in a place away from the phone, like on your desk in the box it came in.
Register the phone with your carrier.
Again, do this immediately after you buy the phone. Then if it gets stolen, report it ASAP. The carrier can block your handset and account details so that the thief will not be able to use the phone, even if the SIM card is replaced. If you have to do this, record all information about the call in case the thief uses your phone for fraudulent activity before the carrier has chance to disable it. You should also disable your number at this time. While your carrier can be your ally in finding your missing phone, you may also find yourself locked in a legal war with the company over charges made to the device, so document everything.
Mark it as yours.
With an ultraviolet pen, mark both the exterior of the handset and the battery with your alternate phone number, email address and street number. These marks can be used to ID your phone and get it back to you in case of theft. Redo when the ink wears off.
Keep the phone in a safe place.
While there's no place you could hide a phone that would be absolutely secure, some are better than others. Some places that are just too vulnerable are the outer pocket of a backpack, back pocket of jeans or a front pocket of a jacket. A better spot for the phone is inside a zippered compartment of your purse or an inside jacket pocket.
Lock your phone.
If a thief does get your phone, it won't do him any good if he can't turn it on or access the information on your SIM card without a password.
Never let the phone out of your sight.
And don't put it down. Every week I read about thefts in my area involving people who left their phones on the table at a club or restaurant. Why make life easy for
crooks?
This first group of tips is a good start to prevent the theft but there are more important things that you can do to keep your phone safe.
Keep reading to see more tips to prevent your phone from being snatched as well as advice on what to do in the event that the thief actually gets his hands your cellphone.
Be on your guard.
Too many people wander aimlessly down the street, talking on their phones and paying no attention to their surroundings. I once saw a guy almost get hit by a car while walking across the street and talking on his phone! When out in public, keep your eyes and ears open—and your phone concealed from the eyes of crooks.
Bill Cassell of the Las Vegas Metropolitan Police Department told ABC News about a ring of cell phone thieves that had been caught in his city. "They were all targeting people in fast food restaurants, coffee shops, people walking on streets. The victims all had a similar profile too. They were all focused on their cell phones, inattentive of their surroundings and looked like they wouldn't put up a fight."
Don't be stupid—focus on your safety, not your phone. Be extra careful in dark places like nightclubs, which are havens for thieves because there are so many intoxicated people in close quarters.
Use a hands-free unit.
If all that's visible to crooks is your headset, they have no idea where you've stashed your phone, or whether it's even worth stealing. Yeah, you look like you're talking to yourself, but isn't that better than having your phone stolen?
Dump the earbuds.
Everyone, including thieves, knows that the iPhone comes with white earbuds. To avoid telling the whole world that there's an iPhone in your pocket, switch out the earbuds for a less recognizable set. And you really shouldn't be listening to music out in public anyway, since it can distract you from your surroundings.
Install anti-theft software.
What's available depends on your model, but there are types of software for all operating systems. Do an app search for "anti-theft" and you're sure to find a few.
Not all cellphones are created equal when it comes to security features. Apple's iPhone was released in 2007 and quickly became one of the most-stolen models. In 2009, Apple debuted the "Find My iPhone" software that can locate a stolen phone and remotely erase its data. The GPS capability of Find My iPhone has actually led police right to the location of cellphone thieves, so this is definitely worth using if you have an iPhone.
This year, Apple added an "Activation Lock" option for the iPhone to iOS 7. Apple released this statement in June 2013: "Apple has led the industry in helping customers protect their lost or stolen devices since the launch of Find My iPhone in 2009 by allowing customers to remotely set a passcode or erase all their personal data. With Activation Lock, Find My iPhone gives customers even more control over their devices and serves as a theft deterrent by requiring an Apple ID and password to turn off Find My iPhone, erase data or re-activate a device."
Some other smartphone makers are fighting back by giving users tools to protect their devices. Earlier this year, Samsung added a "kill switch" to its Galaxy SIV. The "LoJack" feature allows users to delete data from the device and prevent it from being rebooted if stolen.
In case of theft, here are the things you should do as soon as you realize the phone has been snatched:
File a police report.
This should be done immediately if your phone is stolen, since the crook could be using it to place long distance calls all over the world that will turn up on your bill. The carrier may ask to see a police report, so be sure you get one.
Change your passwords.
If your phone is stolen and you've been using it for online banking, to access email or for social networking, change all your passwords immediately.
There's no sure way to avoid cellphone theft, since the thieves keep getting more aggressive and determined, still, it's up to the user how difficult we want to make it for the crooks.
| | | | | | | | | | |
| --- | --- | --- | --- | --- | --- | --- | --- | --- | --- |
| | | | | Written on 7/20/2013 by Linda Cauthen. | | | | | |
Like this Article? Subscribe to Our Feed!