Chime Banking Reviews: Is Chime a Good Bank?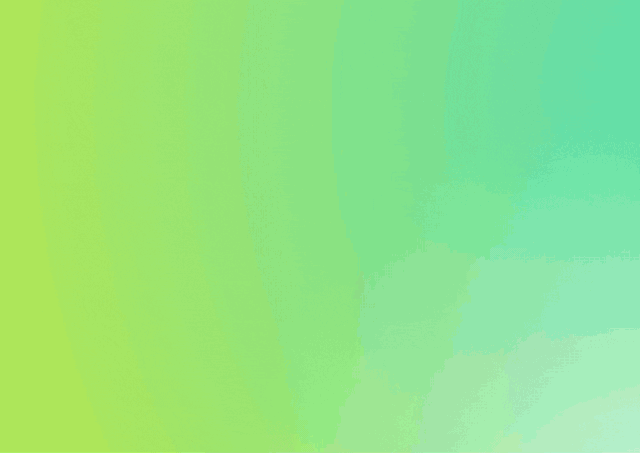 Different banks include a complete state of account options with multiple whistles making the process harder to determine what fits your needs. YES! You heard that right.
Don't you desire to keep things simple? Well, chime has got you covered with one spending and saving account. The chime ties up entirely with a decent mobile app and secured credit-builder account.
Either it's about student loans or debit card purchases, chime comes with no minimum deposit and overdraft fees to provide people an overwhelming experience.
What's the catch, by the way? It is one of the automated savings tools with secured credit card access and much more. Let's get right into the detailed chime review!
Chime Bank Reviews: Topic Overview
Understanding how bank accounts work can be overwhelming at first glance but we're here to help break it down so that anyone can understand it!
Check out our comprehensive review of Chime Bank's services below: -What are the benefits? -How does it compare against other banks? -What are the Pros and Cons -Who is Chime best for?
Everything you need to know about Chime Bank in one place. We've got the details for you.
What is Chime Bank?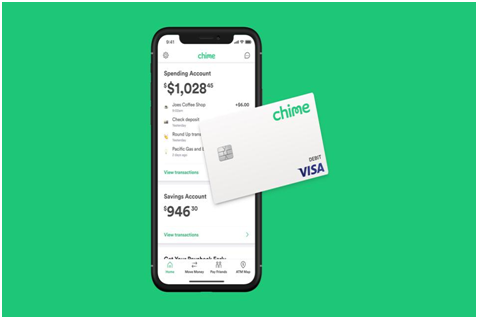 It is an exclusive option launched in 2013 to ensure an effective alternative to serving people better than other bank accounts. It's an online financial enterprise that works with bank account to offer check and saving account services. Well, it's not a bank, seriously.
How is chime different? Chime differs from other banks as it opens an account for you at partnership banks. But wait! It still has Federal Deposit Insurance Corporation (FDIC) insurance. The bank n.a members FDIC will find it a secure place to save all their money.
You have to use chime through a mobile application, and it ensures a plethora of features to make the banking process highly convenient. And guess what? The mobile app is well-rated at the Apple and Google Play stores.
Lastly, the app will send you a daily account balance with all transaction alerts whenever you make any purchase. There is an option available to disable the notifications from the banking app. The option saves you from making any customer service call, particularly when you misplace the card. Moreover, you can disable international transactions from the mobile banking app.
How does Chime work?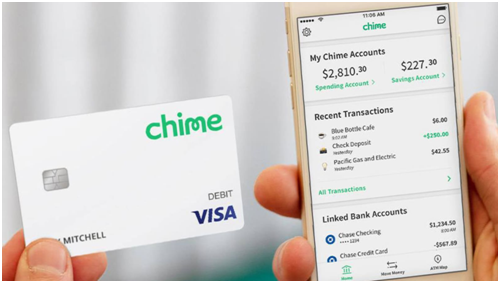 Let's dig a little deeper! Chime works with operating an app that enables the customers to generate spending and saving accounts with a debit card for effectiveness. It doesn't cost you any account fees as the chime app is entirely free, and it makes money through the transaction fees that the visa actually charges. It happens when customers use the card as it works in partnership with a visa.
Besides this, chime also offers clients the option to paychecks deposited at least two days before. The savings accounts include two automatic saving options to help the customers more. One provides the client's choice to evaluate the debit-card payments to almost the nearest dollars. The other option will direct a total percentage of all paychecks to the savings account.
Chime app works by letting the clients fee-free checking and saving options with depositing cash and a card. Basically, the chime is a challenger bank that ensures no fees without even having physical bank branches. Mobile banking and savings accounts are the top options chime uses to provide credit reports and user-friendly services.
What are the Features of Chime Account?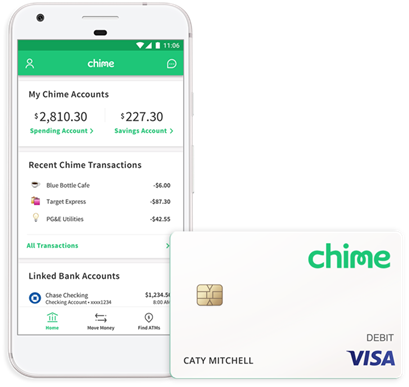 Chime Savings Account
You will only get one saving option illustrated as the high-yield saving account. It offers a saving rate of 0.50% APY, which is quite beneficial than others. Moreover, the savings accounts feature two different automatic savings programs to help clients reach saving goals.
Whenever you enable it, all purchases made are rounded up to dollars and transferred to a savings account. That's how a savings account works. You can also send the desired portion of direct deposit measuring almost $500 to the savings account.
The process of transferring money to a savings account might be daunting. The chime spending account and chime savings account work differently with the direct deposit to make it more user-friendly.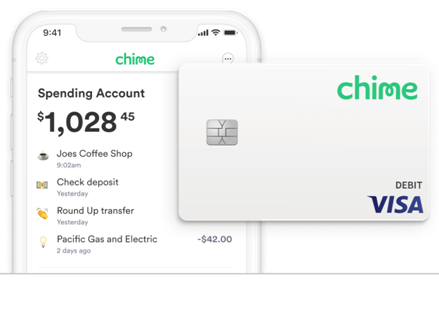 Chime Spending Account
Spending account and comes with a decent Visa card. Chime doesn't include traditional bank account features such as writing checks with the chime checkbook feature within the checking account. You can pay bills through this feature so transfer a check on your behalf that will reach in almost three to eight business days. The credit limit is something that needs consideration.
The plus point is that you can send unlimited checks every day so that you can use the spending account precisely. Clients can effectively use the debit card without paying any additional fees throughout the US. It will also not cost you foreign transaction fees when using the chime debit card.
Chime offers SpotMe, and that's a significantly valuable advantage, no doubt. It helps to evaluate overdraft fees that allow customers to avoid this feature on the spending account. SpotMe also works to receive direct deposits every month. Chime uses monthly direct deposits to determine eligibility.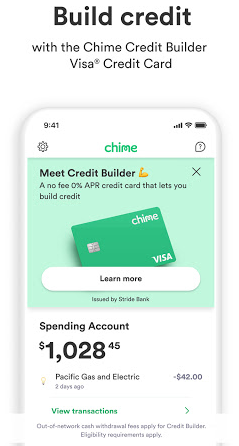 Here we go with the features it comes with! Whether it's the savings account or spending account with other debit card purchases, a chime will always support you.
Access to direct Deposits
You can also fill the paperwork and get access to direct deposit while paying almost 48 hours early using the chime spending account.
Save When I Get Paid
Whenever you get paid chime, send 10% of direct deposit into the Chime Savings Account. YES! It converts a portion of the money to the nearest dollar upon each $500 deposit and sends the money through automated savings tools into the account.
Visa Zero Liability
Chime provides debit cards. The cardholders aren't responsible for any charges. The plus point is that clients can block transactions on the card through the app.
You will only get one saving option illustrated as the high-yield saving account. It offers a saving rate of 0.50% APY, which is quite beneficial than others. Moreover, the savings accounts feature two different automatic savings programs to help clients reach saving goals.
Whenever you enable it, all purchases made are rounded up to dollars and transferred to a savings account. That's how a savings account works. You can also send the desired portion of direct deposit measuring almost $500 to the savings account.
The process of transferring money to a savings account might be daunting. The chime spending account and chime savings account work differently with the direct deposit to make it more user-friendly.
How much does Chime Cost?
Let's consider the cost! Is chime expensive? This chime review will help you know the maximum about it. There is no exaggeration in saying that chime is a budget-friendly option with no minimum balance requirement. It works in partnership with Bancorp Bank or Stride bank.
Type of Account
Monthly Fees
Waiver Criteria
Minimum Deposit Amount
Chime Checking Account
$12
$500 or more in monthly direct deposits.
Maintain a $1,500 balance at the beginning of each day.
Keep at least $5,000 across Chase accounts.
$0
Chime Saving Account
$0
N/A
$0
Who is Chime Best For?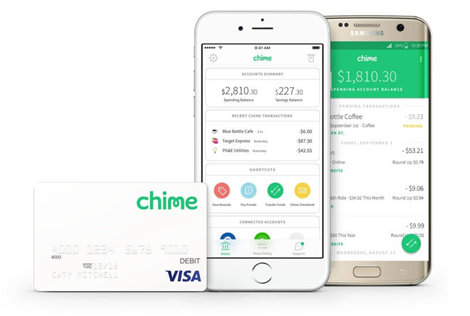 If you are the one searching for simple and convenient banking services, chime has got you covered! The chime spending account and chime savings account are best for people who don't want to pay for monthly fees or balance requirements. Chime enables the clients to:
You can open a savings account with zero balance requirement
Open a chime spending account using the debit card
Get a practical credit report with a large ATM network
Use the card overseas as it won't require foreign transaction fees
The clients can deposit cash electronically using their phones
Chime Pros and Cons
✅ PROS
▶ No monthly fees 
The best part is that chime comes with simple yet convenient banking options free from monthly service fees. Moreover, the chime spending account won't cost you minimum balance fees. You won't have to invest any transaction fees when you deposit cash.

▶ Large free ATM Network
Chime comes with almost 38,000 ATMs in two different networks for early access. These ATMs are available in other retail stores; therefore, you have to look for a store that's present at the hour whenever you need to withdraw money. Due to the availability of multiple ATMs, it is effortless to find the correct one near you. The large out-of-network ATMs will ensure you a great experience.

▶ Access to direct deposits 
With chime, you can get early access to money. Chime savings account helps you receive the money within less time. Once you get direct deposit cash from anywhere, chime allows you to get that money two days earlier. That's a quick process than many traditional banks.
🚫 CONS
✖ Average saving rate
Generally, the average saving rate in chime accounts for a 0.50% annual yield, which is better than traditional brick-and-mortar banks. But wait! When we talk about other money market accounts or online banks, it's less and should be up to the mark.

✖ Limited services
Do you know chime also offers limited banking services? YES! These services don't include CDs, lending options, and other money market accounts; chime might not be the best option. You can transfer limited money to chime with an external bank. For instance, you can only transfer $1000 per month.

✖ Daunting to make cash deposits
Another disadvantage is that you can deposit cash only at retail locations with the partners. You cannot cash deposit within the ATMs, and that's not a valuable thing. A few retailers might allow you to deposit money, but they may cost you additional fees.
Compare Chime to other Banks
| Bank | Minimum Deposit | Monthly Fee | Savings APY | Overdraft | Number of Branches |
| --- | --- | --- | --- | --- | --- |
| Chime Bank | $0 | $0 | 0.50% annual | $34 | N/A |
| Chase Bank | $0 | $12 | 0.01% | $34 | 5,100 branches |
| American Express | $0 | $1 | 0.40% | $34 | over 1,000 branches |
| Discover | $0 | $0 | 0.40% | $0 | N/A |
Chime vs. Chase
Chime and chase are totally different in providing online banking services to customers. Chime's savings account works to covert money to the nearest dollar and saves a significant portion of cash, whereas chase doesn't include such a feature.
Chase will cost you fees. YES! It will cost you fees for not receiving enough cash in the account or not even holding the money. However, chime has no fees with zero minimum balance requirement; chime is far more effective than chase bank.
With stride bank n.a members chime, works completely to meet customer needs through the chime mobile app. It will cost you no money on withdrawals when compared to chase. Chime has better interest rates than chase as it had tons of fees even when you didn't get anything in the account. Therefore, chime and chase are two different banks with specific services to satisfy the customers.
Chime vs. American Express
American Express and Chime are both multinational financial and banking companies in America. Can we compare chime to American Express? American Express provides you with different ways to receive money by depositing it back as the money is then transferred to the CD account.
However, the chime is all about the spending and saving account with no overdraft fee and helps you send money instantly. It comes with an automatic savings tool to deposit money into the savings account, whereas American Express has higher interest rates and is highly competitive.
If you want to deposit money in American Express, it's essential to connect yourself to current banking accounts, whereas chime doesn't include such policies. Chime offers debit card services with a large ATM network, but American Express doesn't include debit cards and checks to help you receive money.
Chime vs. Discover
Let's compare chime to discover. Is it worth it? Or which one is the best? Discover offers competitive personal deposit accounts and will help open all the accounts online.
However, chime includes an automatic saving setting with no credit check to create accounts. Discover has interest rates on accounts, while chime has no low-interest rates. Chime also features daily spending and withdrawal limits, whereas discover comes with outgoing wires costing you hefty fees.
It allows you to send money instantly, and the extra amount can be transferred to the savings account. Chime includes spending and saving accounts whereas discover features saving, money market accounts, and multiple CDs online.
Moreover, discover includes personal deposit accounts, not like a chime that has multiple options. Chime has no opening required fees when compared to discover, which might cost you a high amount.
Conclusion: Is Chime a Good Bank?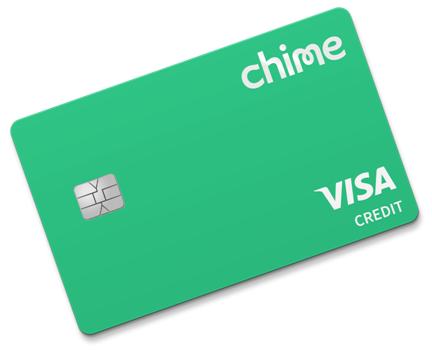 Overall, it's a thumb up for chime. This financial technology company ensures innovative bank account solutions to help people manage money online.
With such lower fees in the account, chime offers better services than traditional banks with a free ATM network for effective functioning. Sounds good, right?
Another thing that makes chime better than other financial institutions is how it examines the clients. You can quickly get a chime account even when you don't have an adequate credit score.
Therefore, get an account with a chime to build up a credit history or credit union. This chime review will help you a lot.
Chime Bank FAQs
Can you get scammed on Chime?
Is chime account prone to scams? Can this really be true? Let us show you in detail! Chime online bank made a unique approach in designing several security measures.
It also protects the customers from different online scammers and warns them repeatedly regarding sharing their specific banking information, particularly with strangers.
A financial technology company features the most significant risk of compromising financial details mainly to cyber attacks in today's world.
Chime online bank seeks to educate the clients to cope with such online scammers and save their credit history significantly.
What are the cons of using Chime?
Do chime accounts feature any disadvantages? To be honest, YES! A chime account works in partnership with Bancorp bank or stride, but still, some things need consideration.
The first thing is the lack of physical banks as it's not a bank. Chime customer support is by phone and entirely online. Have you got that?
You will get a limited application to different services like withdrawals and spending limits. In addition to this, the fee-free overdraft is available only to customers.
It doesn't include multi-currency options. You can only use the card in the US and any other country worldwide. That's how chime accounts work.
Is Chime a good banking card?
Is chime a reliable banking card? The chime card is an ideal online bank to promote effective banking services far more effective than a traditional bank account.
We all know a traditional bank costs you hefty fees but chime cash deposit, credit check, transaction notifications, and deposit funds offer no fees.
Its's time to enjoy a free ATM network and withdraw money using a chime card from 38,000+ ATMs. Chime works in partnership with stride bank or Bancorp bank to enhance the credit score.
Furthermore, chime includes automated savings tools within the chime bank or chime mobile app to help people get maximum advantage from their online account.
Is Chime a real bank now?
To be honest, the chime is not a real bank. What else do you need to know? Consider chime as a financially updated or technological company known to provide exclusive banking services offered by Members FDIC.
Do you know chime members can get a reliable spending account? YES! The spending account works along with a saving account to ensure exclusive benefits to people.
Quite simply, a user can grow the credit history mainly by getting a secured Chime Credit Builder account that's the chime card, seriously.
Moreover, it will help you get the benefits of mobile and online banking. The chime customer service is practical enough to provide online banking services provided by the better business bureau.